Nabarangpur district is the highest producer of maize in Odisha, producing an estimated 7.8 lakh metric tonnes per year. Maize is cultivated in around 2.5 lakh hectares of land in Odisha, of which in Nabarangpur, 150,000 farmers cultivate maize in 60-70,000 hectares of land. More than 53 per cent of the district's population are Scheduled Tribes, and around 80 per cent of people depend on agriculture to sustain their livelihood.
In the last few years, maize farmers in Nabarangpur have suffered many adverse events. Several times, they have been hit by powerful cyclones. And after the covid pandemic began, mandis within Odisha were closed by the government, making it impossible for them to sell to the state at the notified Minimum Support Price. Restrictions on inter-state transportation also put other markets besides Odisha out of reach. The result of these multiple impacts that is farmers find themselves at the mercy of local traders, who have taken advantage of the distress to buy the produce at very low prices.
Such prices have left farmers unable to meet even their daily household expenses, let alone plan for the future. "I have harvested around 28 quintals of maize this year," said Prafulla Muduli, a maize farmer from Mundapadar village in Bakoda panchayat in Umerkote block. Initially, we were happy with the promising yield. But soon we realised that buyers are not available due to corona restrictions. So far, we were able to sell only 10 quintals. And that too at a cheap price. We don't know how to sell the rest," he lamented.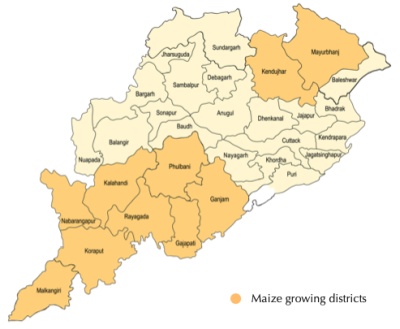 Map : In Odisha, maize is grown mostly in the
southern districts bordering other states.
"Farmers had no options other than distress-sale," said Tankadhar Majhi, sarpanch from Chandrapur panchayat in Papadahandi block. They had to sell the produce at Rs.800-1000 per quintal, which is significantly lower than MSP price of Rs.1850 per quintal, Majhi added. Other panchayats in the block where farmers sold their produce at meagre prices include Chercehtta, Dengaguda, Ghataguda, Jatabal, Khutubai, Maidalpur and Mahiguda.
The decline in the sale prices of maize has not only aggravated the farmers' distress now, it could discourage maize cultivation altogether if it is not quickly addressed. Despite suitable agro-climatic conditions for growing maize, many tribal farmers in Nabarangpur have already begun planting eucalyptus, which represents an environmental risk as well.
Processing units needed
Given the production surpluses, Nabarangpur and other maize growing districts of Odisha generally export to other states - Chhatisgarh, West Bengal, Andhra Pradesh and Karnataka. "Almost 75-80 per cent of production in Odisha is exported to the neighbouring states," said Bibhu Patra, tribal youth leader and maize grower from Umerkote block. "We don't have adequate processing facilities in tribal areas like Nabarangpur. Only 25-30 per cent of maize is utilized for processing within the state. Naveen sarkar should establish processing centres on a priority basis," he appealed.
The surplus production in the state represents the potential for new processing units that can produce starch, sweeteners and ethanol. The rate of inter-state and intra-state migration due to the lack of employment opportunities in Nabarangpur is also high, and if local entrepreneurs are supported to set up such units, those could employ a number of people as well. Even in remote rural and tribal areas, with off-grid renewable energy and proper waste management, such units could function.
Processing units in Odisha may also be able to count only a steady supply of maize because of differences in growing patterns. In its neighbouring states, maize is grown during the rabi season whereas in Odisha, maize is primarily cultivated during the kharif season. This ensures the year-round supply of raw materials for a number of industries in eastern India.
Worsening soil fertility

Despite these odds, some farmers are focusing on soil fertility, recognising that this poses a grave risk to whatever they grow. Several studies in the district on maize cultivation have shown that excessive application of synthetic chemicals to boosts crop yields has substantially degraded soil fertility. And even if they were to switch to other crops, they would still need to contend with that. Site-specific nutrient management for soils is needed on a large scale across south Odisha districts. Some software-based solutions are available, but not yet widely used.
According to a study conducted by Regional Centre For Development Cooperation, a not-for-profit working with marginalised communities in Nabarangpur, soil degradation has been reported in maize producing areas of Umerkote, Raighar and Jharigaob blocks. To address this challenge, the RCDC encourages farmers to use organic manure and fertilizers that are eco-friendly. In addition, since maize is cultivated with wide row spacing, and the growth rate of the crop during the early period is slow, they could easily inter-crop their fields with arhar dal (legume), which will replenish the soil fertility and also provide an additional or alternative income to what they earn from maize.
The larger picture
It is a common feature of many crops grown in India that even where are potentially strong markets for what is grown, farmers are unable to prosper by tapping them. Maize cultivation in Odisha is an evident example. The state's yields are better than the national average, Indian maize is price-competitive, and markets in Southeast Asian nations are within reach. But without a combination of government support and market development mechanisms, this potential cannot be tapped. A lot of other countries pursue global markets for their agricultural produce through concerted action among governments and farmers, and this alliance is missing in India.

The domestic market too holds a lot of promise. The Federation of Indian Chambers of Commerce and Industry projects that the demand for maize production nationally will be around 121 million tonnes by 2050. For Odisha farmers, this represents a strong opportunity. To translate this into reality, the multiple threats to the livelihoods of maize farmers must first be defeated, and thereafter a forward-looking agenda must be taken up in earnest.