Ghagua village, Assam: Tankeswar Ronghang is an orange grower in this village, located in Dimoria Block of Kamrup (Metropolitan) district. Like many others here, he is from the Karbi tribe, whose members are distributed all over Assam's hill districts, as well as parts of Meghalaya. He owns an orange grove with over 500 trees of the Khasi Mandarin variety spread over a 12.5 bighas plot on a hilly slope. Ronghang inherited this beautiful grove from his father. His father planted these saplings nearly 60 years ago, clearing the jungles on the hill.
Over the decades, this orange grove has been the primary source of income for Ronghang's family. For years, he has been nurturing the grove replacing the lower-yielding aged plants with new saplings, clearing jungles during the monsoon, and protecting the grove from attacks of pests and parasites. From his home, the grove is a 20-minute trek through a narrow jungle route up the hills.
The gradient on the hill is steep, around 60-degrees, and the orange trees are in an ideal position to receive both sunshine and shadow; these are both needed for a good harvest. Until some years back, the grove was filled exclusively with orange trees, as the earnings from growing oranges were sufficient to meet the family expenses. But that changed, and as the income from oranges dropped, Ronghang decided to also grow a number of commercial crops like areca nut and tea, along the boundary of the grove. Of late, he has also started apiculture and plans to grow black pepper, which has a high market price. A nursery with grafted saplings of oranges and other plants is also in his pipeline.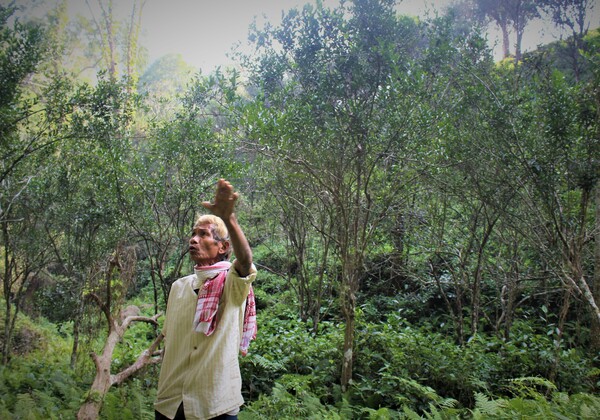 Tankeswar Ronghang in his orange grove.
"Although orange cultivation is a decades-old practice in our area, farmers have been facing lot of challenges during recent years. The biggest problem we face is the lack of a viable market to sell our products. The changes in climate patterns, and deficiency in rains too have hit the crop this year," Ronghang says. In the absence of market support and government intervention to help the growers, the farmers are bound to sell their produce through an advance booking system to middleman, who pay very little against the fruit crop, he adds.
"For instance, for the entire grove I was offered only Rs.1 lakh this year by the local traders. While prices of all essential commodities have gone up, the price offered by traders for my orange trees has remained static for years," Ronghang adds. As a result, he gets only Rs.200 for each plant, which bears an average of 200-300 fruits per season. That's less than a rupee per orange. The local traders, who purchase the oranges in advance, harvest the fruits and transport them to bigger traders elsewhere, who then take these to retail markets.
Orange is a winter crop. The climatic conditions in different pockets of the state favours orange cultivation. Dimoria block, which spans an area of 823 square kilometers and includes 12 gram panchayats 145 revenue village, has a long history of orange production. But a lot of the growers still use old methods, and have not had the benefit of modern technology, new skills and exposure to the markets that determine their incomes.
Ronghang's case is typical. So far has not received any training for skill upgradation, value addition to his produce, exposure to market systems, or storage. In his village, there are around 20 other orange growers like him. Only a few of them have been able to maintain their groves properly, he says. His two sons, like other youth here, are not interested in taking up orange cultivation; they want to pursue other options. They also see how their families are struggling. "We fail to get the money we need for our families even after struggling so much. I can understand why the next generation does not want to take up orange cultivation", Ronghang adds.
Ronghang says his sons are reluctant to help him. His first son runs a grocery shop, while the younger one is a driver. The maintenance of the orchards involves huge costs, and one need cash for that, he explains. The trees are prone to attacks of pests and parasites, particularly during the monsoon months. There are other issues too; these hills are adjacent to the Amchang Wildlife Sanctuary and herds of elephants occasionally roam around. One visit from them could destroy a whole season. Listening to him list all the challenges, it's easy to picture his sons walking away from their family farm.
While the orange growers of Dimoria block are grappling with the acute hardship of low returns for their crop, the price for a dozen oranges in Guwahati's markets has varied between Rs.50 and Rs.100, depending on the size of the oranges. That's many multiples of the price that Ronghang gets. The bustling capital may be only 40 kms away from his block, but it's also a world he cannot directly access.
Quite often the farmers are forced to sell at the wrong time, just to keep their risks manageable. "I will definitely get a higher price if I can nurture the trees till the fruits become more mature. However, that involves more expenditure. I need to guard the trees day and night, engaging additional manpower, and that's risky without getting an assured higher return", says Ronghang. He adds that poor monsoon rains last year have also added to the woes. Not only the orange growers, even those growing areca and cocoa have taken a big hit, he says.
More food processing units in the local area would be helpful, say the farmers. They would not be as dependent on others to buy their produce, and could even process some of it themselves. They've been looking for state support to set up such units. The youth, however, aren't waiting for that; they've increasingly been seeking work in the industrial units that are coming up not too far away.
Tribal women selling oranges on the roadside.
According to statistics from the state's Directorate of Horticulture and Food Processing, in Kamrup (Metropolitan) district the area under orange cultivation was 1702 hectares, and production was 23,3 MT during 2019-20. The yield per hectare was 13,687 kilograms. These numbers are nearly identical to that from the previous financial year (1704 hectares, 23,243 MT and 13,640 kg). The yield here is a little less than the state average. And although there has been a rise during the last decade, there is also a feeling among the farmers that it has levelled off and isn't growing anymore.
For families like Ronghang's, the choices are stark - they must decide whether to keep farming their lands and hope that eventually there will be a viable market for their produce, or to throw in their lot with the younger generation. With each year, as the farmers get older, they realise that the orange crop they're tending to could be the last one.