Adivasis make up nearly a quarter of the population of Odisha, and nearly one-tenth of the total population of Scheduled Tribes in India, according to the 2011 Census. The state is home to more than 60 scheduled tribes speaking 74 dialects. Their ethos, beliefs and cultural heritage are rich and diverse. But they're also at the margins of economic development and governance, and are among the poorest communities in most states. Thirteen other tribes in the state have designated Particularly Vulnerable Tribal Groups (PVTGs).
The UN's Department of Economic and Social Affairs, Indigenous People notes that indigenous people experience a high degree of socio-economic marginalisation and are at disproportionate risk in public health emergencies. Therefore, they are more susceptible to the Covid-19 pandemic considering their lack of access to effective monitoring and early-warning systems, as well as poor access to basic health and social services. And when threats materialise, inadequate medical infrastructure and lack of preparedness end up severely compromising the response.
The situation in Odisha's tribal areas bears out a lot of this. Far from the urban localities, the coronavirus has infected the PVTGs who were relatively untouched in the first wave. In May, around 21 people from these groups tested positive for the virus; they were from the Bonda, Dongaria Kondh, Kutia Kondh, Didai, Khadia and Saura tribes. Similarly, 33 cases of coronavirus infection were reported from Paudi Bhuyan people, one of the PVTGs in Sundargarh district. At present count, more than 100 tribals among 10 of the 13 PVTGs have been affected by the virus. There is no clear picture of the spread of infection in other Adivasi groups, say NGOs working in the tribal areas.
Without good information, many of them also face high anxiety about the virus and its threat. Even before the pandemic, there was a large gap in credible information about infectious diseases and preventive measures in indigenous dialects. Such inadequacy of health information weakens policy decisions and seriously jeopardizes the delivery of healthcare services to these disadvantaged groups, warns tribal rights activists. The resulting lack of awareness, along with reluctance to submit to testing, quarantine, treatment and vaccination makes the tribal population more susceptible to the pandemic, say public health workers and experts.
Vaccination hesitancy is widespread across tribal and rural areas. Some people intend to delay vaccination until they see how well it works for others while others fear becoming sick with the side effects of the vaccine. Home quarantine is nearly impossible in tribal villages, where families have traditionally fewer rooms in their houses, and the toilets are outside the homes. Those detected positive find it difficult to remain in home isolation in a complex tribal family setting. Worse still, in tribal-dominated districts such as Malkangiri and Kandhamal, there is a lack of pulmonary doctors and medicine specialists, and rapid antigen testing facilities are few and remote.
"Lack of monitoring of isolation protocols which include door-to-door screening could fuel the rapid transmission of the deadly coronavirus," emphasised Reena Nachika, community youth leader in Koraput district. Health workers including ASHA working in Narayanpatna and Bandhugaon blocks in Koraput district did not have sufficient medicines, thermal scanners and pulse oximeters, Nachika pointed out.
The majority of the villagers also use common bathing and drinking water sources, and open defecation is rampant. Poor mobile connectivity and the distance to health centres from the villages often make it difficult for tribals to reach out for medical help in an emergency. Dhansing Bhatra, sarpanch of Ghadakhunta panchayat in Dabugaon block in Nabarangpur district says, "In remote tribal areas the situation is worse. When their oxygen saturation dips, patients are not able to receive urgent medical assistance."
"We cannot only blame the government," said Bansidhar Muduli, sarpanch of Korkunda block in Malkangiri district. "Many tribal people are still not convinced about the severity of the coronavirus. Without their support and active participation, the government's efforts to contain the virus will be futile," Muduli underlined.
The lack of support stems from the bitterness of long neglect, others point out, and this cannot be easily overcome. "There are many reasons why the Adivasi people aren't trusting the government during a health crisis like this one," said Ghenu Muduli, community leader from Korkunda. "We tribal people have been deprived of basic healthcare facilities for decades. And now quickly building trust in the government seems a daunting task. Government should address chronic health problems widespread in the tribal areas," Muduli suggested.
Deep-rooted problems in health services
In Odisha, the health status of tribal communities is poor. They suffer from higher maternal and under-five mortality rates, widespread malaria and tuberculosis, and increasing cases of diabetes, leprosy, cardiovascular diseases and hypertension. Wasting is high in 25 out of districts, almost half of the under-five tribal children are underweight and 46 per cent are stunted, according to a policy brief on tribal health released in 2020. At 48 deaths per 1000 live births, Odisha ranks fourth from the bottom of the table among states in infant mortality rates among tribals, after Madhya Pradesh, Rajasthan and Chhattisgarh.
Picture: The National Family Health Survey 2015-16 found that in Malkangiri, every second child under the age of 5 was underweight.
Health experts working in the tribal areas of Odisha often allege that there has been a decline in children receiving timely and quality complementary feed under the integrated child development services (ICDS) scheme. The ICDS program was found non-existent in Kiri, Keta, Kundula and Kunu villages in Sundargarh district, according to an RTI filed by Right To Food Campaign (RTF) in 2020. These villages are largely inhabited by the PVTGs known as Pahadi Bhuayan. Pradip Pradhan, convenor of RTF said, "These children were never immunised and remained deprived of getting cooked food."
"This is the main reason for poor nutrition and health indicators among tribal women and children, in comparison to the national average," said Seema Rout, block project manager, Dukura community health centre of Khunta block in Mayurbhanj district. The poor health status makes tribal communities vulnerable to the coronavirus more than urban people, Rout added.
The pandemic has also highlighted some of the long-standing livelihood issues that were present much before the outbreak of the coronavirus. Lack of non-farm activities, poor nutritional uptake and restricted movement to forest areas are some of the worst conditions that the tribal communities have been facing in Odisha for quite some time. Poor implementation of the government's tribal development and welfare schemes have left the tribal population at the margins, without proper resources for economic sustenance. The announcements of frequent lockdowns to contain the spread of the virus have further aggravated their socio-economic conditions.
Lockdowns erase MFP-based livelihoods
Collection and selling of minor forest produce (MFP) in the local weekly markets is one of the main sources of livelihood for thousands of tribal households. Around 100 million tribal and forest-dwelling people in India depend on MFP for food, shelter, medicines and income, according to the Ministry of Tribal Affairs. In Odisha, the collection of mahua flowers - shown in picture below - is a significant economic anchor for tribal families. But the lockdowns and restrictions on movement have discouraged many buyers and traders from visiting tribal areas and buying their MFP.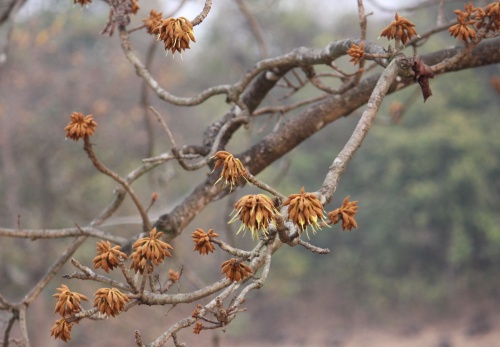 Tribal women who play a crucial role in supplementing their household's income and who are also mainly responsible for food and nutrition to their families have been further pushed deeper into poverty. They spend hours collecting, drying, packing and transporting MSP to the local markets but eventually fail to earn the much-needed income due to extended lockdowns. "The state government's procurement of MFPs under minimum support price scheme and special measures to address livelihood and food security were largely ineffective," said Gopinath Majhi, convenor, Campaign for Survival and Dignity, Bhubaneswar.
In Odisha, the MFP collection season begins from April to June which provides major income support to tribals. It is estimated that about 60 per cent of annual collection of MFP takes place during this period and unfortunately it coincides with the lockdown. "This is adversely impacting the economic and food security of Adivasi communities. It will weaken their resilience to cope with a similar crisis in future," said Ratika Pradhan, sarpanch of Karada panchayat in Raikia block in Kandhamal district.
Recent measures of the government
In a bid to address pandemic-induced challenges in the tribal areas, in June the Odisha govenrment issued guidelines for emergency Covid-19 management in PVTG areas of the state. A special relief package has been announced which includes distribution of free masks and sanitising materials to all PVTGs, and dry ration kits of Rs.2500 to all Covid-19 affected PVTG households. In addition, there is also provision for incentives of Rs.1400 to all PVTGs affected by Covid-19 staying in institutional quarantine centres. Other measures include door-to-door survey and screening of all PVTG households for symptoms.

On 4 June, Chief Minister Naveen Pattnaik directed the Tribal Development Cooperative Corporation to take up extensive procurement of MFP and ensure prompt payment of dues. The Odisha government is committed to support livelihoods of the tribal families, tweeted Pattnaik. However, this may already be too late. Y Giri Rao, a Director at Vasundhara, an NGO working on forest governance and tribal empowerment said, "This will hardly benefit any forest-dependent communities. More than 60 per cent of sal seed has already been procured by local traders at Rs.10, half the government's minimum support price. Tribal communities in Odisha have encountered multiple crises this year, Covid-19, the cyclone Yaas and the struggle to sell MFP at appropriate prices."