Many people in Karnataka were shocked by recent news that COVID hospital beds in Bengaluru were being blocked by persons in centralised war-rooms and then auctioned to the highest bidders while people were dying outside hospitals waiting for beds. The beds were shown as being occupied by patients who were actually quarantined at home. But how did we reach this situation where there was no community-owned knowledge of whether these persons were at home or at the hospital?
This heart-rending situation should be a reminder that it is not possible for a few senior officials put in charge of huge zones, or for those sitting in war-rooms handling centralised help-lines, to effectively tackle COVID. Would it have come to such a pass if we had strong institutionalised, community-based disaster management?
The success in handling COVID in Mumbai has been attributed to the setting up of decentralised ward-level war-rooms by the city's municipal Commissioner, Iqbal Singh Chahal. But calls to decentralise management of COVID have been appearing from all sides, includng from former Prime Minister Deve Gowda. The former Union Urban Development Secretary, M Ramachandran, and Mr. Kamal Kishore, member of the National Disaster Management Authority (NDMA) had last year itself pointed to the need for more granular, decentralised institutional mechanisms at ward and area levels to effectively manage COVID.
Karnataka's experience during Covid
Karnataka is actually a forerunner in this regard, as it is one of the few states that has a decentralised mechanism for disaster management written into Rule 6(8) of its Ward Committee Rules, which says that there shall be a Ward Disaster Management Cell (WDMC) under the Ward Committee. It is necessary to recall that WDMCs had been set up already in Bengaluru a year ago in April 2020 itself. How is it then that these failed to function?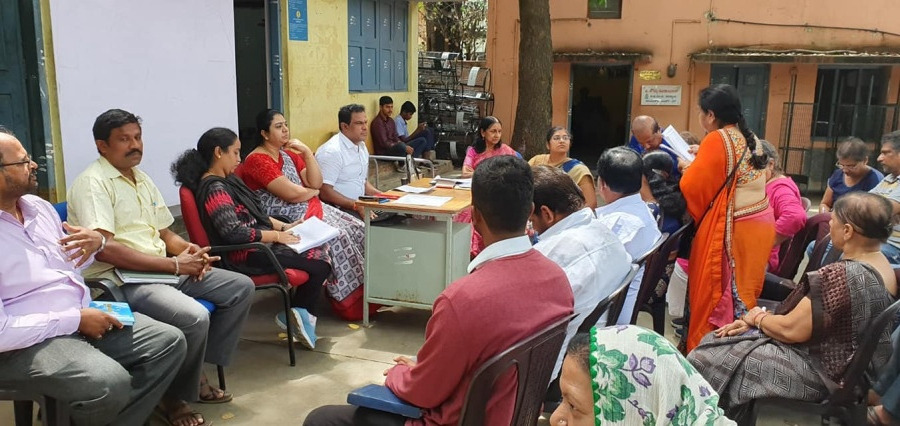 Ward committee meeting in Shanthinagar ward, Bengaluru in October 2019.
When the lock-down was announced in March last year, the Bruhat Bengaluru Mahanagara Palike (BBMP) Council did not even meet to discuss its responsibilities under the National Disaster Management Act (NDMA) though this law puts the onus of service delivery during disasters on local governments. The BBMP council met 15 days after the lockdown was announced but failed to invoke the Ward Committee Rules and constitute the WDMCs. It even returned Rs.2 lakh of the amount allotted to each ward by the CM back to the CM's Relief Fund. This was a gross abdication of responsibility on its part.
Noting this failure of the Council to even constitute the WDMCs, we at CIVIC wrote to the Chief Justice of Karnataka in April 2020 pointing out this lapse. The HC by then had already been rapping BBMP on its knuckles for its inability to identify all the shelterless and needy during the lockdown and failing to meet their basic needs. The Chief Justice asked BBMP to respond to the mail sent by CIVIC, suggesting that setting up the WDMCs could help BBMP handle the pandemic better. Taking note of the direction of the HC, BBMP set up WDMCs in all 198 wards within two days and also issued circulars on their roles and responsibilities.
It took the intervention of the Chief Justice of the state for BBMP to implement what was already in its own Rules. But even then these never really took off due to the long-standing indifference of councillors towards grassroots institution-building, and their reluctance to involve citizens in ward-level governance. Later, when the term of the BBMP council came to an end in September 2020, Nodal Officers were put in charge of the WDMCs, but they too failed to keep the WDMCs running; many of them did not even hold the mandatory weekly meetings.
Though there were many volunteers willing to chip in and help at the grassroots, their energies had not until then been linked to the WDMCs and channelized in an organised and systematic manner through training and capacity building. After the court's intervention, polling-booth-level committees were also established to channel volunteers' efforts to provide humane, door-step monitoring of COVID cases and delivery of services to the needy with the Booth-Level Officer (BLOs) and residents of the Area.
But many of the BLOs did not live in their assigned areas, and hence did not come forward to lead the committees. To overcome this, BBMP accepted that a resident of the area nominated as Area Sabha Representative (ASR) as per the KMC Act could be the Booth-Level Officer, and this role need not always be played by a public official. But this too failed to take off, since not all 'areas' for such work had been notified by the government. A system that understood only its structures was simply unable to respond to what the actual situation on the ground required.
All this meant that there was no way of doing intensive work at really local levels with volunteers. The door-to-door monitoring of those affected by COVID, which was so successfully done in Kerala, was not replicable in Karnataka.
None of this might have become obvious but for the fact that our assumptions aboud the pandemic in recent months proved completely wrong. As the number of cases after the first wave began to drop, governments threw all caution to the wind, assuming that the pandemic had withered away. Actually, this should have been the time when preparedness to meet the second wave of COVID and all possible disasters was strengthened, in line with the warnings that were being expressed by experts and scientists. Karnataka felt the folly of this neglect the hard way instead, and only after the shocking experience with centralised war-rooms and the 'bed-block' scam.
Thus, the Karnataka government was forced to re-look at its top-down approach and neglect of ward-level governance and set up fresh WDMCs in May 2021 [renaming them as Ward Decentralised Triage and Emergency Response (DETER) Committees (WDCs)] for management of COVID at the ward level. Although these are called 'ward level' committees, they are only about 40+ in number. As per one BBMP doctor, BBMP just doesn't have enough doctors, nurses and staff to set these up in all 198 wards.
A standard and pre-existing procedure is needed
In the long-term interest of cities' ability to respond to disasters, a General Standard Operating Procedure (SOP), similar to the one that exists at the State and District levels, should be notified for the ward-level, which would provide long-term local preparedness for dealing with all kinds of disasters, and not just knee-jerk responses to COVID.
To get this going, a number of civil society organisation, facilitated by CIVIC, prepared a draft incorporating all the four principles of disaster management - Preparedness, Response, Recovery and Mitigation. The draft SOP for WDMCs was sent to the State government and also to a member of the National Disaster Management Authority (NDMA) last year. It was hoped that it would be notified both at the State and national levels so that there would be preparedness to address all four aspects of disaster management at a decentralised ward level at all times. This was forwarded by the Chief Secretary to the Revenue Secretary (Disaster Management) for adoption of its relevant points. But there has been no further response to them, either from the state government or the NDMA.
The Draft SOP recommended a Ward Disaster Management Plan (WDMP) should be developed in consultation with the community, identifying threats and spots of potential disasters, for floods, fires, etc.; build separate teams for handling rescue and providing basic services to those affected; list "safe spaces" such as community buildings for use before, during and after disasters; create a database of vulnerable people and their needs, etc. The Draft SOP pointed out further that a contingency fund needs to be given to the WDMC to make emergency purchases and maintain a stock of disaster relief items. The WDMC needs to be a single-point ward-level contact for a city's war-room, volunteer groups, and others, to avoid confusion and duplication and to channelise volunteer services. Rather than centralised help-lines, the WDMC should host a single ward-level helpline to respond to citizens' needs and also their grievances 24/7.
The latest notification from the government, dated 7 May 2021, recognises several of these points, but it too is not a general SOP for WDMCs. It is only a more detailed note than the ones issued earlier on how to 'respond' to COVID. Preparedness, recovery and mitigation, which are vitally needed for any response to be effective, are missing from this order too. It remains to be seen how well it will be implemented given the lack of training and preparedness of the WDMCs. No doubt a particular epidemic/disaster requires a detailed guideline for handling it, but this does not obviate the need for a general SOP for WDMCs as a standing instruction.
For long-term mitigation of disasters in urban areas, WDMCs will need to carry out community-based bottom-up planning for sustainable and inclusive development: ensure all construction projects conform to building codes and standards for preventing disasters; identify encroachments and properties located in disaster-prone areas and recommend shifting them to safer areas, etc. Above all, decent housing with piped drinking water supply and toilets for the urban poor and temporary migrants' colonies; improved solid waste management; and anganwadis, schools and health centres as per standards would need to be planned for in a bottom-up approach.
Only this can lead to a more systematised, localised, and humane response to disasters in future, instead of the unconscionable ones we have been witnessing that have caused untold chaos, pain, suffering and thousands of avoidable deaths.