Turmeric is an important cash crop for thousands of tribal farmers in Odisha's Kandhamal district. The southern district is mostly full of hills and forests, and is blessed with suitable agro-climatic conditions for the cultivation of turmeric. Those who are familiar with the crop and its economic importance here say that around 50,000 farmers grow turmeric without applying chemical fertilizers or pesticides in approximately 25,000 hectares, and produce more than 26,000 metric tonnes of dry turmeric annually.
Turmeric grown in Kandhamal contains 2-3 per cent curcumin, 12-15 per cent oleoresin and 5.3 per cent volatile oil content, the highest in comparison to other varieties. It has a strong aroma and a higher medicinal value, making it popular in the national as well as international markets. The farmers harvest their crop in February and April every year. After processing and drying, they sell it in April and May. Odisha accounts for about 21 per cent of the area under turmeric cultivation in India, and more than half of that is in Kandhamal.
Distress sales
Since the pandemic has crippled the rural economy, in the last two consecutive years tribal farmers have been forced to sell their produce at meagre prices. "Our farmers are trapped in this crisis," Premasilla Jhakara, sarpanch, Kelapada panchayat in Phiringia block said. "The majority of farmers are now selling 1 kg of turmeric at Rs.30-35. This is half the price of the market rate."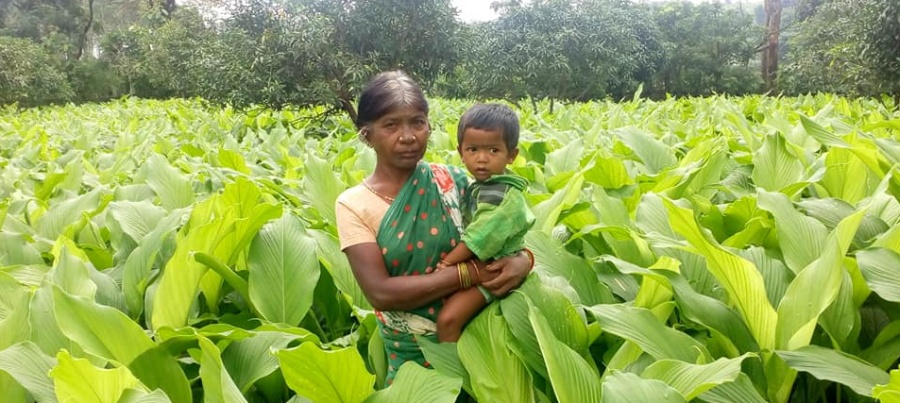 A turmeric farmer in her field. Photo by Kailash Chandra Dandapat.

The Kandhamal Apex Spices Association for Marketing (KASAM), the state government-run cooperative agency to promote turmeric cultivation in the district, offers Rs.60 per kg. This is the minimum assured priced fixed by the district administration. But KASAM is not buying very much. "More than 95 per cent of KASAM's procurement were generally exported to the USA, Europe, Australia, Japan, Korea and other countries," Sanjit Kumar Pattnaik, Secretary of KASAM explained. "This year, Covid-19 has hampered our business. We will expedite the procurement target after assessing the pandemic situation," he added.
"It is regrettable to see the plight of turmeric farmers," Chitaranjan Pradhan, sarpanch, Gadaguda panchayat in Tikabali block, said. "In 2019, our district got Geographical Indication (GI) tag for growing the indigenous variety of turmeric. But now farmers are struggling to make their ends meet." The GI tag is used to identify agricultural, natural or manufactured goods originating in a particular area and possess qualities or a reputation. (see box for more GIs in India).
"Unscrupulous traders are taking advantage of Covid-19 restrictions," Sangram Kanhar, a turmeric grower from Dalpada panchayat in Khajuripada block, said. "We don't have any option rather than selling our turmeric at a cheaper price. It is even tough to recoup the cost of cultivation."
Not all farmers are fortunate to even sell their harvest at a throwaway price. Many farmers are waiting to sell their product. "Traders and middlemen are not visiting many remote villages due to the statewide lockdown. You have harvested crops at your disposal, but then there are no takers. It is the worst nightmare for farmers," explained Rabi Narayan Sahu, a Phulbani-based development professional. The restrictions on transportation and fear of contracting the infection have stopped outside traders from visiting the district. Tribal right activists also allege that the state government has been indifferent to the plight of turmeric farmers amidst the pandemic.
Long-standing issues
The crisis faced by farmers in Kandhamal is not new; while Covid has made things worse, there are several long-standing challenges associated with turmeric cultivation. "We simply cannot only blame the pandemic," Janesh Kanhar, a youth leader from Phulbani, said. Farmers growing turmeric often face problems such as lack of market linkages, lack of cold storage facilities, exploitation by the middlemen, poor financial assistance by nationalized banks and other institutions, emphasised Kanhar. These have been made much worse by the pandemic, but have been around for a long time even before Covid-19 ravaged them.
"These issues are affecting farmers' faith in turmeric," said Susanta Kumar Dalai, a development professional working with Vasundhara, an Odisha-based not-for-profit organisation working for tribal empowerment. Gradually, farmers are switching over to cultivation of other cash crops. To make the situation worse, those who are still growing turmeric allege that they receive low-quality seeds which are affecting their productivity and harvest, added Dalai.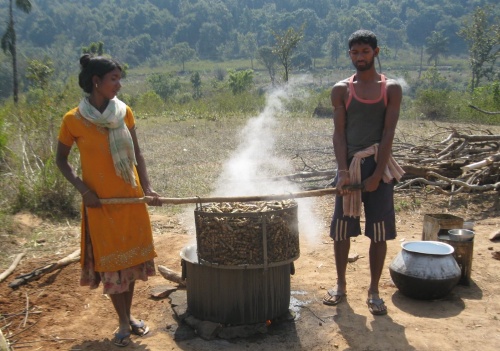 Picture: Farmers boiling harvested turmeric.
Credit: Kailash Chandra Dandapat.

To enhance productivity, Debesh Prasad Padhy, retired Director of the Odisha University of Agriculture and Technology, Bhubaneswar suggested that "there is a need to promote eco-friendly production technologies among the farmers. Potential indigenous agricultural techniques should be tested and refined with modern science." There are sustainable technological interventions which have yielded promising results on crop productivity. Some of them include rhizome treatment, soil application of bio-control agents, crop rotation, mulching and irrigation. These technologies and techniques, when applied correctly and at right time could increase crop yields by 20-30 per cent, said Padhy.
"Government agencies and private traders should directly purchase turmeric from farmers at local mandis while adhering to the minimum assurance price," said Y Giri Rao, Director, Vasundhara. Going digital is key to ensure corruption-free marketing. Money should be transferred through the bank accounts of farmers, he stressed. "To make this happen, a pragmatic procurement policy is needed," Joy Daniel Pradhan, development specialist with the Union Ministry of Minority Affairs, said. "The farmers can get more benefit only if we have robust processing and marketing facilities," he added.
Local civil societies working with the turmeric growers have been advocating for the establishment of farmers' producer organisations (FPOs). "The FPOs will strengthen the supply chain of turmeric and equip farming community with better bargaining and negotiation skills," Sanjeeb Kumar Digal, Daringbadi-based NGO known as Prem, said. The existing market system in Kandhamal should be reinforced. Unregulated weights and measures, lack of sorting, grading and standardization, unorganized farm organisations and groups are widespread in the district.
In order to tackle these issues and devise appropriate marketing interventions, Daniel urged, "We need to comprehensively study, interpret and analyze the existing marketing system. This will play a critical role in ensuring sustainable agricultural development and enhance market accessibility and market information for farmers in the long run." That, to many facing distress now, seems distant.