"I was cooking that day. It was around 11 am. I saw a group of men approaching our home. They were carrying wooden planks and yelling at my mother-in-law, "Se Dahani ta" (She is a witch). Two of the men hit her hard on the head. She died on the spot". Parvati Munda recalled this horrific incident in Urumunda village in Odisha's Keonjhar district. "She was innocent. She was never into witchcraft. Today, my eight-year-old son is often bullied by village boys that his grandmother was a witch," lamented Munda.
Upon enquiry by the local police administration, it was found that the attackers blamed the old woman for the death of a four-year-old child. Such incidents have been rising in the state each year and in many cases the culprits escape from legal punishments. According to the National Crime Records Bureau, Odisha accounts for the second-highest number of witch-hunting cases in the country. This year, 18 persons have already lost their lives and witch-hunt cases continue unabated despite the Odisha Prevention of Witch-Hunting Act being in force since 2014.
Similarly, in 2018, 73 witchcraft-related cases were reported across Odisha, out of which 18 were murders. Another 99 cases, including 18 murders, were recorded in the state in 2017. In all, more than 2500 victims were tortured and killed in witch hunts between 2000 and 2016, according to the Odisha High Court. Over 80 percent of these crimes are reported in the tribal-dominated districts - Mayurbhanj, Keonjhar, Sundargarh, Rayagada, Malkangiri, Gajapati and Nuapada. Recently, witch-hunt cases were also reported in two coastal districts, Ganjam and Baleswar.
"Witchcraft is the practice and belief in the innate supernatural power of either a woman or man," said Abhimanyu Sharma, a research scholar from Ambedkar University in Delhi, who is studying the folklore of Kondh Adivasi communities in Koraput district. One who professes witchcraft is called a witch by popular custom in the tribal areas, Sharma added.
There are many cases where innocent women are accused of being witches and held responsible for the deaths of children and livestock, spreading illness in the village, crop failure, and other mishappenings. "The family of the women who have been branded witches are often ostracised from the village. Their children's education is affected, and the family slips into poverty," said Reena Nachika, tribal woman leader in Narayanpatna block. In some cases, the family members of the victim being killed face social and economic boycotts, she pointed out.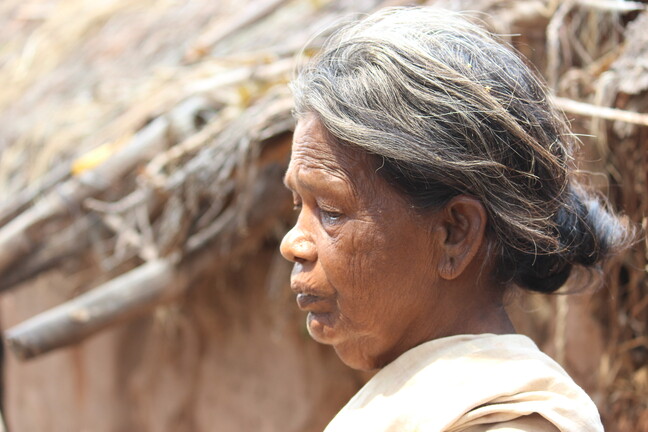 Older women - many of whom are widows - are most vulnerable to being targeted as witches.
Photo by Abhijit Mohanty.
In an interview to Deutsche Welle, Indira Jaising, a senior lawyer in the Indian Supreme Court, explained that while superstition is often made out to be the main reason behind the killings, the crimes are often related to class and gender discrimination, and used as a means to exact revenge. The members of upper caste society try to stigmatise the poor and indigenous people by branding them as witches.
Laxman Majhi, who has been sensitising the community about the evils of witchcraft and witch-hunts in Baramal village in Keonjhar district, said "The punishment for victims is horrible. The witch doctor, also known as ojha, often faces violence like chopping off breasts, breaking teeth, being paraded naked, or caned publicly." Laxman's wife Saibati echoes this, "Sometimes the victims are forced to swallow urine, fed human excreta, animal blood. Some powerful people also rape and molest the victim during punishment." Ghasiram Panda who works with ActionAid in Odisha said, "In many instances, a culprit who is influential or powerful is not punished because the attacks are portrayed as a mob fury."
"Although some men are also attacked for practising sorcery, over 90 per cent of the targets of witch-hunts are women," said Sharma, adding that "A witch is just a social paraphrase to intimidate women, reinforce male suppression and fuel violence against women in the name of curbing evils of sorcery."
The vulnerable groups labelled as witches are often elderly and single women living alone in their property, childless women, widows, divorcees and physically challenged women. Since they are not able to defend themselves nor do they have the support of others, powerful people in villages often target them to capture their land, property, seek sexual favours, or simply take revenge. In tribal areas, instances of women facing humiliation and brutalization after being branded as witches are common.
"There are many remote tribal-dominated villages in Malkangiri district where Adivasi people still believe in witchcraft," said a community leader Ghenu Muduli in Korkunda block. Inadequate healthcare facilities, non-availability of timely medical care, gender inequality, illiteracy, poor socio-economic condition and superstitions are some of the key factors contributing to the persistence of this, revealed a study conducted by ActionAid in Odisha's Keonjhar, Mayurbhanj and Ganjam districts.
"Government should include chapters on evil impacts of witch-hunt in school curricula. Cultivation of scientific temper during the formative years of children is important," said Debendra Sutar, secretary of Odisha Rationalist Society, a non-profit working to eradicate the belief and practice of witchcraft in the state. Recently, the School and Mass Education department of Odisha has issued a notification to include story-based lessons on the evils of witch-hunting.
Anganwadi workers can play a significant role to sensitise the community, claim civil society organisations working in the state. The Women and Child Welfare Department have started training Anganwadi workers and women SHGs. "These are praiseworthy steps," said Dhansignh Bhatra, sarpanch in Gadakhunta panchayat in Odisha's Nabarangpur district. "The implementation of the same remains to be monitored," Bhatra reiterates.
Reena Nachika stresses the importance of sensitising communities on the evils of witch-hunting.
Photo by Abhijit Mohanty.
Former Chairperson of the State Commission for Women, Lopamudra Baxipatra suggested "Civil societies and local panchayati raj institution members should sensitise tribal people. Police should take strong action against those who promote the evil." Joy Daniel Pradhan who is working as a senior consultant of behavioural communication change with Ernst and Young in Mumbai said, "The administration should act immediately after the cases are reported. They should act against the culprits as the offence is cognizable and non- bailable."
"It is an irony that people are being killed based on a false accusation, personal grudge and age-old superstitions," said Rajalaxmi Lenka, a development professional working with Parivartan, a Malkangiri-based not-for-profit. The district administration should act proactively to eradicate witch-hunting, she underlined. It is equally important to provide fair compensation, access to medical care, rehabilitation and reintegration support to the victims and their family members, urged Jaising, the Supreme Court lawyer.