While hoardings put up in Rajkot and other cities of Gujarat congratulate Narendra Modi for having provided "pehla Narmada naa nir ne have Vijali" (having ensured the drinking water from the Narmada river, now moving towards ensuring electricity), the Down To Earth issue of 15 June 2005 (downtoearth.org.in) has carried a full page advertisement from the Water and Sanitation Management Organisation (WASMO) showcasing how Gujarat has become the case for "Changing rural landscape and lives". WASMO is registered as an autonomous body under the Societies Registration Act of 1860 and the Bombay Public Trust Act of 1960 with initial support from the governments of Netherlands and Gujarat. The organisation is based in Gandhinagar.
The advertisement displays a map showing the Sardar Sarovar Canal based drinking water supply project, the bulk transmission pipelines and the progress status. The first paragraph of the text reads, "Government of Gujarat has stepped up efforts to achieve drinking water security through a combination of local and bulk water supply system as well as revival of traditional water sources".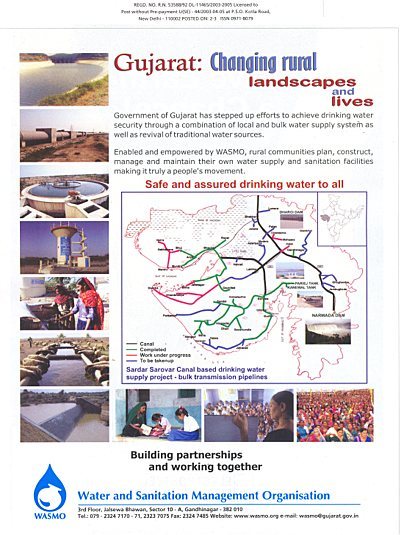 The WASMO advertisement in Down to Earth.
While readers of Down To Earth are invited to think that drinking water supplied through bulk transmission pipelines based on Sardar Sarovar Canal covers vast tracts of Saurashtra and Kachchh, reports in the print media tell quite a different story. This reality does not need an advertisement. The news will do.
Local water sources on which Rajkot has been banking for years are drying fast, and consequently the supply from Aji, Bhadar and Nyari Dams is going down drastically. The erratic, irregular and unreliable Narmada waters can quench just a part of city's thirst. As against the demand of 30 million gallons per day, it can at the best provide 12.5 Million gallons per day. And even this is not received regularly by the Rajkot Municipal Corporation. Writing in The Indian Express on May 28, 2005 (Ahmedabad and Rajkot city editions), Hiral Dave explained that the Narmada water supply to the city through Maliya Canal commenced only from March 19 after a gap of almost a year. Still, from late March to late May, it didn't bring an end to the water woes here.
The situation in Surendranagar is similar. The local water source, the Dholi Dhwaja Dam has dried up and residents have had to suffer chronic water cuts, said a news report carried by The Times of India on June 12, 2005 (Ahmedabad city edition). The report said that there is no fixed timetable for water supply in Surendranagar, and that the town gets water as per availability from the Dhanki sump. Rajendrasinh Rana, chairman of a water works committee at Surendranagar Nagarplika said that although Narmada supply through Dhanki sump began a month ago, some time in May, the town started receiving only half of the required 18 MLD (million litres a day) everyday. This had made it impossible for the municipality to follow the water supply timetable regularly, the ToI report stated. The end result: no one can anticipate water supply timings with certainty, with sometimes citizens getting water after 7 days, sometimes after 8 days and other times after 10 days.
The situation is a little different in other cities and towns of Saurashtra. Jamnagar, instead of supply on every alternate day, receives water once in three days, while Gondal gets water once in a week. In the same IE report cited earlier, Hiral Dave wrote that for the past eight days, Gondal town had not received even a drop of Narmada water. Dave went on to describe the situation in Jamnagar city. It was due to erratic Narmada water supply that Jamnagar Municipal Corporation was providing water once in three days instead of the earlier alternate day frequency. V Umraniya, executive engineer, Water Works Department with Jamnagar Municipal Corporation said sometimes Jamnagar gets 90 lakh gallons and other times 100-110 lakh gallons. Dave quotes him as saying that availability for Jamnagar city depends on water pressure in the Narmada canal, and until the Gujarat Water Supply and Sewerage Board (GWSSB) promises a regular supply of around 130 lakh gallons per day, the municipality cannot resume water supply on alternate days. (10 lakh = 1 million)
When reporters contact GWSSB officials they narrate quite a different story. According to them, it is not the non-availability of Narmada water but technical limitations and water theft that are causing problems for delivery in Saurashtra. Again, in the cited IE report, Hiral Dave quotes a top level GWSSB official as saying that water level in the 144 km long Maliya canal from Dhanki in Surendranagar district to Maliya in Rajkot district had gone down to 1.5 meters from 1.75 meters as supply to Wadhwan city and nearby villages was started from the previous week. Though the number of beneficiary towns and villages were increased, the number of pumps at Dhanki have not. Dave also quotes the official as adding that "The 144 km long open canal is also prone to large scale water theft. Adequate water supply can be maintained only if water level in the open canal is maintained over 1.75 meters".
The reality has emerged elsewhere too, not merely in the English press. Bhumiputra, a fortnightly Gujarati language news publication reported on a recent seminar on water scarcity in the state. The seminar was organized by International Water Management Institute, Satyajeet Trust, Kutch Navnirman Abhiyan and Gandhidham Chamber of Commerce and Industries. The report quoted speakers opining that since the Narmada based drinking water pipeline could serve only 11% of the villages, to rely on it blindly would only be suicidal. The report also said that it was emphasized by speaker after speaker that village communities must think of creating reliable local resources and at the best long distance bulk water transfer can only be adopted as a supplementary measure.
Speaking at this seminar, Kirtibhai Khatri, the editor of widely circulated daily Kachchhmitra reportedly pointed out that "the trumpeting of Narmada waters reaching Kachchh was orchestrated by Modi during May 2003, but soon after we have witnessed the government giving permission to farmers to lift waters from Canal by diesel pumps. It is now a question begging answer that whether Kachchh will receive irrigation water at all or not." (From the Bhumiputra article.)
It is this reality that Narendra Modi, the Chief Minister of Gujarat, attempts to wipe away, employing his typical Modispeak. Modi also often tells fellow Gujaratis about English newspapers' tendency to "hurl abuse and insult to 5 crore Gujaratis"!

The advertisement - launched this time by neither Sardar Sarovar Narmada Nigam Limited nor Gujarat Water Supply and Sewerage Board, but WASMO – not only fails to address the questions being asked in civil society, it also tries to hoodwink the public opinion in believing that "all is well on the Narmada front". The first paragraph itself reminds me of the classical nonsense sentence from linguistics, "Colourless green ideas sleep furiously". If by combining contradicting terms one can still build a grammatically correct sentence, then perhaps the state government thinks this must be true about combining contradictory options and coming up with genuine sounding rhetoric on decentralized, sustainable and participatory development.
The second paragraph is no different. "Enabled and empowered by WASMO, rural communities plan, construct, manage and maintain their own water supply and sanitation facilities making it truly a people's movement". Participation turns out to be a new tyranny here, as communities are imagined to lack agency and would need to be enabled and empowered only when a messiah like WASMO will appear on the horizon with wide open arms inviting them to participate in a "scripted programme" that upholds the gigantic Sardar Sarovar Dam, a massive canal based drinking water programme, post earthquake rehabilitation and reconstruction work and the Sujalam Sufalam Yojana (North Gujarat water supply project) as "far sighted initiatives".
But for Gujarat this summer has been a season of blow after blow when it comes to pursuing the political expediency of raising the height of the Sardar Sarovar Dam. First on March 15, 2005, the Supreme Court passed an order directing the award of rehabilitation to "temporarily affected persons" at par with those permanently affected and extending the same to all adult sons of Project Affected Person. Soon after that, it received a legal opinion from Soli Sorabjee (former Attorney General of India, presently senior advocate, Supreme Court) that Gujarat must bear all the rehabilitation expenditure incurred on by neighbouring states of Maharashtra and Madhya Pradesh.
With all that, it appears the Modi government has had to invent ways to renew propaganda on the Narmada and WASMO came in handy for that, albeit in a non-conventional fashion.