For many decades, Alang on the Bhavnagar coast in Gujarat was seen as one of the worst polluting and dangerous ship-breaking yards in the world. Yet it attracted ships from developed countries that were toxic as due to lack of controls it was the best place to get it broken. But that might not be true anymore as the EU Commission is soon going to insist that the decommissioned ships should first be rid of all its toxic material before being sent for recycling. It is also insisting that the ship-breaking yards must adhere to environmental norms and take care of its labour.
The new international strictures will ensure that the erstwhile lucrative business will move to countries like China and Turkey which are ready to invest in building modern ship-breaking facilities that cater to the new norms.
While environmental activists and NGOs would want Alang shut down, the Gujarat government and the center would rather not do it as it is a money-spinner. But with tough international regulations and concerns of environmental damage, ship breakers in Alang will have to invest in creating modern, clean facilities and also look after their workers. This will cut into their profits, but if the ship-breaking yard is to survive, this is the only way out.
It is a well-known fact that the labourers at Alang have been grossly exploited, paid low wages, given no health care or compensation to those who have died in the yards because of the hazardous working conditions.
Basics Ignored
India's shipbreaking code was created in 2013 after specific directions from the Supreme Court, but it has not achieved the desired results. Some of the guidelines made elaborate provisions for safety compliance:
Fire-fighting equipment
Appointing qualified safety officers for supervision
Distance to be maintained during cutting of steel
Providing personal protection equipment
Inspection by government officials
Training of workers according to the Ship Recycling Code
Thousands of laborers work through smoke and dust with gas-powered blow torches and huge hammers stripping a ship of its steel for months. Once the giant vessel is broken into bits and carried away for recycling to steel melting units, preparations are made for another ship to be beached for breaking.
Human right activists have often highlighted the high number of deaths at Alang due to accidents and serious injuries suffered by the workers, who are mainly from impoverished families from states like Bihar, Jharkhand, West Bengal, Uttar Pradesh and Orissa.
How is India going to lose out on its ship-breaking business
The European Union Commission is now looking at ways to get ship owners to send their vessels only to those ship-breaking yards that have modern recycling facilities, strict environmental regulations and safeguards for its workers. At the moment, Alang has none of these.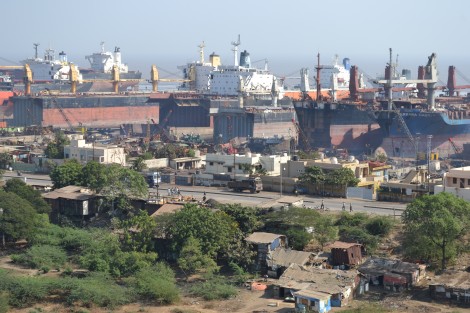 Ship-breaking yard and the ancillary industries as seen in Alang. Pic: Ramesh Menon
A few years ago, Alang was a throbbing beach with commercial activity before it became a major graveyard for decommissioned and aging ships that came here from various parts of the world. Ship breakers were laughing all the way to the bank. Though it was heavily polluting the area and the sea, the Gujarat government chose to look away as it was an industry that was worth over Rs. 6,000 crores. In three decades, it had emerged as one of the largest ship-breaking yards in the world.
Now, it is almost ironical that the throbbing Alang beach is seemingly on its death bed. What threaten it are the new tough international regulations that focus on clean methods to break up ships. Sources say that it is a ploy to stop developing countries like India, Bangladesh and Pakistan from getting the lucrative business. Cleaner yards like Turkey and China will stand to benefit, they say.
Over 7,000 ships have been broken down since the last 33 years. With lax environmental laws, India was a favorite destination to send ships from all over the world with contaminated and hazardous material for recycling. But, that may not be the case anymore.
A couple of years ago, over 350 vessels used to be annually broken at Alang. It had a ten-kilometer coastline with ships in various stages—some almost broken and others in the process. For more than a year now, there has been a lull on the otherwise busy coastline. Today, there are hardly 80 ships for breaking. Many ship-breaking companies have shut down. The workforce has come down from 30,000 to 18,000. Those who remain, wonder how long they will be there as uncertainty hangs in the air.
They are not the only ones grappling with questions about their future. It also includes scores of people who run ancillary industries that melt the scrapped steel. On both sides of the road close to the ship-breaking yard are hundreds of shops lined together for over seven kilometers selling goods salvaged from ships like furniture, cutlery, kitchenware, washing machines, fridges, mattresses, curtains, paintings, and machinery parts like pumps that can be re-used. They too face a bleak future. Many of the 165 or so companies where ships are broken down are empty and many are on the verge of doing so.
Four years ago, the Supreme Court prohibited ships coming for ship-breaking from numerous well-off Organisation for Economic Co-operation and Development (OECD) countries from entering India's territorial waters if they had not removed hazardous waste that the Basel Convention had specified. It wanted hazardous material within the ship to be first removed and destroyed before it was sent for ship-breaking to countries like India, Pakistan and Bangladesh. But ships with poisonous material continue to beach at Alang for breaking.
Cleaning Up
As numerous hazardous waste trafficking scandals hit the headlines in the late eighties, the United Nations Environmental Programme in 1992 adopted the Basel Convention on the control of transboundary movement of hazardous wastes and their disposal.
The Basel Convention controls the international trade of hazardous wastes. However, it is crucial for the ship-breaking industry as ships have numerous hazardous materials within their structure like asbestos, oil residues and other toxic material like PCBs. These are organic chlorine compounds used in coolants, electrical apparatus and other heat transference fluids.
The Basel Convention ratified by 181 countries is the only international regulation which aims at protecting developing countries from the dumping of toxic waste. There was an amendment in the Convention in 1995 called the Ban Amendment which banned exports of wastes intended for recovery and recycling to developing countries. It was ratified by 81 countries. This amendment was also incorporated in the European Waste Shipment Regulation which said that EU member states are not allowed to export hazardous wastes to developing countries. However, many ships from the EU end up on the beaches of South-Asia.
In 2002, the Basel Convention also adopted a document called Technical Guidelines for the Environmentally Sound Management of the Full and Partial Dismantling of Ships. These guidelines provide recommendations on procedures to ensure safe dismantling of ships.
The Hong Kong Convention in 2009 which allowed ship-breaking on tidy beaches in developing countries was ratified by just Norway, France and Congo. It has still not entered into force and there is no date specified. Numerous NGOs worldwide condemned it for legalizing scrapping of toxic ships on these beaches.

Protests and resistance
For many years now, the ship-breaking yard at Alang has been tangled in numerous allegations about how it does not follow environmental norms and has done a lot of ecological damage. Greenpeace has been in the forefront of this campaign and even prevented toxic ships like French aircraft carrier Le Clemenceau from being broken down in Alang as it had a huge amount of asbestos.
Karmenu Vella, European Commissioner for Environment and Maritime Affairs, said that the shameful practice of European ships being dismantled on beaches will end with the introduction of the new law that will ensure that EU-registered ships be scrapped only at sustainable facilities with proven safeguards for the environment and its workers. These tough laws have come as the industry wants to be seen as a clean one.
The worrisome thing is that foreign ship owners in collusion with Indian ship breakers are trying to outwit the Basel Convention. There is a legal obligation for countries not to send contaminated ships for ship-breaking, but they are doing just that. This is because developed countries do not want to pollute and endanger the lives of their citizens with poisonous carcinogenic material that is often found in ships like asbestos, a material that is banned in 50 countries.
A month ago, a Danish ship was in the news for beaching in Alang for ship-breaking. Activists say that it violated international laws in doing so and took advantage of the lax regulations in India.
The incentive for ship owners to sell their decommissioned vessels to South Asian ship breakers is huge as their lenient rules for disposing of asbestos and other forms of waste saves them money. That was one of the reasons for Alang's booming business.
The European Commission now wants to neutralize the advantage which countries like Bangladesh, Pakistan and India have had and are pushing for ship owners to recycle only at clean, approved facilities that have modern methods. Ship breakers in India say to create such facilities they will have to invest heavily into creating dry docks for ship-breaking which will need huge cranes and lifting devices.
In 1983, I had accompanied the then Gujarat Finance Minister Sanat Mehta to Alang to watch the first ship that had come to be broken on a sparkling pristine beach. "Give me ten years," he had said, "I will turn this into one of the largest ship breaking yards of the world." He did make good his promise. But the beach was devastated due to serious environmental damage.

There is hope
Alang has a future only if both the centre and the state step in to rescue it by respecting both Indian and international laws and making it a destination for out-of-date ships.
Chintan Kalthia, owner of RL Kalthia Ship Breaking Private Limited, which is one of the companies at the yard that has modernized, told India Together: "There is hope as the Japanese government is now planning to start investing in improving facilities at Alang. Japan sees it worthwhile to invest in an industry like this. It is a fact that we have to make this a clean industry and ensure that our workers have safe conditions to live and work in. We have no choice but to clean up if we have to survive in the international market. If we have managed to ensure environmentally cleaner cars, why cannot we have ship-breaking yards that are environmentally friendly?"
Japan has pledged to give a loan of Rs. 18 crores (Rs. 180 million) loan to the ship-breaking industry in Alang to upgrade its 70 yards. The funds would be provided by the Japan International Cooperation Agency and the loan has to be paid back over 40 years. The money will be used to create a pre-treatment facility for the removal and treatment of hazardous materials from ships before breaking and expanding the current disposal facilities to enable 25 tons of waste to be incinerated daily.
Japan is also trying to get India to ratify the Hong Kong Convention so that foreign ships can be allowed to come to India to be broken down.
A few weeks ago, a Japanese team was in Alang for one of its numerous inspections. A draft project plan of the Japan government to bring about a turnaround in Alang is expected to be ready by this month. Japan offered its expertise in upgrading the ship recycling industry in India after the visit of Prime Minister Narendra Modi to Japan where this was discussed. India accounts for nearly 30 percent of the global ship recycling industry.
There is a new flicker of hope now in Alang as Japan's technological help can help in the decontamination of ships after they are beached and also create conditions for worker safety and environment protection.