The Great India Bustard (GIB, Ardeotis nigriceps) is one of the tallest terrestrial birds of India. Among 24 species of bustards found in the world belonging to the Otididae family, the GIB is the third-largest. Adult males are between 1 and 1.2 metres tall. They are brown and white, with black crowns and wing markings. They have long legs and necks. Males are larger than females and can weigh up to 11-15 kg. They have white neck and breast bands. Females are relatively smaller and weigh around 5-8 kg. They have grey necks, some may have an incomplete breast band while others have none.
GIBs feed on various arthropods, worms, small mammals, reptiles and insects. They also feed on sorghum, millet and wheat, but in recent years farmers have been shifting crop production away from these and towards cash crops. Female birds lay one egg every 1-2 years. Half of these are lost to predators, mainly foxes and dogs. GIBs play a crucial role in maintaining the ecological balance; they disperse seed, contribute to pollination and feed on pests, keeping their numbers lower. Several small mammals, reptiles and avian species are also found in the habitat of the GIB. Very little conservation initiatives have been carried out for those species. Therefore, say ornithologists, the conservation of GIB will act as an umbrella to save other endangered and threatened species in the same grasslands.
There are around 150 GIBs in the country, according to a report published in 2018 by the Wildlife Institute of India (WII), Dehradun. Most of the country's GIB population is in Rajasthan, particularly in the Desert National Park in Jaisalmer district. Small numbers of the species are also found in Gujarat, Maharashtra, Andhra Pradesh and Karnataka. Until the 1980s, around 1200-1500 GIBs were observed spread throughout the western region. However, by 2008, only 300 individuals were left, and that number has further dropped since then.
Power lines - a new threat
Apart from hunting and habitat destruction, the increasing numbers of feral dogs and pigs in their habitat has also hurt their survival rates. Amidst all this, an unexpected new threat has emerged - the introduction of renewable energy projects. Recent research studies have shown that GIBs often collide in flight with overhead power cables of renewable energy plants. India's aggressive pursuit of producing 450 gigawatts of renewable energy by 2030 is literally colliding with conservation efforts for migratory birds.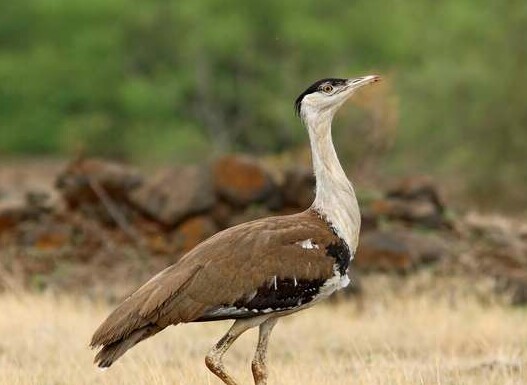 "The GIB is the pulse of the grassland. Its numbers are a barometer of the health of the grassland ecosystem", says a senior forest official.

Picture credit: Vinod Bartakke.
The GIB has poor frontal vision, and therefore when it flies it cannot see obstructions like transmission power lines that criss-cross its flying path. The typical heights at which it flies are low, at about the same height at which power companies tend to string power lines. Being a heavy bird, the GIB it cannot quickly alter its flying direction on the close encounter with overhead power lines which ultimately lead to collision or electrocution and death. Solar panels are yet another set of obstacles for GIB to find suitable nesting.
GIB mortality is extremely high in Rajasthan and Gujarat's desert areas, which are a hub for solar and wind energy-based projects. Ornithologists warn that GIB is now nearing extinction and if urgent action is not taken for their conservation, it may soon go extinct from the wild. The GIB is not the only species at risk; the Thar desert supports 14 threatened and 65 migratory species that populate the Central Asian flyway, a geographical corridor widely used by several species of migratory birds.
In 2011, the Great Indian Bustard was included under the critically endangered species list of the International Union for Conservation of Nature. It also features in the list of Schedule 1 species under the Indian Wildlife Protection Act, 1972, and in Appendix 1 of the Convention of International Trade in Endangered Species of Wild Fauna and Flora.
The use of desert areas for energy projects has also brought with it another risk. "Earlier, it was difficult to reach habitat areas of GIB. There were no motorable roads," says Sumer Singh Bhati, a conservationist championing GIB conservation for the last eight years in Rajasthan's Pokhran area. The penetration of the jeep into the habitat areas of the GIB has made things easier for local hunters targeting wildlife, and GIBs are particularly vulnerable, as hunters can now easily chase the birds in their open semi-desert habitats, Bhati points out.
Conservation initiatives
In collaboration with WII and the Government of Rajasthan, and with technical support from the International Fund for Houbara Conservation, Abu Dhabi, two captive breeding and release centres have been established in the Barmer and Jaisalmer districts of Rajasthan. This initiative plans to raise 25 GIBs as a founding population for future species conservation efforts. "This is a critical step to prevent the extinction of this incredible species," says Arindam Tomar, Additional Principal Chief Conservator with the Forest department of the Government of Rajasthan. "These chicks will breed once they reach their breeding stage. And some of their offspring will be released into the wild after reaching their adulthood," Tomar added.
Some early results from the efforts of these breeding centres are already visible. "We have seven chicks now, which is encouraging. But there are miles to go," says Y V Jaha, a scientist who is the principal investigator for WII-backed project. Rehabilitating the second generation of these chicks into the wild will be the most exciting part, as it will allow them to live in their natural habitats. The entire process of breeding needs a lot of patience, and an integrated approach to conservation, Jaha emphasises.
"In Gujarat, we have developed a recovery plan for the conservation of the GIB," says D K Sharma, Principal Chief Conservation of Forests, who heads the forest force of the state. In a bid to avoid the collisions, diverters have been installed on the electric lines, Sharma added, these diverters will not only save GIB but also other species of large birds, including migratory birds. Similarly, in Rajasthan, over 1800 diverters were installed along two stretches of approximately 6.5 kilometres, selected between Chacha to Dholiya villages in the Pokhran tehsil. "These may reduce 90 per cent of GIB mortality caused by collisions with power lines," says Subrahmanyam Pulipaka, CEO of the National Solar Energy Federation of India.
The GIB is among the species whose conservation is proposed to be taken up by a recovery initiative - the Integrated Development of Wildlife Habitats, launched by the Central government. The government plans to declare their habitats as GIB conservation reserves. "Long-term conservation studies are also needed," says H S Gehlot, who is with the Wildlife Conservation Laboratory at Jai Narayan Vyas University in Rajasthan. "Such studies will increase our understanding of its ecology, movement patterns and breeding cycles. Landscape-level population estimation will provide the insight we need to create pragmatic policies."

Central and state governments are also asking power companies to consider placing high voltage lines underground to reduce collisions. "The EU countries have done this for the safety of heavy birds like bustards. As a result, the population of the birds has risen significantly", says Devesh Gadhavi, Deputy Director, The Corbett Foundation and member of IUCN Species Survival Commission. Underground power lines will not only increase their population but also enable the GIB and other endangered avian species to maintain their ecological functions, he pointed out.
"The GIB is the pulse of the grasslands. This species' numbers are a barometer of the health of the grassland ecosystem," says Govind Sagar Bharadwaj, a senior forest official with Rajasthan government. "Losing this species means allowing the collapse of the entire ecosystem. Therefore, engaging local communities with conservationists, government and scientists to conserve GIB is need of the hour".