Udaipur has drawn people for centuries - the kings who established it and ruled from here, British imperialists and Hollywood celebrities. Fringed by several lakes, the city gets its moniker, City of Lakes, from the sophisticated, interconnected lake system that was developed in the 16th and 17th centuries. The saucer-shaped fertile valley is also surrounded by the Aravalli range, which separates it from the Thar Desert and presents a unique geographical area, rife with green hills, dense forests, elevated highlands and alluvial plains - the opposite of the sandy, arid landscape of the Marwar region of Rajasthan.
This rare combination of lakes, hills and historic palaces and architecture has made the city a major tourist magnet. As per the Rajasthan Tourism Board's official records, 1,185,606 tourists visited Udaipur in 2019, before the Covid virus hit travel badly. Several Indian and global hotel chains are present in Udaipur and despite the pandemic, new hotel properties have continued to come up.

Udaipur by night. Photo by Archana Singh.
In the last decade, notably, its allure as a tourism destination has reached a new high, fueled by destination weddings and pre-wedding shoots, new properties to suit every budget, and the stupendous growth of online booking portals. "Today, the Udaipur hospitality industry is a Rs.1000-crore industry, employing over 10,000 people with over 1000 hotels, resorts, guest houses and homestays," says Rakesh Choudhary, Secretary of the Hotel Sansthan Dakshini Rajasthan, a hoteliers' body.
Shrinking lakes and disappearing hills
But there has been a cost to this rapid growth. While tourism fuels economic growth and provides employment to thousands, the industry is also weighing heavy on the health of the environment in and around Udaipur. The city's lakes and the Aravalli hills, which are the lifelines of the city, are at risk because of poor development practices and deforestation.
"People come to Udaipur to see its heritage beauty, which comprises not only man-made monuments but natural heritage too, like the lakes, hills, gardens, and bird sanctuaries. Because of rampant development and illegal encroachment, lakes have shrunk to 30-40 per cent in size in the last ten years. Lake Pichola, that once had an area of 6.5 sq km is now just 4.5 sq km, and Fateh Sagar has reduced from 4.5 sq km to 2.7 sq km. The reduced size of the lakes has also hurt the entire ecosystem - migratory birds and aquatic life is endangered," says Anil Mehta, Joint Secretary Jheel Sanrakshan Samiti, a citizens' group working on lake restoration.
Mehta, who is also the principal of Vidya Bhawan Polytechnic and a leading researcher on Udaipur lakes and Ayad river, has been leading the efforts of the citizens to clean and restore some lakes to improve their water quality. His views are echoed by Kushal Rawal, a 30-year-old administrator and principal of Abhinav School, who notes the sorry state of the lakes. "All kinds of garbage, such as household waste, left-over food items, polythene bags, medical waste, puja items, a huge amount of meat after Eid, and industrial waste, is thrown in lakes. All these combined have led to their degradation."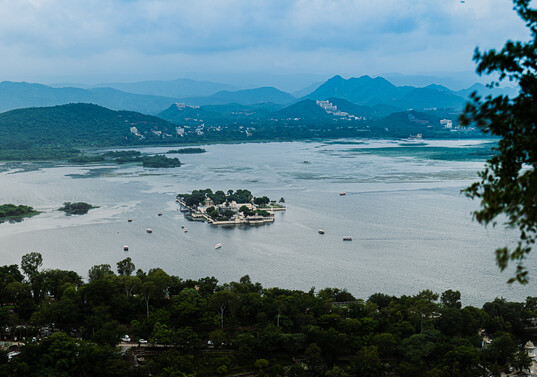 The lakes and the hills are a magnet for tourism to the city, but both are negatively impacted by its pressure. Photo by Archana Singh.
Not only do these lakes enhance the beauty of the city, but they also are the source of drinking water for its residents. Their pollution has affected water quality and the health of the people. It has also nearly wiped out several species of fish. The lakes, which once brimmed with fishes such as mahseer, known to inhabit only in pollution-free waters, are now filled with diesel fumes and tourists. The bigger carps are fast disappearing, leaving only minor carps, minnows and puntius.
Tourism has become a bane for the lake ecosystem. "Now almost every big and small lake in Udaipur has motorboats and water scooters plying throughout the day to attract visitors. But, they are unintentionally destroying the ecosystem of the lakes. Earlier Udaipur lakes used to get a lot of regional and migratory birds. Now the birds don't visit lakes as they no more get the quiet environs of the lakes. Fewer birds mean less aquatic life as they depend on each other for nutrients and food," says R K Jain, the Regional Conservator of Forests in Udaipur Region in Rajasthan.
It's not only the lakes that are bearing the side-effects of tourism-led growth. The Aravalli range has played a crucial role in preventing further desertification of the state, but it is being bulldozed to build swanky hotels and buildings. Kalpana Sharma, who moved to Udaipur four years ago recalls, "When I first visited Udaipur in 2012, the place looked very different from what it has become today. It was greener and less commercialised. Today, hills are cleared to build hotels and buildings." The deforestation and chopping of hills are not limited to Udaipur. Rayta Hills, 40 km from Udaipur, was once an untouched land. "Ten years ago, there weren't any buildings except for some local homes here and there. Today, many hotels and guest houses have mushroomed all over Rayta Hills, she says.
Geographical and climate impact
The shrinking lakes and disappearing Aravallis have a strong impact on the biodiversity and climate of the area. The Aravalli range was once a unique amphitheatre of biological diversity - a refuge for wildlife, for hundreds of species of trees, shrubs, and herbs. Hillock after hillock was covered by bamboo trees. Today, bamboo clusters survive only in forest outposts or near temples. Many rivers originate from the Aravalli hills and feed the plains, but indiscriminate deforestation in the hills and in the adjoining forests of the Mewar region has meant that every year's monsoon washes down tonnes of silt into the lakes.
Thanks to the Aravallis, Udaipur witnesses pleasant weather throughout much of the year. But even that is changing with time. "The temperature that Dubai used to have 20-30 years back, Udaipur has now. The rise is because of rampant deforestation and cutting of hills," says Bhuvnesh, an environmentalist who has been working since 2013 to save the biodiversity of Udaipur by planting native trees. The monsoon period has also reduced, which Bhuvnesh explains is a result of changes in the Aravalli hills. This in turn results in uneven distribution of water, and worsening soil conditions.
Bhuvnesh works in local tribal villages on forestation projects; he explains the intricacies of topographical, climate and societal changes. "Clearing of hills has led to less rainfall, which further pushed people away from agriculture. Tribal people, mostly from the Bhil tribe, inhabit the small hillocks of the Aravalli range and grow only one crop per year, maize, that gives them an annual income. With climate change and fewer rains, agriculture has become difficult to pursue, and they are forced to take up labour jobs," he says.
Can tourism be done right?
Experts say that tourism can play a pivotal role in restoring the tenuous balance between development and the environment. Mehta of Jheel Sanrakshan Samiti says that the need of the hour is to change the tourism narrative from just focussing on the human-made heritage tourism to promoting Udaipur as an ecotourism destination, built on the pillars of biodiversity, wildlife, natural wealth, ghats, and authentic Marwari cuisine.
Mehta acknowledges some ongoing conservation work, "Under the Centre-sponsored National Lake Conservation Project, the condition of Lake Pichola and Fateh Sagar has improved." However, he adds, "the administration has focused more on the beautification (widening of the parallel road, constructing fountains, etc.) than on conserving the biodiversity of the lake." Many citizen groups are working to improve the condition of the lakes. They point out that simple steps - like banning single-use plastic bottles, penalising those who throw garbage in lakes, introducing electric vehicles in the vicinity of lakes, and opting for traditional wooden boats over motorboats and water scooters - can bring back serenity to these water bodies.
Rahul Bhatnagar, a veteran with 37 years of forest conservation and wildlife management experience, recommends developing new eco-tourism products to reduce the pressure on overstretched resources of the city. This solution finds a mention in the new Rajasthan Tourism Policy 2020. The state's Tourism Department is working towards using eco-tourism and wildlife as focus areas to develop the 'experiential tourism' sector. The desert state, always famous for its royal heritage, will now also be promoted as an adventure and monsoon destination, say Tourism officials.
Sajjangarh is an example of a successful ecotourism project in Rajasthan. Photo by Rohit Kothari.
Steps have been taken to create awareness about up-and-coming eco-tourism destinations - Banswara, Rajsamand lake, and many lesser-known places. Both Bhatnagar and Jain suggest emulating and scaling up the blueprint of successful ecotourism projects like Sajjangarh Biological Park (pictured), Badi Lake and Purohiton ka Talaab. Jain shares his experience of successfully restoring a forest land into an eco-site - at Phoolon Ki Ghati (Valley of Flowers) in Chirwa.
"Until 2017, this 3.4 km forest land was degrading and lay unutilised. Despite being close to Udaipur, people were scared to visit it. Then, in 2017, under the urban forestry scheme, we developed this area into an ecotourism circuit with the Mewar Biodiversity Park and Purohiton ka Talaab in the vicinity. Basic infrastructure was developed like benches, walking trails, zipline, tree walks, and planting indigenous trees. Most importantly, we made the local community in-charge of this project. We hired local youth, gave them basic training, and today they handle this park all by themselves. A basic entry fee is collected to run and maintain the park. Today, not only has this community-led project turned profitable, but we could also restore the forest from getting further degraded."
Bhatnagar points out that "Udaipur has a lot of areas in its vicinity which can be developed into ecotourism and adventure sites. These places are naturally gifted and have incredible wildlife and birds." Places such as Baghdarrah, Dudhleshwar, Baghri, Bhil Berry, Goram Ghat, Bassi Sanctuary, Sita Mata Sanctuary, Aarampura, and Pullwari Ki Naal routinely come up as contenders for ecotourism projects. There is still a lot of natural beauty left in and around Udaipur. What is required is a strong will from the administration, locals and tourists to save that beauty.