(WFS) - "I don't remember exactly when I started working. I must have been five or six - my hands couldn't even reach the ends of the wheel," says 32-year-old Rampyari Sharma. Now a mother of six, Rampyari has been making rolls of cotton or woolen thread on a manually operated wheel for 27 years. On a daily grind from 10 am to 7 pm, she is paid according to the weight of thread she makes - Rs 3.50 a kg. Her joints ache severely; she takes medicine to kill the pain so that she can work for another day. She can not rest at home because there are debts to pay off for her daughter's marriage.
Kamla Devi, 19, has completed Class 12 but she works on the wheel to earn Rs 50 a day. A break during the workday usually means 15 minutes to have a quick meal. With an alcoholic father at home and a brother who refuses to work, Kamla has taken it upon herself to add to the family income. Her mother, Vidya Devi, is a co-worker.
According to Anand Jawhara, the General Secretary of the Centre of Indian Trade Unions (CITU), about 15,000 women weavers work (at making thread) in roughly 1,200 factories that are part of the textile industry in Panipat, Haryana. Ventilation in these factories is generally poor, and in some cases women work in cramped conditions.
Women workers in Panipat have been making thread that feeds the textile industry for about 60 years, but their exploitation has gone on unnoticed or unattended for decades. First, the names of most women workers are not on the employee rolls of the factories. Second, the office of the Assistant Director for Industrial Safety and Health or the District Labour Department do not have (or provide) any information or estimate about the number of women workers or such factories in the city.
"Whenever my labour inspectors go to these factories, they do not find women working there," says Ajay Batra, the District Labour Officer in Panipat. Anjali Bhan and Ramwati Devi clarify the reasons for this. "Our contractors and factory-owners always inform us in advance about such inspections. We are told not to come on that day. Sometimes, if women are working and the inspector arrives, we hide ourselves under the big cotton bags or run away from the factory's back door," says Ramwati. Anjali, 16, provides another example, "Two years ago when I was working, an outsider came calling, and I was locked up in the labourers' room for an hour."
Jawhara of CITU says, "To be very honest, these women workers were never on our agenda. We admit it as our failure not to talk with them about their problems or approach them to participate in labour protests."

Quite obviously, employers play this game of hide and seek because they want to cut corners. Registering their women employees implies that factory owners are bound by the law and must provide all the due benefits to their workers. For instance, the Employees State Insurance Act 1948 (ESI) stipulates that employers must have all their employees on the rolls, that minimum wages must be paid as also the provident fund, in addition to fulfilling several other provisions.
However, the ESI Act is flouted with impunity and this is mostly done in connivance with or the knowledge of labour officers. The contract system then, becomes a handy tool for the industrialists who use it for their own ends.
How is the contract system supposed to work? Says Jawhara, "Legally, contractors have to take a license from the state Labour Department in Chandigarh. And once they do, they are expected to follow the ESI Act."
Says Batra, "If the officers on raid find contract labour on site, they can ask the contractor to show the license and the record of that labour. If the contractor does not show the record then they (the inspectors) can issue a chalan (notice) in the name of factory owner and the contractor, and the matter goes to court. The Magistrate can then fine them and punish them also."
The fact is that women workers enter the industry through an "illegal" contract system. The contractors pay the women Rs 3-4 a kg of thread made, and the women are paid twice a month. "Sometimes they reduce this rate and tell us that the rate is fixed by the big person. We are illiterate women, we do not understand this business language, so we have to take whatever they pay us," says Lajwanti Devi, another worker.
Bharat Bhushan, a partner of Sandeep Carpets, says the payment to women workers is revised by 50 paise to Rs 1 every year. But the women workers allege otherwise. For instance, Kamla Devi, Sumitra Verma, Ekta Pahwa and Anjali Bhan who work at the Neha Textile Mill say they get only Rs 4 for a kg of thread. But Vishnu Bhagwan, the owner of this mill claims they pay the women a salary.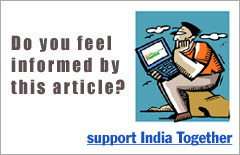 Under the Minimum Wages Act (1948), today the women workers (as unskilled labour) are entitled to Rs 2,240 per month. But what the women actually get is far less.
Besides, the health conditions of the women workers are a major cause for concern. Asthma, cough, and pain in the shoulders are common complaints. Given their meagre earnings, the women can scarcely afford to pay the doctor's fee.
Dr Anil Pahwa, a medical practitioner in the Whadwa Ram Colony for 15 years, says, "So many women of this area come to my clinic with cough or asthma. They take a prescription and no more than two or three days later, they discontinue the treatment." The colony houses approximately 700 women workers.
Jawhara admits the failure of CITU in addressing the problems of the women workers in the textile industry of Panipat. "To be very honest, these women workers were never on our agenda. We admit it as our failure not to talk with them about their problems or approach them to participate in labour protests."
Meanwhile, the women workers of Panipat continue to earn whatever they can, while unscrupulous employers deny them their basic rights.