In late August, the Supreme Court ordered the demolition of numerous farm-houses constructed in the fragile ecosystem of the Aravali range in Haryana. This was in Bandhwari, less than two kilometres from the Gurgaon-Faridabad road buzzing with activity. But this area is also a conservation zone.
Taking suo moto cognisance of a report in The Times of India of how a hillock had been flattened to build an approach road to various illegally constructed farmhouses, the court ordered the state to take action and submit a report to on what it had done. State authorities who had looked the other way all these years while huge palatial farmhouses were coming up in the protected areas in the Aravali range of mountains, were suddenly galvanised into action.
With bulldozers they demolished nearly 50 farm-houses. Many were in use, in some cases as expensive resorts, and some others were under construction. The owners had not cared to take any permission to build houses in the mountainous ranges, presumably because in this zone they would not have been granted such permission. Instead, they gambled that once the houses were erected, they would at the most pay a fine and get them regularised.
The demolitions carried out by the Department of Town and Country Planning and the Municipal Corporation of Gurgaon happened only because of the intervention of the Supreme Court.
But why should it take an apex court order to stop such blatant violations? How could something as massive as this happen despite orders of both the Punjab and Haryana High Court and the Supreme Court that specifically said that no construction must take place in a designated natural conservation zone. Tall walls were built around many of the houses to keep prying eyes away. Today, all of this has been reduced to rubble.
An alluring target for exploitation
The 692-kilometres range of mountains spread across Delhi, Haryana, Rajasthan and Gujarat is around two billion years old. Some of the peaks rise to a height of 5650 feet. The Aravalis came into existence through a number of tectonic collisions between a pre-Indian sub-continent and the larger Eurasian Plate. The range is much older than the Himalayas, and scientific research suggests that they were once much higher, and have been eroded down to today's heights over time.
The hills and the lands around them are rich in minerals, with reserves of rose-coloured quartz, zinc, copper, lead, gypsum, marble and soapstone. The range also has numerous stones that are easily ground to a gravel for the exploding ever-demanding real estate sector in the National Capital Region. Such resources have inevitably attracted the attention of a lot of people seeking to exploit them, and nudging pliant governments to look the other way while they did so.
That been going on for decades. A study by the Dehradun-based Wildlife Institute of India labelled it the most degraded forest range in India. Around seventy years ago, the Aravali ranges were lush with vegetation, flora and fauna and wildlife. There is documented evidence of the existence of leopards, striped hyenas, golden jackals, nilgais, palm civets, wild pigs, rhesus macaque, pea fowls and Indian crested procupines. Today, you will be lucky to spot any of them. Rivers too have vanished - the Banas, Luni, Sahibi and Sakhi are all no more.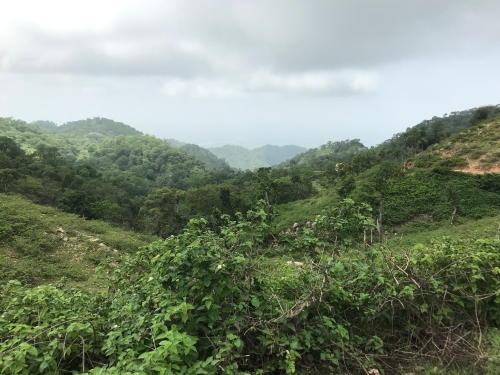 Pressure from the mining and real estate industries has kept many areas from being declared forest lands. In Haryana, the forest cover today is a mere four percent, but a much larger area could easily be designated for forest protection. The state has also not shown interest in declaring areas in the Aravali as Natural Conservation Zones, says Chetan Aggarwal, a forest environmentalist, who often visits the Mangar Bani forests near his house. He hopes that the island of greenery around him does not also vanish in the future.
The Aravali is also a crucial watershed for the National Capital Region, says environmentalist Chandra Bhushan. In the megalopolis, the demand for water is growing relentlessly, and it is only a matter of time before an over-exploited region becomes unable to provide water to the city adequately.
Sixteen years ago, a Supreme Court order had banned mining in many ranges of the Aravali, but that didn't stop anything. A report of the Comptroller and Auditor General of India said that 98.87 lakh metric tonnes of minerals were illegally mined in the years between 2011 and 2017. Real estate developers, encroachers, miners and businessmen also raced to build farm houses as their weekend retreats.
In 2018, the Supreme Court ordered Rajasthan to crack down on mining activity, as it was told by a court-appointed Central Empowerment Committee that as many as 31 hillocks have disappeared in the Aravali. The Committee said that illegal mining was prevalent in 15 districts of Rajasthan. The state was at that time earning around Rs.5000 crores from the mining companies, but the court remarked, "For the sake of a few mining companies, you are putting the lives of lakhs of people in danger." That stinging remark had little effect.
A useful precedent
Will the flattening of the fancy farm-houses galvanise the governments in Haryana, Delhi, Rajasthan, and Gujarat to similarly crackdown on the real estate mafia and private encroachers who have taken over forest land or destroyed it down the years? As no state government has shown the desire or commitment to diligently do this, it is highly unlikely.
There is enough evidence to proceed against the defaulters, says lawyer-activist M.C. Mehta who has fought many a battle in court against those out to destroy and pollute the country's environment. Mere court orders will not do, he says, as there has to be a political will to save the environment and the wisdom of realising that it is going to negatively impact all of us. Haryana could have acted on its own without being forced to, he added.
However, one ray of hope is that environmental activists can now rest in the hope that this judgment can be quoted in other similar cases elsewhere in the country to ensure that there is a fear of the law and that destruction of the environment in protected areas does not happen that easily. The real estate sharks would probably tread in greater fear than before. Building a structure in an area where there should be no construction and then watching it being razed to the ground may deter some.