Tikli, Haryana (WFS) – Just six months ago, Puja, 18, and Bimla Devi, 35, spent their day cooking meals, tending to cattle and working in the field -- the everyday routine of village women across Haryana. Never in their wildest dreams had they imagined that they could one day be sitting in an office working away furiously in front of a computer.
Today, this is the remarkable reality of hundreds of women in Tikli and Aklimpur villages. Their agrarian way of life has not changed – they still cut fodder for their cattle and clear the cow dung -- but they are now equally adept at using a computer. They work in a business process outsourcing (BPO) centre which has set up shop in the heart of their village. A first-of-its-kind women-only rural BPO in India, this centre was started by 'Harva', which stands for harnessing value of rural India.
"I never thought I would be able to work on a computer. It was a big thing for me. But now working on the keyboard comes so easily to me. We come here for eight hours and do our job. I'm so proud of myself," says Puja.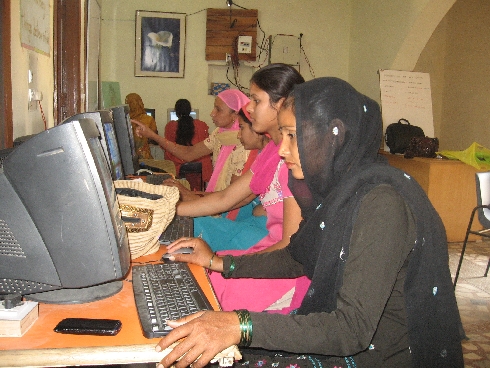 Working at the BPO centre has helped enhance the image and status of women in Haryana, a state notorious for its skewed sex ratio and masculinised culture. Pic: Hemlata Aithani\WFS.
A bumpy ride
And how did these simple women get a hang of using a high-tech device like pros? It's all thanks to a three- to four-month rigorous training course. Bimla can now type 35-40 words a minute, can mine relevant pieces of information from a pool of data and can do data entry perfectly.
But accomplishing this was not easy. Getting these women to step out of their homes was no mean feat. It took a lot of persistence to get them to break the rigid cultural and social barriers of their male-dominated society. It was the persuasive powers of Ajay Chaturvedi, a banker, who is a business management graduate from the University of Pennsylvania and an engineer from BITS Pilani, that worked like magic on these women. "When we heard of Ajay's proposal we were elated that we would be trained and get jobs," recalls Puja.
So it all began six months back with 500 women, who were selected to be trained in computer basics. "Irrespective of their formal education, they were selected for their ability to read and write, and some basic understanding of the English language, apart from their willingness to learn," says Chaturvedi.
"I feel city people always think rural women are illiterate and uncultured. But now we have proven them wrong. We are educated and all we need is just an opportunity…."

Training was provided free-of-cost and during the course they learnt about office culture and etiquette, basic English and communication skills, apart from Microsoft Office computer applications. Initially this was difficult for them, recalls Archana, 29, who has a 12-year-old daughter and a one-year-old son. "We were shy, a bit hesitant and all of a sudden had to deal with machines and technology. But gradually, with training and motivation, we picked up fast," she says.
Mining jobs
Their determination not only got them through the training but they were rewarded with short-term employment. Out of the 500 women initially selected, 200 completed the course and 50 were deployed on various projects. Twenty women are still working on projects, which involve data mining, while 30 more women are likely to get work as new projects come in.
While the opening of the BPO has created jobs for these rural women, Chaturvedi emphasises that this is in no way an NGO project, which aims at social welfare and plays less attention to accountability. He believes that the only way to better utilise the rural India market is through "socio-capitalistic business models".
"This is a business venture with a conscience and social responsibility. I am a capitalist, who would see whether a business model is viable and profitable or not. After ensuring this, the social cause can be served. If I create value, create business and opportunities, it will benefit everyone, including the villagers," says Chaturvedi.
He also frankly admits that he did not employ the women out of charity. "Women are overall superior beings, far more hardworking and serious. They can do a job in half the time that men can. They are good at multi-tasking and efficient and can work at a stretch without taking breaks, whereas men tend to always take many small breaks during work hours," he says.
Chaturvedi proudly gives the example of a 25-year-old woman - a Class VIII graduate - who learnt all the characters on the computer keyboard in just three hours, "something that is not easy even for people like me," he smiles.
Interestingly, the BPO centre is not Chaturvedi's only rural venture. This entrepreneur left his lucrative job with Citi Bank to tap rural talent and opportunities. He has already dabbled in community farming for non-rain-dependent cash crops in Uttarakhand. He wants to expand this project to 10,000 acres across the country that will benefit 10,000 farmers in the next four to five years. He has also been providing credit to rural people through micro-financing. Waste management is his upcoming project.
But for now, he wants to take this BPO model to other villages after seeing its success in Tikli, Aklimpur and surrounding villages. He has six other states in mind and has already laid the groundwork to open a centre in Bihar and Uttarakhand.
Enhancing image and status
Working at the BPO centre has helped enhance the image and status of women in a state notorious for its skewed sex ratio and masculine culture. It has proved to be their ticket to economic freedom, albeit in a modest way.
Bimla, mother of a girl who is in Class VII and a boy in Class II, was over the moon when she received her first salary of little over Rs 2,000 (US$1=Rs 44.6). "Whatever little amount I got, it was mine. It was a result of my hard work and I realised its worth," she says.
Adds Suman Devi, 28, a mother of two, "We feel economically empowered. It gives us a sense of security. We spend the money on ourselves and contribute to household expenditure, apart from saving some for the future." Reena, 18, the most vocal of the lot, gives her take: "I feel city people always think rural women are illiterate and uncultured. But now we have proven them wrong. We are educated and all we need is just an opportunity. Since the villagers know we are getting salaries every month, they too want to send their girls and daughters-in law over here."
The last six months spent at the BPO have made them better with time management and multi-tasking. "Earlier we used to spend the entire day doing household chores. But after joining the BPO, we finish all our work by 10am, come to office, work here and go back for the evening chores," says Bimla.
Apart from being a source of their financial independence, the BPO centre has become a place for these women to make friends. Now they have their own space amidst 20 computers in this two-room centre nestled among sprawling fields. "We have bonded really well. During our breaks we share our happiness and sorrows, married life, problems and issues, at home or outside. It gives us a lot of emotional support," says Manju Yadav, 25, who has a daughter.
All they want now is some sustainable long-term projects, which would guarantee them regular work and income. But for the time being, they are enjoying their new avatar and keying in their success story. (Women's Feature Service)