Sachin Tendulkar is not known for his public pronouncements and has come in for some stick for his poor attendance in the Rajya Sabha. He recently chose an odd instance to break his silence: he wrote to the Chief Minister of Maharashtra, Devendra Fadnavis to complain about highway toll posts in the state being "road blocks" for motorists coming in and out of Mumbai.
He urged the CM to relook the policy, "to reduce the physical and mental toll" on such citizens and asked him to lower the number of toll gates. This specially applied, he said, to the travel to Mumbai's satellite towns like Thane, to and from which there is a great deal of commuting by car.
He further criticised the poor condition of the roads despite the collection of tolls, and decried the traffic snarls at toll plazas when motorists were stuck in the traffic. He specifically cited the safety of people needing critical care. "Movement of ambulances has been issue in the city and we should make a start by ensuring smooth passage at the toll gates," he said.
This plea dovetails beautifully with the state government's current proposal to doing away with toll plazas for motorists altogether. It wants to exempt car and SUV users from paying such charges on most roads, but levy an additional tax on trucks, buses and tankers.
Maharashtra has some 91 toll collection plazas or "nakas," mostly run by private operators who have made a one-time payment and these contracts can't be abrogated. The Public Works Department supervises 23 of these, while most are controlled by the Maharashtra State Road Development Corporation (MSRDC).
The MSRDC has built the iconic Bandra-Worli Sea Link and the Mumbai-Pune Express Highway, which is now sought to be expanded. Both have fairly high tolls, but are used predominantly by cars rather than public carriers. The agency has opposed the removal of tolls.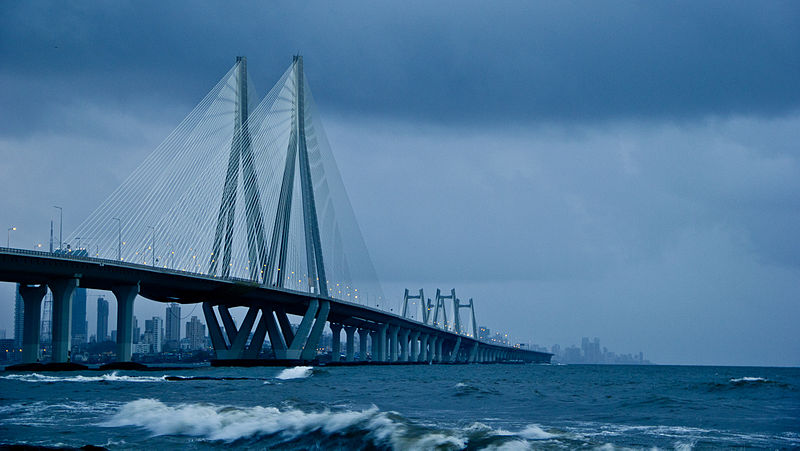 Prior to the state budget session on March 18, Fadnavis mentioned how it was difficult to do away or "buy back" contracts awarded to private infrastructure companies which collect tolls because there was no legal provision for doing so.
"However, we are trying to give relief to the middle class and we will be coming out with an entirely new toll policy," he added. This concern for the welfare of private motorists, who form a tiny minority even in towns and cities, is completely misplaced.
Fadnavis added insult to injury by further stating that he was glad that Tendulkar "has at least raised the issues of common people…We will fight them [toll operators] in court and ensure that the people of Maharashtra are relieved of the heavy toll taxes."
Elite privilege?
Even in Mumbai, the country's commercial capital, motorists only form 7 percent of commuters using any form of motorised transport and can by no stretch of the imagination be construed to comprise the "middle class", let alone "common people".
There are only around 3 million light motor vehicles – cars, jeeps and SUVs – registered in Maharashtra. In the 2011 census, the state had 112 million people, the second highest in the country.
As environmentalists and public transport advocates keep pointing out, cars are a public nuisance because they pollute, cause traffic snarls, clog arterial and other roads and prevent buses from operating efficiently. They also are noisy and take a toll of life and limb on roads. Public transport deserves a much bigger priority.
Public transport advocates have pointed to the anomaly that there are higher taxes on buses than on cars, when it should be just the opposite. By charging higher tolls for trucks, Maharashtra will be setting a dangerous precedent whereby operators will pass on this charge to consumers of such essentials as vegetables, fruit, milk and packaged commodities, the consumption of all of which are rising rapidly.
The politics and the economics
Tendulkar seems to have the support of all political parties, which see the "do away with the toll" drive as an essential populist demand. Each party is trying to outdo the other. The Shiv Sena, always a party with an eye for the main chance, was quick to endorse this grievance.
The Nationalist Congress Party, which together with its ally – the Congress, had faced popular wrath during the state elections in October for levying tolls, has threatened to take to the streets if the tolls are not abolished in the next few months.
Booths in the country have been vandalised and, on occasion, staff have been attacked and even murdered – "road rage" of an obtuse kind. Politicians are the worst offenders.
It is by no means coincidental that the abolitionists have the ear of Nitin Gadkari, Union Minister of Road Transport & Highways, who incidentally was himself interested in becoming the Chief Minister of Maharashtra.
He had last year planned to do away with tolls on all non-commercial private vehicles – cars, jeeps and two-wheelers – and buses across the country. A study by the National Highways Authority of India (NHAI) showed that only 14 per cent of the nation's toll booth collections were from passenger vehicles.
By not charging such vehicles, the NHAI estimated, the exchequer would forego Rs 27,000 crore for a five-year period between 2014 and 2019. In 2013-14, of the Rs 11,400 crore collected by tolls, Rs 9,800 crore was from commercial vehicles and Rs 1,600 crore from private ones.
Gadkari hoped to make up this loss by charging an extra rupee as a road cess on every litre of petrol and diesel on the existing Rs 2 per litre. In addition, he proposed to charge a one-time fee, amounting to 2 per cent of the cost – on the purchase of every personal vehicle. He also envisaged a fee of Rs 1,000 for every old vehicle.
A toll is a direct form of tax, payable by the user, whereas a road cess is more diffused and may end up taxing those not so well off who consume essential goods borne by public carriers. In 2012, there were 160 million vehicles in the country. As many as 48 per cent were largely personal but included taxis, while the bare majority or 52 per cent consisted of other categories, largely commercial carriers.
While the projected revenue in the five-year period from 2014 from tolls on both personal and commercial vehicles and a Rs 2 cess on petrol and diesel was estimated to be Rs 1,73,000 crore, Gadkari's other measures, including raising the cess to Rs 3, would fetch Rs 2,09,341 crore or around Rs 36,300 crore more.
In his recent budget, Arun Jaitley converted the existing excise duty on petrol and diesel of Rs 4 per litre into an additional road cess, amounting to Rs 6 per litre, to fund investment in roads and other infrastructure. He believed that this would raise Rs 40,000 crore for these sectors. However, the road cess accrues to the nation, not the state.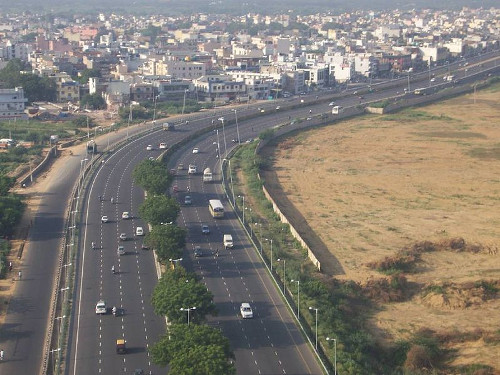 The Delhi-Gurgaon Airport Expressway. Pic: V Malik/Wikimedia
The environment question
Jaitley rightly stressed: "As environmental degradation hurts the poor more than others, we are committed to make our development process as green as possible. Our de facto 'carbon tax' on most petroleum products compares favourably with international norms." The left hand of the government obviously doesn't know what its right is up to.
All over the developed world, governments are trying to restrict the use of cars and other vehicles. One of the major reasons is the damage they do to the urban environment.
At the Anil Agarwal Dialogue organised by the Centre for Science & Environment (CSE) in Delhi during 11-12 March, CSE Director General Sunita Narain too warned about the dangers of particulate matter arising from the use of diesel in vehicles: "As many as 627,000 estimated deaths were caused by particulates in 2010, which really makes it imperative that the time to take action on diesel in urban areas has come."
There is certainly a case for reducing the queues at toll stations, which also adds to pollution and is perhaps a greater source of nuisance than the toll itself. It was due to such hold-ups that toll nakas on the Delhi-Gurgaon route had to be shut down.
Rationalise, rather than abolish
Experts point out that greater use of computerisation could ease such traffic snarls. The odd charges, like Rs 82.50 for a return trip on the Bandra-Worli Sea Link, cause inexplicable delays as operators fumble for the right change.
However, it will be nothing short of regressive to abolish tolls altogether. One would be faced with the burgeoning rise of traffic on arterial roads for people just to experience a joyride.
For instance, Fadnavis and the Mumbai municipal corporation are contemplating doing away with tolls on the extension of the Bandra-Worli Sea Link to Kandivali in the northern suburbs by a coastal road. Without a toll, motorists will simply ply on such arterial roads for the sheer pleasure of enjoying the scenic seaside vista, adding to the vehicular congestion.
Moreover, both the central and state governments should abandon their conviction that tolls are only meant to last till the capital expenditure on a road project is recovered. Tolls are necessary, as already observed, to deter the use of cars but also to pay for the heavy upkeep of such roads.
A well-established environmental principle is that "polluters must pay". In this case, it is motorists who must pay for the privilege of driving.