Vegaon (Yavatmal): Durgabai and Nalini lost their husbands in a little over one year. Now the two women sit consoling each other, mourning the loss of a father and a son. Vegaon has, meanwhile, moved on with its third suicide a day ago.
"He'd run out of patience," says Nalini of her husband Sanjay Kalaskar, 25, who hanged himself to death in his house on July 12, barely eleven days after the announcement of the PM's special package for Vidarbha's six most-affected districts. The common reason: debt and lack of credit. In April last, it was Babanrao who was staring at the crisis. This time around, it was his son. Sanjay had after all inherited loans with land.
Across Vidarbha, as banks and babus wait for formal orders, farmers are killing themselves at a sickening pace ending days of desperation.

But a sense of anger now compounds shock and helplessness of the two widows. "Sanjay could have lived on, had the bank officials not waited for the notification of the PM's special package to formally come," cries Vijay, his younger brother. The Kalaskars were informed of the benefits to them two days ago (August 1), when the notification came from New Delhi.
"This time they came home to deliver the loan," says Vijay. "What do I do of it, having lost both my father and brother?" he wonders. The bank did not ease any burden on Sanjay after his father took his own life. Sanjay's total loan liability with the Central Bank of Maregaon rose to Rs.1.1 lakh, besides outstanding bills of local inputs dealer and electricity dues. "We could not repay a single pie last year after my father's death," says Vijay.
Babanrao had suffered huge losses in 2005 on its 17-acre land, half of which is covered by irrigation. "When the bank refused fresh credit, we borrowed from acquaintances (read moneylenders)," says Vijay. Sanjay thought he would repay the money once he gets credit from the bank. His hopes crashed when the officials declined his persistent pleas saying they had not received any government notification. "We were not in a position to buy fertilizers or pesticides that were crucial in this period."
Not far away, in Mendholi village of adjoining Wardha district, Shankar Thool, 45, and his son Sandeep, 21, ended themselves on 30 July.
Across Vidarbha, as banks and babus wait for formal orders, farmers are killing themselves at a sickening pace ending days of desperation. In Mohi village of Wardha district, two farmers - Rambhau Thakre, 45, and Vasant Mohite, 40 - committed suicide on the same day: July 27. Sadly, the same day, Union Cabinet approved the PM's package for Vidarbha.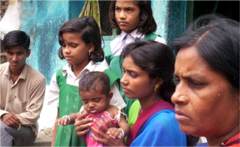 Two widows from one family, Durga, 42, (right), and Nalini, 22, (second from right). Their husbands committed suicide following Singh's recent visit to Vidarbha. Pic: Jaideep Hardikar.
"We are confused, whom should we believe in? The finance minister says action will be taken within 48 hours against officials who do not release the credit, and the babus say they have no notification," wonders sixty-year-old Tatyaji Panghate at Ghonsa in Zari Jamni block of Yavatmal.
At the time of writing, many farmers are still craving for credit. And in the meantime, floods have wrecked havoc in Yavatmal, Chandrapur and Buldana, swallowing the standing crop and plunging the farmers into fresh crises. Many of them won't be able to resow, because that season has gone, leaving them bewildered.
"This is my 15th trip to the bank, but he says I am not eligible for loan. He isn't telling me why? I've documents ready and no past dues," says Natthu Dave, a five-acre farmer from Borda village, waiting outside the Indian Bank branch in Ghonsa. Tens of farmers queue up for loans in this bank and the branch of district central cooperative bank next door.
Says Suresh Bolenwar, a farm activist: "Banks are still not giving credit to farmers and if they do, the sanctioned amount is insufficient." That is another problem. "We have to still borrow from private sources to bridge the gap, which reduces our returns due to huge interest component."
For instance, in Jhamkola village, Santosh Kohare should easily get Rs 1 lakh in credit going by his huge land size - 25-acres. "But no bank here is dealing with fresh cases," he says. He won't get more than Rs.15,000 if at all his case is approved for loan owing to pressure, says Bolenwar.
Adds Santosh: "I've borrowed from private sources at 60 per cent interest rate." His loss at the end of the year on his returns would be a lakh rupees.
Admits Suresh Ninawe, Indian Bank branch manager at Ghonsa: "We've to follow the credit limits as per the orders from higher ups." Ninawe says his branch has disbursed over Rs 1 crore in credit to farmers this year, up from Rs 70 lakh last year. "The demand is much more," he admits.
Ninawe says he's going to restart disbursement after eight days. "I am too tired now." As he stops the disbursement, farmers die in misery.
Rain-fed cotton farmers can get credit up to Rs.10,500 per Ha, but they seldom get that much here. "Because cotton farming is not viable," says K G Nagpure, manager of central cooperative bank at Ghonsa. Compare that with western Maharashtra: a farmer with 25 acres of land will easily get a minimum Rs three lakh loan, he says. "Because it is viable."
A number of factors have hit the viability factor here though. Crashing cotton prices, rising imports, falling on-and-off farm incomes and much more. The fact remains that the PM's special package is not working.
"Over a hundred farmers have committed suicide in Vidarbha after the PM's visit," says Kishor Tiwari of the Vidarbha Jan Andolan Samiti. The last month saw over 90 farmers commit suicide, a record in the past decade. "This was expected," adds Tiwari, "Because the PM's package on paper fails to capture the point farmers are making on the ground. Now we hear the CM has no idea of dealing with the crisis. What else do the farmers do?" Tragically, death came faster than the package in all those over 90 households that saw a suicide in the post-PM-tour period.