The sensational 'suicide' of the farmer from Dausa, Rajasthan, during a protest on the streets of Delhi may appear to be due to skewed agrarian and land policies as well as the economic burdens that farmers have to suffer, but at the heart of Gajendra Singh's tragic death is another story. Unlike what it may seem, Singh is a victim of gender violence much as a dowry death victim or a domestic violence victim is. His fate has revealed that the notions of hegemonic masculinity, which oppress women, put equal pressure on men.

Singh, who was supporting a wife and three children, wrote that his father had thrown him out of the house because of crop failure. He was not financially solvent and the insult and distress preyed on him till it became too much to bear. Sociologist R.S. Deshpande points out that a recent analysis of 142 incidents of farmer suicides in states like Maharashtra, Karnataka, Punjab and Andhra Pradesh clearly reveals that in most instances the farmer ended his life to prove that "he is a man, so he cannot tolerate insults", which he has to face from moneylenders or bank personnel in case of mounting debt due to crop failure.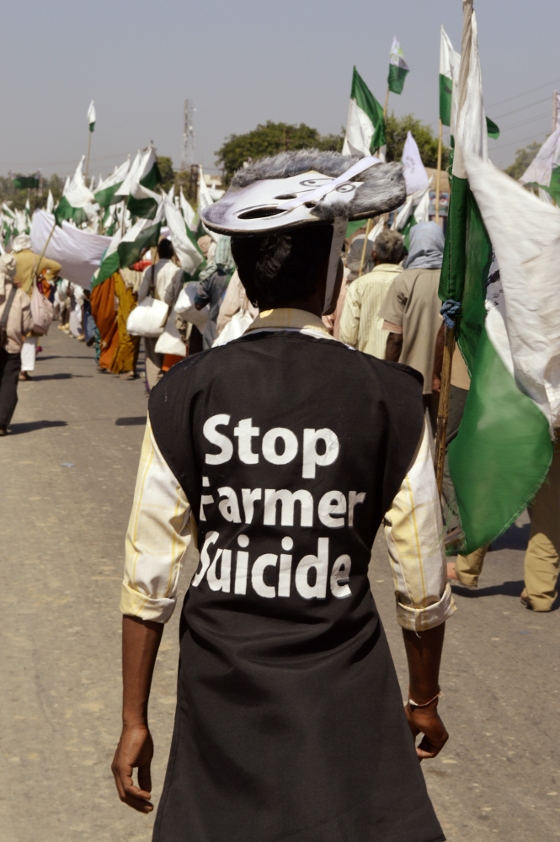 Kavita Bahl, an independent filmmaker, who has made heartrending films on the lives of farmers in India, notably 'Cotton for my Shroud' on the cotton farmer suicides in the Vidarbha region, and 'Candles in the Wind' on farm widows in Punjab, which received a special mention at the 61st National Film Awards, has closely observed the mindset of the hardworking agriculturists. She says, "Straight-jacket gender roles isolate both men and women. Men bear the burden of providing for the family, and on failing to do so go down a spiral of depression leading to suicide."

Bahl continues, "On the other hand, the women, despite being equal contributors in agricultural work, receive no recognition as a farmer while their husbands are alive. On the husband's death, the wife inherits his debts and is left to fend for her family single-handed, often thrown out of the marital home along with her daughters. She is pushed into the 'man's role', but continues to have restrictions placed on her through traditions."
While so far the phenomenon of farmers' suicides has been taking place in the provincial 'other India', where it was easy to push the issue to the backburner, the incident that took place on April 22, 2015, near the Parliament complex has brought the issue right to the doorstep of the government and reiterated the need for policies, legislation and systems that integrate men and boys into strategies for greater gender equality.
Need for more resources for gender focused development programmes
Since December 2012, civil society organisations have increasingly been calling for the need to systematically address a range of men's violence from farmers' suicides to acid attacks and rapes. They suggest re-looking the male and female stereotypes being promoted through educational curricula, undertaking a gender based review of corporate and institutional policies including paternity leave policies, examining the reasons that create masculine aggression in a changing socio-economic world, and putting the criminal justice system under the gender lens. Activists are also advocating that their work on roping in men and boys to further gender equality be taken from the programme/project level and incorporated into policies and institutions – that gender equitable socialisation be promoted, more boys and men be engaged in the prevention of gender-based violence, men receive encouragement to be involved as fathers and caregivers and take on equal responsibility for unpaid care work, and that they be expected to take greater responsibility for sexual and reproductive health and rights instead of leaving it to their partners.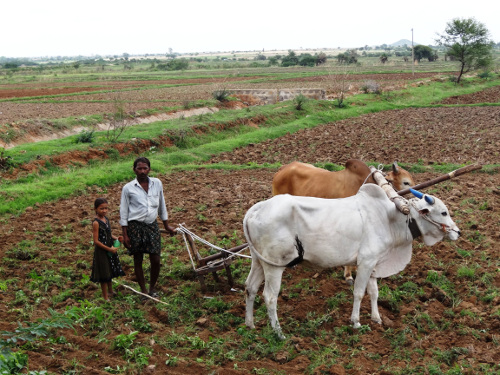 To prevent farmer suicides the country will have to focus on removing gender inequalities. (Picture for representational purpose only) (Credit: Aditi Bishnoi\WFS)
Those working in the field of gender rights are convinced that to prevent farmer suicides the country has to go beyond addressing economic inequalities and, in fact, focus on removing gender inequalities as well. Feminist activist Kamla Bhasin, who has been vociferously supporting the inclusion of men and boys in the fight against patriarchy, says, "In order to transform unequal power relations it is important to address gender vulnerabilities of the male. Patriarchy affects everyone, but in different ways. Women and girls continue to face significant and disproportionately high levels of gender injustice and human rights violations. Men and boys are both privileged and damaged by patriarchy, but they are rarely aware of that fact. Gender equality brings benefits to women, men and other genders." She feels that the government urgently needs to increase resources for gender justice work and include effective gender justice strategies in all development programmes.

There is rising demand for policies and legal reforms that can institutionalise greater gender-equitable relations within homes and offices, factories and fields, in government and on the streets. Concrete recommendations include re-examining systems and institutions, including those involved in education and training, workplace behaviours and policies, legislations, management of public spaces, operation of faith-based institutions and prevailing social norms, and side by side putting into place systems to ensure gender norms are maintained in governments, schools, families, the health sector and the workplace. This includes creating public awareness campaigns to transform men's and boys' perceptions of gender roles.

Clearly, the stakes are high even for men and boys, who, though implicated in violence and discrimination against women and girls, are often themselves victims of violence and risks associated with narrow views of masculinity. Today, many of them have started questioning and overcoming inequitable and violent versions of manhood and highlighting their own personal reasons in overcoming gender injustices. But till the behavioural norms that prevent men from voicing their problems and vulnerabilities do not undergo a radical change industrious farmers like Gajendra Singh will continue to live in the shadow of the fear of failure.(© Women's Feature Service)