Till about a year back, 50-year-old Shankari Bagal had never known want. She lost her husband many years back, and some four years back her son also died, leaving behind a wife and three small children. But Shankari and her daughter-in-law had together continued to earn a decent living by cultivating the four bighas (local measure - three bighas is roughly equal to one acre) of rich four-crop land that they were sharecropping. (Landowner allows sharecroppers to cultivate the land in return for a share of the crop produced on the land.)
The roof, as it were, came crashing over Shankari's head when this land acquired by Tata for its now infamous car factory at Singur. "I used to always have heaps of paddy in my court yard," says Shankari. "We used to take two crops of paddy, apart from potatoes, vegetables and groundnuts. But now we have to think twice for every handful of rice we decide to cook."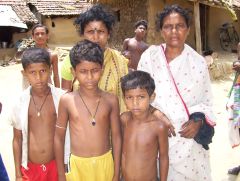 Sharecropper Shankari Bagal with her family. Pic: Aparna Pallavi.
Women in Singur are no strangers to farming. Especially among sharecropping families, women and girls regularly participate in farming activities to save labour costs, and are as skilled in agricultural work as their male counterparts. "Since the law grants sharecroppers permanent cultivation rights in West Bengal, and since the rent for the land is also reasonable – 25 per cent of the produce, it is not uncommon for women to go on cultivating a piece of land successfully in case of the husband's death, and the family's economic status does not change very much due to the man's death," says Anuradha Talwar of the Paschim Banga Khet Majoor Samiti, an organisation of agricultural labourers.
But for the female sharecroppers of Singur, everything changed after the now wellknown Tata car project entered the scene. Along with some 12,000 land owners (numbers estimated by the West Bengal Industrial Development Corporation's status report on the Singur project), the land acquisition for the Tata factory has displaced a large number of unregistered sharecroppers out of livelihood. Government figures put the total number sharecroppers on the acquired land at 407, of which unregistered sharecroppers are 170. But estimates by organisations like the Nagrik Mancha and Sanhati Udyog put the numbers of unregistered sharecroppers at not less than 1,200 families, of which roughly 8 to ten per cent are women-headed households.
In Shankari's village of Dobandi alone, 90 families of unregistered sharecroppers have lost their livelihoods. Of these, 12 women-headed households have been the hardest hit, and seven such families in this village are now on the brink of starvation. One elderly woman, Bimala Khamaru, has already died of starvation.
"Employment is available anything between five and seven kilometres away. Older women like me cannot commute so far, and younger married women have children and homes to take care of."

Dobandi is located adjacent to the land acquired by the Tatas. The 90 families in the village are all landless, and had been sharecropping on land close to the village for generations. All of this land has now been acquired by Tata, leaving the villagers without a livelihood. While the men have found casual employment as agricultural labourers -- of course the wages are very low compared to what they earned as sharecroppers, the women have all been forced to remain home.
The reason is simple, says Satyabala Patra, who has also lost her three bighas of sharecropping land, "Employment is available anything between five and seven kilometres away. Older women like me cannot commute so far, and younger married women have children and homes to take care of." Satyabala's only daughter is now supporting her mother on a wage of Rs.30 per day, for which she has to commute 30 kms every day. "How will I ever get my daughter married?" she asks worriedly.
Durga Bairagi, aged 67, used to actively take part in the farming activities on her family's five bighas of sharecropping land along with her two sons and two daughters-in-law until the acquisition for the Tata project. "Our father-in-law died young, and she farmed the land and brought up her three children all by herself," says her daughter-in-law Jayanti. "Up until last year she used to go to the farm every day and supervise and keep track of every activity." But after the land was taken away, Durga is a skin-and-bone wreck. "We used to be five workers in our house," she says in a quavering voice, "but now only my two sons work. The Rs.80 per day that they earn after commuting 15 kms is not enough to feed our family of 12."
All these women, whose economic status has undergone such a drastic change due to the land acquisition, were originally not deemed eligible for any kind of compensation. As per the West Bengal government's status report on Singur, sharecroppers have to be paid 25 per cent of the total compensation for land, including crop compensation. But this compensation is reserved only for sharecroppers who are registered with the government. Says Swapan Ganguli of the Singur Krishi Jami Rakkha Committee, "According to the law sharecroppers in West Bengal have to be registered with the government. But given the excellent relations between land-owners and sharecroppers in the Singur area, many had not bothered to register themselves, and are now left with no support."
According to Ganguli, no proper survey of sharecroppers in the area was done before the land acquisition. "While the government's lie that most of the land was taken by consent was nailed after owners of 367 acres of land filed an affidavit in court stating that their land was taken without their consent, the bargadars, as sharecroppers are known in this area, were not consulted at all. Even the numbers of sharecroppers was heavily downplayed in the status report."
But the government's thinking seems to have evolved. The collector of Hooghli district, Binod Kumar, now says that the government is offering unregistered bargadars compensation at par with registered ones. He says that they are now conducting field inquiries, as there are no records. According to Kumar, around 360-370 unregistered bargadars have applied for compensation till date and they will be compensated at par with registered bargadars after the completion of field inquiries to confirm the authenticity of their claims. He expects the process to be completed in a month. No special provisions, he said, had been made for female-headed sharecropping families.

Artabal Das with her daughter. Pic: Aparna Pallavi.
Atrabala Das, another unregistered sharecropper, says that the economic difference made by the land acquisition is huge. Atrabala's two bighas of land used to yield 100 sacks (50 quintals) of potatoes every season, apart from paddy and vegetables. "Today, even a year after the land was taken, I have some paddy and potatoes left from our previous crop," says she, "I do not know what I and my daughter will do after that stock is finished."
Whether or not the unregistered female sharecroppers of Singur will finally get any kind of compensation will also depend heavily on how the political situation in the area will turn out. But do they want compensation in the first place?
Atrabala says that even if they were given compensation, the amounts would be too meagre. The government rate of compensation for land in Singur, after several revisions, stands at a little above Rs.8 lakhs per acre at present, which, according to locals, is substantially below the market price. Atrabala notes that a sharecropper will be entitled to just 25 per cent of this amount, which is too low to sustain them for the rest of their life. "I need my land, not money. It was the land that sustained us. If I had a son, I could have sent him anywhere to work. We would at least not have starved. But my daughter is young. How can I send her to work among strangers? How does the government expect us to survive? Should we all commit suicide?"
Deprived of their lands and livelihood, unable to find any kind of work, the female sharecroppers of Singur are today looking at bleak days ahead.