In July 2014, a 42-year-old homemaker was murdered in her Kolkata residence after she agreed to meet a man she had befriended on Facebook a fortnight earlier. Crimes such as these, however, fail to create the kind of shock and outrage one would expect, as we find them being reported with increasing frequency.
As Internet usage has grown in leaps and bounds in India, so have crimes associated with cyberspace. What is worrying however is the fact that awareness of cyber-crimes, victimisation and perpetration has not grown commensurately.
This issue was discussed recently at a UGC-sponsored seminar titled "Cyber Crime in the Twenty First Century in India", organised by the Department of Sociology of Women's Christian College, Kolkata, in collaboration with the Centre for Cyber Victim Counselling, Tirunelveli, Tamil Nadu.
Dr Tumpa Mukherjee, joint convenor of the seminar rightly pointed out, "Young netizens urgently need to have cyber-crime awareness so that they can conduct themselves better when they go online. We have organised this seminar to make people more aware and discuss the issues we all are facing."
The growing incidence of cyber crime
Cyber crime is now broadly accepted as any crime committed either directly or through communications devices or technologies such as the Internet, telephony and wireless technologies. In India, such offences are governed by the Information Technology Act (IT), 2000 which was subsequently amended in 2008 and called the Information Technology Amendment Act, 2008.
The Indian Penal Code counts all of the following as cyber crime:
Damage or gaining unauthorized access to a computer resource generally or with dishonest or fraudulent intention.
Tampering with computer source documents (Virus, worm, Malware)
Hacking
Sending offensive messages (cyber stalking)
Dishonestly receiving stolen computer resource
Identity Theft (Phishing, whereby you pose as somebody else by using his photograph and profile on social networking sites)
Cheating by impersonation using computer resource (Credit card frauds)
Violation of privacy
Cyber terrorism
Publishing/transmitting obscene information in electronic form
Publishing/transmitting material containing sexually explicit act or conduct in electronic form
Publishing /transmitting material depicting children in sexually explicit act or conduct in electronic form (Child Pornography)
Abetment or attempt of any of the above
The annual report of the National Crime Records Bureau (NCRB) titled Crime in India in 2013 shows that in 2012, 2876 offences that could be categorised as cyber crime were tried under the IT Act and 601 under the Indian Penal Code. In 2013 cases tried under the IT Act went up to 4356 and cases under the IPC more than doubled at 1337.
According to NCRB statistics, cyber forgery accounted for 55.9 percent cases while cyber fraud accounted for 38.7 percent cases tried under the IPC in 2013. 19.6 percent cases involved eve teasing and sexual harassment. In 13.2 percent of the cases suspects were neighbours, friends or relatives.
At the seminar, Sonal Agnihotri, IPS and Superintendent of Police, Central Bureau of Investigation (CBI), said, "We have seen that victims are often less educated, at times greedy and that's why they fall into a trap when they get a mail from some random person promising them money. Often they are not that tech-savvy either. Sometimes, even the offenders commit the crime not knowing that what they are doing is illegal. That is why it is very important to know what constitutes cyber crime."
Siddhartha Chakraborty, Officer-in-charge of the Cyber Police station, Kolkata Police, said, "Many crimes these days have a link to cyberspace. On a daily basis we deal with at least 10 to 20 complaints. We have handled all kinds of cases. There was a case where someone was selling an expensive Samsung set for just Rs 5000. One lady approached us who transferred the money but wasn't delivered the set as promised. We nabbed the criminal after tracing his IP address. We also nabbed an ex-husband who was maligning his wife on Facebook by creating a fake profile. We have dealt with job offer frauds, tutorial class frauds and banking frauds. In Kolkata two people have been convicted so far in cyber crime cases."
Despite the rise in these crimes, the conviction rate has been very low with only around 10 people convicted around the country so far. One doctor in Kerala was handed a life sentence after it was proved that he was manipulating his patients and forcing them into sex videos.
According to Chakraborty, the pattern of cases involving cyber crimes seems to indicate that certain types of people are more prone to committing these. These include disgruntled employees, professional hackers from within or outside the country, business rivals, former life partners or people with whom the victim had been romantically involved.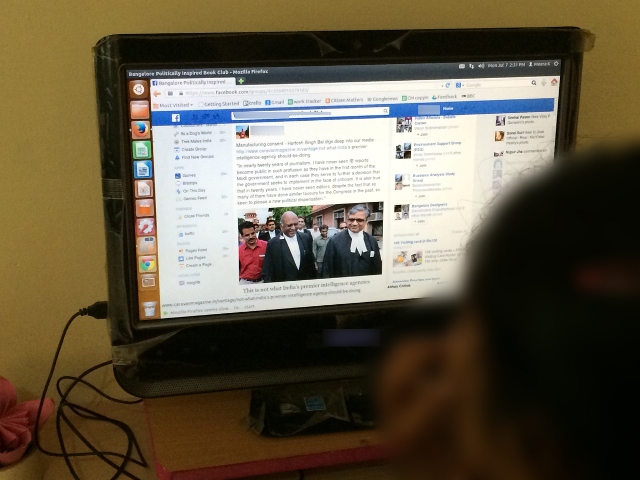 The threats to women and children
Dr Debarati Halder, Managing Director of the Centre for Cyber Victim Counselling says that her research shows that young children, teenagers, young adults, women and transgendered women are likely to be targeted more often through cyber crimes.
"In a research I conducted recently, 85 percent women said that they had received some kind of harassing message, 40 percent have been victims of cyber stalking at some point of time and 25.7 percent said that they have shared pictures without realising that the circulation of such pictures might harm them," said Halder, an advocate and author of the book Cyber Crime And Victimization Of Women: Laws, Rights, Regulation,co-authored by Dr K.Jaishankar.
She also pointed to the dangers of what is called 'sexting', saying, "Women often send their semi-nude or nude pictures to a boyfriend or partner, not realising that in case the relationship ends he might use it against her. There was a case recently where some women sent out pictures to close friends while trying out lingerie in a mall and it went viral."
Halder has been counselling more and more victims of revenge pornography, where a partner from a previous relationship, out of frustration and anger, posts the victim's pictures or videos to publicly defame the latter.
Cyber bullying, where harsh messages are posted criticising or attacking a person is also on the rise. As Halder said, "Trolling is also very common these days. Trolls are usually people with fake profiles who gain five minutes of fame by saying horrible things that inevitably take away the attention from the main issue, but can be very mentally stressful to the person who is at the receiving end of their comments."
Journalist-writer Sagarika Ghose was one of the most notable victims of trolling and cyber bullying in recent times.
"Her case was a much-hyped one because she spoke about what she was facing openly," said Halder, "but women usually don't speak out about these things because they are scared they will be judged, and they develop their own coping mechanism which is often irrational. This is leading to an escalation of such crimes against women. Even if they take it up with the police they just want the content removed and do not want any further action taken. Also not all places in India have cyber police stations to deal with these specific cases."
She also raised the issue of data mining where stalkers on the prowl are constantly on the lookout for data. "One has to be careful about sharing any data. Also one needs to co-operate with a police investigation. Workplaces and organisations should have a zero-tolerance attitude towards cyber crime; schools need to have a positive approach and colleges can decide between a positive and negative approach according to the gravity of the crime."
Advocate Bivas Chatterjee who specialises in cyber crime and law and is the legal consultant for various telecommunication companies and Internet service providers shares that an alarming 67 percent of data in the cyber world is pornographic and a chunk of it is child pornography.
Viewing or indulging in child pornography is punishable by law throughout the world and India is no exception. But there are people out there constantly looking for "grooming" children. Even Halder points out that "The Internet is a groomer's trapping machine where paedophiles are always on the lookout for vulnerable children and teenagers through data mining. Once they get friendly with them they ask them to take off their clothes in their own bedroom and film it through skype."
"While children are victims, they can be perpetrators too. Teenagers often use data, troll or use pictures to harass classmates or take revenge on someone who is not reciprocating their feelings," she adds.
A rather alarming trend according to these experts is that parents often allow their children to use the Internet using their (the parents') profiles and do not realise the consequences. Sometimes they allow them to create Facebook profiles even when they are not old enough and leave their online interactions unsupervised.
Chatterjee feels that service providers also need to play a key role here in diligently keeping track of what's going on in the traffic.
Cyber crime in the court of law
Research has shown that 82 percent monetary transactions are taking place online in India, shares Chatterjee, while pointing out that compared to the rising number of users, awareness about cyber crime and ways and means of safeguarding against it is very poor.
Another big problem is that apart from the metros or a few big cities such as Lucknow, Hyderabad and Trivandram, there are no separate cyber crime centres in other parts of India. Neither are police and lawyers equipped well enough to deal with such cases.
Although the IPC and IT Act have covered cyber crime cases, there are often stumbling blocks in the proceedings because of some grey areas feels Chatterjee.
He asks, "Criminals in the cyber world often use encrypted language which was not acceptable as evidence in the court of law earlier, but has only been recently included in some sections of the IPC. There are no clear privacy laws or copyright laws either in the cyber world. For example, if a couple posts their honeymoon photographs on their Facebook wall and these are subsequently shared by other people, with or without honourable intention, would it be a violation of their privacy?"
In cases where people lose money through cyber fraud, or lose data as computer systems are hacked, the IT Act has a provision by which a compensation of up to Rs 1 crore will have to be paid as penalty and a high ranking government official will be designated as the adjudicator of such cases.
"Most often the complainant wants to recover his money and adjudication helps in that case," says Chatterjee.
Reporting and safeguarding against cyber crime
According to Siddhartha Chakraborty, "The biggest stumbling block in reporting such crimes is that most often the victims don't know how to go about it. They approach the police who then refer those cases to the cyber cell. But sometimes, the account is deactivated or the picture has been removed even before the complaint is made."
Chakraborty shares a few tips on things to be done before lodging a complaint. The victim must go to the browser URL, open the page and save the URL so that it can be reported even if the page has been deactivated later. The complainant must take a screenshot of that URL, take a printout of that and attach it with the complaint.
These ensure that precious time is not wasted, thereby increasing the chances of effective redress.
According to him, however, it is possible to stay safe on the Internet if one is just careful and alert. These are the pointers that he shares:
Users should be aware that whatever is put online stays there forever. This should be kept in mind while uploading things accordingly.
One must use a strong password with a combination of upper and lower case and alphabet, symbols and numbers. A two-step verification process is recommended while creating a password.
Mobile phone numbers must be used for verification. In case, anyone tries to hack into the account the user will instantly get a message.
Different passwords are recommended for different accounts.
It is important to be aware of what constitutes illegal content, before you go ahead and post something.
Email attachments or instant messages attachments must never be opened unless one is sure that these do not contain viruses.
Personal details must not be shared online with anyone.
It is always advisable to use "https" while typing specific bank urls for online transactions. This is more secure.
Wi-fi passwords must be strongly secured so that no one can hijack the IP address to commit a crime.
Users should always log off from all accounts, especially when they accessing the Internet from public places such as cyber cafes.
REFERENCES
Cyber Crime Manual by Bivas Chatterjee.
The National Crime Records Bureau (NCRB) http://ncrb.gov.in/
Information Technology Act 2000