Living in a tiny brick-walled house painted in white at the corner of a street in Balapur area of Old City in Hyderabad is Mohammed Ayaz (*). The lanky 26-year-old, malnourished and unkempt at first sight, wears a crumpled, muddy kurta and pyjama that gives you the impression that he hasn't bathed in a while. There is something else that is unusual about him, although it takes a few moments to figure out what. Ask him why he looks so shabby and if hasn't taken a shower, his wan smile vanishes. "Nahane ke liye, haath toh hona chahiye (To bathe, one needs to have hands)," he reveals as the tears flow like a stream down his glistening cheeks.
Ayaz is a physically challenged person who lost his hands in one of the bloodiest riots his community has seen. For his neighbours in the Old City, he is a refugee, a Rohingya Muslim (a religious and ethnic minority community numbering approximately one million) who fled Myanmar in the wake of continuing atrocities against them last year. Dreary eyes and drooping shoulders are telltale signs of the ordeal and hardships faced by members of the community in India.
"In May 2012, a group of nearly 400-500 Rohingyas, including me, crossed over into India from Bangladesh," says a teary-eyed Ayaz, adding, "we had fled Myanmar fearing further attacks from the Buddhists in the violence that spread through Myanmar's Arakan region in the Rakhine state province, on the western coast of Myanmar."
Even before his flight, his hands had been chopped off in the violence that erupted in Mobedan of the Arakan region where Ayaz lived with his parents. "I was on my way to college around 9 am. Suddenly, a group of anti-Rohingyas attacked me, thrashed me with a stick and finally, chopped my hands off - just as a butcher does to a chicken," says Ayaz, in broken Hindi.
The pain and trauma after his hands were cut off were extreme, says Ayaz even as people around him began running helter-skelter in the panic that followed. "It was chaotic. Everyone wanted to escape the thrashing." Ayaz even lost his parents during the violence. Recalling some of the horrific scenes from that day, he explains, "some were kicked in the stomach, some murdered brutally, some were cut into pieces and most, left homeless."
Who are Rohingya Muslims?
The Rohingyas are a Muslim minority from the Arakan province of Myanmar, renamed Rakhine by the military-led government in 1989. Ethnically, they are related to the Bengali people living in Bangladesh's Chittagong District. About one million Rohingyas live in the north of Rakhine State in Myanmar, which borders Bangladesh and includes the townships of Maungdaw, Buthidaung and Rathedaung. The United Nations characterizes Rohingya Muslims of Myanmar as one of the world's most persecuted minorities.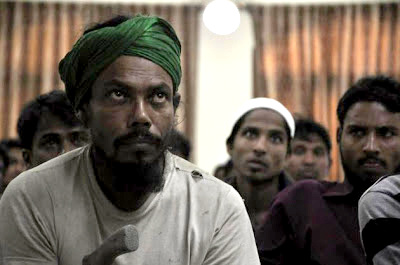 Iran had, last year, offered cash assistance to a group of Rohingya refugees in Hyderabad. The Iran Consul General in Hyderabad handed over a cheque of Rs 65,000 to COVA, trying to help them get official status for the Rohingyas from the UN body's office in New Delhi. (Picture: Rohingyas listen to a briefing at a rescue and rehabilitation camp in Hyderabad. Credit: Civil Liberties Monitoring Committee.)

Without citizenship, a Rohingya cannot (legally) leave the townships of Rakhine State and, since 1994, they must request special permits to marry. Such permits also restrict Rohingya couples to having two children. Common-law couples are vulnerable to prosecution. The Burmese Army, during the country's 60-year military rule since 1962, committed rampant human rights violations, killing, raping and torturing members of the Rohingya Muslim population, culminating in a mass exodus and a resulting chronic refugee crisis in neighbouring Bangladesh.
The "statelessness" of the Rohingya Muslims worsens the humanitarian conditions that they are condemned to. This is because even as the Universal Declaration of Human Rights guarantees the right to a nationality, the Burmese Citizenship Act, 1982 codifies the legal exclusion of the Rohingyas and denies them equal citizenship rights. The government includes Rohingyas in official family registries and provides them with temporary registration cards. But, these documents do not mention the place of birth which means that these documents aren't considered evidence of birth in Myanmar. Unfortunately, the Burmese President Thein Sein is still staunchly against amendments to the Burmese Citizenship Act.
The rape of a Rakhine woman by a group of Muslim men and the violence that this led to between the ethnic Rakhine and Rohingya residents resulted in the displacement of nearly 75,000 Rohingyas from the state in June 2012. After a relative calm, violence resurged in October 2012 and spread to a larger area. This displaced an additional 35,000 Rohingyas. This adds to the figures of another estimated 2 lakh Rohingyas who fled during earlier riots, seeking refuge in Bangladesh, India and other countries where they are now seen as illegal migrants, says United Nations.
Rohingyas in Hyderabad
Ayaz was one of the 400-500 Rohingyas who ended up in Hyderabad while others moved to Delhi, Aligarh, Mathura, Kolkata and other places, says Malla Reddy, Joint Commissioner of Police, Special Branch, Hyderabad. Outside India, the Rohingyas migrated to Thailand, Bangladesh, Malaysia and Indonesia. The United Nations states that around 11,000 Rohingyas have moved to various parts of India in the aftermath of communal violence since June 2012.
Like Ayaz, Azhar too (*) came to Hyderabad after he escaped the mob fury against Rohingyas in Rakhine state. "I was kicked badly in the stomach due to which my intestines have been damaged. It is difficult to gulp down food. Even digestion is a problem. It's like a living hell," laments the 25-year-old. The deep scars inflicted on his body bear testimony to the violence against the community.
The influx of Rohingya Muslims into Hyderabad has been taking place over the past five to six years, explains Mazher Hussain, executive director of Confederation of Voluntary Associations (COVA), implementation partner of the United Nations High Commission of Refugees (UNHCR) in Hyderabad. "Since 2011, we have been witnessing a mass exodus from Myanmar to Hyderabad and close to 1500 to 2000 people have settled here in the last three years," informs Mr Hussain, adding that Hyderabad received around 100 refugees in 2010.
According to data from COVA, from about 150 settlers in early 2011, the number of Rohingya Muslims currently residing in the city stands at 1400. Of the approximately 2000 who came in, some have been sent back to Myanmar by the UNHCR for being unable to prove that their life is under threat. Those who remain have settled in Hafizbabanagar, Balapur, Babanagar, Sainagar, Chandrayaangutta and Kishanbagh areas of the Old City.
"Most of the refugees live in groups, with the highest number of them concentrated in Balapur," says Kiran Kumar, program officer at COVA, who looks after the welfare of these asylum seekers. To make a living, they work as daily-wage labourers. Some manage to get a security guard's job while others take up petty jobs, describes Lateef Mohammed Khan of Civil Liberties Monitoring Committee, an NGO that is trying to mobilise the local community to help these refugees make a living in the city.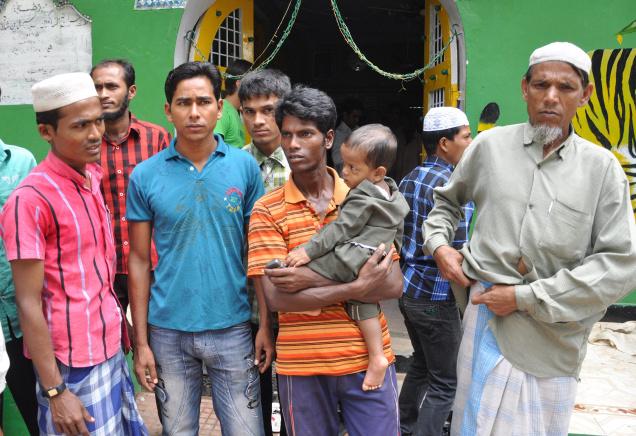 Myanmarese refugees living in Hyderabad's Old City. (Picture credit: Civil Liberties Monitoring Committee.)
Challenges for a 'homeless' people
Fleeing their home country hasn't made life any easier for Rohingyas. Food and shelter continue to be a problem, apart from the language barrier. "Age and language barriers pose a lot of problems," rues a 65-year-old Abdul Malik (*). Malik's son has managed to secure a job at a factory in Hyderabad and earns about Rs. 6000 a month. Rohingya Muslims speak a mix of Bengali and Mongoloid. Since some of them speak Urdu, they help out others who do not know the local language.
Despite the presence of 1400 Rohingyas Muslims, hardly 100-150 of them have got refugee cards, reveals the COVA executive director. "It is a long and tedious process. To obtain a refugee card, it takes about 2-3 years," he adds.
Recognition, Malik says, is the most important thing. "Our cries are heard but not acted upon. We were born to see bloodletting. Now, we have resigned ourselves to torture and persecution," he says as his eyes well up.
The United Nations High Commission of Refugees gathers details of each asylum-seeker and registers the individual based on the area he has come from. The refugee then has to travel to Delhi where he has to undergo gruelling sessions of interviews to prove his identity and the purpose of migration. If the UNHCR is convinced, it would take another 3-6 months to process the application and give the asylum-seeker a temporary card. A Rohingya Muslim can only get a refugee card once he passes the temporary card stage. That again takes another two years, says Hussain, adding that the refugee card has to be renewed every five years.
However, there are instances where the UNHCR can reject an asylum-seeker's card or not permit a refugee shelter in India. For instance, if the refugee is from the eastern part of Myanmar where there is no disturbance, the UNHCR will reject his request for asylum and send him back to his country. But, the refugee is also given a chance for second appeal. If the UNHCR isn't convinced even then, the refugees have no choice but to return to Myanmar.
Community support
To support their travel to and from Delhi as well as their stay here, COVA and Civil Liberties Monitoring Committee have sought donations from local people. The UNHCR had also set up the Burmese Refugees Relief and Rehabilitation Committee (BRRRC), where the displaced can seek help.
"Last year, during Ramadan, donations poured in. It was more like a Ramzan fad. Scores of people made donations to help them survive," informs Kiran, adding that donations have gone down this year. Even Iran had, last year, offered cash assistance to a group of Rohingya refugees in Hyderabad who had fled the ethnic violence in Rakhine state. The Iran Consul General in Hyderabad, Mahmoud Safari, handed over a cheque of Rs.65,000 to COVA, trying to help them get official status for the Rohingyas from the UN body's office in New Delhi.
Resident locals sometimes fear differences cropping up in the larger community due to the presence of these refugees. "We are aware that there is no threat from asylum seekers. But, there are occasionally minor tensions that could scale to unsavoury proportions," explains Abdul Karim, a resident of the Old City. The city police, though initially unaware of the exodus from Myanmar, is now keeping a watch; Reddy says they are now keeping a vigil on the moments of Rohingyas Muslims. "They are unlikely to pose problems for anyone because they are refugees who fear for their own lives. Most are yet to get their cards too," he adds.
Despite help from locals, the tribe unfortunately isn't sure about its continuation here. "They live in constant distress and fear of being attacked," points out Reddy.
Indian refugee laws
India's laxity in framing proper refugee laws only seems to have escalated the refugee quandary. Despite being asked to sign the Refugee Convention 1951 and Protocol 1967, and promulgate a legal framework for refugees, the Indian government has been lackadaisical. Interestingly, the UNHCR hails India for its record in supporting refugees. In a report, it says, "Overall, India offers safe asylum to refugees and asylum seekers. Even in the absence of a national legal framework for refugees, India has traditionally been hospitable towards refugees."
Meanwhile, judicial intervention has done some good for refugees. In respect of Articles 21 and 14 of the Constitution, the Supreme Court has declared that these (apart from other constitutional rights) are applicable to everyone residing in India, and not only to citizens of the country.
Is there a way out?
Even as the whole world listens to the sordid tales and cries of Rohingya Muslims, local security forces in Myanmar continue to be complicit in the violence, taking part in the violence directly in some cases and standing by in others as Buddhist mobs attack the Rohingya people, says Phil Robertson, deputy director of the Asia division of Washington-based Human Rights Watch, in a report.
Even as the state's cavalier attitude has caused so much pain for members of the community, some live in the hope that someday, Myanmar is going to accept them. "I hope to go back to where I originally belong - in Rakhine. I want to die in my home country," says 65-year-old Malik. Others are less hopeful. "Though I'm fortunate that Hyderabad has accepted me, I still rue the fact that my country has only sucked blood from our bodies, leaving us stateless and homeless," describes Ayaz. The only hope for him today is survival. "We cannot dream of living. Survival is our only tool and we will cling to it - even if we have to cross borders," he says.