Every morning, Kanwar Ram, a 28-year-old sits by the roadside to sell mobile covers on his thela (cart) on the Outer Ring Road in Majnu ka Tila. He earns anything between Rs 200 and 300 per day and maybe nothing on some days.
Ram belongs to the 500 odd Hindu refugees (approximately 110 families) who arrived in India fleeing persecution from Pakistan, hoping that life would be better and safer. However, things have hardly been as good as he would have imagined.
Originally from Sindh, Hyderabad, Kanwar Ram, along with his brother, wife and 6-month-old child (now two and a half years old) arrived in India two years back on the Thar Express on a tourist visa. The family landed in Jodhpur and from there, headed straight to Delhi and settled in the refugee camp near Majnu-ka-tila, which is widely known as the Tibetan refugees' colony.
"Hindus have no value in Pakistan. The houses we built do not have any legality," said Ram, when asked about his past.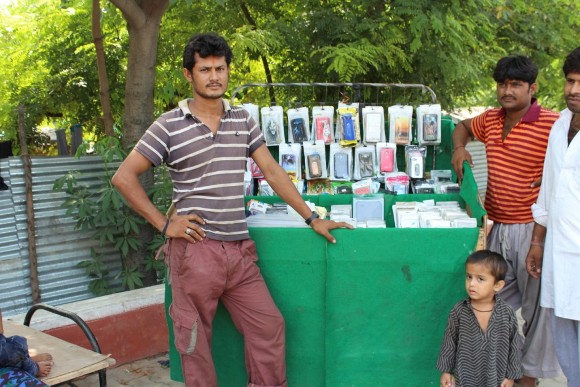 Kanwar Ram, with his cart of mobile covers. Pic: Devanik Saha
"Our kids aren't allowed to go to schools by the extremist groups. If allowed at all, only Islamic education is provided and the Quran is taught. Our kids faced a lot of discrimination and therefore, had to leave school. After 5 pm, we were not allowed to venture outside our houses," he added.
But how did he make such a big decision to leave everything and shift to India?
"I have relatives in India. One of my cousins is based in Rajasthan, who helped me. Living in Pakistan wasn't an option."
As Ram tells us about his life, other people from the camp come and start talking to me.
"Many of us run mobile cover shops, sell vegetables and fruits, cold drinks and mineral water to make a living. While we don't earn a lot, it is enough to cover our living costs," they said.
There have been widespread attacks on minorities (which includes Hindus) in Pakistan. Girls and women have been raped and killed, people have been forced to eat beef, businessmen abducted for ransom and temples destroyed.
As many as 5000 Hindus flee Pakistan each year due to fear of persecution, according to a report in The Times of India. Furthermore, increasing hostilities have also reduced the Hindu population significantly post independence, according to an analysis of data done by Newslaundry.
However, though they are much safer here, the day-to-day plight of Pakistani Hindu refugees in India is still miserable and their lives are engulfed in darkness.
When they first arrived, the nearby Gurudwara provided them shelter and food for a few days, after which they shifted to the nearby open ground where they set up their houses with the help of tents provided by the government.
The tents in which they stay have no more than a small fan and wooden beds provided by a local organisation.
But the biggest problem is that of water and electricity. A common generator has been provided which only runs from 7 pm to 11 pm or even lesser on many days.
The one and the only fan in a refugee tent. Pic: Devanik Saha
Water is provided through a tanker by the Delhi Jal Board. One tanker caters to more than 500 people, which is not adequate, given the scorching heat and squalid living conditions.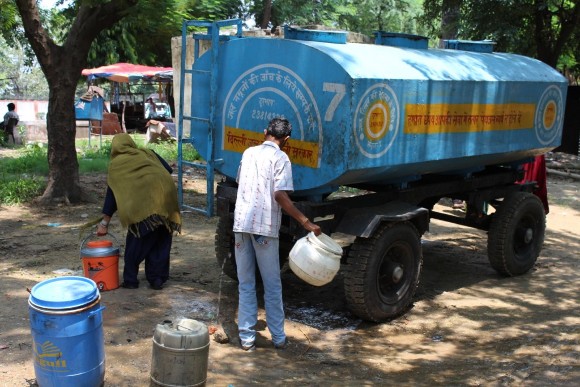 Refugees' filling water from the Delhi Jal Board tanker. Pic: Devanik Saha
As I go inside the camp, I meet Sona Das, a 38-year-old, also hailing from Sindh, who has been living here for two years and followed the same route as Ram to arrive in India. While he arrived in 2011, his relatives came in 2013 and 2014 to settle in this camp.
"Pakistan is not for Hindus. We were called Kaffirs (non-believers of God) and our kids were made to drink water in separate glasses just because we follow a different religion. Even celebrating Hindu festivals was very difficult and we had to celebrate within the boundaries of our own houses," he says.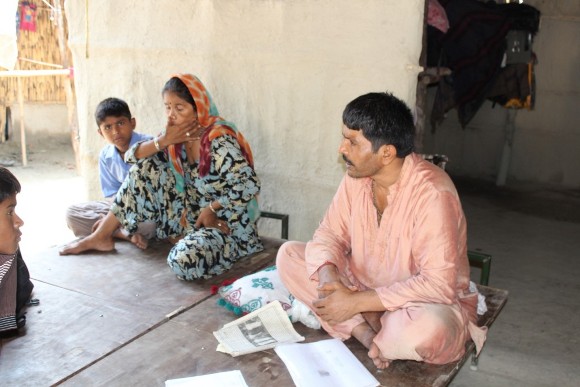 His wife who was sitting beside him added, "We lived in constant fear. We faced so much trouble, but we want our kids to live in a safe environment. Though we had friends among Muslims, the overall atmosphere wasn't conducive for Hindus."
"The government here hasn't given us any support. When we first started living here, Hindu groups like Hindu Parishad, Shiv Sena and Bajrang Dal gave us some grocery and food items, but after that there has been no support from them either," added Das.
Living in an open field close to the Yamuna river, the Das family and other residents are constantly concerned and worried about the many snakes and animals roaming around the region.
Currently, the primary focus is on ensuring good education for their kids. While a few kids have been admitted to a nearby municipal school, many others are waiting their turn. Not having Indian birth certificates creates problems for them and leads to other legal hassles too.
However, that has not stopped them. Their kids are not enrolled in schools and they do not have a stable income, but they have been sending their children to private tuition centers, so that the kids do not lose touch with studies.
A few young boys from the camp came up and showed their notebooks to me. A few yards away, I saw a woman preparing her child for school.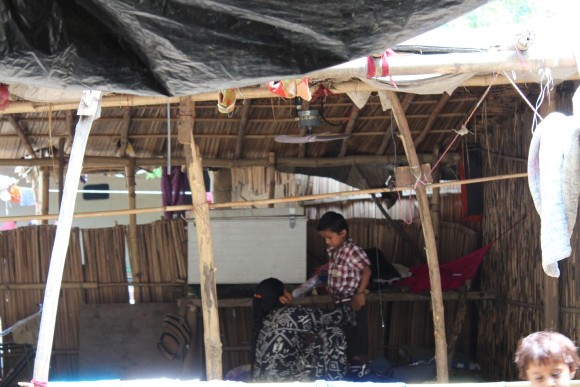 A child getting ready for his first day in school (but without the government uniform). Pic: Devanik Saha
"Recently, some kids have got admission in the school. Today is their first day," Das said. Even his son was supposed to go to school that day.
Das told me another story, which speaks of the unwavering determination of the community to educate their children. After arriving in India, some of them sent their kids to study in Kashmir with support from the ISCKON Temple, where the pupils stayed for a while. Eventually however, they came back since most parents wanted their kids to stay with them, after the turmoil they had faced in Pakistan.
Recently, a delegation of the refugees met the Chief Minister of Delhi, Arvind Kejriwal, who promised to provide electricity connections and water facilities to the camp site. In their petition to him, they have requested for various things including a BPL card for families, regular health check-ups, admission of all children to local government schools and employment opportunities.
Further inside the camp, I find a woman distributing Khichdi to small kids, which was an unusual sight.
Curious to know more, I meet the Pradhan, Dharam Vir, who tells me that a small Anganwadi operates there and provides food for the small children under the mid-day meal scheme.
When I tell him about my work as a journalist, he pleads, "Bhaiya, please do something for us, if you can. I have written multiple letters to Home Minister Rajnath Singh and even to Prime Minister Narendra Modi, but nothing has happened."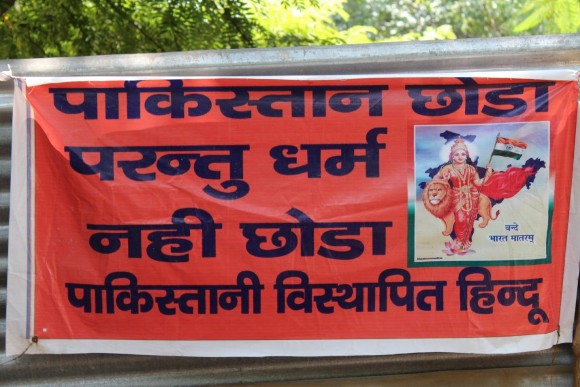 Legal status of the refugees
For many of the early refugees, who originally arrived on a pilgrimage visa that expired soon after arrival, their stay was extended, thanks to a Public Interest Litigation (PIL) filed by the Akhil Bharat Hindu Mahasabha in 2011. The PIL led to the High Court directing the erstwhile government to stay the deportation of the refugees until it took a clear stand on the issue.
However, the order holds valid for only 151 refugees in the camp; among others, some hold valid visas while some continue to stay on with expired visas. The petitions to Rajnath and Modi seeks official grant of Indian citizenship to all the refugees.
India's refugee dilemma
According to the United Nations High Commissioner for Refugees (UNHCR) mid-year 2014 report, India has 203,383 refugees (including 4718 asylum seekers, whose cases are pending) of different nationalities.
Throughout history, the country has always welcomed refugees, be it Tibetans, Bangladeshis, Afghan refugees or Sri Lankan Tamils.
The huge inflow of Bangladeshi Muslim immigrants to Assam has been one of the most politically sensitive issues within the nation, and led to the historic Assam agitation, which toppled the then Assam government. Meanwhile given the sensitivity of the issue, several political parties have jostled to leverage it for personal gains.
"We have a responsibility towards Hindus who are harassed and suffer in other countries. India is the only place for them. We will have to accommodate them here," Modi had said in an Assam rally, according to this report in Hindustan Times, but words haven't turned into action as statistics and narratives show.
A few months back, many newspaper reports claimed that 4230 Hindus and Sikhs from Pakistan and Afghanistan were granted Indian citizenship, but an RTI query yielded the fact that only 281 Afghan and 289 Pakistan migrants have been granted citizenship between March 2014 and March 2015.
The response of the Hindu nationalist BJP towards Pakistani Hindus has been no different from that of the previous UPA regime. The BJP and its affiliate Hindu groups gained much of their popularity due to their Hindutva propaganda, as part of which India was projected as a homeland for all Hindus.
Hundreds of refugees consequently pinned high hopes on the ruling party and other Hindu groups, who proclaim themselves to be the saviours of Hindus. However, the plight of Ram Kanwar and Sona Das clearly points to a completely different reality.