A year ago, on the 23rd of March, 2020, with a scant 4-hour notice, India went into a brutal 69-day lockdown to prevent the spread of the coronavirus. By the 20th of March, rumours of the lockdown had already been circulating. So, I set about stocking up for my home and during this exercise realised that I was lucky to be able to afford such a large expense of buying provisions in bulk for a household for an extended period of time.
At the beginning of the lockdown, there were no shops open. The suddenness and totality with which the lockdown was imposed meant that economically vulnerable people could not prepare themselves – whether it was collecting wages (last received on or before 22 March), gathering meagre savings or sufficiently stocking up on essential supplies. People I saw daily in my own neighbourhood – my household staff, drivers and maintenance people who worked in my apartment building, the local istri guy, security staff, push-cart vendors, auto drivers – I wondered how were they going to survive with their insufficient money, food and medicines.
They would also not have the luxury of remaining indoors for long. Soon, the insecurity around their survival would drive them out of their homes in search of support, which would render them and their communities vulnerable, not only to the virus but to much more.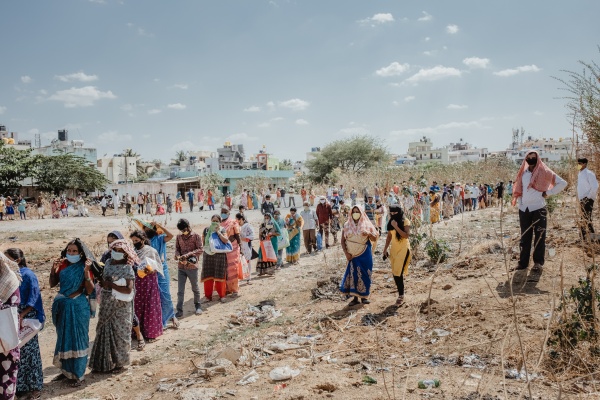 Picture: Endless lines of vulnerability, desperation and abandonment formed very quickly after the lockdown. (Credit: Mahesh Shantaram).
A few days in, my dear friend Vishal and I came up with a simple idea called the Community Pledge – each of us would pledge to support five vulnerable members we knew with a pre-decided formula of rations and cash. Further, each person who took this pledge would get five other people to take the pledge. We circulated this amongst our friends, several took the pledge and wonderfully supported people in their own communities.
A friend of mine, Arvind, who lives in San Francisco, reached out to me and said he wanted to participate too, out of love for his home - Bangalore, and sent me a generous amount of money to support vulnerable people. With this money, I bought about 200 kgs of rations – rice, dal, milk, sugar, salt, etc. Another friend, Rashmi, whom I hadn't met since college, reached out at the same time and told me about some vulnerable communities in North Bangalore. So, on March 30th, I loaded up my car with food supplies and we went off to find these people. And did we find them!
I quickly discovered a small network of people - Nakula, Rosaline, Madhu, Santhosh and Anoopa, on the ground steadfastly serving vulnerable communities through this hopeless time. For some reason, they identified me as the 'ration lady' who could supply rations that would stave off the imminent hunger so many desolate, poor people were now facing. Perceiving the desperation and abject fear on the faces of the people who mobbed me during my car ration runs, I committed to supply this network too.
Most of those seeking help were daily wagers and job migrants, working at construction sites. The contractors who were responsible for paying their wages had disappeared and the large construction companies they laboured for had abandoned them. I went back several times with a few hundred kilos of rations each time – what my little car could carry. Each time, the rations ran out well before all the desperate people who thronged us could be served.
Now, the local grocer from whom I was buying hundreds of kilos of supplies every other day was very expensive and had his own supply issues. I had tried to connect with several wholesalers, but every wholesaler I contacted either had their own supply issues or needed me to commit to buying much bigger quantities than I had the wherewithal to handle at the time.

Serendipitously, my dear friends Reshu and Anil (who periodically contributed to my efforts throughout the lockdown) stepped in and connected me with their cousin, Kapil, a wholesaler, who is easily one of the kindest business people I have ever interacted with. Not only did he supply me with whatever quantities I needed with the shortest of notices, but when he understood what I was doing, he also pushed down his prices as his own contribution, despite already suffering from big losses in his business (none of the hotels were buying food supplies any more). The fact that his quality was always impeccable went a long way in ensuring that the dignity and health of those we served was always protected.
Just when I was on the brink of drowning in fear and guilt at the thought of breaking my commitment, a childhood friend whom I hadn't been in touch with for decades, reached out after seeing a post I had made on social media. Like an angel, after understanding the very basic operation I had started, Akshay sent me enough money and courage to meet all the commitments for rations I had just made and was despairing about!
My next challenge was transport. I commandeered a bigger car from my supportive family, but it was just not enough to carry all my supplies, even if I did several roundtrips. At best, I could carry around 500 kilos per trip. Transport companies were too expensive (and largely unwilling) – I also wanted to save all the money I had for buying food. So, I went back to my community of friends and my dear friend, Jayna, got me her father's truck and driver.
Jayna's father runs one of Bangalore's premier wedding venues and catering businesses out of the Palace Grounds. The lockdown cost him dearly too – he lost all business overnight, had around 150 staff to support while they lived in housing he provided, and had huge rents to pay. Yet, despite the considerable challenges he was facing, he unhesitatingly chose to help me. Not only did I have access to his truck and driver, Armugam (who is my hero in this story – more on that later), but the wedding venue also became the base for my rapidly growing relief operations.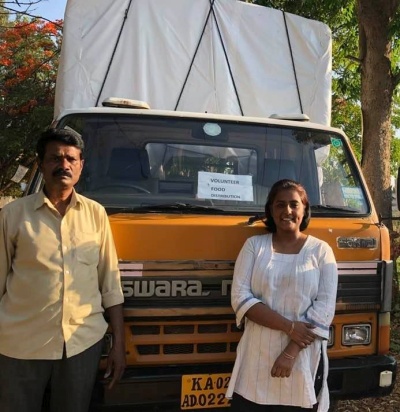 Arumugam, my hero, and our truck.
(Picture Credit: Mahesh Shantaram).
On our first trip, Armugam, his son Shivu and I loaded around 5000 kgs of rations onto our truck. Armugam was nervous – the truck was old and had never carried such a massive load. However, he soldiered on, bravely maneuvering through the narrowest of roads with unbelievable dexterity. After delivering the rations I had promised to my small network of community distributors, I decided to park the truck in an area I knew was very poor, and distribute to the people who came there.
We must have served about 500 people from the truck. But, there were atleast three times as many people who were still waiting impatiently. When they realized there was nothing left and we were going to leave, they got aggressive. We were mobbed, and if it were not for Armugam standing in as my body-guard, I may not have survived to distribute another day.
Initially, perhaps because I was tired and no doubt at least a little tinged by a saviour complex, I reacted in anger. But soon enough, Armugam helped me learn some lessons. First, insecurity and desperation bring out the beast in a person. That was where the aggression I saw came from. Second, I had to be better prepared. Not only would this help me serve better, it would also ensure that I could treat those being served with respect.
It was time for homework.
(... to be continued).