10-year-old Asma Shabbir Dindal from Dharwad district in Karnataka stayed at home when her friends went to school. Reason: She was classified as a mentally retarded, hyperactive child and schools in the region cited the lack of trained personnel as the pretext for denying her a chance in mainstream education. They also admitted the lack of infrastructure to handle emergency situations. Asma did have a registration for home-based education, but there was no one to attend to her.
Asma is not alone. In fact, she is one of the more fortunate ones who were spotted by the Karnataka-based NGO Fourth Wave Foundation, which has been working across a number of rural districts in the state with the mission to bring more and more children with disabilities to school and integrate them into the normal course of primary education (Full Disclosure: India Together co-founder Ashwin Mahesh is a member of the Advisory Board of the Foundation.) Thanks primarily to the efforts of the Nanagu Shaale (School For Me Too) programme of the Foundation, Asma is back in school today and doing well.
Home-Based Education (HBE) is only for children with severe disabilities, but 80 per cent of those identified are capable of being integrated in normal schools.
However, thousands like Asma across India remain segregated, though theoretically covered under the Sarva Shiksha Abhiyan (SSA). The SSA is the Government of India's flagship programme launched with the objective of "Universalization of Elementary Education" in a time bound manner, as mandated by the 86th amendment to the Constitution of India that makes free and compulsory education a fundamental right for children between the ages of 6 and 14.
It is perhaps a truism to say that inclusion is a necessary prerequisite for universalization. Any programme that purports to universalize elementary education can evidently not afford to ignore the educational needs of Children with Special Needs (CWSN). The SSA, in keeping with the thrust on inclusivity in the Constitutional amendment, adopts on paper a zero rejection policy, specifying that "no child having special needs should be deprived of the right to education and (should be) taught in an environment which is best suited to his/her learning needs. These include special schools, EGS (Education Guarantee Scheme), AIE (Alternative and Innovative Education Scheme) or even home-based education."
But in trying to include these flexible options that take into account individual needs, it has opened up a lacuna that defeats the very purpose of what it sets out to achieve.
As Diana Joseph, Director of Fourth Wave Foundation points out, "The provision for home-based education, or HBE, is being used by schools to deny admission for CWSN; any number of special schools cannot be a solution to this problem." In an overview of its vision for inclusive education, the SSA itself asserts that HBE is for children with severe to profound disabilities, but the work of the Foundation in the four Karnataka districts of Dharwad, Gadag, Haveri and Semi Urban Bangalore shows that nearly 80 per cent of children who have been identified for HBE are mobile and capable of being integrated in normal schools. Yet, they remain in this programme as the schools and teachers feel they are not equipped to handle them

Take the case of 8-year-old Radha from Dharwad. Radha comes under the home based education programme and typically exemplifies the lack of proper assessment of disabilities and scope of integration. She has mild spasticity, is categorised as a Student with Mental Retardation but is completely mobile and verbal. She enjoys her sessions with the HBE volunteer and in fact waits eagerly for her. One of the primary reasons that she looks forward to these visits is that her teacher has a mobile phone and Radha spends time playing brick and other games on the phone.
Evidently, therefore, she has coordination, follows instructions and is able to comprehend. With a little attention, Radha would fit perfectly into a mainstream school environment and can do well in academics with the support of assistive technology to aid the teacher in inclusion. But under the prevailing situation, Radha, and many like her, are left to a life of isolation.
There are gaps in delivery too. States have a free hand in choosing the ways and options of delivering home-based education and Karnataka provides for volunteers who will visit the homes of CWSN to provide them basic functional skills. A how-to manual on the SSA Karnataka website (http://ssakarnataka.gov.in/pdfs/int_outofschchildren/OOSC_HBE.pdf) clearly spells out the rules of appointing such volunteers, the training to be imparted to them, issues of remuneration and the like. It also specifies that children under the HBE programme must receive education throughout the year and be provided with all the regular facilities that children in schools receive - uniforms, mid-day meals and any other support that they may require. But as Asma's case, and several others too, showed, there is often no volunteer to attend to these children regularly.
Nanagu Shaale
The problem is compounded by the fact that in many cases, the guardians or caretakers of these children, as well as the community do not know that they have a right to free and compulsory education in mainstream schools, points out Diana. But that integration is a possibility, and a realistic one at that, has been borne out by the Nanagu Shaale experiment which, over a period of just two years, has enabled the enrollment of 4800 children who had been left out of the schooling system in the four districts covered so far. That translates into an increase in enrollment by 12.9 per cent as compared to 1 per cent in the previous 5 years!
Working in tandem with schools, SSA authorities and other stakeholders, the programme conducted with respect to each school in a cluster, a census of children with disabilities in the school, a status check of children enrolled in schools versus those actually attending, and a needs-assessment of CWSN within the cluster to attend schools.
Nanagu Shaale workers also undertook a physical access audit of schools and assessment of transportation and caregivers. Sensitization workshops were held for parents as well as teachers. While it is true that lack of accessible environment and trained teachers do pose an impediment to bring these children to school, these workers note that the teachers are willing to go the extra mile to enable inclusion but are not supported with adequate training and facilities to do so.
One of the reasons that Nanagu Shaale has been such a success is the model of multi-stakeholder community engagement. "We work with parents and caretakers, schools and management, teaching and non-teaching staff and the larger community to ensure that CWSN gain access to schools. We work with government departments like SSA, the Department of Education, and the Child Rights Commission to help enforce accessibility and inclusivity, providing tools and creating core teams to support this at the grassroots," points out the Director.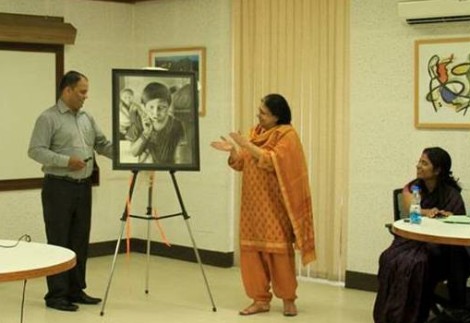 A portrait of little Radha from Dharwad being unveiled at the India America Assistive Technology Exchange at IIM Bangalore. Picture Courtesy: Fourth Wave Foundation.
The results of such efforts are often heartwarming and can have a spiralling effect. One example is of a village that had a few children who had been confined to home because they needed to be carried to schools daily and transport facilities were absent. The school and teachers were, however, supportive and as the Nanagu Shaale team engaged with the village to find a solution, a section of the auto union there came forward and volunteered to help ferry these kids to the schools and back, free of charge. This in turn helped create a core group in each village to take care of the issue of lack of transport.
Shashikala Wadadti, a team member, shows how such intervention can change an entire taluka as it enables inclusion in the traditional sense. The taluka in which she works had the highest count of CWSN, and in the course her work to bring these children to school, she extended her services into areas of creation of ID cards, sanction of toilets and homes for CWSN and even ensured that the entire 3 per cent of all funds demarcated in every department for the welfare of these children were actually utilised. The focus on education has ensured that all schools have ramps, special toilets, and that schools enrolling CWSN have resources, computers and library rooms on the ground floor.
Now, the Foundation aims to scale up the impact of this programme with a dedicated 10-year drive to ensure that all children are brought to school and that schools themselves are inclusive both in terms of physical infrastructure and pedagogy. It seeks to enable implementation at scale to ensure that all educational programmes within the state are truly inclusive in nature.
Home-based education: The larger question
In addition to the success that the Nanagu Shaale programme has achieved so far in bringing increasing numbers of children with special needs within the pale of regular schooling, what it has also done is bring into sharp focus one of the greatest debates on education for people with disabilities: Can home-based education really be considered inclusive?
Across the world, experts working on inclusion for people with disabilities are leading a staunch movement against segregation or specific institutionalisation, and towards transition to community-based care. As early as 1994, a conference of 300 participants representing 92 governments and 25 international organizations was held in Salamanca, Spain and issued a statement on Principles, Policy and Practice in Special Needs Education and a Framework for Action. The Salamanca Statement specified in no uncertain terms that "regular schools with an inclusive ethos are the most effective way to combat discriminatory attitudes, create welcoming and inclusive communities and achieve education for all."
Another position paper titled The Right of Children with Disabilities to Education published in 2012 by the UNICEF Regional office for Central and Eastern Europe and the Commonwealth of Independent States (CEECIS) in Geneva stresses the need to guarantee children with disabilities "the same right to access mainstream learning opportunities, with the necessary support services."
The global position on the issue therefore leaves little scope for home-based education as an effective means of inclusive education. In fact, the National Longitudinal Transition Study - the largest study of educational outcomes of 11,000 students with disabilities - conducted by the National Center for Special Education Research in US empirically established the benefits of integration.
A report from public radio broadcaster WNYC points out that the study mentioned above proved that "when students with disabilities spent more time in a general education classroom they were more likely to score higher on standardized tests of reading and math; have fewer absences from school; experience fewer referrals for disruptive behaviour; and achieve more positive post-school outcomes." These results were found to be true regardless of students' disability, severity of disability, gender or socioeconomic status.
In keeping with the same philosophy and reasoning, Nanagu Shaale too pushes for a systemic change to facilitate the smooth transition of CWSN from existing segregated/special education to truly integrated and inclusive education. "Children belong in schools - it's the only opportunity for those with special needs to cope with society through ten years of socializing with other children," says Diana emphatically as she talks of the need to ensure effective learning for such children in mainstream environments.
Moreover, it has also been observed that the realities of home-based education have deeper implications not just for the child with disability, but often for the extended family and community. Thus, for 12-year-old Kariyappa Pundalika Doddamani of Dharwad, who has multiple problems and has been denied admission by schools in his village, it is not just he who has been affected. Both his parents have to go out and work to meet basic ends and so, it is his younger sister who has to stay back and take care of the child.
Kariyappa's case was also showcased in the hugely popular TV talk show Satyameva Jayate anchored by actor Aamir Khan, and even in the very brief appearance that the children made on screen, the little girl's sadness and desire to go to school were eloquent.
Thus, there is plenty to suggest that age-old models of intervention and rehabilitation suffer from many deficiencies. While the stated objective of the SSA indicates a thrust on mainstreaming CWSN into formal schooling, its multi-option model has, perhaps unwittingly, paved the way for differentiation and dependency. Special needs centres, schools and more importantly, home-based education have created a much wider gap between society and children with disabilities.
The world has progressed; rapid technological upgrades and inventions provide assistive interventions today that can facilitate more effective inclusion of persons with disability. Can these be adopted and made to percolate deeper into the entire civil system to the benefit of CWSN? If the initial progress achieved by the Nanagu Shaale in Karnataka is anything to go by, it surely merits deeper consideration.