If you walk a few minutes along the filthy, open drain skirting Madubhai Machuware's house in Chikhalda village of Madhya Pradesh, it will lead you to the mighty Narmada, his mother goddess. Before the Bargi, Narmada Sagar and Sardar Sarovar dams were built, Madubhai earned his dal-roti by cultivating melons, vegetables and flowers on its riverbed, and fishing in its waters. Now living his life in the shadow of these large dams, he can manage neither.
The reservoir of Sardar Sarovar has submerged the riverbed, and the ensuing siltation along with other factors, ensured that he can never catch enough fish to feed his family of eleven - sons, daughters-in-law and grandchildren included. On days when he returns home without a catch, he doesn't even feel like drinking his cup of chai. And when water begins to flow in the panchayat taps in the neighbourhood, the drain adjoining his house which carries human excrement, fills his nostrils with a repulsive smell. Yet he refuses to move to a resettlement site of the Sardar Sarovar Project at Narmadanagar six kilometres away, where he has been allotted a house plot. Here's why.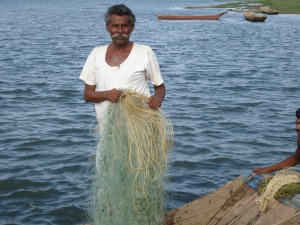 Photo: Madubhai Machuware of Chikhalda village, Madhya Pradesh, whose life and livelihood has been caught in the vortex of so-called development.


Madubhai is one of thousands of fishworkers, riverbed cultivators and boatmen whose livelihood has been snatched away by the Sardar Sarovar dam. The Government has never bothered to conduct a survey of these categories of the displaced, hence no official count is available. The Narmada Bachao Andolan (NBA) - the movement fighting for the displaced for more than two decades - puts the figure at about 10,000 families pursuing these occupations. Customary usage of land - as in Madubhai's case - has been recognised by the resettlement and rehabilitation policy of the Madhya Pradesh Government, which states that persons with encroachments prior to 1987 will be entitled to agricultural land.
Instead of being allotted agricultural land, Madubhai has to be content with about a lakh of rupees in cash compensation for his house which will also be submerged, and a 500 square metre house plot. This plot was first allotted to him at the Nanakbaydi resettlement site, on saline, black cotton soil unsuitable for construction. When he applied for a change of resettlement site from Nanakbaydi to Narmadanagar - closer to the river - he encountered more hurdles. The road is three to four feet higher than the house plot at his new resettlement site, and the construction of a high enough plinth such that rainwater will not enter his house, will cost him forty thousand rupees. How does the Government expect him to build a house with the sixty thousand he'd have left over, he wonders. But not having a roof over his head in the near future is not the only cause of Madubhai's anxiety.
Since Bargi - the first major dam on the Narmada - was built upstream near Jabalpur in 1990, Madubhai's occupation of cultivating watermelon, muskmelon and vegetables on the sandy banks of the river has been continually disrupted. Watermelon and muskmelon are cultivated exactly at the level of the water table in the sand on the riverbed. These fruits grow on creepers. If the water level increases even by a foot, on the one hand, the creepers are completely submerged. On the other hand, if the water level goes down by a foot, their roots do not penetrate deep enough to be able to draw water.
Since the turbines of the Bargi dam became operational more than a decade and a half ago, the water adjoining Madubhai's riverbed land has been fluctuating by two to four feet in its level. When water would be released to run the turbines, it would enter the land. His saplings would rot. When the water would recede, he would make another attempt - sow again, only to be faced with another failed crop. His livelihood was buffeted in this manner by the capricious release of water from the Bargi dam, till the reservoir of the Sardar Sarovar dam downstream filled up. Now the riverbed was completely submerged, once and for all.
"Hamara to dhanda hi khatam ho gaya," he says matter-of-factly. From now on, he would have to rely solely on fishing to feed his family.
When the gates of the upstream Narmada Sagar dam were closed in 2003, the flow of the river near Madubhai's village reduced greatly. Further downstream, it dried up. Crocodiles, tortoises and fish died. Because this happened during the breeding season for fish, their eggs were destroyed as well. Since then, Madubhai has been unable to find enough fish in the river.
To add to his woes, his small shikari nav - about a foot and a half in height - can't ply the deep waters of the reservoir. With the equipment he owns - small nets, hooks and strings - he can't possibly fish in the dammed river, its nature having changed completely since its natural flow was hindered. This forces him to fish nearer to the riverbank. But when he puts out his strings with hooks in the water, they get stuck in the silt. Besides, fish prefer to stay within the reservoir instead of swimming to its muddy banks. And the few fish that are present at the boundaries can't be spotted.
As a result, Madubhai's income from fishing has plummeted as well. He can't even catch two kilos of fish in a day's work. His eleven member household needs two hundred rupees for their daily expenses. He is unable to procure loans from his contacts to meet these expenses, because without an income, he can't be trusted to repay them. For almost twenty years, his life and livelihood has been caught in the vortex of so-called development in the name of one dam or another. Some people might benefit from these dams, he admits. But for him, there was only loss, and more loss.
A view of the lane adjoining Madubhai's house
In spite of his grave predicament, Madubhai does have a little to be thankful for today, which will soon slip out of his hands too. Today, he is still able to catch some fish which keeps his house running, however unsatisfactorily. But in the near future, he fears that the Government will contract out fishing rights in the reservoir to a big player. Instead of hiring local fishworkers, this new contractor will prefer to bring labour from outside the area. Migrant labourers are easier to exploit, work longer hours and for lesser pay, as they can't form unions, don't have local contacts and can't speak the language of the region.
Such contracting of fishing rights to an outsider will destroy what little is left of Madubhai's earning potential. And despite his repeated requests and protests as a member of the NBA, the Government has so far refused to conduct even a preliminary survey of fishworkers, leave alone rehabilitating them.
When Madubhai first heard that a big dam would control the waters of the river he revered, he didn't believe the news. Navagam, the site of the proposed dam, was about 150 kilometres from his village along the Narmada. How could they build something so big that the river would rise to his doorstep? Only after the dam was built though, did he realize that the impossible was also possible. Besides, all through the years after he first heard about the dam, he never knew that its waters would drown his little world.
Did the Government not tell him anything about the catastrophe he'd have to face? Nothing. Not a word, he replies calmly. If only the Government had told him the truth, he would have joined the NBA many years before he did.
When the riverbed submerged for the first time, Madubhai's musk melons had grown, each weighing from a quarter to about three quarters of a kilo. That's when they had released water from the Bargi dam, he remembers bitterly. Along with other fishworkers, Madubhai had applied for compensation in the tehsil office. He and his co-workers were compensated anywhere between two and five thousand rupees. Since that first time, Madubhai's riverbed land was submerged often, but he never got a rupee in compensation. Nor is he able to find fish in the river now, unlike the time of that first submergence. Now only God can lead him to the other shore, he concludes helplessly.
To meet his expenses in such an extreme situation, Madubhai has had to resort to the last option: selling about a kilo of silver from his savings. Since his riverbed land completely submerged three years ago, the game is over for him. Before the waters of the dam drowned his livelihood, he remembers, his family would eat with joy. He was a carefree man then. But now, he has to borrow for everything from weddings to illnesses. He has a loan of about forty thousand rupees on his head. How will he repay it? Only God can find a way for us, is his only answer.
At the end of the day, does Madubhai have hope?
"What can I hope for?" he asks. "Hope is not of any use. God only shows good days. When the time comes, everything happens for the good. God is giving us dal-roti, life goes on, that is the biggest hope. No one has seen what happens tomorrow. Our children are not educated. We can't hope that our children will get into some service and progress in life. They are all fishermen. They eat whatever they can get by fishing in the Narmada and continue to live."