It has been a little over six months that the horrific incident of gang rape and brutalization of a medical student in Delhi rocked national consciousness and triggered heightened discussion over the security of women in the country and in the capital, in particular. Several other reports of violence against women and children have been reported since and Delhi has not been able to shake off the epithet of 'rape capital' that it has earned, thanks to the sordid record of gender crimes in the city. Its reputation has reached a nadir, leading many young single women to seriously think twice about moving to the city, even when faced with an opportunity. But have all features of 'dilwalon ki Dilli' really been overpowered by its crime records? How do women working and living in this city feel about it?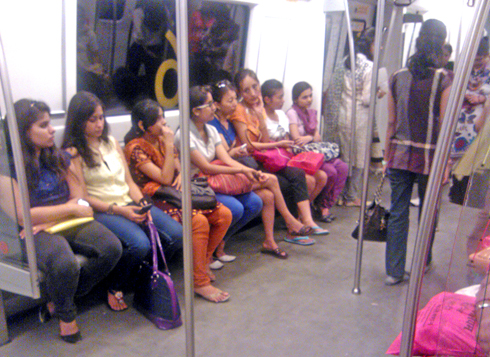 Women commuters in Delhi. Pic: Zumbish
"Not just Delhi. In this country, as a girl you cannot let your guard down anywhere. Yet, Delhi is a big no-no for me," says young graphic designer Sunehra. She further shares that she likes spending time with her parents in this city where she grew up.
But, now having lived independently for the past few years in Mumbai and Bangalore, she can't really accept Delhi with open arms. She senses a constant stare every time here. She also feels disappointed that she hardly sees women walking alone on footpaths or in less crowded places in the city.This is borne out also by the testimony of two women from West India working in a Gurgaon business firm who say that after 7 pm, they are comfortable being out in the NCR only if they are commuting by office transport.
Misplaced masculinity
"You regard Bihar and Jharkhand as deprived states and backward societies. I have spent years of my life in Delhi and in these two states. Delhi, in my view is a bustling metro with poorer values than backward Bihar and Jharkhand put together," says Shreya Singh, who belongs to Jamshedpur, Jharkhand and is currently working as advertising and PR professional with JWT, Delhi. She has been embroiled in a series of aggressive and controversial arguments with her male colleagues since the horrendous December incident, and says that the kind of mentality the men in Delhi on average possess is 'ridiculous'. Few of them seem to have a mental build-up accommodating the imagination of society providing equality to men and women.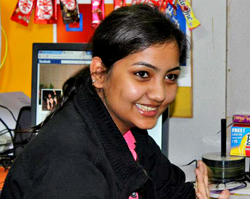 Picture: Shreya Singh
In her own words, "Back home, I may be eve-teased or stalked. But, here, just one day of bad luck and bad calculation, and I would be either molested or raped. Given an equally good job opportunity in the safer big cities in India, I shall not think twice before leaving Delhi."
Priyanka Verma, a corporate legal analyst hailing from Patna, Bihar who stays with her mother shares that though Delhi has now become acceptable to her, it cannot replace the positive atmosphere she sensed around herself in Bangalore, where she studied. The city, according to her, is safe for a woman who is backed by friends and family and moves within boundaries. For a woman who, by choice or compulsion, decides to overstep conventional norms, Delhi invariably tends to put up barriers.
Many women have begun to accept Delhi as it is, though they do have to fight their battle for survival here every day. They believe that society here appears to have leaped in terms of lifestyle and acceptance, but this is only superficial. As they put it, stalking and passing comments on women, getting into tiffs, finding pride in stereotyping individuals or communities, or even girls from a specific college have become as easily accepted and unquestioned a part of Delhi's local culture as folktales spread in villages.
A teacher at Father Agnel School - Kashmiri by origin but brought up in Delhi - does not have too many good things to say about men in the city. Though Delhi is her comfort zone, she says, on conditions of anonymity: "I have come across three categories of men - first, the ones who are clearly sick and perverted. Secondly, there are men who are a little flirtatious but respect women, and then there are men who live a very restricted life and are either nerds or male chauvinist pigs."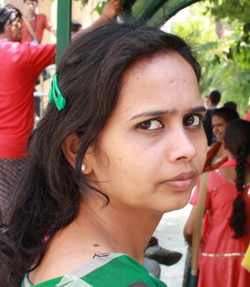 Antima Anupama
Antima Anupama from Faizabad has been an active volunteer in Delhi workshops and camps like 'beti bachao abhiyan shivir', aiming to bring up a platform for healthy youth interaction in order to find a solution to the social evils and mental built up curbing women's entity and freedom. Antima finds Delhi a comfortable city to live in and says that the city traps you with its hotspots and colours, but does acknowledge that a majority of men you come across here, who might even appear advanced and flexible n the surface, possess deeper mental blocks; their progressiveness is like the elephant's ivory.
Not all is lost
There are still many women who have learnt their lessons in Delhi and yet celebrate the fact that the pace of the city has made them tough enough to be able to adjust in adverse situations in the future, wherever life may take them. Some even love the challenges and curves the city brings and believe that a refuge from it in some peaceful corner would become rather boring. Much in attitudes can also be attributed to where these women hail from and the relative privileges they enjoy here.
Mansi Khandelwal, a student of literature from North Campus, Delhi University says, 'I come from the very conservative society of Agra; Delhi has provided me a broader platform and better options." In her view, the best thing about Delhi is that it absorbs everyone; that is why it surprises her to find that such an inclusive city could be so unsafe for women. However, Khandelwal admits that the December incident has definitely shaken her confidence and perhaps, she would not mind shifting to another big city if she gets a good opportunity.
There are others still, who do not believe that safety issues in Delhi could be reason at all for them to leave the city. Gajal Gupta, a Delhi based freelance PR professional belonging to Panipat, Haryana says that Delhi appears good enough to her, as unlike Panipat, it is a very open society. She is more than willing to stick to Delhi as it poses no regional or linguistic barriers, and provides unmatched opportunities in both education and careers. She also believes that though incidents of violence against women do happen in Delhi, media has a big role to play in creating a hype around these issues. If Gupta ever moves to another city, it would be out of compulsion or better opportunity but definitely not because of safety issues in Delhi.
Similar thoughts are echoed by a female fashion professional from Copenhagen, Denmark who now works in Delhi. She says "Copenhagen is ranked as one of the safest cities in the world. However, things do go wrong over there. I was deeply disturbed by the 16 December incident, but right now in the much safer city of Copenhagen, a scary gang war is going on. That is no less disturbing." While planning to stay on in Delhi, she does see the need for an improvement in the administration in Delhi.
One thing which any Delhi girl hardly thinks of doing anymore is answering back or launching a counter-attack when abused, teased, groped or chased. Most of them say that in such situations, the only strategy to follow is to feign ignorance and leave the place without delay. Many also share that young and middle-aged shopkeepers and bus conductors, who desperately crave for female attention, have created maximum difficulties for women who visit or shift to Delhi. But, with time these women learn to handle them, enjoy irritating them for a bargain or for getting a seat easily in the DTC buses, and call them bhaiya (brother), which helps.
A vital question that has gained significance in the wake of the discourse on the poor record of violence against women in the capital is how the city has changed, especially for its women, over the last ten to twenty years. In the past, Delhi was geographically divided into Old Delhi and New Delhi. Old Delhi or Purani Dilli stretched from Daryaganj, Old Delhi railway station, Red fort up till the North Campus of Delhi University that was believed to end at Kingsway camp. New Delhi's popular areas consisted of North Block and South Block, President's house, Boat club, Janpath, Central Secretariat, Mandi House and New Delhi railway station.
From there, the areas of South Delhi started. The South campus of Delhi University was located to the south of the AIIMS campus. Bahadur Shah Zafar Marg connected the distance between North Campus and South Campus of Delhi University. However, in those days too, Delhi did not have a nightlife like the other metros of Kolkata and Mumbai.
"All shops in Delhi closed down by 7 pm. Most of the city's roads would be empty on Saturdays and Sundays. Only Karol Bagh Market and Chandni Chowk used to remain lit up until about ten at night. Street food and street shopping was always a part of Delhi culture. There would, of course, be a few odd incidents of eve teasing but even these smaller ugly incidents would invite action from society. In a nutshell, Delhi society was far more united two decades ago," says Ritu Priya, Professor of Social medicine at JNU who was born and brought up in the city. That engagement and unity seem to have died away somewhere over the years.
Shibani Chaudhury, the executive director of Delhi-based NGO SRUTI (Society for Rural Urban and Tribal Initiative) points out, "Delhi's society has become so shockingly tolerant to violence and crime against women that it takes an incident as brutal and tragic as the 'Nirbhaya' gang rape to shake the city. People have generally become inured and they are focused on ensuring security and fulfillment in their own lives - not wanting to engage with what goes in the world." She seconds Ritu Priya's thought that two decades back, Delhi's society was much more responsive and engaged. "It is painful to see a city that gives an opportunity to so many and is inclusive in so many ways degenerate to the point of being declared unfit for women to live in," she says.

Today, many 'other Delhis' have sprung up with the extended NCR and the newly established 'Khel Gaon' built for the 2010 Commonwealth Games. Resettlements and posh colonies, film city and industrial areas have emerged as an important part of the extended Indian capital. Things have reached a stage where relatives living in opposite ends of the same city take months to plan a visit to each other, despite road connectivity and bus and metro linkages.
Delhi has developed, but it has developed more for the elite and the upper middle class. This has created a lot of disparity in society. Earlier, bureaucrats were the elites. Then, there were business or service-oriented communities and the academic fraternity. The newer urban spots such as Gurgaon with its gated colonies did not form a part of Delhi culture. Today, the city has expanded, malls have sprung up but yet it is not organized or inclusive enough to provide arrangements for everyone irrespective of their social status. The poor in many cases feel that they are bearing the brunt of Delhi's development. The powerless in the city lead a visionless and deprived life. While posh colonies multiply, the slums have become more congested and marginalised.
True that crime cannot be justified by any reasoning, but it is also a fact that growing disparities and exploitation of the suppressed class and strugglers in the city is giving way to a lot of violence. Apart from creating a better and more sensitized police force, ensuring better implementation of laws in the city and empowering women through strict laws and comprehensive education, Delhi also needs to wake up and curb the rising economic divide that has led to a lot of frustration and anger, resulting in despicable, inhuman displays of hatred.
According to the newly released Census data and as reported by The Times of India, Delhi has the lowest proportion of working women among the major Indian cities. Kolkata and Mumbai have nearly double the proportion of working women, and southern cities such as Coimbatore and Bangalore are at the highest end of the spectrum. From the opinions of women working and living in the city, it is perhaps not difficult to guess why that is so. Respecting all that the women have to say, fostering more dialogue on their demands and suggestions, learning from the past, improving administration and law enforcement, bringing about a culture change among men - these could be the first steps towards improving workforce participation rates among women and reversing the findings of the next Census report.