For the poor, their economic condition has been a double-edged knife - while they directly experience economic harship, they are also often deprived of their rights as citizens, stripped of basic human dignity. This is especially true when one considers how the State treats the poor, often seeing them as nothing more than hindrances that must be removed in the name of 'development'.
With land values rising in the cities to astronomical levels, the urban poor too, like their counterparts in villages, have come to realise that governments are targeting the lands they live on. The parallels in the condition of the poor who are targeted in this way are striking. Motivated by the media attention in Nandigram, six volunteers of Child Rights and You (CRY) decided to examine how the urban poor are faring against State-sponsored eviction. They have conducted perhaps the first-ever study in Kolkata on this subject, and documented these in a publication, Status Report on Urban Evictions and Children.
Biswas, 14, used to live in a hutment at Naskarhat Khalpar. He, along with his family was evicted to Nonadanga Transit Camp where they have been staying for the past two years. He used to study in Brojonath Vidyapith in Tiljala until class VII. The shift to the transit camp effected by eviction forced him to drop out from school. "We were better off there, I do not like this place," he laments., adding, "There are no health centres here. If anyone falls ill then the patient cannot be taken (to VIP Road for treatment)". Rakesh wants to continue his studies but the eviction has stopped this, perhaps forever.

Ganesh Purkait, 13, who has been living in Gobindapur Nonadanga Rehabilitation Camp for two years was part of the mass eviction from where they lived in Gobindapur. "I have to spend Rs.20 everyday to attend Rashbehari Rajendranath School. Besides, my father lost his job after the eviction," he says.

"They told us they will give us homes but they have not done anything yet," says Aparna Naskar who also lives in Subhashgram where they were forcibly shifted from Gobindapur Rail Colony. She was packed off to their native village during the eviction so she could not go to Lake Nabadisha School where she was studying in Class V. "We were better off in our Gobindpur home as we had lots of friend to play with. Here, in Subhashgram, we are scared because the forests are close by," she says, wishing they were back in their original habitat.

13-year old Mohammed Kamran used to live in Bellilious Road, Howrah. He came to live in Belgachhia Garbage Dump when they were evicted without being rehabilitated. He remembers his mother sending him to school till he was ten. He was then forced by his father to join the tea shop adjacent to his house. He looks up at the impressive Bigbazar ahead and mournfully comments: "we used to live there." His mother Nur Bibi cannot stop the tears flowing down her eyes when she talks about her old house.
These children and others like them, victims of forced eviction are from some of the largest slums of Kolkata. Some of them have been placed in make-shift 'rehabilitation' camps while some have just been driven out to stay in garbage dumps.
The CRY volunteers selected areas like Nonadanga where there are two rehabilitation camps. One of them has people evicted by irrigation department and the other involving people evicted from Gobindapur. The other areas were a part of Rajarhat habitat cleared for New Town, Bellilious Park from where people have been shifted to Belgachia Garbage Dump and Dhakuria and Panchanontala Rail Colony whose neighbours in Gobindapur were evicted living in the fear of being evicted any day.
The Statesman (27 January, 2006) reported that around 2000 residents were evicted from Gobindapur Rehabilitation Camp to Nonadanga, behind Ruby Hospital. They had been evicted earlier from Gobindapur Rail Colony, where 2729 families had lived beside the tracks between the Ballygunge and Tollygunge stations on the south suburban line. The instigation came from a high court ruling to clear the settlement, whose inhabitants, argued a so-called environmentalist forum, were polluting the waters of the local lake, Rabindra Sarovar.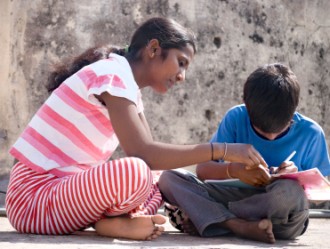 The report underscores the violation of child rights resulting from these forced evictions, pointing to agreements and conventions under which they should have been protected, including the Convention of the Rights of the Child.


• Children in the crossfire

Neither the court nor the environmentalists, however, took pains to find out why the settlers had to live for 5-6 decades without proper sanitation arrangements and civic amenities. After stiff resistance from settlers in May 2002, the colony was crushed on 15 December 2005.
The people of Gobindapur signed legal undertakings to leave the Railway Authority land after a High Court ruling against them. After a long battle the state government provided the community with the wasteland at Nonadanga. State government agencies, including the Kolkata Municipal Corporation, talked about rehabilitation and promised help in building new homes. The promise remains unfulfilled. The wasteland at Nonadanga has no electricity, drainage or sanitation. The 500-or-so inhabitants there share three wells and 18 toilets.
Children, uprooted and moved 10 km away, no longer have a school to go to. Seventeen per cent of children are school drop-outs, 55 per cent go to a NGO-run school, 80 per cent of the children are still traumatized by their recollections of violence during eviction, and 90 per cent of those surveyed are resentful of being evicted.
Enclosed by barbed wire, rows of makeshift tents made of black plastic stretched over wooden frames, illustrate the subhuman living conditions of Nonadanga. An NGO funded by Hope Foundation has provided simple tents and toilets. A makeshift school, held in the open, has been set up, along with trauma counselling. Twice a week, a doctor and nurse hold a free health clinic, providing free medicine. One problem is the large number of snakes in the field. People report that so far there have been three instances of snake-bite at the camp.
Similar stories of gross violation of human rights and child rights continue, sometimes with greater brutality in the other camps covered under the survey. The plight of the children of Bellilious Road in Howrah is particularly incredible, because of its history. On the morning of 2 February 2003, an approximately 500-strong Rapid Action Force, accompanied by ambulances, fire brigades and two or three bulldozers, forcibly entered the Dalit community in Belilious Park, evicted over 700 families, demolishing hundreds of brick houses, a school building, temples and statues.
The eviction was carried out without prior notice and in the absence of a resettlement plan. The Howrah Municipality, it is reported had launched a development and beautification scheme that includes extension of the park in favour of commercial interests. The Dalits residing in Belilious Park area were not trespassers, as alluded, but permanent residents; their families had lived there for almost a century; prohibited from renting in the upper-caste areas of the town in pre-Independence India, they had settled in the park.
They produced supporting documents like identity cards, ration cards, service records, and birth and death certificates that the Howrah Municipal Authority had issued, specifying their permanent addresses in 129, Bellilious Park. However, the municipal authorities ignored these claims, and maintained that the residents were 'trespassers'. Presently there is an amusement park and a Big Bazaar in Bellilious Park.
At Belgachhia Garbage Dump where they were shifted forcibly, they are living in the open, with no shelter from the sun or rains or cold, no drinking water and no sanitary facilities. Until the time of the CRY report, around 2008, the State Government - which liked to proclaim its welfarist credential loudly - neither provided compensation to the victims nor resettled them. There is no government-run school in the area. The sole NGO-run school has a high drop-out rate. Children play with pigs in the dump.
The report underscores the violation of child rights resulting from these forced evictions, pointing to agreements and conventions under which they should have been protected, including the Convention of the Rights of the Child.
The report could have been more detailed in some aspects of its research. It is also a statistical and informative report, and as such does not include analytical and investigative probing into the psychological and social impact of forced displacement and eviction on the children. Case studies focus mainly on drop-out rates increasing due to the distance between their new relocations and the schools they attended in their original habitat, and on the lack of sufficient schools in the new area to meet the new demand. The recommendations too are mostly general in nature, barring a couple of specific comments on what should be done immediately.
Nonetheless, the study is a commendable effort on the part of CRY and its dedicated volunteers that should go a long way in further research and policy rulings by the new Trinamool-Congress government in the State.