Old Delhi is a constellation of living artefacts, and Darya Ganj's Old Book Bazaar is among the most interesting ones. Stretching nearly 1.5 km near Darya Ganj's Golcha cinema, the bazaar is the only source of income for many of its 200 pavement booksellers.
According to Mr. Subhash Chand Agrawal, President, Sunday Book Bazaar Patri Welfare Association, the market has been a Sunday feature in the area for the past three decades. Not all books here are second-hand. The sellers acquire books from different places. Many publishers, not able to sell the old editions of books, sell them to these pavement booksellers at cheaper prices. Also, loads of books remain unclaimed during transportation through trains and buses which are then auctioned by Railway and other transportation authorities. However, according to one bookseller, Farid Anwar, "books also come from distributors on Ansari Road". Often, customers with old books lying at home come to sell them to these sellers. The sellers also sell in bulk acting as distributors themselves. Traders dealing in used books come from as far away as Hyderabad to buy their stock here.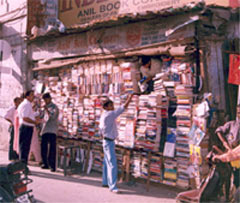 What do these book-dealers do during the rest of the week? Some of them have small bookshops while others spend the week preparing for the following Sunday. According to Mr. Agarwal, "buying books atgood prices from different sources is a time-consuming task requiring business acumen and networking skills". During the week, they also deliver books to various individuals or other sellers within their business network.
Why would someone buy books from here? Obviously they are cheaper. Equally importantly, says Mr. Agarwal, some books which are difficult to find in usual bookstores are easily available here because they are taken off the shelves by publishers due to little demand.
As always, authorisation of the market is a messy question. On the one hand, the market is quite established and its struggle for existence and recognition seems to be long over, but on the other, each hawker still pays Rs.50 per month to the police for "protection". This is an unofficial arrangement, confides Anwar, which keeps both the sides satisfied.
The customers are of all ages and sizes, with college students comprising the majority. A student preparing for his MBA entrance comes all the way from South-Delhi to buy novels. A group of architecture students look for journals and magazines on design and planning, which are very expensive at regular bookstores. "I am a literature student and must read a lot. However, I cannot afford to buy brand new books all the time. So I regularly come here or visit the corner book shop at Plaza," offers a young customer.
Indeed. Connaught Place (CP) fans have certainly noticed a rickety shop at the corner of what used to be the much-visited Plaza movie hall. Just in case you did not realise, Anil Book Corner has been there for over 25 years (yes, in the same corner, in the same condition), and sells both old and new books. Much like his Darya Ganj counterparts, Mr. Kumar, the owner, sells all kinds of books. "I generally buy books from the publishing companies themselves, and at times from distributors. The source is not important as long as the books are good" says Kumar. "I also collect books by exchange. Many foreigners buy books here which they read and do not necessarily want to carry back. If we like their books, we take two of their books and give them one book of their choice in return. Of course, this is not limited to foreigners, we also exchange books form Indians" explains Kumar.
Kumar is categorical about not dealing in pirated books: "I sell an original version for Rs. 120 after buying it for Rs.100; the pirated version of the same would cost me Rs.30 and I would sell it for Rs.50. The profit I make remains the same. So why should I sell pirated stuff and run the risk of getting into trouble."
The Book Bazaar and the bookshop at Plaza are isolated, much-visited places in Delhi thriving on popular demand. However, the old book trade in the capital needs greater organisation. One way would be to set up an Old Book Haat along the pattern of the successful Dilli Haat.

One is surprised to see the latest bestsellers, 'hotcakes', Kumar calls them - being sold at lower prices than at usual bookstores in CP. Kumar buys these bestsellers directly form the company and sells them with a lower profit margin than any other bookstore. The books are not inherently cheaper, just that I share my profit with my customers" says Kumar, "I even supplied books to the indiatimes.com web-site in this manner. They then sell these books on their site at a price lower than the market rate."
What kind of clientele does Kumar cater to? Informed, book-enthusiasts who want value for their money. "They come to me to get their favourite books at cheaper rates. They also believe that the selection here is a good one. The big booksellers just display the books and get a percentage profit on every book that they sell. They do not invest in the books by buying them. The publishers pay them for displaying their books for sale. The booksellers are not bothered about the quality of the books or the customers' interest, their only concern is their profit. But I have to invest in the books by buying them. I have to make sure I buy the books which the customer would like and can also afford. I have to be customer-friendly. This not only makes my books cheaper but also leads to a carefully selected collection," maintains Kumar.
The Book Bazaar and the shop at Plaza are isolated, much-visited places in the capital thriving on popular demand. However, the old book trade in the capital needs greater organisation, perhaps the establishment of an Old Book Haat along the pattern of the successful Dilli Haat. The booksellers could be provided land to set up permanent stalls, reducing losses due to bad weather. A larger and more organized space would allow books and sellers to be arranged by subject, a big improvment over the way it is now - having to check availability with one seller after another. Other developments - linguistic classification, an exchange zone, etc. - could all be accommodated as well. But all of this takes space, and that problem has yet to be tackled.
Says Mr. Vijay Goel, Member of Parliament from Delhi's Chandi Chowk constituency and Union Minister of State for Sports and Youth Affairs, "I do all I can to protect the interest of the booksellers. Whenever they have problems, they call me and I talk to the police officials who often harass them. However, right now I am not in a position to provide them with a piece of land for setting up permanent stalls."
Yes, but other ventures - Dilli Haat, shopping malls, multiplexes - did find enough space, will and vision. The contemporary re-organisation of tradition is needed to make a city as cosmopolitan and as culturally rich as the capital more citizen-friendly. In a nation that boasts a large publishing trade, a tradition that encourages reading and supports many livelihoods could use a little economic support too, not just the political will to ward off cops on their bribe-taking beat.