"Dinesh does not talk to us. He will turn away every time he meets us. I do not know what I have said to offend him; nor will he tell us. When he gets angry without a reason, I feel insulted and hurt," says 15-year-old P Penchilamma of her classmate at the 115-year-old Olcott Memorial High School in south Chennai. The class X student is talking to the school counsellor at a workshop for life skills.
What might seem like adolescent angst to most of us is a valuable lesson for Penchilamma. Her mother is a domestic servant and father a casual labourer; she does not find time to be with them and learn coping skills.
"I get angry quickly when people do not treat me fairly. But I feel guilty after my mood swings," says her classmate P Sivagami, also 15. Till they took part in the workshop, they did not realise these mood swings were a rite of passage into adulthood. "After giving our class X exams, we were under so much stress about our future, At this workshop, we have learned how to handle our emotions and the stress that could come with higher education," say the friends.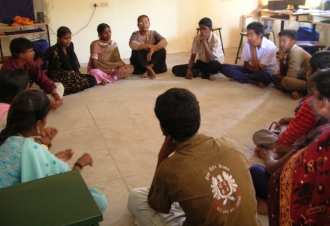 A life skills workshop takes students of Class X through some basic coping skills and gives them an understanding of the emotional flux they go through as teens. Pic: Krithika Ramalingam.
The school initiated these training sessions to address teen depression and suicide in the community that their students come from, something absent in most of the Government-run high schools and many private schools.
Alternative schools push the envelope
"This is the advantage of alternative education, especially among the socio-economically backward community. It looks at development of the child as a whole and not just academically. When their parents are not in a position to provide for their emotional growth, the school steps in and be the parent too," says Lakshmi Suryanarayanan, head of Olcott Memorial High School, where around 560 students from around the south Chennai fishing hamlet of Urur Olcott Kuppam get to learn about a lot more than from textbooks. Apart from sticking to the curriculum, the school also runs an English Language Lab, a computer lab that links computer literacy and self-learning, and two counsellors.
Lakshmi points out that in most schools the teacher student relationship centres around academics, but alternative schooling for marginalised children has to extend beyond academics into a nurturing relationship too. A sick child has to be tended by the school, since their parents are often not immediately reachable due to the nature of their work. "Invariably you start looking at students as a whole," she says.
Often children from poor backgrounds have a high amount of stress that impacts their learning. Recent studies (by researchers in University of Pennsylvania and Cornell University) show that children from poor backgrounds have a reduced capacity of memory, which is believed to the result of stress that affects how children's brains develop. Given strong anecdotal evidence, and current science, more schools are now tuning in to an alternative to the rote-oriented learning in the mainstream.
"After all what is necessary for our students to compete with those from private school is an ability to express themselves in English, emotional maturity, a confidence..."

For V Uma, Managing Trustee, Suyam, alternative education thus becomes the way out of poverty. Working with a community that includes those rescued from begging, street children, bonded labourers in brick kiln, apart from pig farmers and marginal farmers, Suyam found a need for a child-centric approach to education. In 2000, the Siragu Montessori was started in suburban Palavedu Pettai (15 km northwest of Chennai). Today, Siragu has around 380 students and is about to send students into Class IX and Class X.
"We came up with our own books that stick to the prescribed curriculum at the same time incorporated the Montessori methodology of activity-based learning," says Uma. Children stay in the hostels and are involved in activities including organic farming and arts and crafts, apart from academe. "We are confident our children can compete with those from elite schools. We encourage a child to learn by themselves and express themselves without hesitation, she says.
At The Shriram School in Thiruneermalai (20 km off Chennai), where around 800 students from neighbouring villages study, the story is no different. Most of the community is involved in construction work and the children are also first generation learners. With its students also at class VIII level, the correspondent is actively working with the government in getting the requisite affiliations for the school to grow into secondary and higher secondary levels. The correspondent, Vidya Shankar, says that shaping the curriculum for first generation learners is important.
"These children do not have support structures at home and rely on schools alone for their learning. The challenge lies in sticking to the prescribed curriculum while making the textbooks simple," says Vidya.
By way of an example, Vidya compares the lesson on 'Our Environment' in both the NCERT book and State syllabus. "The NCERT book is full of self-learning exercises. While the state board text is exhaustive but requires by rote learning. The lesson construction is very heavy and rambling in the state textbook and full of details that are insignificant,'' says Vidya.
In educationally and socio-economically backward Dharmapuri, (around 260 km from Chennai) Puvidham Trust helps 83 children from tribal, farming and construction worker communities to receive an education that is skill-based and promotes self-learning. "Schools have become either too mundane or if they are progressive, too expensive. Most education does not allow the child the opportunity to think and the schooling then becomes a way to mould them to take orders. There are no lessons about managing real life situations," says Meenakshi Umesh, Puvidham founder.
Based on the ideologies of Mahatma Gandhi and Rabindranath Tagore and Montessori methodology, the school teaches mathematics, science, social sciences and languages using farming and real life situations around them and learn how to manage them. Her school too takes the children up to the class VIII level and the students then join the government or private schools for the secondary, higher secondary education. "In the end, the parents want their children to be capable of taking board examinations and getting a collegiate education. If not, they will be designing agricultural tools at our school on a par with agricultural universities," she muses.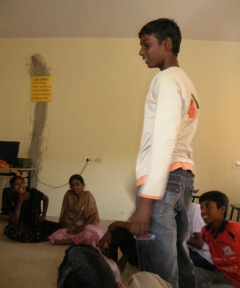 A student of class X goes through a role play session to give solutions to interpersonal issues they face on a day-to-day basis. Pic: Krithika Ramalingam.
The students of the Olcott Memorial School are already reaping the benefits of their alternative and empowering education. The school has formed linkages with IT industries, Industrial Training Schools and vocational training institutes to inform their children of alternative career choices than the humanities/sciences choice. They are also a part of prestigious awards like the International Award for Young People (The Duke of Edinburgh's Award), competing and engaging with students of elite private schools.
"After all what is necessary for our students to compete with those from private school is an ability to express themselves in English, emotional maturity, a confidence that comes from a good self-esteem and good values, things that are part of their everyday schooling," says Lakshmi.
The schools are also confident that their chidlren can match the best from private schools academically too. Both Siragu and Shriram School are readying their first generation learners for competitive and challenging examinations like the International General Certificate of School Examinations (run by Cambridge International Examinations) and Indian Certificate of School Examinations.
While alternative education for students from marginalised communities is gaining currency, the Tamilnadu government has also introduced self-learning techniques like Active Learning Methodologies (self-learning and peer-led learning based on other educational material than just the textbooks) in their schools. Its implementation, however, has been patchy and when first generation learners are involved inadequate given that many do not have resources like computer literacy and or access to other classroom resources like encyclopaedia.
Obstacles coming in the way of due recognition
Despite preparing their students to be competitive, the newer alternative schools – all of them at the middle school level -- are now facing a key challenge - lack of affiliation and recognition. Most of the schools are ready to send their children into Secondary level but are in a fix as their children will not be able to sit for the state board examinations in 2011. Neither does the state government give them the "No Objection Certificate" for them to affiliate with the Central boards.
For many alternative schools, the less challenging and the less accepted open school stream is the only option and they are not too happy about being forced to having their children take a less challenging examination. But without these affiliations, it is either the open schools, both national and state, or the more competitive and expensive international examinations.
The reasons for denial of the accreditation are often unrelated to academics.and for many of the educationists, the conditions mandated under the Tamilnadu Recognised Privates Schools (Regulation) Act, 1974 are impractical.
"Siragu is run by Suyam Trust, an NGO. To expect us to possess 2 acres of land (mandated under the Act) in the city is very unreal given the land prices. Also, the objection that we do not have modern, tiled bathrooms seems tenuous when the quality of education we impart free of cost is better than most private schools," says Uma.
Neither has Vidya's experience in obtaining affiliation for Shriram School been positive. Her school has been given only conditional recognition, depending on their grounding an overhead high tension wire - which they will - and fencing the school off completely to eliminate the shortcut for the villagers, which they are talking to the community about. "The community is involved in the school and keeping them out of school grounds could alienate them," is her simple but persuasive argument.
Uma is raising funds for those students who are capable of taking the international examination. "The cost per student is nearly Rs.30,000. We have to identify those who will be successful and start coaching them over the next two years," she hopes.
The TN state government has also gone slow in giving the No Objection Certificate necessary for schools to affiliate with the CBSE. Alternative schools would prefer that their children take up the CBSE examination for Class X. CBSE is the popular choice because the board was recently upgraded with the amended NCERT textbooks. "All boards have the requisite standards, the rest of course lie in the teaching. The NCERT textbooks use language that is more accessible to the first generation learners,'' say educationists.
What was framed to ensure children's interest, the Tamilnadu Recognised Private Schools Regulation Act, is now curbing NGOs from running child-centric schools. "The NGO-run schools are often funded by donations alone; the state government does not aid them in any way. The criterion for affiliation then becomes unmeetable. Instead of concrete buildings we use environment-friendly technologies. Our toilets may not be tiled, but are clean and adequate. Some government schools do not even provide for toilets for children. We prefer land for agriculture, organic farming and rain water harvesting than adding to built up area. But the government does not look at these as safe options," they say.
Response to the charges
School Education Department officials (who spoke under condition that they not be named) concede that the Act framed in the 1970s is in need of relook. "Justice K Sampath committee, which was appointed to investigate the fire accident in a Kumbakonam school (in which 92 students perished in 2004), has recommended that the provisions of the Act be strictly adhered to, to ensure children's safety. But the government is aware that in certain conditions, it is not a possibility.
The School Education Department has now appointed another committee headed by a retired Director of Sarva Siksha Abhiyan, M P Vijayakumar, to look into the needs for rationalising the provisions of the Act viz the needs of NGOs in running schools for deprived communities. The recommendations will be submitted after the general elections,'' sources said. However, they would like the accent on safety both in classroom processes and physical infrastructures to continue.