Earlier in March this year, the National Students' Union of India (NSUI) the student wing of the Indian National Congress (INC) won six out of eight seats in the Gujarat University polls, while the Bharatiya Janata Party (BJP)'s student wing -- the Akhil Bharatiya Vidyarthi Parishad (ABVP) – managed to win just two seats. This victory, albeit in university elections, was reason enough for the Congress to rejoice in a state where the strong hold of the BJP is beyond dispute.
Student organisations and youth wings, which are smaller functional frontals of the larger political institutions, have always been a platform for flourishing political ideologies. BJP and INC have had active youth wings, namely the Bharatiya Janata Yuva Morcha and the Indian Youth Congress, apart from the smaller student wings like the NSUI and ABVP.
These organisations were once looked upon as the only means by which the youth could participate in politics. The larger youth population of the country appeared to be disinclined, and even disinterested, in the political dynamics playing out in the country.
Over a period of years however, with advancement in the field of information communication and technology, coupled with flourishing social media platforms, the engagement of the youth has substantially increased. Data revealed by the Election Commission states that 2.3 crore people in the '18-19 years' age bracket have been enrolled to vote in the 2014 elections.
But it is not just demographics that make the youth a significant influencer in the 2014 elections. The increased involvement of the youth in the political future of the country was brought about to a large extent by the anti-corruption movement that engulfed the nation towards the end of 2010. The numerous scams and scandals over the term of the last government, involving crores of rupees, was the trigger needed to awaken a nation, otherwise seen to be dormant when it came to civil society activism. Since then, the youth has continued to play an active role in politics, either directly participating in the process by contesting elections or indirectly by voicing their opinions on various platforms.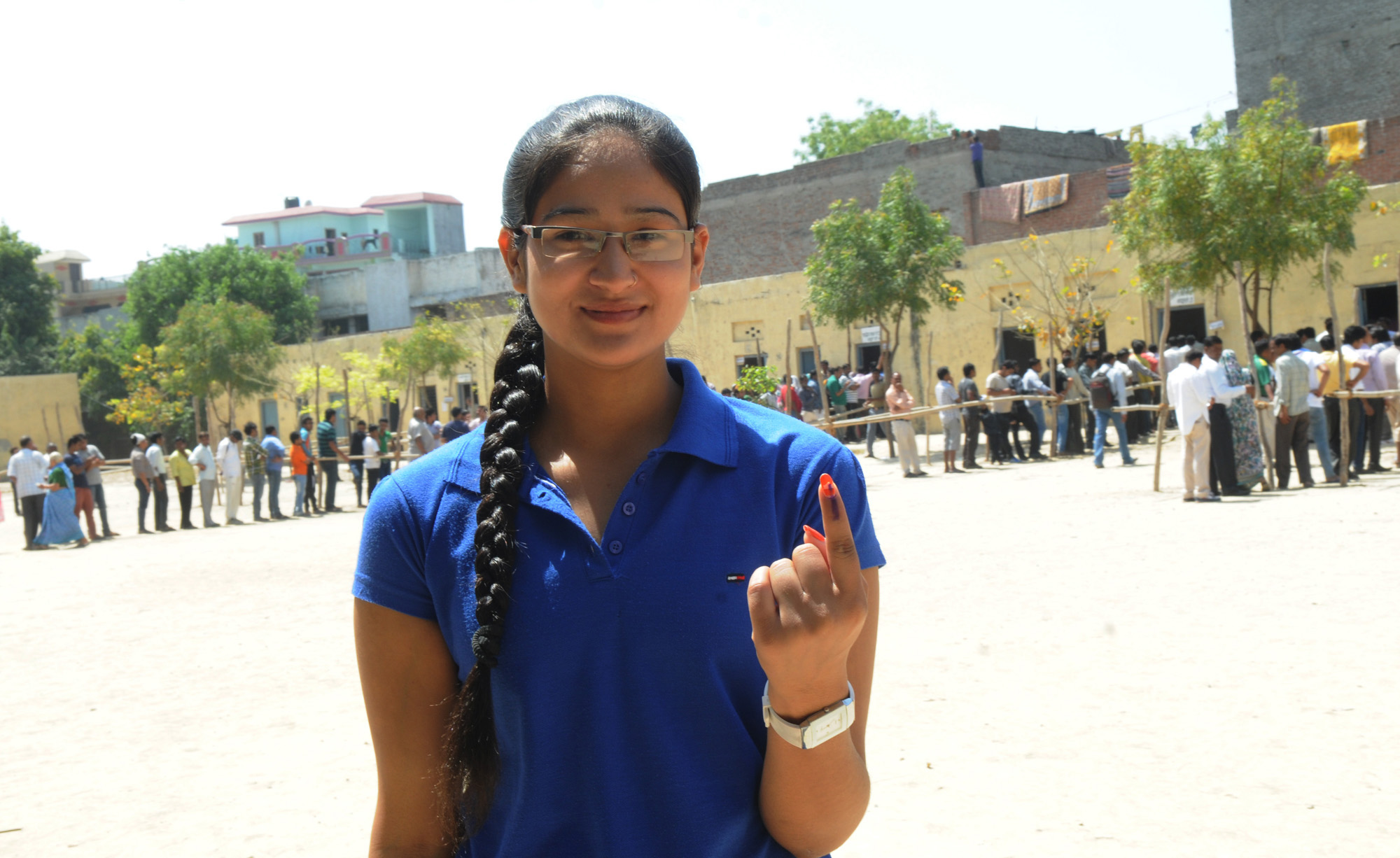 By 2020, India is set to become the world's youngest country with 64 per cent of its population in the working age group. As per the report 'State of the Urban Youth, India 2012: Employment, Livelihoods, Skills,' published by IRIS Knowledge Foundation in collaboration with UN-HABITAT, the youth population (15-32 years) comprises 35 per cent of the urban population and 32 per cent of the rural population.
But have political parties made any explicit moves to reach out to this section of the electorate, as evident in the promises made in their manifestos?
Let us take a look at the manifestos of the three major parties contesting the 2014 general elections namely the Bharatiya Janata Party (BJP), Indian National Congress (INC) and Aam Aadmi Party (AAP) to understand their agenda for the younger population.
Bharatiya Janata Party
The BJP has always been termed as a conservative party, dominated by stalwarts closer to 60 or on the other side of it. The involvement of youth in the key party positions has been dismal. However, the significant number of young voters in the upcoming elections is something that the BJP cannot overlook. BJP has targeted the youth with alluring promises focusing on job creation and entrepreneurship in rural as well as urban areas.
Such a youth inclusive approach is not only specific to employment, but extends to a broader realm of governance with initiatives like the Youth for Development, Young Leaders Programme and initiation of a National Youth Advisory Board through a 'nation-wide district-level incubation and accelerator programme' for encouraging innovation and entrepreneurship. Terms such as 'knowledge creation' and 'skill- mapping' dominate their manifesto, indicating that the party was going all out to sway the youth population, which they had once evaded.
"The country has been dragged through 10 years of Jobless Growth by the Congress-led UPA Government. Under the broader economic revival, BJP will accord high priority to job creation and opportunities for entrepreneurship. We will:
Strategically develop high impact domains like Labour-intensive manufacturing (viz. textile, footwear, electronics assembly, etc.) and Tourism.
Strengthen the traditional employment bases of agriculture and allied industries, and retail - through modernization as well as stronger credit and market linkages.
Harness the opportunities provided by the up-gradation of infrastructure and housing, for its job generating potential.
Encourage and empower our youth for self-employment - incubating entrepreneurship as well as facilitating credit.
Address the employability issue by initiating a multi-skills development programme in mission mode. Focus will be on job creation and entrepreneurship, in both rural and urban areas.
Transform our Employment Exchanges into Career Centres - connecting our youth with job opportunities in a transparent and effective manner through the use of technology; as well as providing counselling and training."
"We will take up skill development on a mission mode, at an unprecedented scale:
Skill Mapping - to help scientifically plan our national human resource development that India would need (like engineers, architects, doctors, nurses, lawyers, accountants, plumbers, carpenters, welders, etc.).
Launch a 'National Multi-skill Mission'
We will promote vocational training on a massive scale. Rigid segregation of formal education and skill development will be broken; a mechanism will be established to give vocational qualifications of Academic Equivalence."
Aam Aadmi Party
The AAP holds on to their anti-corruption agenda while addressing the issues in their manifesto. The party which is contesting its first Lok Sabha elections looks at job creation as the primary objective of their economic policies. The focus is on streamlining regulations and licences to advocate honest businesses and entrepreneurs. AAP also has a broader agenda of initiating lifelong learning and skill-leveraging technology to encourage 'continued, individual and national growth.'
"AAP is committed to tapping India's demographic dividend through economic policies that focus on creating decent employment and livelihood opportunities for young women and men in honest enterprise across agricultural, manufacturing, or services sector."
"AAP seeks to afford greater opportunities for lifelong learning and skilling leveraging technology so as to encourage both continued individual and national growth."
"Focus on job creation by promoting honest enterprise; this would be done by reducing corruption and streamlining the system of excessive regulations and licenses."
Indian National Congress
While the Congress tried to woo the young voters with its advertisement, "Kattar Soch, Yuva Soch", the manifesto fails to go deeper into their agenda for the youth. Their flagship programme is the National Youth Policy 2014 through which they aim to provide equal opportunities for all the disadvantaged and marginalized sections among the youth and aim to create 10 crore jobs in the next 10 years.
The other highlights are establishment of a National Sports Education University and a state-run employment exchange service for those seeking employment abroad.
"Our aim is to give India the best education system in the world. We will transform "Sarva Shiksha Abhiyan" to "Shreshth Shiksha Abhiyan," provide state-of-the-art sporting facilities across India and establish a National Sports Education University. Youths from J&K, NE and LWE affected areas will receive special attention. A state-run employment exchange will be opened for those seeking employment abroad."
"Rashtriya Uchhatar Shiksha Abhiyan will provide funding to improve college and university infrastructure. RUSA will help create 70 new universities."
"Will set up a National Commission for Students and a National Youth Commission."
"An independent regulatory mechanism will oversee State and private institutions to ensure standardisation and quality of education."
Social media
However, it is not just the manifestos. The 2014 elections have also witnessed a shift in the way the political parties have campaigned for votes. While traditionally campaigning has been limited to rallies, speeches and print ads, 2014 saw a blend of traditional and new media.
Politicians, too, have resorted to social media platforms like Facebook, Twitter and Youtube to deploy effective strategies to target the urban population. The Indian Youth Congress page on Facebook, with close to 23 lakh followers, has several comparative analyses of its agenda with that of its competitors. Interestingly, in contrast, the Aam Aadmi Party (AAP) has repeatedly stated that it does not want to keep youth and women away from the mainstream and will not initiate separate wings for them.
Rarely in recent times has a general election inspired so much excitement and active participation from civil society. Judging by the general wave of change the country is riding on, the 2014 elections are bound to be remembered among the most interesting elections in the history of the Indian democracy and the youth could well emerge to be the real game-changers. But whether the mainline parties have been able to capture their imagination and trust, and how each fares in comparison to the other in that respect, is something we will have to wait to know for sure.