The 73rd and 74th amendments to the Indian Constitution assure women's representation in rural and urban local governments. In fact, reservation has risen from the originally guaranteed 33 to 50 per cent in 20 of the 28 states. This averages to 46 per cent women elected to local governments; in State Assemblies, the average is far lower, at 8.2 per cent. Parliament too continues to be severely short of women. Every Parliament has been off-kilter since the birth of the Indian republic, with the current one skewed at 14.39 per cent women. Unless curbed by reservation, the political system tends to produce male-dominated representation.
Publicly available data, as well as the experiences of Political Shakti, a non-partisan citizen collective campaigning for increased women's representation, can help deconstruct the why and how of this phenomenon.When we look through a gendered lens at political party and electoral ecosystems, and processes within both, we can see the path to equal representation that lies ahead.
Are there so few women in electoral politics due to apathy or lack of political ambition?
Shakti's conversations yield some pragmatic explanations of why about ten times more men than women run for public office. Fifteen times more men ran as independents in 2019. Patriarchy, and therefore agency, play a major role. Politics is visibly a male bastion, quite deliberately targeting women who dare enter the arena with verbal and physical intimidation and violence. Obscenely sexist motor-mouths bear leadership roles, those accused of rape are awarded election tickets, election campaigns are testosterone-driven with loud and brash roadshows, slanderous speeches, night-time rallies and gruelling hours without access to basic facilities.
Politics accords such impunity to misogyny that it stonewalls not just aspiring women but the female electorate itself from political news. Only intrepid women willing to bear its psychological1 and physical brunt enter the arena. Even so, their families may not be as forthcoming as them. That double whammy not only compromises their social safety net, but also the financial and moral sustenance necessary for a political career.
The second and most pressing problem for women already in politics is the extraordinary demand for financial resources. They either lack the required finances outright, or the autonomy to deploy them at will, even if they can afford it. Most women in India are employed in the informal sector, which offers dismal earning potential. With neither savings nor inheritance, most do not own enough collateral to generate cash.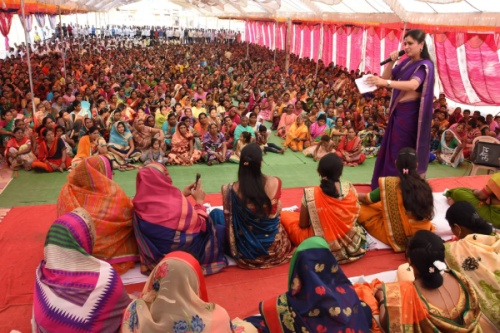 Picture: Navneet Rana, independent MP from Amravati, Maharashtra at a public event.
In general, women are far poorer than men, making those who are politically active largely dependent on party support to further their electoral ambitions. Even women from wealthy families do not have the fiscal autonomy to expend assets towards a political career. This means far fewer women, especially independent candidates, are on the ballot.
At any rate, 99.5 per cent of independents, male or female, forfeit deposits according to data from the Election Commission. Their winnability is under 0.5 per cent as an average across all Lok Sabhas, and this 17th Lok Sabha has a measly four independents, two of whom are women! While independents ratify a democratic principle, they are immaterial to the composition and gender balance of the Lok Sabha. The real determinant is political parties.
Is it also partly true that women are not interested in politics?
It is true that some women are unaware and appear uninterested in politics. This is both due to low sociopolitical exposure in certain rural areas and communities, and genuine apathy, especially in the urban, educated middle and upper classes. However, lakhs of women have voluntarily joined political parties as grassroots members, workers and cadre. The Bharatiya Janata Party Mahila Morcha had earlier announced breaching the 3 crore members mark, while the All India Democratic Women's Association (AIDWA), the women's wing of the Communist Party of India, Marxist (CPI-M), counts 1 crore female members on its site. Even discounting for braggadocio, a fraction of that would be plenty.
Added to this, 33–50 per cent reservation for women in rural and urban local bodies has buoyed over a crore of women into wielding political power over two and a half decades. Even though some are stood as or forced to behave as surrogates, it is safe to conclude that it is far less the lack of interest than social obstruction, financial inadequacy and a virulently hostile political ecosystem.
That brings us to the doorstep of political parties. Barely 11 per cent of party tickets went to women in 2019, up from about 9 per cent in 2014. This is fundamentally undemocratic behaviour that precludes representative outcomes!
Why do parties deny women election tickets, even with plenty of women workers?
Women cadres are mostly inducted into the women's wing. Shakti's conversations have revealed that this compartmentalization serves dual purposes for the party. One, it is a more female-friendly recruitment channel compared to the mainstream party. Families view parties as unsafe for women, and consider the women's wing more hospitable to 'allow' them to pursue political careers. It is shocking to learn that many men view their own party women as 'fallen' and imagine them willing to 'compromise their modesty' simply because they have chosen political careers.
However, in a few exceptional cases, women skip the mahila morcha for the genuine article because: (a) they have high-ranking male relatives in the party, or (b) they are from a rival party and have built up political capital and seniority. Both these are known and accepted protocols respected by the practitioners of patriarchy.
The unstated but real function of the women's wing is as a supply chain for canvassing votes, especially with families and female voters. The very orthodoxy that parties uphold to deny women their fair share in elections comes back to bite them in electioneering. Families are turned off by loudly sloganeering all-male cadres, hesitating to engage or let them in during door-to-door campaigns. Rallies composed of men and men alone are not as appealing for female audiences.
Instead, it is the presence of female campaigners literally fronting door-to-door campaigns that opens homes to outreach - a kind of poetic justice. While the women's wing is a party's golden ticket to get votes from families and women, tragically, for most women, it is also both the start and end of their political careers. It exists solely as unpaid campaign labour for parties, with no rewards to female vote-catchers.