We see poor, helpless and abandoned people on our routine drive to our work, in our neighbourhoods, and literary all around us. We do feel for them sometimes, and sometimes curse the system for ignoring their plight. In the midst of this, a few take it up as their goal to do something for these needy in their own creative and unique way. Thirty-nine-year old Ruzbeh Bharucha, writer and filmmaker, is one of them. He believes in bringing the harsh realities of life through the medium of film and writing.


Ruzbeh Bharucha
Released in September 2006, Bharucha's Yamuna Gently Weeps is a documentary and book on slum demolitions through the eyes of the Yamuna Pushta (Delhi) episode of 2004. The film runs through the issues of demolitions without a rehabilitation plan, migration, non-implementation of the master plan, homelessness and the role of the judiciary and the media. Slum dwellers, politicians, town planners, sociologists, social workers, environmentalists have all been interviewed.
The Yamuna Gently Weeps film is 72 mins long. It is in English, with the Hindi conversation in English subtitles. The film was privately funded though the Norwegian Embassy, Canon India, and the Himalayan Institute. It has been chosen for the Berlin Human Rights Film Festival and will be screened on 20 November 2006. It has already been screened in a number of universities in the country.
Anuradha Miraji caught with Ruzbeh Bharucha recently and talked with him about the film and his passion for filmmaking.
Yamuna Gently Weeps is a heart-wrenching documentary. How did you get interested in this topic?
I wanted to concentrate on work that would make a difference in the lives of the poor and the abandoned. Dr Kiran Bedi and her daughter Saina wanted me to see the work done by their organisation Navjyoti, in Yamuna Pushta, a settlement which housed 1,50,000 people. An hour after we entered Yamuna Pushta in February 2004, we got the news that the High Court had ordered demolition of 40,000 homes, without chalking out any rehabilitation plan.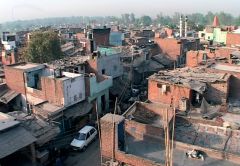 Life before the bulldozers ran. A still from Yamuna Gently Weeps.
I decided to document all that which was Yamuna Pushta and the plight of the slum dwellers and the politics involved with demolitions and the nexus between those in power and all those who prosper through the transactions dealing with land. I spent a total of three and a half months shooting and interacting with slum dwellers and politicians and another four months interviewing and interacting with activists, environmentalists, sociologists, town planners, senior lawyers and all those involved in working for the homeless and the abandoned. I spent lot of time with slum dwellers and what I realised was that their demands were justified.

After the demolitions - shattered life, lost people. Still from Yamuna Gently Weeps.
Due to the lack of rural development, we force our villagers, our farmers, our artisans, just in order to survive, to leave their villages and migrate to cities, and come and live in the most abysmal conditions. When cities are being made, we encourage them to come and work and build our infrastructure and when the land they are living on becomes valuable, we demolish their humble homes too. I was surprised when a number of slum dwellers told me that they didn't mind the demolitions, all they wanted was a rehabilitation plan, and be shifted to a place where their livelihood wouldn't suffer and the education of their children was possible. I don't think that is asking for much.
How has the milieu reacted to the film?
Yamuna Gently Weeps is a book and a documentary. The book runs to 300 pages, with over 200 photographs and the film is of 72 minutes. The response to both has been very heartening and encouraging. Even the media, though I have lambasted them nice and proper, in both the book and documentary, have been most supportive. The documentary has been invited to various international human rights film festivals and through networking on the Web, activists, researchers and sociologists from various parts of the world have contacted me and shown solidarity and support. What is gratifying is that activists and scholars along with the readers and viewers have accepted my work with respect. That means a lot to me.
Do you think a filmmaker's responsibility ends with making a film on any particular issues?
In our country, the role of a documentary maker actually starts, after the documentary has been completed. Making a honest documentary is one's duty as a filmmaker but making sure that it is screened in film festivals, schools and universities should also be a work of love and needs equal importance and one needs to be at it long after the documentary has been made and the buzz around is no more. I really thank the Web and various film organisations like Films for Freedom and Vikalp and various Yahoo groups members to have spread the word about this documentary on slum demolitions. Also, it is important for a filmmaker to interact with his or her audience, no matter the size of the auditorium or room or the number of those present.
"I was surprised when a number of slum dwellers told me that they didn't mind the demolitions, all they wanted was a rehabilitation plan, and be shifted to a place where their livelihood wouldn't suffer and the education of their children was possible."
The film: www.yamunagentlyweeps.com

How effective do you think films are as a medium for creating awareness and getting people to think?
It all depends on how sensitively you make it and how hard you work at promoting and screening your work. One needs to keep using all venues of promotion to make certain that the work and the issue are highlighted and viewed. Of course, there is a limitation to the visual media. For Yamuna Gently Weeps, I had 72 hours of footage. There was much I couldn't use but could put it in the book. Visually you can shake people. Verbally you can work on their intellect. I am fortunate that I can express my self through the word and visual medium, as the audience is very often very different.
Where do you draw your inspiration from?
We live in India. Look around you and if you have any compassion or a fibre of human decency, you can't help being inspired to do something for the poor, the weak and the abandoned.
Tell us about your earlier documentary making experience.
I believe in telling a story. The medium, be it a newspaper, a book or a documentary is incidental. For instance, in Shadows In Cages, a book on mothers and children in Indian prisons, I avoided taking photographs of women inmates and their children, though a number of prisons gave me permission to do so. This was because the book was to be translated to Hindi, and I did not want the women and children, once out of prison to be singled out and traumatised by the society. I have changed their names too. But I knew this would make a better visual story. I discussed it with the women inmates of Tihar and asked them if they were open to the idea. Some were not. Some were very open. Those who were open about appearing in the documentary were then filmed. They too were aware that the film is a restricted medium and their families in villages aren't going to be able to see them and their children. Thus the 20-minute film called I Believe I Can Fly.
How strongly would you recommend filmmaking to youngsters today?
Writing, filmmaking, painting, music, drama, all are mediums of communication. I think one needs to be honest about one's own calling and one's capabilities and weaknesses. Filmmaking is an expensive and laborious journey. Unlike writing a book or painting or music, film making involves interaction and communication not only to your audience, but to your team, to your financiers, to those who you want to be involved in the project and then most of all, if you are making a documentary involving a community, then getting the community to have faith in your integrity as an artist and a human being. It is a wonderful medium but needs great discipline and stamina.
Other than training, what qualities should a filmmaker posses?
I have had no training to be a filmmaker or an author or a journalist or an editor. So I am not the ideal person to talk about training. I know just one thing. An artist should communicate and should be able to translate his or her vision on to paper, canvas or film, in the most honest, interesting and inspiring manner. As a journalist, as an editor, an author and now as a filmmaker, I know what I want to communicate and till I don't communicate what I want to, I don't put an end to that particular process. Take Yamuna Gently Weeps. My only direction to all those involved was simple: "I will tell you what to film, when to film and how much to film. I shall even tell you how best to capture the shot. How to work the camera, which lens to put, how the sunlight is going to affect the shot and how to work the lights, sound, etc. is something I don't know anything about. I leave it to you experts. Now let's go and capture some reality."
Institutes offering filmmaking courses are mushrooming everywhere. Have you come across any such students? If yes, how well-equipped do you think they are?
I have worked with three types of professionals. Most, who have done some course or other. Second, those who have learnt through experience and working with some film production house. Third, those who have taught themselves the craft. I think in the end it all depends upon the individual. I think most courses are teaching their students reasonably well. It can't hurt you to go to a course. At least the technicalities can be learnt. Of course, how does one teach how to translate vision on to film, I have no idea. Or, how does one teach how to be sensitive while interviewing the weak and the abandoned? How does one teach patience and yet alertness to capture the right shot when shooting a documentary and in reality there are no retakes and yet there are a dozen interesting scenes being enacted in front of you and yet pick the best. But it is great to go to a school and get the basics right. I would like to enroll myself in a short course and learn the basics of filmmaking. Also I would like to get adept with the right terminology. Like, when I have to tell my camera-in-charge to do something, I don't use the usual lingo and terminology. I just tell him or her; "Capture the pain in that child's smile."
Filmmaking is an elaborate process – which one do you enjoy most - scripting, direction, editing or any other?
I don't enjoy any process of filmmaking. Every process sucks me dry. I have to bear up with the process so that I can capture my vision on film. How many women enjoy the process of delivering a child? Maybe some do! I feel filmmaking is like the nine months of pregnancy and then the final delivery. An evil necessity! Yes, it feels nice to have life throb within you, but the process is terrifying and you stop living for yourself and your entire life is dictated by that little one throbbing within you and then comes the delivery. I would be nuts to enjoy this process(?). But after a while, just like the urge for another child, a filmmaker has this masochistic or maternal instinct for another documentary or film.
Will you ever get into mainstream cinema?
Am planning to write and direct an English film with Kumar Gaurav and Shiamak Davar. It is still in the conception stage. Once the discussions get over, then I might have to rob a politician or two, and then voila, work on a short-budget film for international film festivals and a select audience; if not anything, at least the three of us can pat our own backs with some perverse satisfaction.
Your favourite filmmakers and artists?
I love those who can tell a simple or complex story and still make it interesting and captivating. Those who can tell a sad tale in a humorous manner are the best storytellers. Charles Chaplin, Raj Kapoor, Hrishikesh Mukherjee, Steven Spielberg, Ashutosh Gowariker, Rakeysh Mehra, Gulzar, Mel Brooks, actually too many to do justice in so short a space.
What other issues are you planning to take up?
I am planning to work on issues like AIDS, leprosy, prison reform and continue doing work for the displaced and the abandoned. Depending upon the platform needed, I will write books or make documentaries.
At the start of your interview, you said that you wanted to concentrate on work that would make a difference in the lives of the poor and the abandoned. Now that Yamuna Gently Weeps is out and is being screened, how do you feel about the impact?
I have begun to screen the film in various universities and various social forums. It has been sent to various judges of the Supreme Court and various politicians too. My main focus is to screen it to university students, especially Law, Mass Communications and Social Science students. It is important that they know what lies in future for them and hopefully they take the right decisions and stand up for the poor and the voiceless of our country.