The proliferation of headlines such as the above within hours of the bomb blasts in Hyderabad on 21 February conforms to a pattern that has become all too familiar in the aftermath of such deadly, dastardly, utterly deplorable violence targeting ordinary citizens going about their normal lives.
Even as investigators began the difficult task of hunting for clues that could lead to the perpetrators and questioning witnesses as well as informers and suspects, sections of the media seemed to see nothing wrong in naming names and indulging in what can only be pure speculation immediately after such an event. They are, of course, aided and abetted in this process by anonymous sources within investigative agencies, the customary cast of "national security experts" and politicians out to score points against rival parties even if it means misguiding the public.
The embarrassing and, in many ways, damaging mistakes of the past are rarely acknowledged at such times. For example, on 22 February, The Times of India flagged the "last terrorist strike in Hyderabad" (the twin explosions at Lumbini Park and Gokul Chat in August 2007), recording that "three Indian Mujahideen members were arrested" and "investigations are still on." The Mecca Masjid blast, which had occurred just a few months earlier, in May 2007, was conveniently left out. Could it be because that act of terrorism, along with the bombing of the Samjhauta Express (2007) and the Malegaon blasts (2006, 2008), would muddy the waters since investigating agencies ultimately uncovered a totally different set of actors who may be responsible for them?
Deccan Chronicle and DNA did include the Mecca Masjid blast in their lists of earlier attacks without mentioning the individuals or groups implicated in the crime, thereby leaving many readers to wrongly assume that the Indian Mujahideen (IM) referred to in the headlines was responsible for that act of violence, too.
Interestingly, the Hyderabad edition of The Hindu carried an important story on 22 February referring to the sensational turnaround in the Mecca Masjid bomb blast case ("Mecca blast case casts doubts on narco"). According to the report, after the violence that killed 14 persons, including five in subsequent police firing on a riotous mob on 18 May, the Hyderabad Police had picked up several Muslim youths for interrogation and booked six based on narco analysis test reports. Three years later, first the Central Bureau of Investigation (CBI) and later the National Investigating Agency (NIA) concluded that "the perpetrators of the blast were of a different colour" and confirmed the involvement of as many as nine "right wing activists." The six Hyderabadi suspects were acquitted in the case and the Andhra Pradesh government paid compensation to them. Yet on 24 February, there were reports that these men have again been picked up for questioning after the recent blasts.
Concern about speculative reporting
A statement on the recent Hyderabad blasts, released by the People's Union for Civil Liberties in Delhi on 23 February, expressed concern "over some sections of the media indulging in speculative reporting and alluding to the alleged involvement of some groups, even when investigation is still underway" and pointed out that "such competitive posturing and motivated reporting fans communal hatred, creates mass paranoia and vitiates communal harmony."
Last week's blasts in Hyderabad occurred the day after the NIA filed a charge-sheet before the Special Court in Bangalore against 12 persons accused of links with banned terrorist organisations – such as Lashkar-e-Taiba (LeT) and/or Harkat-ul-Jihad-al-Islami (HuJI) – and involvement in an alleged plot to kill certain individuals, including a couple of journalists and a publisher. Eleven of them have been in custody for nearly six months, while one is said to be absconding.
Four of the 15 individuals arrested in August-September 2012 by the Central Crime Branch of the Bangalore Police were not named in the charge-sheet. Among them is a young journalist, Muthi-ur-Rehman Siddiqui, who at the time of his arrest was a reporter with Deccan Herald, covering education. On 23 February the NIA Special Court ordered his release and that of a fellow accused, Yusuf Nalband, since the investigative agencies had found no prosecutable evidence against them despite keeping them incarcerated for close to six months, branded as terrorists.
Siddiqui's arrest had initially caused a sensation in media circles, especially since police sources were quick to name him as "the mastermind who identified high-profile personalities for assassination by his associates." On 31 August, The Times of India carried a headline stating this clearly premature allegation as fact ("Scribe was mastermind"). The notion that "the discipline of verification is what separates journalism from entertainment, propaganda, fiction, or art" is obviously either unknown or ignored in some media organisations.
Interestingly, TOI's front page story on 24 February, headlined "NIA clean chit to accused leaves police red-faced," makes no reference to the paper's own misjudgement not so long ago. Perhaps the space given to the relieved families' reactions to the imminent release of their imprisoned relatives – under the slug, 'Truth Prevails' – and the caption below the young journalist's photograph – 'Innocent: Siddiqui' – are meant to make up for their unseemly (not to mention unprofessional) haste in earlier labelling him the mastermind of the alleged plot.
"Framing" the terrorist
Siddiqui's situation was among the several triggers that led to a panel discussion titled "The framing of a 'terrorist' – Risks and lessons for the media" organised by Media Watch Bengaluru (MWB) in the city on 16 February, a week after the controversial, secret execution of Mohammad Afzal Guru. The meeting began with opening remarks by the moderator, who referred to Siddiqui and other journalists who, like countless other citizens, have been wrongly charged with links to terrorism over the past decade: K K Shahina, Syed Mohammed Ahmad Kazmi and Syed Iftikhar Gilani.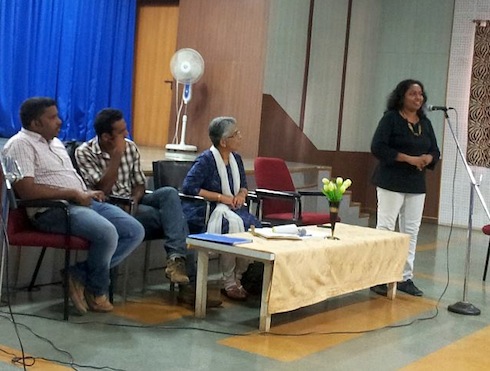 Shahina K K at the Media Watch seminar "The framing of a terrorist" organised by Media Watch Bengaluru in February 2013 at St Joseph's College in the city.
Pic: Media Watch, Bengaluru.
Two criminal cases have been booked against Shahina, Kerala-based Assistant Editor of Open, forcing her to travel to Karnataka every month to appear on different dates before separate sessions courts. Speaking at the MWB event, she described the ordeal she has been through since November 2010, when the Karnataka Police charged her under several sections of the Indian Penal Code as well as Section 22 of the Unlawful Activities (Prevention) Act, 1967 – all for doing her job as an investigative journalist then with Tehelka (as described in her recent article, "Prisoner of an image," and her speech at the 2011 Chameli Devi Jain award ceremony, "I am a Muslim, not a terrorist," which also refer to media coverage based on unverified information supplied by the police).
Since July 2011, when she was granted bail by the High Court of Karnataka, she has had to make fortnightly visits to Bangalore to present herself before the investigating officer. Now she will have to make the trek to Somwarpet and Madikeri in Kodagu district, where the cases against her are being heard. Despite protests and statements by journalists' organisations (like the Kerala Union of Working Journalists and the International Federation of Journalists) and others against such harassment, the cases against her seem all set to march on.
On 22 February she was granted bail by the Somwarpet magistrate, Jitendra Nath, who posted the case to 30 March. Self-styled patriots (aka activists belonging to right-wing groups) reportedly created an ugly scene inside the premises of the court, attempting to intimidate two friends who had accompanied her to court and offered to stand surety for her. The mob seemed particularly incensed that one of them was a Hindu. They also tried to snatch the camera of a news channel present at the scene. Shahina and her supporters had to leave the area under police escort. This is the second time Shahina has faced such a situation. The first hearing in the second case is scheduled on February 26th in the Madikeri sessions court.
Syed Iftikhar Gilani's traumatic experience of a decade ago came back to haunt him within hours of the hanging of Afzal Guru on the 9 February. Gilani, then Delhi bureau chief of Kashmir Times, was arrested in June 2002. Despite the lack of proof, he was remanded first to police custody, then judicial custody and finally charged under the Official Secrets Act. If the case had been moved against him, he would have faced a minimum of 14 years in jail. In his case, too, some sections of the press used information fed to them by the police without bothering to crosscheck facts (some details are available in this interview and in this report on an interaction with him, both dated 2003).
Fortunately for him, an expose in the Indian Express, and follow-up by his family and supporters (including the Delhi Union of Journalists, the Editors' Guild of India and other media colleagues), established conclusively that the so-called "classified" documents in his possession were reports that were freely available on the Internet. And so the case against him had to be dropped, albeit seven months after he was detained. Despite this and despite his track record since then, including an award from the Sahitya Akademi, he was again detained and his family (including his children) harassed and intimidated by the Delhi Police in February 2013.
Building false cases?
Syed Mohammed Ahmad Kazmi, accused of conspiring to bomb an Israeli embassy car in Delhi in February 2012, was finally released on bail in October last year, after being held in custody for seven months.
The Delhi Union of Journalists and the International Federation of Journalists issued several statements in support of him. In July 2012 a group of senior journalists, academics and activists based in the capital wrote to the editors of The Times of India and Times Now, strongly protesting against stories that were "highly prejudicial to Mr. Syed Kazmi, a journalist himself," and the apparent "attempt to pass judgement on Mr. Kazmi" through their media outlets.
In August-September 2012 the global news agency, Inter Press Service, ran a three-part series by an award-winning investigative journalist (Gareth Porter) titled, "The Delhi Car Bombing: How the Police Built a False Case." The articles exposed the tactics employed by the Special Cell of the Delhi Police, including the leaking of false confessions and evidence to the news media.
According to the series, the first wave of leaks to the press about Kazmi's alleged confessions – suggesting that he had admitted to having participated in the embassy car bomb plot – were timed to generate a wave of sensational articles in March 2012, just before his first bail application. That manoeuvre apparently prompted the court hearing the bail application to admonish the public prosecutor. Kazmi himself denounced the "disclosure statements" attributed to him as false, stating in a handwritten petition to the court that the Special Cell had coerced him into providing his signature on blank pages, threatening that his family would face "dire consequences" if he did not do as they directed.
In this context, it is worth taking note of the 200-page document titled "Framed, Damned, Acquitted: Dossiers of a Very Special Cell" produced by the Jamia Teachers' Solidarity Association and released in September 2012, coincidentally soon after Muthi-ur-Rehman Siddiqui and others were arrested by the Bangalore Police. The detailed report, relying mainly on court documents, chronicles 16 cases in which people arrested as operatives of various terrorist groups were later acquitted by the courts. Of course, acquittals do not generally make as much news as arrests – so their names are often not cleared in the minds of the public.
Word-terrorism?
Speaking at the MWB session in Bangalore on 16 February, senior journalist B M Basheer highlighted the role of sections of the media in using misinformation about terrorism to stereotype and stigmatise an entire community. According to him, Muslims of coastal Karnataka have been "victims of the media's word-terrorism." He cited several examples of irresponsible coverage of terrorism-related news in the Kannada press to illustrate his point: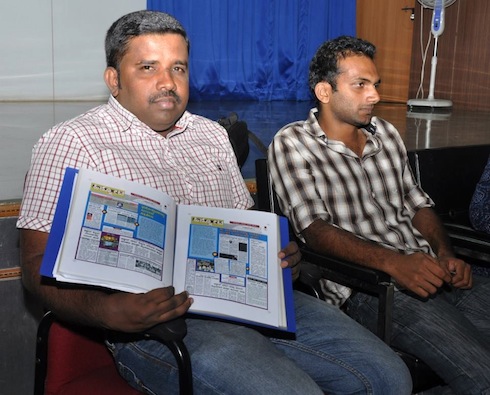 (From Left) B M Basheer, News Editor, Varthabharati with Mushin Parari, Writer and Director of Native Bapa, at "The framing of a terrorist". Pic: Media Watch, Bengaluru.
On 14 January 2008, Udayavani, a leading Kannada daily, published a front page story headlined "Terrorists in Shabarimala." This was clearly shocking news, coming as it did at the peak of pilgrimage season when an act of terrorism at the shrine would be devastating. According to the report, a person pretending to be a pilgrim was found to be carrying explosives and was about to be arrested when he consumed cyanide. He apparently revealed information about the plot before dying and seven persons were reportedly arrested in this connection. Only one source was quoted in the piece: a pilgrim claiming to be an eye-witness to the incident. No police personnel were quoted.
When reporters from Varthabharathi, the newspaper Basheer serves as news editor, tried to find out more about the incident, none of the officials in Karnataka or Kerala appeared to be aware of it. They eventually discovered that a mock anti-terrorism exercise had been conducted at Shabarimala during that period, which may be what the eye-witness mistook for the real thing. Varthabharathi reported the following day that no such incident had taken place. However, there was no clarification, let alone apology, from Udayavani. The local Press Council did issue a notice to the paper, which was apparently ignored, but did not initiate any action against it. So the readers of the most popular newspaper in the region probably continue to believe the false story about the foiled terrorist attack in Shabarimala.
• The second example concerned reporting about the blast in the Hubli district court in May 2008. Soon after the blast the then Police Commissioner, Narayan Nadamani, told the press that preliminary investigations had revealed the involvement of activists of LeT and the banned Students Islamic Movement of India (SIMI). Not only was his assertion faithfully reported, but several newspapers carried stories describing in detail how the whole operation was conducted, from the sourcing of materials for the bombs onwards, without referring to or naming any sources. As it turned out, of the nine people finally arrested for the blasts, several were found to have direct links with the Sri Rama Sene and Pramod Muthalik. According to Basheer, no correction or apology was published and, as far as the general public is concerned, LeT and SIMI continue to be associated with the crime.
• A slightly different example of misreporting relates to the brutal mistreatment of three persons – two Muslims and a Dalit – who were accused of killing a cow, beaten up and paraded naked by members of the Bajrang Dal in Chikmagalur district in 2008. The incident caused an uproar and a meeting to protest the atrocity attracted over 10,000 people across communities. According to Basheer, several newspapers – including Kannada Prabha, another leading Kannada daily – chose to ignore the huge crowd that had assembled to express public outrage at this violation of human rights, preferring to focus attention, instead, on a young boy holding a green flag. Photographs and reports on the front page suggested that Pakistani flags were seen at the rally, even though the flag the boy was holding was the plain green one commonly seen atop mosques in India, which has nothing to do with Pakistan.
Basheer pointed out that such irresponsible – if not mischievous – misreporting, of which the above are just a few examples, not only ruins many young lives but could well push youngsters towards extremism.
Creative response
The third speaker at the MWB event, Muhsin Parari, is a founding member of Mappila Lahala, a collective seeking to use hip-hop to initiate conversations about religion, violence and related issues. Parari confirmed the surveillance that has become a routine, uncomfortable reality in the lives of many young Muslim men but he has clearly opted for a creative response to the situation.
Parari was 20 in 2008, when security forces killed four suspected LeT militants in Kashmir. It soon emerged that they were from Kerala. When the media descended on their families, one mother declared that she did not wish to see her dead son's face since he was a traitor. The statement was widely reported, with several politicians and some sections of the media describing her as a role model for Muslim mothers in the state. She subsequently confessed that she had said what she did out of desperation, after days of being hounded by the police and facing suspicion and hostility from neighbours. The incident moved Parari to write a poem: an imaginary monologue by the father of one such youth, expressing astonishment at the discovery that his son had been branded a terrorist.
The inaugural project of Mappila Lahala, Native Bapa, is based on that poem. Parari set it to music and directed the video, the official version of which has had 1.6 lakh hits on YouTube since it was released at midnight on 31 December 2012. Native Bapa, the "reluctant secularist," does not ask listeners to take sides but condemns violence in all forms: "No scepticism in my lyricism / I raise an iron fist against terrorism / Islam is peace in its definition / People are brainwashed by the television / Open your eyes, take away the prejudice / Bombing innocents, I'll call you a terrorist / I don't care if you are an al-Qaeda militant / Or if the world calls you the US president."
In October 2011, soon after taking over as chairperson of the Press Council of India (PCI), Justice Markandey Katju called attention to the tendency of the media to jump to conclusions about terrorism and terrorists. In an interview with Karan Thapar he cited the example of the kind of reporting that follows bomb blasts: "within a few hours almost every channel starts showing that an e-mail has come or a SMS has come that Indian Mujahideen have claimed responsibility or Jaish-e-Mohammad or Harkat-ul-Jihad, some Muslim name. You see, e-mail or SMS any mischievous person can send, but by showing it on the TV channels and next day in print, you are in a subtle way conveying the message that all Muslims are terrorists and bomb throwers and you are demonising the Muslims. And, 99 per cent people of all communities, whether Hindu, Muslim, are good people."
I do not necessarily agree with all the statements made and stands taken by Justice Katju in his PCI avatar. However, there is considerable evidence to suggest that his observation about the kneejerk response of many publications and news channels to "terror attacks" is, by and large, correct.
It may well turn out that the IM and/or a similar outfit were indeed responsible for the recent bomb blasts in Hyderabad. The point, however, is that the news media need to be far more scrupulous about verifying facts, critically assessing information from official sources, independently seeking inputs and comments from multiple, diverse sources and disclosing as much as possible about the sources so that readers can evaluate the information for themselves. And, above all, the media need to guard against prejudging the matter based on partial, unsubstantiated material.
No one in their right mind would want the perpetrators of the terrible violent attacks that seem to recur with frightening and depressing regularity in India today to get away with their crimes. But if the media wish to serve the public interest – and not just titillate the public – they need to renew their commitment to providing citizens with "reliable, accurate facts put in a meaningful context" and, of course, to the various fundamental rights conferred on all citizens by the Constitution of India.
Journalism's first obligation is to the truth
Democracy depends on citizens having reliable, accurate facts put in a meaningful context. Journalism does not pursue truth in an absolute or philosophical sense, but it can--and must--pursue it in a practical sense. This "journalistic truth" is a process that begins with the professional discipline of assembling and verifying facts. Then journalists try to convey a fair and reliable account of their meaning, valid for now, subject to further investigation. Journalists should be as transparent as possible about sources and methods so audiences can make their own assessment of the information. Even in a world of expanding voices, accuracy is the foundation upon which everything else is built--context, interpretation, comment, criticism, analysis and debate. The truth, over time, emerges from this forum. As citizens encounter an ever greater flow of data, they have more need--not less--for identifiable sources dedicated to verifying that information and putting it in context.
Its essence is a discipline of verification
Journalists rely on a professional discipline for verifying information. When the concept of objectivity originally evolved, it did not imply that journalists are free of bias. It called, rather, for a consistent method of testing information--a transparent approach to evidence--precisely so that personal and cultural biases would not undermine the accuracy of their work. The method is objective, not the journalist. Seeking out multiple witnesses, disclosing as much as possible about sources, or asking various sides for comment, all signal such standards. This discipline of verification is what separates journalism from other modes of communication, such as propaganda, fiction or entertainment. But the need for professional method is not always fully recognized or refined. While journalism has developed various techniques for determining facts, for instance, it has done less to develop a system for testing the reliability of journalistic interpretation.