As Akshay Kurmi Madhukata, a student of Class III in Bethoni Convent School and an inmate of Snehalaya, a home for care and rehabilitation of the young at risk in Guwahati is busy studying along with his co-boarders, Father Lukose Cheruvalel, the director of the institute moves among them, looking at their homework assigned by school authorities. An average performer in his class, Akshaya fails to understand why everybody in the institute, including Father Lukose, keeps a constant vigil on his study. The Father, on the other hand, has genuine reason for special attention to this little child to make improvements in his studies.
"If everything goes alright, Akshay is going to be the first literate person of his clan - Madhukata, a nomadic community that moves around from place to place in search of livelihood. This is why I always keep a special eye on his progress," Cheruvalel tells me. "Giving education to a child of a nomadic clan that moves about on the streets, in a boarding institute like Snehalaya, is a challenging task", he adds. At first, the child had a feeling of staying in 'captivity' in the Snehalaya atmosphere and refused to cooperate with the authorities. He was given as much time as he needed for change in attitude. Then came the improvement.
In 2001, Akshay, then only 6 years old, fled his nomadic community, boarding a train that took him to Kolkata from Siliguri railway station. Subsequently, he made several such journeys to different places unknown to him. "There is nothing to be surprised. Many children in our community have the habit of fleeing away at early age. So did I. Seven days I was on street in Guwahati. I had no plan. But Gopal, owner of a tea-stall in Guwahati railway station got hold of me and handed me over to the police. The police informed the Snehalaya people and they picked me up. Finally, I am here", narrates the little lad.
Snehalaya has a number of programmes targeting young, at-risk children, and these include education for street children. Students who show improvements in their non-formal educational curricula are sent to mainstream educational institutes of the city. Until now, 12 educational institutions have accommodated 21 Snehalaya children in their schools at subsidised rates. Most of these children have at sometime or the other been on the streets, trying to make a living on their own, says Cheruvalel.
Snehalaya has set up a Children's Assistance Booth in Paltan Bazaar Railway Station in the city that is manned by child-friendly staff to contact estranged and run-away children as soon as they arrive at the railway station, before they fall into the hands of middleman and other anti-social elements operating in the station.

Snehalaya also runs a primary school in Dhirenpara in the city, in collaboration with the Axom Sarba Siksha Abhijan (ASSA) mission, where about 100 children, of whom 40 or so are street kids, are from the Snehalaya institute. The institute also has another extension centre in the city's Fancy Bazaar area, where 25 to 30 street kids stay regularly. Two meals and snacks are regularly provided to them. Apart form the regular counseling, these children are taught art and crafts, and given functional literacy and moral lessons.
The psychology of street children adds another dimension to the difficulty of mainstreaming them. Compared to other children of their age, street kids are inclined to be highly independent, and constantly looking for sustainable income-generating activities. These activities are often dubious in nature, varying from pick pocketing to working as agents of drug peddlers to other criminal activities. Also, most of these children show a high level of self-confidence, and even some leadership qualities at an early age. All these finally result in challenges for those who, like Snehalaya, work to mainstream them by providing formal education. To cope, they must recognise the reality of these children's backgrounds, and address other needs besides education.
For instance, at Snehalaya, keeping in mind the children's urge for economic independence, the authorities have established savings schemes for them. To date, 33 savings accounts have been opened for the children who have completed vocational courses and subsequent apprenticeship.
Indian Council for Child Welfare
The United Nations has defined street children as "children who live on the street or pavements; Children who live in slums but spend most of their time on the streets engaged in various activities; Children who work in street trades such as rag picking, petty vending and shoe-shining, manual jobs as coolies, helpers, cleaners, rickshaw pullers, etc. and, employed in wayside tea stalls, restaurants, automobile garages, tyre and tube workshops, machine shops etc."
However, different agencies have expanded this definition to cover more children. The Assam state branch of Indian Council for Child Welfare (ICCW) - which has been running the Integrated Programme for Street Children Project since 1995 through five day care centers for street and slum children - also identifies children of seasonal migrant labourers for educational project targeting street children. While parents of children in this category move about searching for jobs, the kids keep going playing on the streets or eking out petty jobs where they too can earn something, says Dushmanta Dutta, Administrative Officer of ICCW, Assam.
Each of the ICCW's care centres, known as Surujmukhi Kendras, has one street educator, one vocational trainer and one helper - who conduct a house-to-house survey prior to the admission sessions in the localities, and motivate parents and guardians to send their children to these centers. Mid-day meals have also been provided regularly to these children as part of the nutritional support programme of ICCW. The non-formal education has been imparting in a play-way method for learning. After a certain period, as per the age and eligibility criteria, competent students are sent to formal schools situated nearby. ICCW had sent 68 such students in various formal schools. The ICCW also bears the cost of school admission fee, uniform and other learning materials for these children.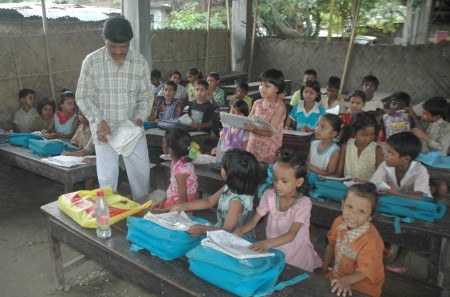 Children learning at a Hard-To-Reach centre at Manipuri Basti in Guwahati.
Picture: UB Photos
It is difficult to bring the children regularly to the ICCW centers, although these have the provision of recreational activities, mid-day meal schemes, and counseling. The priority of the street children is always on earning something rather than coming to the centres. Their parents too, often desire to engage them in different income generating activities, instead of sending them to school, adds Deepsikha Deka, the street-educator of the Surujmukhi Kendra in Kalibari area near the Paltan Bazaar railway station. Further, the continuing education of these children in formal schools remains a challenging task, says Dutta. Many of them cannot continue their education after enrollment in formal schools because of financial crises, as well as lack of the care and attention they need. This results in a high rate of drop-outs in upper classes of primary schools, says Deka.
The ICCW keeps a vigil on these drop-outs and put them into different vocational training program. The vocational programmes teach driving and motor mechanics for boys, and embroidery, beautician courses and mehendi works for girls. It also arranges annual exhibition for selling of handicraft works and products made by children of these centers.
Those who make it through the window of opportunity that ICCW provides are invariably grateful for the chance they've had. Saidul, a former student of this center, and a school drop-out after Class IV, visits this center whenever he finds free time from his work as an auto-rickshaw driver. He has taken the vehicle on lease, and it fetches him Rs.400 to 500 daily. He is depositing some of this hard-earned money for buying his own auto-rickshaw. He readily acknowledges the centre's role in helping him. "Plying an auto-rickshaw in the city is a hundred times more prestigious job than working as a rag-picker or working for drug-peddlers in the railway station. But without the efforts of this centre it wouldn't have been happened to me, " he says.
Axom Sarba Siksha Abhijan
The education of street children remained neglected until ASSA conducted a baseline survey of education among deprived urban children during the year 2002-03. Thereafter, ASSA began to include many of them, including street-children, platform–children, school drop-outs engaged in household chores or sibling care - in its Hard-To-Reach (HTR) programme.
ASSA has developed a special academic package for multi-age and multi-grade children, and an activity chart for group-learning practices in classrooms, says Sarat Gogoi, coordinating officer of the programme for deprived urban children. As part of the mission's strategy for reaching out to HTR children, 1023 education centres known as Jyoti Kendras had been established by March 2007, covering 30,660 children. ASSA has also been mobilising working children to spend 3 to 5 hours daily in these centres depending on their free time, Gogoi says. Two out of every five kids in the centres are working children. Data from the Jyoti Kendras shows that 2091 working children have been engaged in shops, hotels, brick kiln, and garages; 479 have been engaged in factories; and 4574 have been engaged in 'others' categories of work, including rag picking, petty vending and shoe-shining, and manual jobs as porters, helpers, or cleaners.
ASSA has identified a number of challenges that it must overcome - irregularity attendance in centres, seasonal migration, and lack of awareness among parents and the community. It plans to extend the HTR programme to more urban pockets and industrial areas, and form district-level task forces to ensure enrollment of all deprived children.

In Assam the school year begins in January, and when the 2006 academic year began, ASSA was able to mainstream 795 deprived urban children in formal schools; this increased to 2417 in 2007. Of the working children in its centres, the mission mainstreamed 103 in 2006 and 411 in 2007, finding them places in different formal schools, adds Gogoi.
Such success would be more wide-spread if the state's education welfare systems were functioning better. The teachers (known as Siksha Karmis) who provide education to the children of three HTR centres in Manipuri basti and Gandhi basti areas of Guwahati, say these centres have not been covered under the 'cooked mid-day meal' scheme. Only rice as dry ration at the rate of 100 grams per child had been provided only twice so far in the 41 and 42 Jyoti Kendra in Gandhi basti area, since the establishment of the centres in November, 2004, the Siksha Karmis say. The 41 Jyoti Kendra has an enrollment of 26 while in 42 Jyoti Kendra 33 children are enrolled. Despite the lack of full services, six students from each of these centres have been mainstreamed till now, the teachers say.
Most of the students in the HTR centres work in motor garages, hotels, shops or as part-time domestic help. Every one has a different story to tell, but they are also similar in some respects — all are slum dwellers, and come from broken homes. Most of them are 'weak in arithmetic' compared to other children of their age, note their teachers, but the working children - who deal regularly with money - are an exception to this.