Neil Nongkynrih is an unusual man, and he's chasing something other than the fame and fortune that have become the norm these days. He is not a social activist, nor does he represent any NGO. And he does not hold flags aloft or circulate slogans for the welfare of the masses. Instead, he has collected a bunch of children to build up a choir. But the imprint of something larger than this is all over the choir. And it is beautifully captured in The Shillong Chamber Choir and the Little Home School, a documentary by Mumbai-based filmmaker Urmi Juvekar that was screened as part of a film festival in Kolkata recently.
The Shillong Chamber Choir captures a series of impressions about a choir amidst steep hilly greenery in Meghalaya as it prepares for a concert. The film follows Nongkynrih, a concert pianist, as he struggles to find a balance between his music and the purpose of his life: to look after under-privileged children. The film is about his effort to create and maintain his little home school, an ideal world where he and his wards can live, practice music and pray together. It is a world where music is only a means to achieve the bigger end.
Nongkynrih founded the Choir in 2002 "just to gather some people around and sing a variety of songs." But the group has tasted great success, and now performs all over the world. It has performed in the UK, Poland, Switzerland, Sri Lanka and Italy, besides appearances in many cities in India itself - Bangalore, Mumbai, New Delhi and Guwahati. Cinematography is shared between Kohung Chiang and Sachin Gandankush, Arindam Ghatak has edited the film and Indrajit Neogi has taken care of the sound. The film has been produced by the Public Diplomacy Division of the Ministry of External Affairs.
Nongkynrih began playing piano when he was three. In his late teens he went to study at the Guild Hall School of Music and then Trinity College, London. He worked as a concert pianist afterwards, until he started falling ill too often, as he mentions in the film. This prompted him to return to India. Then the religious 'revival' happened in Shillong and he turned to religion.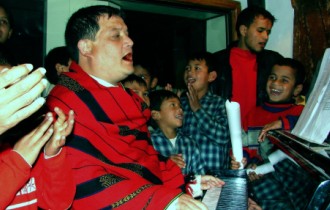 Nongkynrih founded the Choir in 2002 just to gather some people around and sing a variety of songs. But the group has tasted great success, and now performs all over the world.

He developed interest in the under-privileged children who came to him from neighbouring villages. They were not musically gifted but he could not turn them away. He took them into his house and began looking after them. They stay together, eat whatever is available, practice music, and make every effort to stay humble. Nongkynrih wants to believe in every good that is ever mentioned. The 'school', as it is called, with its home education, it is not very structured. "I have added a few shots of them studying but also like many other schools there is nothing much happening there. At a wider level, the experience of living together and playing music is what the school is about. I have tried to get a sense of their life as is," the director elaborates.
"I heard about the choir through a friend who had heard their performance," explains Juvekar, a script writer of several feature films and television shows. Her documentaries have been shown on Indian television, ZDF Arte and various film festivals; Lisbon, IDFA, Leipzig, Kassel. "He urged me to make a film on them. I did not know anything about his little home school. It is a very private and informal activity and he does not talk about it during his shows. Only when I spent time with him, I saw this aspect and decided to include it in the film. The film came about only because when I went to Shillong and spent time there, I was deeply moved by the experience."
Nongkynrih's home school has around 16 members, and an equal number forms the choir (the two groups are quite distinct). Not all the children live with him, but they spend their days there. The film opens with two girls hanging washed clothes on a line while they are also belting out lines from their repertoire, perfectly synchronised even without the aid of instrumental accompaniment. The opening scene's message is clear - music is an integral part of the lives of these children, woven into their daily chores. As Nongkynrih talks in the film, one discovers that not everyone who is there is musically gifted. But that is precisely the idea.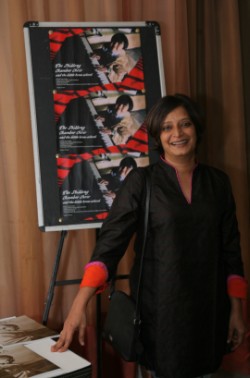 Picture: Urmi Juvekar
"Most of us who live outside northeast India do not know much about the region. Geographically it is far off, and culturally much further away. This is a land of 'tribes'. And the few culture shows and craft exhibitions we come across continue to reinforce this view. The British called it 'Scotland of the East' because of its hills and music but all that trickles down in the mainstream newspapers is Shillong's entry into the Guinness Book of World Records for staging the world's largest guitar and drum ensemble. This is what I knew when I visited Shillong. So making the film has been a learning and a life-enriching experience for me as a person and as a filmmaker," explains Juvekar.
Most of the songs are hymns and psalms in English - the kids are English-speaking Christians. Most of the parents are poor or troubled so they prefer to let their children be with him and visit the natal home at intervals. Nongkynrih has himself composed the Sohlyngem Opera, which they have performed only in Shillong. It is a very secular and socially relevant story of a rich boy marrying a poor girl. He is now working on one called Sati>. In the film, they also sing a Khasi opera composed by him. Iba, the soprano, sings a Mozart composition in German.
Urmi Juvekar has shown the film to Nongkynrih and the kids, and they love it. "He was worried at first that I might make mistakes in cutting and editing his music. But after seeing the film he told me that his worries were baseless. He has many copies of the film so that he can gift them to his friends. He is regularly in touch with me and we speak to each other at least once a month. He feels that I have shown the true sense of the place," she explains.
Juvekar says that "through this film, I have tried to capture the essence of their life without any footnote or interpretation, "for somewhere deep down we all are dreamers. The pianist and musician in him have taken a backseat. It is not easy to look after sixteen children and create music as well. Even his dreams for the more talented children in his choir are not about fame and money." She concludes that he's an idealist, and her film simply shows him as he is - doing his best to hang on to his idea of the good that is possible through music and the little home.