Ayesha Begum, a student of class II of Simina Adarsha Prathamik Vidyalaya arrived at the lower primary school at Simina village completely drenched in a heavy downpour. She was holding the polythene bag containing the books dampened by rain water that dripped through the leakages in the thatched roof of their makeshift house on the embankment along the river Brahmaputra.
A small piece of traditional Assamese rice cake and a cup of tea were all that the little girl had for breakfast that morning before she started for school. Ayesha and other members of her family had to starve the previous night as her father, a daily wage earner, did not get any work due to incessant rain. While the elders stayed back at home, Ayesha braved the heavy downpour to reach the school for she would get khichri made or rice, dal and potato that would be served in the school during leisure under the Midday Meal Scheme (MDMS) to fill her empty stomach.
The headmaster Md Sahjahan Ali said that for all the 281 students including Ayesha of this lower primary school located in Simina village under Palashabari revenue circle of lower Assam's Kamrup district, 40 kms off the capital city Guwahati, the cooked food served in the school under midday meal scheme is an attraction. The children belong to erosion affected below poverty line (BPL) families and most of them have been living on the embankment. These families have been displaced several times due to ravaging flood and erosion caused by the river Brahmaputra, he added.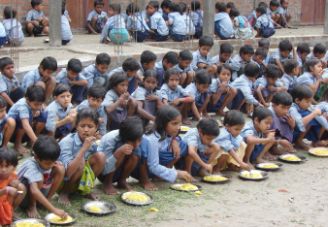 Students of Simina Adarsha Prathamik Vidyalaya taking their midday meal. Pic: Ratna Bharali Talukdar.
On this particular day, a total of 261 barefooted students had come to school and all of them had enjoyed the khichri served during the tiffin break. The headmaster said that the attendance has increased this year, after it was made mandatory for the school authorities to provide students a cooked midday meal, since January 2007. Prior to introduction of the MDMS, the attendance varied between 50 to 60 per cent, he said.
When parents earn hardly Rs.60 or Rs.70 a day -– even this depends on whether they get a job like earth cutting or earth-filling in repairing sites of the embankment, daily wage work, fishing under the mahaldars -- ensuring a nutritious cooked meal at school definitely makes a difference, at least in the attendance register if not the examination results, said the headmaster. "Mother told me that there was not enough rice to cook lunch today... I like to come to school because I get good food to eat here," Ayesha said.
The school has a tin-roofed cooking-shed, but no store, one cook and three helpers for preparing the meal. None of them have undergone any training on nutrition, hygiene, maintenance of accounts, and other essential skills, although the National Advisory Council had recommended for training of cooks. The school has a tube-well as source of drinking water but no filter. The children cleaned the dishes after taking the meal.
Headmaster Md Ali looked happy, as the poverty stricken students of his school have been provided mandatory nutritional supplement since January, this year without a break. "I can feel the impact of MDMS in bringing these students of flood victim families to school. Nearly 99 per cent students who come to school belong to families who cannot manage a square meal every day at home," he said. But all is not well with MDMS in Assam.
Assam's Mid-day Meal Scheme - a brief
The objective of providing cooked midday meals in primary schools is to boost universalisation of primary education by increasing enrollment, regularity of attendance, reducing dropouts and sustaining retention. It took almost five years for the state government to make the Midday Meal Scheme (MDMS) mandatory in Assam since the Supreme Court directed all state governments in 2001 to introduce cooked midday meals in all primary schools. Assam was one of the defaulters till September 2004.
Dr D N Das, Director of Elementary Education (DEE), Assam, told India Together that cooked MDMS was initially introduced in five districts of the state -— Dhubri, Bongaigaon, Chirang, Udalguri and Darrang in September 2004 and extended to the whole of the state in January 2005.
The meal, in accordance with the guideline includes food grains at the rate of 100 gm of rice for each student each day. From January 2007, Rs.2 has been provided against every student for dal, mustard oil, vegetables, wages to cooks and helpers and fuel, he said.
The wages for cooks include Rs.0.40 per student while the fuel costs are borne upto Rs.0.30 per student. Thus Rs. 1.30 per student is utilised for Dal, vegetable, mustard oil and spices. The DEE has a table that shows food items, their quantities, costs and protein value provided under the MDMS for each student.
In Assam the MDMS currently covers a total of 47,00,623 students studying in 30068 government primary schools, 6,780 primary schools run under Education Guaranteed Scheme (EGS), 13,627 Alternative Innovative Learning (AIE) Schools, 2,520 Government aided schools, and 874 Primary sections of upper primary schools. The scheme is implemented through a number of channels connecting students, teachers, parents, mothers' units of the schools, School Management Committees (SMC), village Education Committees (VEC), suppliers and finally, policymakers.
Central assistance has been provided to the state by free supply of food grains from Food Corporation of India (FCI). There is a subsidy for transportation cost from nearest FCI depot to primary Schools subject to maximum of Rs.100 for each quintal of rice. For the scheme, the state government has a share of 10 per cent against the budget allocation of the Centre.
Serious challenges unaddressed
Md Ali said that while cooked meals have become an effective measure for ensuring attendance of hungry children, complications in its implementation have come in the way of regular classes. For the 281 students in the school he runs, there are only two teachers and not even a fourth grade employee to help them. One teacher has to manage two classes at a time, sometimes the entire school, if one falls sick.
Apart from these, Md Ali has to procure fuel wood, keep records of the attendance and buy dal and vegetables accordingly, maintain accounts of the cook and her two helpers. The headmaster also manages two classes simultaneously.
"There are added problems. The Rs.2 per student have been given only for 69 days in the beginning of the academic year in January. We have provided the students cooked meal 17 days in January, 16 days in February 21 days in March and 13 days in April. At present we have money only for two more days. As of now, we have sufficient rice and fuel-wood in store, but short of money for additional expenses for paying the cook, helpers and buying vegetables and dal," he said. The MDMS is provided five days a week, from Monday to Friday.
Md Ali's words on the problems at the school are reflecting at the macro level as well, in the supply and release of funding and foodgrains. The central government released only Rs.23.11 crore and Rs.54.61 crore to Assam against its allocation of Rs.54.62.crore and Rs.117.39.crore for the financial years 2005-06 and 2006-07 respectively, according to a report prepared by the Department of Elementary Education (DEE). During this period the state government had released Rs 10.07.crore and Rs.15.68 crore as matching share. While about 60 per cent of the state population lives Below Poverty Line (BPL), only 43.71 per cent of the food grains allotted to the state for the financial year 2006-07, was lifted up to January 2007. It was only 38.40 per cent up to December 2006.
Meanwhile, the state government has chalked out an ambitious Rs.160.65 crore plan and submitted it to the Centre. The government is hoping that it would get approvals. While the state's share is Rs.16.07 crores for the 2007-08 financial year, the government has earmarked an additional Rs.13.93 crores to ensure that cooked midday meal is provided to every student in the state at primary level. The proposed plan estimates that 30,068 Lower Primary (LP), 874 Middle English (ME), 6,780 EGS, 13,627 AIE and 2,521 government-aided Lower Primary schools will be covered during this financial year.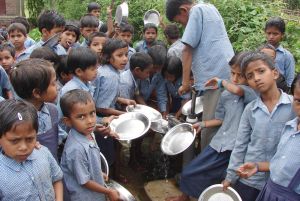 Students of Simina Adarsha Prathamik Vidyalaya cleaning their dishes. Pic: Ratna Bharali Talukdar.
There is also the burden of logistics being put on school staff. Though DEE Das said that the teachers have now been relieved from the entire process of cooking and procuring food grains or fuel -- wood, and other stakeholders like SMCs, Village Education Committees (VEC) and Mothers Units have been asked to perform these duties, Md Ali himself had lifted the allotted rice given for the purpose from the North Rampur Co-operative Society, till March, this year. From March it has been distributed through the fair price shops in the village.
Taher Ali, Secretary of the North Rampur Co-operative Society said that the FCI, Guwahati allots 48 quintals of rice to three EGS, three Middle Vernacular, and 17 LP schools under the co-operative's jurisdiction every month. However, since December 2006 the cooperative society was yet to be reimbursed the transportation cost of carrying the food grains from FCI depot at Noonmati in Guwahati.
A report on MDMS, prepared by the DEE also admits that "lifting (of food grains) has been affected in some districts" as the Centre did not release any amount in 2006-07 for reimbursing the transportation costs.
Some remote areas not under MDMS yet
Although the MDMS envisages "encouraging poor children, belonging to disadvantaged sections, to attend more regularly and help them concentrate on classroom activities", a number of schools located in remote and conflict affected areas, are yet to be bought under the scheme.
The three Jyoti Kendras, in Salbari-Kadamtali area of Bangaigaon district of lower Assam, included in the Hard To Reach (HTR) category under the AIE programme meant for the most vulnerable students including the domestic helps, rag-pickers and others have not been covered by the MDMS, as of March this year.
"We were told that two kilogrammes of rice would be provided per student per month from April this year. We are planning to distribute it as dry ration, among these students. We have only a single room structure, which lacks furniture, Teaching Learning Materials (TLM) to run the school," said Mahendra Hazarika, the only teacher of the Kadamtali Jyoti Kendra-V, who has been appointed for five years as teacher of the Kendra.
Hazarika gets Rs.1000 as fixed monthly salary and Rs.100 a month to meet other expenses. The status of the MDMS has been similar in three other Kendras of the locality. These three Kendras have 20, 23 and 55 students respectively.
In Karbi Anglong, a conflict-hit hill district in the state, three primary schools -- Lang Mili LP school, Lorob Langso LP School and Santi Langso LP school -- have been running together under a 'tin-roofed shed' in a relief camp. The camp is set up in Agricultural Colony in Diphu, the district headquarters, which was formed by numerous riot-effected Karbi people of Lung Mili area. These people were uprooted from their traditional villages during a series of conflicts between two hills tribes – the Karbis and the Dimasas, that had taken place in 2005.
Many challenges
Food-grains and funds do not flow together, reimbursement of transportation cost is cumbersome, proper kitchen cum store is not available in all the schools, and more.


• Hunger persists, attendance patchy
• Slow progress in Karnataka

The 'tin-roofed shed', which the riot-victim families term as the school, was constructed with the donation of one tin-sheet from some fellow inmates in the camp who had been provided one bundle of such sheets as rehabilitation grant. All three primary are single teacher schools.
Dipsoan Teron, the teacher of Santi Langpo LP school, said that only dry rations have been provided occasionally under the MDMS by the administration till December 2006, which include 2 kilogram of rice per student per month.
In the Jaypur Relief Camp EGS Centre of violence-hit Kokrajhar district of lower Assam, the SMC has decided to provide cooked midday meal only from 4 May 2007. Although the rice and Rs.2 per student per day have been given to them regularly, lack of cooking utensils and cooking shed in the schools made it impossible to provide meals, and students were given their monthly share of rice as dry ration and also the allotted money.
The EGS centre was set up in the relief camp in February 2004, where over 10,000 families of Adivasi people, who were displaced during a series of clashes between Bodos and Adivasis in 1996 and 1998 have been languishing in sub-human conditions.
"We have not received any grant for the construction of the cooking shed and procurement of cooking utensils till now. Still, we have decided in a meeting recently, that cooked food would be given to the students very soon. We have already procured cooking utensils for the purpose,' said Baburam Murmu, a teacher of the school, which has 173 students and two teachers as on 2 May 2007.
Here too, there is a funding crunch. The central government has released Rs.8.83 crores for procurement of kitchen utensils to 17,666 schools and Rs.55.33 crores for construction of kitchen-cum store for 9,222 schools. But there is still a requirement of Rs.145.44 crores for 24,240 schools (kitchen-cum store) and Rs.18.10 crore for 36,204 schools (kitchen utensils), according to the DEE's 2007-08 status report on implementation of cooked midday meal scheme.
Much to be done, and headmasters want more
Acknowledgment of problems with the MDMS scheme does not merely come from the DEE. A monitoring report on Sarba Siksha Abhiyan (SSA) mission for the period of April 2006 to September 2006, in six districts of the state including North Cachar Hills, Karbi Anglong, Golaghat, Bongaigaon, Morigaon and Nagaon, prepared by the Gauhati University which works as the Monitoring Institute (MI) of SSA says that there is no uniformity in the implementation of the midday meal scheme in the schools of the districts visited by MI. The report reveals: "Many schools are serving cooked meal and many schools are distributing uncooked rice. Fruits, eggs are rarely served and green vegetables also rarely added in the meal. Many of the children are not happy with the quality of the meal provided to them."
Although the Department of Education in the state is yet to make a study on impact of MDMS on the attendance of students, headmasters of a number of schools particularly in rural and conflict-affected areas in the state have already said that proper implementation of the scheme may be an effective instrument in ensuring regular attendance of children, particularly the children of under privileged families.
The challenges in reaching the goal of mandatory cooked MDMS in Assam that the DEE has identified are : (1) food-grains and funds do not flow together; (2) reimbursement of transportation cost is cumbersome; (3) proper kitchen cum store is not available in all the schools; (4) storing of food-grains is not safe in most of the locality of the schools; (5) utensils/kitchen devices could not be made available to EGS and AIE, and (6) dearth of committed NGOs to volunteer in implementation of the scheme.