In Assam this year, the pass percentage for the 203,820 students taking the High School Living Certificate (HSLC) examinations touched a new high, as did the results for those in the Arts and Commerce streams of Higher Secondary (HS) examinations. The pass rate was 54.93 per cent in the HSLC examinations, almost double the figure from 10 years ago. And the pass percentage was 61.50 per cent and 67.14 per cent respectively in the Arts and Commerce streams of the HS examinations. The one disappointment was in the Science stream of HS, where the pass percentage this year was 68.44 against last year's 72.52 per cent.
The government's efforts
With these figures generally showing upward ticks (see Table 1) the Assam government has been showcasing them as among its many achievements, and attributing these gains to a strong effort by its Department of Education, to ensure quality education at secondary and higher secondary stages.
| | | | | |
| --- | --- | --- | --- | --- |
| Year | Pass percentage HSLC | Pass percentage HS-Science | Pass percentage HS-Arts | Pass percentage HS-Commerce |
| 1997 | 28.94 | 62.70 | 54.59 | 54.36 |
| 1998 | 31.23 | 70.94 | 53.00 | 55.84 |
| 1999 | 32.13 | 60.10 | 47.97 | 56.26 |
| 2000 | 38.69 | 58.90 | 42.55 | 40.29 |
| 2001 | 33.27 | 53.03 | 48.86 | 58.93 |
| 2002 | 40.87 | 58.61 | 45.95 | 40.95 |
| 2003 | 44.11 | 63.94 | 46.44 | 60.47 |
| 2004 | 49.79 | 66.79 | 53.79 | 64.70 |
| 2005 | 53.07 | 67.68 | 40.08 | 64.80 |
| 2006 | 53.54 | 72.52 | 40.11 | 62.55 |
| 2007 | 54.93 | 68.44 | 61.50 | 67.14 |
Assam Education Minister Ripun Bora, a Congress MLA from Gohpur told India Together that the increase in pass percentage was the result of a number of reforms initiative in the field of education undertaken by the State Government. An important initiative, Bora said, was introduction of a common academic calendar, covering Class I to Class IX to ensure a minimum of 180 schooldays. Excluding Sundays, holidays have been restricted to 75 days, which include the summer and winter vacations, he said. Compulsory introduction of at least four unit tests for Class I to Class IX, as well as at least two unit tests for Class X, apart from the usual half yearly and annual examinations, have also been major factors for maintaining regular learning, he said.
"A second initiative by the Education Department for ensuring quality education was to undertake vigorous monitoring and inspection of the educational institutions," said Bora, who himself undertook inspections of 101 educational institutions and 75 offices under the DoE. The Education Minister also initiated disciplinary action against 156 officials and employees for negligence of duty during his inspections. Two deputy directors have been appointed at directorate level to look after the complaints and reports received from district level officials. Inspections in schools by district and sub-divisional administration have also been made.
The policy push also includes regularisation of teacher posts and regular disbursement of salary. A total of 36,583 positions of teachers have been regularised. These teachers have been working in 'non-sanctioned' posts in different schools and until now received only a consolidated amount as salary. After regularisation, they are entitled to avail all the benefits of regular employees. In addition, said the minister, "all requisite steps have been taken for filling up 18,339 teaching and non-teaching vacancies under the department".
More than meets the eye
More granular analysis of the HSLC 2007 results, however, reveals there are still significant challenges to be overcome. Performance varied between government-run schools and private schools; between schools located in urban and in rural areas; and between vernacular medium schools and English medium schools. For instance, of the 66 students who achieved the top 20 ranks (many ranks were shared), only 10 were from government schools. There were 21 students from vernacular medium schools, including 11 from private-run Assamese medium schools, and 45 others were from English medium schools. The performance of students from tribal communities, as well as backward and marginalised sections - like tea pickers - continued to be poor, and did not show any noticeable improvement.
HSLC pass percentages were much lower in six tribal dominated districts (Chirang, Kokrajhar, Udalguri, Baksa, Karbi Anglong and North Cachar), ranging between 28 and 43 per cent.

The Assam Human Development Report (AHDR) 2003 also points to other fault lines in the state's education system. "At the primary level, the enrollment rate for girls is 48 per cent. At the higher secondary state, the enrollment rate is little over 35 per cent. Overall, in higher secondary education, the enrollment rate for women is less than 33 per cent," the AHDR report notes. This is made worse by the drop-out rate for girls - 42 per cent at the primary stage, 72 per cent at the middle school and 75 per cent by high school. Tribal girls are particularly affected, the overall illiteracy among tribal women in the state is as high as 75 per cent. "As women journey along the path to higher education, many fall by the wayside and drop out".
Another worry is of declining interest in science education. While the pass percentage in HSLC exams has nearly doubled over the last 10 years, enrollment in the Science stream at Higher Secondary level has remained static between 12,000 to 15,000. The increasing "success rates" in HSLC did not reflect in more science education at the higher secondary level.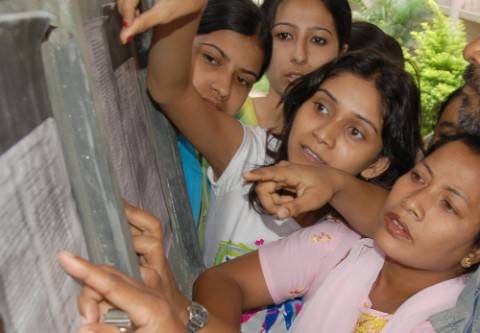 Higher secondary candidates at Cotton College looking at exam results
(Photo credit: UB Photos)
A shortage of good jobs
Rising pass percentages at the high school level have led to challenges in college and university education. Currently, to accommodate the pass outs in HSLC and HS examinations, the state has a total of 317 colleges for general education, 114 junior colleges, three medical colleges, two Homeopathic colleges, one Ayurvedic college, one dental college, one nursing college, three engineering colleges, two veterinary college, two agricultural colleges and 27 Industrial Training Institutes and Polytechnics for vocational education. It also has two state run universities and two Central universities. But while there are sufficient institutions to accommodate these students, out-dated curricula as well as limited options for choices in courses, however, have made many pass outs opt for pursuing study outside the state.
Until the late 1990s, only the most brilliant students from the state sought opportunities elsewhere; most others found reasonable options in Assam itself. This situation has changed considerably now; although no study has been made so far to determine how many students have left the state for pursuing higher studies, according to an unofficial source at least 5000 students go to Delhi each year to study in different educational disciplines. Students also opt for Karnataka, Andhra Pradesh, and other states.
Most of them also do not return to Assam after completion of study, sensing limited options for employment in their home state. Their fears are borne out by the unemployment data; going by the Live Register of the Employment Exchange of Assam, in 2006, the number of registered educated unemployed persons in the state include 6.43 lakh students who have passed the HSLC exams, 3.68 lakh others who have passed HS, and 1.8 lakh graduates.
Despite so many students looking for jobs, the placement scenario is absurdly poor; last year only 162 positions were filled with assistance from the exchange. Part of the problem is that most educational institutions in the state have no placement cell to keep track of placement scenario. The Gauhati University, established in 1948, did not have a placement cell till September 2006. In Dibrugarh University there are placement cells in all the departments and Centres of Studies separately. However, all of these are not functional, said Rajib Handique, Deputy Registrar of the University. The placement cells of the Centre for Management Studies and Centre for Computer Studies are very active and the MBAs of Dibrugarh University are getting good placements, he said.
Most students to leave to study elsewhere do not return to Assam after completion of study, sensing limited options for employment in their home state.


• Training the millions left behind

There are exceptions. IIT Guwahati has no trouble with placements, and its students regularly find high starting salaries comparable to those from other premier engineering colleges. Assam Engineering College too, is faring well in recent years, especially by inviting companies for on-campus recruitment; it has even opened up its placement services to other institutions. The students of the M Tech Course in Petroleum Technology and Petroleum Geology at Dibrugarh university also have good prospects. These departments have a 100 per cent placement record, as does the M Pharm course. All the students of the Post Graduate Diploma in Tourism Management have also found jobs even before they appeared in final examinations.
Job prospects, and their perception among students, are also seen in declining interest for some courses, in particular the pure sciences. Expressing serious concern over decreasing enrollment of students in Science Courses in colleges in Guwahati at Degree level, Prof. Basanta Deka, noted educationist told India Together that most of the high school students in the science stream now opt for engineering courses due to comparatively 'assured placement' after the program. This has resulted in a decreasing enrollment in General Science studies in degree courses, and in successive post-graduation and research activities.
"Colleges and universities are no more an attraction for most of the brilliant students now. This is mainly because of an approach of gradual downgrading the universities and over-glorification of institutions like IITs. If such a situation continues, we would have to face acute shortage of teachers at all levels within a very short time. We need brilliant engineers, but only engineers cannot build the complete human resource of the country. We need more researchers, as so many issues of human development are yet to be addressed at academic level. While IITs and central universities are heavily funded, there is acute funds crunch in the state run universities. Only the Ministry of Human Resource Development is to be blamed for such a situation in General Science education at higher education stage," he said.
Prof. Deka is equally worried about those students who failed to secure the pass marks in the examination. Even with the better figures this year, nearly a lakh students failed to make it through the HSLC examinations. "There must be a new thinking on the pass and fail criteria. Even those who fail may have hidden talents. And we have to find a way to take these into consideration," he says.
The government is conscious of the need to infuse both quality and breadth in tertiary education. The minister revealed that 296 college teachers working in non-sanctioned posts for long periods have been regularised, and 188 Deficit Colleges - so called because the government undertakes to cover the deficit in their budgets that remains after student fees are collected - have been upgraded to Provincialised colleges, for whom the government additionally undertakes responsibilities like payment of salaries, pension and other benefits to teachers and employees apart form providing other budgetary expenditure. This has resulted in the regularisation of 10,274 teaching and non-teaching staff in those colleges.
Apart from these, to encourage private sector investment in university education, the state government has enacted the Assam Private University Act, 2007; this law would allow the establishment of self-financed private universities without a burden on the state exchequer either in terms of funds or land, and expand the availability of technical and professional courses in the state. The government has also established the K K Handique Open University, to further boost the accessiblity of higher education.