The Telecom Regulatory Authority of India (TRAI) has obviously had a busy winter. Since December 2004 it has released consultation papers on issues relating to satellite radio services, the digitalisation of cable television and private terrestrial TV broadcasting services. It has made additional recommendations to the government on the second phase of private FM radio broadcasting. And, as a corollary, it has also submitted recommendations on the possible licensing of community radio stations.
The latter, based on responses to its August 2004 consultation paper and October 2004 Open House discussions on the subject in Delhi and Mumbai, should make General Narsamma and her colleagues in rural Andhra Pradesh hopeful, if not (yet) happy. The recommendations - including a proposal that "there is no need to introduce any license fee" - appear broadly positive.
The suggestion that programmes broadcast on community radio should be in the local language and/or dialect, with at least 50 per cent of the content generated by the community for which the station has been set up, would pose no problems for the three young dalit women who run the community radio station in Machnoor village, near Pastapur. That, after all, is its raison d'etre.
The facility was set up in 1999 in response to the demand for a radio of their own from poor, dalit, non-literate women who felt the need for a medium of communication that would enable them to share information and ideas with other members of their rural communities. These women are among the over 5000 from 75 villages in and around Pastapur who belong to sanghams (collectives) facilitated by the Deccan Development Society (DDS), a 20-year-old grassroots rural development organisation ( www.ddsindia.com).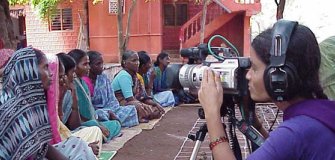 Chinna Narsamma at work (Picture credit: DDS Community Media Trust).
The station seeks to serve the information, education, and cultural needs of the local population. The programmes revolve around issues relevant to agriculture in semi-arid areas, literacy and education, public health and hygiene, environmental and ecological issues, bio-diversity and food security, indigenous knowledge systems, gender justice, and local cultures, with a special focus on song and drama.
As Pushpalata, a community health worker, explains, "We are not sure other radios would be interested in our issues. Even if they record us they may do so selectively. We are not certain they would do justice to our concerns - partly because of ignorance." For Anasuyamma, a farmer, the motivation is simple: "If we have our own radio, we can all go and sing there. We can air our problems and concerns. We can also discuss our agriculture with our elders and record their vast knowledge."
According to Algole Narsamma, one of the three radio producers, "We make programmes on traditional crops, ecological agricultural practices, folk musical traditions that are disappearing, women's issues and out-of-school children ..." Adds General Narsamma, "We don't depend on outsiders for our programmes. We record our own village elders who are experts in farming. We tape and edit our own programmes."
The fully equipped, low cost radio station has a 100-watt transmitter with a reach of approximately 30 kilometres. But, in the absence of a licence to broadcast, they currently have to "narrow-cast" by sending audio-cassettes to villages, where people sit around simple "two-in-ones," listen to the programmes and discuss the subjects covered in them.
If the government expedites action on TRAI's recommendations (see www.trai.gov.in), communication would obviously be much simpler and, perhaps, more frequent, current and interactive. Not only the radio women of Pastapur, but their rural colleagues in other parts of the country - such as those associated with the Kutch Mahila Vikas Sanghatan in Gujarat and the Namma Dhwani project in Karnataka (www.voicesforall.org) - would stand to benefit from a decision in favour of granting licenses for community radio.
Pastapur is also home to the video women of the DDS Community Media Trust. They, too, are poor, dalit, non-literate members of sanghams, who have taken the audio-visual route towards empowering themselves as well as their communities through communication.
While community television does not appear anywhere on the horizon of media policy in India, the possibility of films and programmes made by these women being broadcast on "mainstream" television is surely not too far-fetched. It has, occasionally, happened in the past. For example, a video clip of Chinna Narsamma of Pastapur village standing in ankle-deep water, surrounded by soggy, rotting plants, to report on camera about the damage to food crops caused by heavy rain in semi-arid Medak, was shown three years ago on the regional channel of Doordarshan, as well as on Eenadu TV. But that was a rare instance.
Ten years ago the Supreme Court of India affirmed that the airwaves are public property. But the DDS radio facility in Machnoor is still awaiting the right to broadcast.

Like their radio colleagues, these women are clear about the need for media that they can own and control. As Manjula of Eedulpally village puts it, "We can speak out on our problems and express our thoughts in our own language, which is understood by all of us" -- referring to the fact that the variant of Telugu used by the mainstream media is almost incomprehensible to people in this part of the Telangana region of A.P. Also, she adds, "When 'big' government officials come to our village we can record what they tell us so that we can follow up on their promises... And it is more convincing for the officials when we show them the reality of our degraded lands on film."
Their critique of the mainstream media is not only explicit but all encompassing, covering content, language, form and style. They also have a remarkable understanding of different "ways of seeing," which is best expressed in their description of camera angles: the Patel Shot (viewing subjects from above, in the manner of feudal landlords), the Slave Shot (the view from below), and the one they choose to use -- the Sangham Shot (reflecting parity between those holding and facing the camera). "In the sanghams we are all equals," explains Chinna Narsamma. "So we call an eye-level shot a sangham shot."
They are also well aware of the advantages of being local people making films on locally relevant issues. "There is a big difference between the films you make and the ones we make," says Kavitha of Nagwar village. "When you come to film, you have a handful of shots in mind: a child, a teacher, a cook - that's it! But we know the entire background ..." According to Manjula, "You educated people don't follow our language. You come from the outside and don't know our context. So you film selectively. But we know our issues. When we film, we film in depth."
According to Chinna Narsamma, another disadvantage of external films is that the interviewees rarely get to see the end-products and, as a result, have no idea what happens to what they have said. To make matters worse, she says, "I speak in my language, but you write and make your film in your language. When I see your film, I often feel: I never meant this." What's more, says Laxmamma of Humnapur village, "When you come to film, women feel shy. They don't open up. But, because we are locals, we can easily get them to talk."
The video women of Pastapur have not only been the subjects of two films ("The Sangham Shot" and "Ten Women and a Camera"), but they have themselves made a number of films, some on commission. For one of these, "Why are Warangal Farmers Angry with BT Cotton?" the women travelled to the area several times to record the experiences and opinions of farmers during the period in 2002-03 when they suffered severe losses after planting the genetically modified crop in their fields.
This is the kind of story rarely seen nowadays in the mainstream media, broadcast or print. With the growing number of 24/7 news channels, and their apparently insatiable appetite for content, both Doordarshan and public-minded private channels can well afford to provide time slots for programmes created by the DDS women as well as others associated with similar initiatives, such as Video SEWA (an off-shoot of the well-known Ahmedabad-based Self-Employed Women's Association - (www.videosewa.org).
Such an arrangement could be mutually beneficial. The women would have outlets for their output, and the channels would have rare, authentic voices and images from the rural hinterland without too much trouble or expense. In addition, as Laxmamma points out, "There may be times when an event needs to be recorded immediately. At such times, you people may not be available. Then we can do the recording and give it to you."
Similarly, independent rural reporters are sometimes able to steal a march on their mainstream counterparts because they are free of some of the constraints of commercial media. The poor, dalit but literate women who work with Navodayam ("new dawn" in Telugu), a magazine for rural women in Chittoor district, are candid about the difference.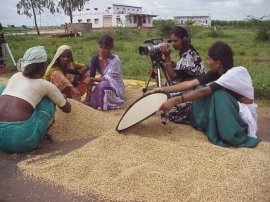 DDS video reporters with women agricultural labourers. (Picture credit: DDS Community Media Trust).
"A man burnt his wife to death in our village," says Manjula of Vedurukuppam village. "Even though the culprit's house was near the police station, he managed to cremate her body within two hours of her death. Since no complaint was lodged, no post-mortem was done and no action was taken. Journalists from four major Telugu dailies heard about the incident immediately after it happened but they did not report it. I was so upset by this that I could not sleep for two days. The man was finally arrested after we wrote about the crime in Navodayam."
"We go beyond what the mainstream media do," explains Ratnamma of Baireddipally village. "Journalists from mainstream papers and television channels often take money from people for writing or not writing reports. Otherwise they are too afraid of the consequences of writing something. We are not afraid of anybody or anything."
According to Bharathi of Nimmanapalli village, the magazine also serves as a link between women and the government, spreading awareness about official schemes and programmes and relaying villagers' needs and concerns to the authorities. In addition they report and promote action on issues like child marriage, child labour and domestic violence, publishing success stories to encourage more intervention in such problems by women and their self-help groups (SHGs).
Manjula explains that they make it a point to highlight the talents and achievements, work and activism of ordinary women, thereby boosting their self-esteem. They also tap older people in the village for folk songs, proverbs and stories, so that younger generations have access to these fast disappearing aspects of local culture.
Navodayam is currently published under a government-initiated anti-poverty project popularly known as Velugu ("light" in Telugu - www.velugu.org), although moves are afoot to make it self-sustaining. Launched in August 2001 as a quarterly newsletter in Telugu with just eight pages, it has since grown into a 24-page monthly, on popular demand. With a print run of 20,000 copies, the magazine - distributed through women's SHGs in Chittoor district -- has an impressive readership of over 200,000, which is more than the state-wide readership figures of some leading dailies in A.P.
The magazine's success may be partly related to the fact that regular newspapers do not reach many remote villages. Navodayam fills the gap. Language and content are additional advantages that encourage local interest. As Ratnamma puts it, "We use the local language and keep it simple so that what we write is comprehensible to our audience. And the issues we report on are directly related to the readers' lives."
Women like Manjula, Ratnamma and Bharathi handle all aspects of the magazine: reporting, writing, editing, layout, artwork, photography and even circulation. Over 60 reporters have worked for the magazine so far; it now has 10 staff reporters and 20 contributors. Their involvement in rural journalism has not only made the women more confident but improved their status in their communities. "Earlier, the rare letter I received came care of my husband," says Ratnamma, smiling. "Now I get letters addressed to Ratnamma, Navodayam reporter."
At the same time they face a wide range of problems, including the question of their future when the project comes to an end. According to B. Kiran Kumari, a consultant with Navodayam, "Ideally, they should find jobs in mainstream publications, which ought to hire more women stringers, especially from rural areas." With their experience in rural reporting, they would obviously make invaluable stringers; the question is whether the so-called mainstream media are interested enough in covering the countryside to hire women like them to do so.
For P.V. Satheesh, director of DDS, however, the fundamental issue is people's autonomy over vital aspects of life, ranging from food and agriculture to markets and media. He is convinced that, in today's world, access to and control over media are critical for the survival and sustenance of marginalized rural communities.
Yet, in the absence of enabling policies, that is precisely what still eludes most such communities. Ten years ago the Supreme Court of India affirmed that the airwaves are public property. But the DDS radio facility in Machnoor is still awaiting the right to broadcast. If the government is prompt in acting upon the recommendations submitted by TRAI on 9 December 2004, the radio women of Pastapur may not have to wait much longer. If not, the answer to General Narsamma's questions (above) may, sadly, be "yes."