There can be two opinions about the efficacy and equity of the ban on diesel vehicles over ten years old in the National Capital Region (NCR), imposed by the National Green Tribunal. Many experts have dubbed it a knee-jerk move, which would amount to penalising motorists and public goods carriers. The decision has now been stayed for a fortnight till the end of this month.
The whole purpose could be subverted if people merely replace these with new diesel vehicles and continue to foul the air. However, there can be no doubt that dirty diesel vehicles have to go off the roads, one way or another.
On 8 April, I appeared on a 40-minute panel discussion on this controversial issue on CNN-IBN. Before I participated in the live show, a transport expert pointed out to me that age should not be the factor for determining roadworthiness. A well-maintained and regularly serviced vehicle will have emission levels comparable to a new vehicle.
Some parts of the vehicle or engine may need replacement due to wear and tear. However, discarding the whole vehicle or chassis which may be in proper serviceable condition is a gross waste of resources and may have much wider environmental impact.
The problem in Delhi (and other Asian cities) is not so much the age of vehicles (vehicles older than ten years are a small proportion of the total), but the absolute number and density of vehicles. "We need to urgently adopt policies that limit the dependency on private motorisation by providing better and safer infrastructure for public transport and non-motorised transport," the same expert said.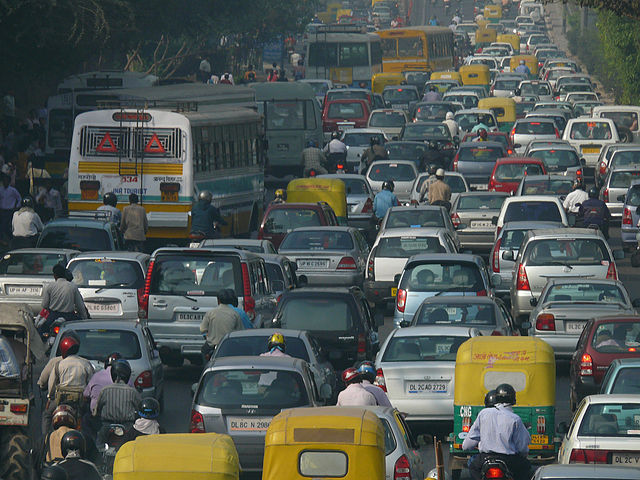 While there is certainly merit in these arguments, it is also possible to argue that the situation is already one of crisis and desperate situations call for desperate remedies. One has only to follow the excellent series, subsequently titled "Death by Breath" in The Indian Express, to realise how grave Delhi's air pollution is.
Just a step forward
In some 35 years as an environmental journalist, I never imagined in my wildest fantasy that a day would come when a national newspaper would carry repeated front-page banner headlines on the terrible toll that the capital's air was extracting on its beleaguered people.
As is now public knowledge, Delhi is the most polluted city in the entire world, according to the World Health Organisation (WHO), having jousted Beijing for that dubious title. Indeed, the WHO lists 13 of the world's 20 worst air-polluted cities in India.
In the TV panel, I argued that it was the first of many steps that were required to be taken. The NCR is already witnessing some of the biggest urbanisation trends in the world, and planners would have to make this region livable if they don't want to see the entire process jettisoned.
The practical argument in favour of banning diesel vehicles over ten years old is that the alternative – inspecting these for their roadworthiness -- would be vitiated by corruption. One has only to witness how Pollution Under Control (PUC) certificates are doled out even by nondescript vans parked on the edge of highways. In some cases, the certificate is issued without a test.
By coincidence, many of the measures that planners and administrators need to take to reduce pollution and increase mobility were detailed at the second ConnectKaro conference in Delhi on 15-16 April.
The conference was organised by the Indian arms of Embarq and the World Resources Institute, whose parent is located in Washington DC. Among other initiatives, Embarq has been the brains behind the Raahgiri car-free-Sundays in Gurgaon and elsewhere in Delhi, Equal Streets in Mumbai and other similar drives in the country.
Two activists from Bangalore were also present to examine how the experiment could be replicated there.
Could a BRTS be the solution?
The consensus among some of the world's top public transport experts, one among them being Dr Dario Hidalgo, Director of Research and Practice of Embarq, was that the Bus Rapid Transit System (BRTS) was the best way to go.
As is well known, the failure of this system in Delhi, and to a lesser extent in Pune, has given this radical alternative a bad name, though it could be a major way to reduce Delhi's toxic toll by squeezing the space for private cars.
At ConnectKaro, Delhi Deputy Chief Minister Manish Sisodia castigated it as an example of "bad planning" and said it would be scrapped soon. While admitting that Delhi needed the BRTS and other innovative public transport systems, he warned planners not to "copy-paste" methods from other cities.
Sisodia said that he had "used a BRTS in other countries and cities and…found it to be very effective. However the problem with the one in Delhi is that it was not planned well, or at least according to the people's needs as people were not part of the planning." When he referred to "people", he presumably had in mind motorists, who had much earlier vented their collective wrath at the 5.6-km-long reserved lanes for buses.
Car-owners, however discomfited, constitute a minority, even in Delhi, but their voice was heard above the hapless bus commuters. The media piled in – some allege that a few top editors of a national daily lived in Greater Kailash and ran a concerted campaign against the initiative.
The situation was put in perspective by Professor Shivanand Swamy from CEPT University in Ahmedabad. He said, on the contrary, that the Delhi case was one of a failure of communication on the part of the authorities who had failed to put across the true purpose of the project, which was to reduce the space for private transport in favour of public modes.
One can recall a photograph in The Times of India at the time which depicted an empty bus lane, while the rest of the road was chock-a-block with cars. The caption read that "commuters" were inconvenienced! It is important for maintaining "corridor exclusivity" never to permit an idle lane which conveys a negative image.
In all, Delhi had planned 130 km of BRTS, which would have taken cars and two-wheelers – diesel and otherwise – off the roads and contributed to lowering the pollution. "Without BRTS, there can be no mobility security," Swamy asserted.
The BRTS was especially suited to India because of the density of cities. There are 120 persons per hectare in the country here, as against 40-50 in Europe, 10-15 in the US and even less in Australia. Correspondingly, there were only a hundred cars per thousand people in the country (mainly in the cities), as against 400 in Europe and 600-800 in the US.
Even if one added 250 two-wheelers per thousand people in India, the total number of vehicles was proportionately less than the EU.
Another point to remember, while decision-makers in all major cities in the country are planning a Metro system, is that these reserved lanes cost one-twentieth of what a Metro does.
The really successful BRTS projects have been in Ahmedabad and Indore. It is called Janmarg in the former. General Manager Deepak Trivedi cited how some 96 km of lanes had been reserved for buses. Around 1,22,000 people travel in air-conditioned comfort from 6 am to 11 pm in 250 buses plying between 150 stations.
Various innovations have been experimented with in the Gujarat capital, such as hiring ex-servicemen to regulate the bus lanes and deter violating motorists from trespassing on them.
The head of the Municipal Corporation of Gurgaon, Vikas Gupta, mentioned how he never once in his career heard of a politician or administrator asking for buses, which only demonstrates what a low priority they are given in the public sphere.
Gurgaon is proposing to launch its own bus service within the city, to come to the aid of those who travel by auto rickshaws or the skeleton bus service. Of the 145 buses on its rolls at present, only 80-90 buses actually ply on the road. According to Gupta, Gurgaon needed at least 500 buses.
Ironically, it is in Gurgaon that Raahgiri has been successfully running since November 2013. This has, however, not translated till now into a demand for bus services.
In Mumbai, after several false starts, the Mumbai Metropolitan Region Development Authority is inviting proposals for the appointment of BRTS consultants. However, it is planning its BRTS on stilts above the Western and Eastern Express Highways. This defeats the very raison d'être of a BRTS – to restrict the space on the roads for cars and turn it over for public transport, as well as for walking and cycling.
It is such myopia which is also prompting the state government to contemplate a BRTS along the proposed 35-km-long coastal road. A BRTS has to be executed on an existing highway, not one specially constructed for it.