While everyone is gung-ho, particularly in a country like India, about the age of communications and goods with advanced electronics systems – with the cell phone, PCs, refrigerators and the like – little thought has been given to the disposal of these goods. One buys a new cell phone or PC and hands down the old one or simply dumps it somewhere. It may be out of sight, but it certainly isn't out of mind, so far as the environment is concerned.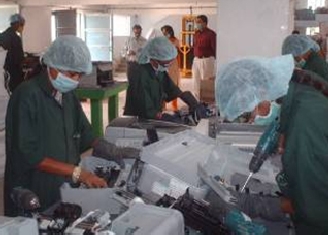 State-of-the art work going on at E-Parisaraa, Bangalore. Pic courtesy: E-Parisaraa.
On the eve of a meeting of the UN Environment Programme (UNEP) in Bali, February 24-26, the agency released a report titled "Recycling – from E-waste to Resources" at a gathering of chemical experts. E-waste is the abbreviation for discarded devices from the electronics industry. As the report says, "Without these products, modern life would not be possible in (post-)industrialised and industrialising countries. These products serve in such areas as medicine, mobility, education, health, food supply, communication, security, environmental protection and culture. Such appliances include many domestic devices like refrigerators, washing machines, mobile phones, personal computers, printers, toys and TVs."
The report uses data from 11 representative developing countries to estimate current and future e-waste generation. The sources include old and dilapidated desk and laptop computers, printers, mobile phones, pagers, digital photo and music devices, refrigerators, toys and TVs. With sales of electronic goods burgeoning in India and China in the next decade, such waste will be far greater in future.
The study focused on developing countries because there are established procedures for disposing of e-waste in industrial countries and, inevitably, it is only in developing – and particularly emerging – countries that there is a major market for salvaging materials from these goods. UNEP wanted to examine whether its procedures for dealing with this waste were being followed and whether centres for excellence and innovation could be identified in developing countries.
In 2006, India had around 5 million PCs, and this is growing at a compounded rate of 25 % per year. By 2020, e-waste from old computers in the country will jump by 500% from 2007 levels. The comparative figures for e-waste from discarded mobile phones will be 18 times higher than in 2007, 1.5 to 2 times higher for TVs and double or triple from refrigerators.
e-Parisaara, a government-authorised eco-friendly recycling unit on the outskirts of Bangalore is India's first scientific e-waste recycling unit. It aims to reduce pollution, landfill waste and recover valuable metals, plastics and glass from waste in an eco-friendly manner.

At the release of the report, UN Under-Secretary-General Achim Steiner, Executive Director of UNEP, said: "China is not alone in facing a serious challenge. India, Brazil, Mexico and others may also face rising environmental damage and health problems if e-waste recycling is left to the vagaries of the informal sector. In addition to curbing health problems, boosting developing country e-waste recycling rates can have the potential to generate decent employment, cut greenhouse gas emissions and recover a wide range of valuable metals including silver, gold, palladium, copper and indium -- by acting now and planning forward many countries can turn an e-challenge into an e-opportunity."
Globally, e-waste is growing by about 40 million tonnes a year. The manufacture of mobile phones and personal computers consumes 3 per cent of the gold and silver mined worldwide each year; 13 per cent of the palladium and 15 per cent of cobalt. Modern electronics contain up to 60 different elements -- many valuable, some hazardous, and some both.
Carbon dioxide emissions from the mining and production of copper and precious and rare metals used in electrical and electronic equipment are estimated at over 23 million tonnes – 0.1 percent of global emissions (not including emissions linked to steel, nickel or aluminum, nor those linked to manufacturing the devices).
The US is of course the most profligate in this regard. In 2008, more than 150 million mobile phones and pagers were bought there – virtually one for every two people. In 2003, it was only 90 million. Globally, more than 1 billion mobile phones were sold in 2007 – one for every six people. This had risen from just under 900 million in 2006.
New technologies
According to Konrad Osterwalder, UN Under-Secretary General and Rector of United Nations University, which partnered the report: "One person's waste can be another's raw material. The challenge of dealing with e-waste represents an important step in the transition to a green economy. This report outlines smart new technologies an example or two in layman's terms of these new technologies will help and mechanisms which, combined with national and international policies, can transform waste into assets, creating new businesses with decent green jobs. In the process, countries can help cut pollution linked with mining and manufacturing, and with the disposal of old devices."
These new technologies cover several phases. The first is collection itself. If this is inefficient, it does not permit salvaging of materials in sufficient bulk and hence is uneconomical and unsafe. The second is dismantling and "pre-processing". Hazardous materials have to be safely stored or treated while valuable materials removed for reuse or treatment. For instance, batteries and capacitors can be removed for pre-treatment to recover cobalt, nickel and copper. The final recovery of metals, in sufficient quantity, can take place in steel plants, aluminium smelters or integrated metal smelters.
The report notes that India's e-waste recycling industry is dominated by the so-called informal sector, where tens of thousands of people are estimated to make their living from material recovery. Several attempts to define a legal framework have been unsuccessful. The barriers for the transfer of e-waste technology have to be understood considering these framework conditions.
India currently does not have any dedicated legislation dealing with e-waste. Laws having a bearing on e-waste include topics like the environment, water, air, municipal waste and hazardous waste. E-waste handling is currently regulated under the Hazardous Waste Management and handling rules. Application procedures to obtain export licenses for the shipment of some special fractions of e-waste to state-of-the-art smelters abroad are unclear, as is the Application of the Basel Convention on hazardous waste.
The report underlines that there is a high level of corruption in law enforcement, and no clear definition of roles and responsibilities of stakeholders.
Further, with the domination of e-waste recycling by the informal sector as noted already, low technologies are applied by low-skilled workers, resulting in high health and environment risks, including open-sky incineration and wet chemical leaching of metals. There is no proper solution for hazardous fractions contained in e-waste.
A few years ago, at the Vatavaran environmental film festival in New Delhi, a documentary highlighted the plight of such workers in the capital. Most of the workers were extracting valuable metals from old PCs and the like but were totally unaware of the hazards they were exposed to in these processes.
According to the report, the logistics, especially collection and transport, are the main challenge for the formal recycling sector. There are difficulties in accessing the materials and direct competition with the informal sector. All costs, including collection, transport and disposal of hazardous fractions, are the responsibility of the recyclers. There is no secure financing of non-profitable recycling operations.
Report single out Bangalore's success stories
Interestingly, the report singles out EWA, the E-Waste Agency in Bangalore as a model for other developing countries to emulate in recycling. It is an independent organisation established by large scale industries, industrial associations, government bodies and NGOs. At present, its focus is on Bangalore.
Also in Bangalore, the Manufacturers' Association for Information Technology (MAIT) represents hardware, training, design/R&D and the associated services sectors of the Indian IT Industry. MAIT actively supported an initiative known as the Indo-German-Swiss Partnership and is coordinating the industry's proposals for the future legal e-waste framework at the national level.
The Electronics City Association (ELCIA) is the association of firms in Electronics City located in the southern outskirts of Bangalore, which is one of the country's leading Software Technology Parks (STP). Electronics City currently houses 100 STP units, among other institutions. STP units greatly rely upon and use electrical and electronic equipment for their everyday business activities. In order to deal with the increasing amount of e-waste, ELCIA introduced a "Clean e-Waste Channel" (CeWC) which is facilitating convenient and environmentally sound disposal of e-waste for ELCIA member companies in Electronics City.
e-Parisaara is the first government-authorised eco-friendly recycling unit on the outskirts of Bangalore which makes full use of e-waste. The plant, which is India's first scientific e-waste recycling unit, aims to reduce pollution, landfill waste and recover valuable metals, plastics and glass from waste in an eco-friendly manner. It inspects and collects e-waste from customers, disposes of unusable materials and salvages valuable components. Notably, it protects data from discarded PCs and guarantees customers confidentiality. A destruction picture and certificate is provided, on request.
A Bangalore-based association of e-waste recyclers, with roots in the informal sector, known as Electronic and Electrical Waste Recycling, Dismantling and Disposal (e-WaRDD) had approached the Karnataka State Pollution Control Board for Consent of Establishment and Consent of Operation in 2007. At that time, this was first such development in India. e-WaRDD, as an authorised e-waste recycler, will still maintain good relations with the informal sector, which allows e-WaRDD to collect material from the informal sector. This connection has been one of the struggles for authorised recyclers in getting enough material in competition with the informal sector.
According to the Centre for Science & Environment in Delhi, E-WaRDD had its first corporate client in 2008: Titan Industries. Every year Titan has an exchange programme whereby old watches are exchanged for new purchases under a special discount scheme. Last year between 600,000 and 700,000 old watches were collected under this scheme, most of which finally ended up in a landfill. Titan is aware that digital watches are also classified as e-waste and therefore need to be recycled safely. They have thus partnered with Saahas, another Bangalore-based development organisation working to facilitate safe e-waste recycling. The watches collected under this programme will be finally given to E-WaRDD for dismantling and retrieval of components. The toxic content will be stored for disposal in a hazardous waste landfill.
There is also a pilot study of informal "wet-chemical leaching" in Bangalore carried out by the Swiss e-Waste Programme through Empa, the Swiss Federal Laboratories for Materials Testing and Research. The study was carried out in partnership with e-WARDD and e-Parisaara as local recyclers and Umicore, a global materials technology group, as an international integrated smelter. The aim of the study was to investigate alternative business models to transfer hazardous operations carried out in the informal sector to state-of-the-art recycling technologies.
This pilot study has shown that besides being hazardous, the wet chemical leaching processes, which are widely used in India for the recovery of precious metals are also inefficient. Based on these results, "alternative business models" for the informal sector were developed, where wet chemical processes are abandoned against international trade with state-of-the-art industries.
What this means is that workers in the informal sector would have to change many aspects of their recycling operations. For example, e-waste would not be able to be collected for the recovery of gold only, rather collected with the objective to prepare the optimal fractions for shipment to an integrated smelter. E-WARDD could play the role of an innovation hub.
Once e-waste is safely and efficiently broken down manually into certain components, it can be sent to a company like Umicore for recovery of other metals as well. At present, there is a five-month delay between shipment and payment by an integrated smelter abroad, which poses cash problems for recyclers, who work on a day-to-day basis. The pilot study recommends a buffer organisation to help recyclers tide over this cash flow problem.