Most of us are aware of child trafficking and girl trafficking but we know very little about bride trafficking. The media too, seems not to know much so there is not much coverage of bride trafficking as a market that is enlarging everyday.
A short but poignant short fiction film, Paro, brought attention to this illegal business which goes on unabated as either there are no complaints or if there are a few, the police look the other way.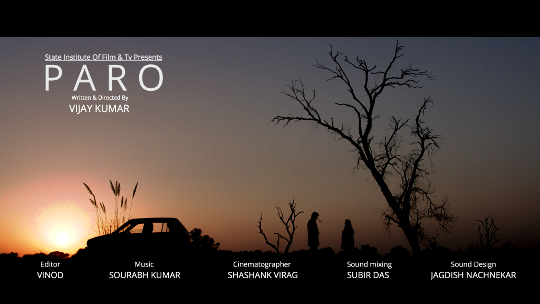 Take this example. A report in a noted Bengali newspaper (ABP, March 24, 2018) states that a girl was sold in an auction held in Sururpur village within Baghpat district in Uttar Pradesh. Two brothers of the locality, Monu and Sonu had organized an auction where one of the girls was sold at a bid of Rs. 22,000 and a villager Mukesh from Sururpur bid this highest price. But he said he did not have more than Rs.17,000 and would pay the rest after a week. The brothers agreed and Mukesh took the girl to his house and even married her. But when he could not pay the balance within the week, the brothers, along with a gang of hoodlums, took the girl away according to Mukesh's sister and her husband. Mukesh was not at home.
One story doing the rounds was that Mukesh's body found hanging from a tree, was brought down by villagers who said that he must have taken his life because of the humiliation caused to him. But Dileep Singh, DSP, Baghpat, refused to accept the reality of the auction and said that the said girl was pregnant and Monu and Sonu sold her without informing Mukesh about her pregnancy. Later, Mukesh supposedly died in an accident so they brought the girl back. The complaint was filed by a local NGO but the police did nothing to verify the facts or take action against the two brothers.
Whether the girl was pregnant or not, does not matter. What matters is that she was part of an auction where the commodity being bid for was a girl, one among many and this was happening in 2018 in an Indian village! What matters is that the same two men took her back probably to be bid on once again to another bidder who was willing to pay the price they wish to end the bidding at. Unfortunately, she is not the only one, many such girls, often orphans who do not have a family to fall back on, or from extremely poor families are often trafficked for money as "brides". The wedding is conducted at the local temple so it does not have any legal validity especially if the groom already has a legal wife back home.
Vijay Kumar, a diploma-student of the direction at the State Institute of Film and Television (SIFTV), Rohtak, Haryana made the short film Paro as his diploma film. This film was featured in the short films section of the Mumbai International Film Festival (MIFF) 2018 held in Mumbai recently and was screened in the National Competition Section. Though the film did not bag any awards, it is a powerful film where the director has acted with great restraint to get across his message against the trafficking of brides when he could easily have gone overboard and been heavy-handed. But he did not.
The name of the film is Paro and we conclude that the girl's name in the film is Paro. But it is not so. No one calls her by her name because she leads an anonymous life within the family, tending to a completely bedridden husband who is unhappy about this whole incident but is helpless as his mother holds the family decisions in her control. "This custom of selling the girl as a bride is called Paro Pratha where the girl's name is not important. The girl remains almost totally silent in the entire film. What shocks one is the fact that she accepts her life as a predestined reality as she does not even know that another kind of life exists beyond this "market" where she is just a commodity to be bought and sold and re-sold again and again. All of them have the same name – Paro.
The man has a grown-up son and a little boy both of who get attached to this girl for different reasons –the small boy because he gets a playmate and the older boy because he is sympathetic towards the girl and her plight. But the mother-in-law gets suspicious about the girl's friendship with her older grandson who is older than the girl herself. So, she decides to sell her off again through the agent she bought the girl from. She insists on a higher price because "the girl is untouched." The film closes on an intriguing note of tragedy leaving us with the question – was she killed or was she sold off again to the agent?
The film is made in Haryanvi language because the story, based on true events, happens in a village near Rohtak where Vijay Kumar grew up. But this does not mean that bride trafficking happens only in Haryana. Kumar says that he wished to become a filmmaker because he believes that cinema is visual poetry and he wants to become a visual poet. He was inspired to make this film for two reasons. One, having been born and brought up in Rohtak, he had heard about bride trafficking but had not witnessed such incidents at first hand. But during his field research for the film, he met a woman who, he suspected was a trafficked bride. So, he approached her to talk to her. "But she closed herself up as if she was shutting a room and locking it from inside and I could do nothing at all," he says.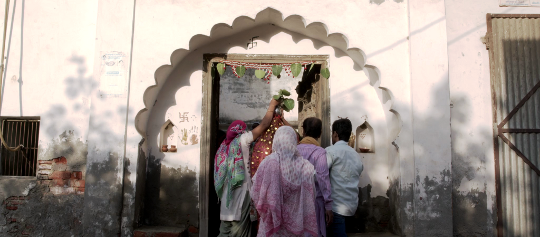 A still from the movie. Pic: Vijay Kumar
The second trigger was an article he had read in The Hindustan Times (May 23, 2014) written by Danish Raza which was on the rampant practice of bride-trafficking. "In his article Women are Cheaper than Cattle, Raza writes that the other term used for these sold 'brides' is molki which means "one who has a price." He ascribes the skewed sex ratio and entrenched feudalism in Haryana, Punjab, Rajasthan and Western Uttar Pradesh that has led to such a flourishing trade in girls and women trafficked from poverty-ridden villages of Assam, West Bengal, Jharkhand and Odisha. The women are promised marriage but they are mostly brought down to Mewat which is a region along Haryana and Rajasthan whose loose boundaries are not precisely determined.
Mewat is a big centre where girls and women are trafficked by agents who are involved full-time in the business. It is here that the women are bought and sold through these middle-men for a price not once but again and again. In simple language, they are wedded to an enslaved life. They work in the families they are 'wedded' into like a slave round the clock with little food, or as farm hands or pushed into prostitution.
As the article pointed out a field study by the NGO Drishti Stree Adhyayan Prabodhan Kendra revealed that out of 10,000 households they surveyed in Haryana, over 9,000 married women were bought from other states. Mewat is one of the 21 districts of Haryana, which has the most imbalanced sex ratio in the country — 879 women for every 1,000 men against the national average of 927 to 1,000. "More than 30% of men in Haryana between the ages of 15 and 44 are unmarried because of the skewed sex ratio." So, the Paro Pratha goes on unabated because men who cannot find brides, approach these agents to get themselves a paro or molki who slogs through the day and becomes a sex slave at night till a man tires of her and sells her back to the agent or to someone else.
This has come to light in recent times but the practice has been existing for long. In another article in India Today Magazine (March 8, 1999), Rohit Parihar says that the custom originated in which was then termed nata which allowed a married woman to choose to get into a live-in relationship with another man and the first husband was paid a token sum as "compensation." This token sum in terms of money was called jhagda which means the reimbursement of the expenses the husband may have incurred in his wedding. This custom had now been reduced and distorted beyond all logic and human rights that now finds husbands, and in some cases, even the parents of the girl participate in this 'exchange' of the girl for 'money' to get into extra-marital relationships. The 'choice' factor, if there was one, does not exist anymore. It has metamorphosed into what we see today as the 'paros' or 'molkis' of society bartered for huge sums in pockets of Rajasthan such as Tonk, Ajmer, Bundi, Bilwara and Baran, says Parihar.
"Haryana is highlighted by media but Rajasthan and Punjab have issues too because of the low sex ratio in these states. I chose Haryana because I am familiar with the place, the language and the people," says Vijay Kumar who directed Paro shot over seven days.
Though these brides are trafficked in some of the northern states led by Haryana which has the worst sex ratio in the country biased against females, this very shortage of marriageable women in Haryana and Rajasthan has led to a flood of brides bought from other states to serve as paros. If a man buys a paro for Rs. 50,000, he will sooner or later, try and sell her off for Rs. 60,000 which brings human beings down to the economic laws of supply and demand.
Girls and women being bought and sold like slaves in these modern times in our society should shame all of us and force us to take action against this slave trading.