Despite various attempts at dissuasion, Irom Sharmila's hunger strike remains unabated under the watchful eyes of the state authority. The world's largest democracy doesn't know what to do with this 43-year-old woman. Globally, she has become an icon against repression. The state cannot afford to let her die, nor can it afford to muster the political will to accept her demands. Year after year, she is arrested almost as a matter of ritual, released and rearrested without any conviction.
Her home state of Manipur meanwhile is in a perpetual state of emergency, heavily militarised and with a pervasive atmosphere of suffocating fear. Killing of innocents by the armed forces is not an offence as per the de facto legal system here that has institutionalised the culture of impunity. Punishment of the military for crimes against the innocent is rare and beyond popular imagination. Such action may lower the 'morale of the forces', claims the state, undermining its own duty to protect people's life and liberty.
Ironically however, it would be wrong to say that human life is not valued in Manipur. For example, suicide is prohibited. Any attempted suicide is a crime and Sharmila has been doing it for the last 15 years. Every year, she is arrested under section 309 of Indian Penal Code for attempted suicide which prescribes one year of imprisonment. She has never been convicted of any charges till now and has insisted firmly that her hunger strike is just a form of democratic protest, aimed at pressuring the state to repeal the Armed Forces (Special Powers) Act, 1958 (AFSPA).
As absurd as this narrative sounds, such is the reality of the AFSPA, enforced in parts of north eastern India, Kashmir and Punjab. This short Act with only six sections provides sweeping powers to the armed forces to use lethal force on mere suspicion of the probability of a crime.
What is more, virtual immunity is assured even in case of erroneous persecution. No legal action can be moved without prior sanction from the central government and there is no time limit or rules for granting sanction. It is arbitrary and discretionary.
The Act has a colonial legacy and came into being after a mere seven-hour debate in the parliament and was intended to be enforced temporarily. However, AFSPA continues to be in force to this day despite severe criticism from civil society, national bodies as well as international human rights institutions.
An unending cycle of heinous violence
Sharmila decided to stage a fast unto death against the Malom massacre and demanded repeal of the AFSPA. Her mother gave her permission to go ahead with her mission. Her friends say that on November 3, 2000, she has her favorite biscuit at a local bakery and that was her last meal.
Massacres by armed forces began ever since the AFSPA was enforced in Manipur in 1980. Few incidents are worth mentioning here as illustrations. One of the earliest killings took place at Heirangoithong on 14 March, 1984 at a volley ball match at the Heirangoithong Volley Ball Ground in Imphal on the pretext that a few militants had tried to snatch weapons from CRPF personnels deployed nearby.
To counter that, the CRPF opened fire killing thirteen people and leaving 31 injured. An Inquiry Commission found the armed forces guilty and compensation of a mere Rs 10000 each was given to the next of kin of those killed and Rs 4000 to those wounded.
Operation Blue Bird at Oinam village of Manipur conducted on 10 July, 1987 is still a deep scare in people's minds. It had been reported that insurgents raided the Assam Rifles post at Oinam village and looted the arms and killed nine personnel of Assam Rifles. In retaliation, 14 civilians were shot dead on 10 July while several others died of hunger, starvation and torture in the concentration camps, out of the shock.
In an infamous incident in that operation, a woman was forced to deliver her child in public view in an open field, as the troops jeered. The then Chief Minister of Manipur was prevented from visiting the area.
Has 'Iron Lady' Irom Sharmila's gritty, unflinching protest etched a mark? The progress in the investigation of the Malom massacre is very slow. It was only on 7 January, 2010 that a team of the court led by Th. Surbala Devi, District and Session's Judge, Manipur East, conducted a spot inquiry at Malom to investigate the facts and circumstances leading to the firing incidents.
In the meantime, instances of extrajudicial execution continued unabated even in the midst of growing international attention on AFSPA and Sharmila's hunger strike. On 12 June, 2004, Manipuri women belonging to the Meira Paibis group staged a naked protest in front of the Kangla Fort, a holy place for the Manipuri people occupied by the Assam Rifles.
The protest was against the alleged rape and murder of a 32-year-old woman Manorama, who was picked up from her house at 1 am. Her dead body was found at the paddy field after 5 hours bearing signs of custodial torture and sexual violence. The protest received worldwide attention for its boldness and drew more attention to the climate of military violence and impunity in the state.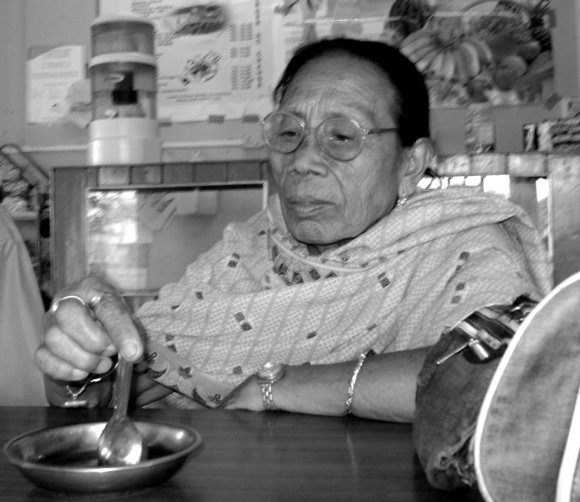 To control public outrage and outpourings, the Manipur Government constituted an inquiry commission and also constituted a committee to review AFSPA. Kangla Fort was handed over to the people of Manipur and Assam Rifles vacated the place in few months. The review Committee recommended repeal of AFSPA, but the report has not been officially published till date. A leaked version is available here.
Around 2008-09, Manipur State Commandos who replaced the Assam Rifles gained further notoriety. Many young men in the group of 25-40 years were killed, producing 'gun widows' in the state. It is claimed that about 700 youths lost their lives each year to such violence. Most of these widows had no support and were deeply vulnerable. The young widows, some of whom are young mothers, mobilised themselves and created loose networks and expressed solidarity by sharing their grief in informal meetings and gatherings.
This helped them to overcome their feeling of victimisation, and emerge as human rights defenders, pledging a long struggle for justice. Their movement was formalized with the creation of the Extrajudicial Execution Victims' Families Association, Manipur (EEVFAM) on 11 July 2009 at Imphal. The group received unconditional support by civil society members and media.
The EEVFAM demanded constitution of a special investigation team to probe 1528 alleged fake encounter killings in the state before the Supreme Court in a public interest litigation filed together with Human Rights Alert. Though the final judgment in the case in pending, the directives issued by the Supreme Court in the course of litigation is 'positive'. The Supreme Court's own investigation in six cases taken as sample proved that extrajudicial execution had indeed been committed by the accused.
In the backdrop of these varied movements, litigations and public outrage, Irom Sharmila's steadfast protest continues in a small compartment in the Jawaharlal Nehru Hospital that has become her virtual nest, and where she pens her verses. She has turned down many appeals to end her fast and expressed her firmness to stick to her position till the AFSPA is repealed.
In all these years, she has been awarded many laurels for her role in the human rights movement in north east India. Sharmila was honoured with the prestigious Gwangju Prize for Human Rights in 2007 by the May 18 Memorial Foundation in South Korea in recognition of her contribution towards promoting and advancing human rights, democracy and peace. In September 2010, she was awarded the Rabindranath Tagore Peace award.
Recently however, she decided not to receive any awards for her protest and has donated her award money to other social causes.
But while the global human rights community and the people have long taken note of her selfless struggle and woken up to the legitimacy of her demands, the state remains adamant. Even 15 years on, Sharmila's hunger strike has not led to the repeal of AFSPA, a lawless law.
There is perhaps only one explanation for this. AFSPA was never conceptualised as a law in the first place, it is rather a 'weapon of hatred' and hence repealing it is not in the agenda of the world's largest democracy.