With the passing away of Rituparno Ghosh on May 30, Indian cinema has lost one of its brightest stars. His going away at 49 has deprived the intellectual, artistic and cultural world of what he could have contributed had he lived for another two decades. Cinema was his major forte but it was not his only channel of creative expression. He was a brilliant journalist with a facile pen who edited a Bengali film fortnightly for several years and till his passing away, edited the Sunday pull-out, distributed free, of a leading Bengali daily. Readers would wait eagerly for his brief but succinct editorials in Robibar. He anchored a celebrity talk show called Ebong Rituparno that garnered very high TRPs, not only for the informal manner in which he organized the show but also because of the controversies some of the episodes raised.
Ghosh directed a couple of television serials that carry his distinct signature. He named his home Tasher Desh after Tagore's futuristic satire and decorated it himself, every corner a designer's delight. He also turned designer for some time and became known for his unconventional but ethnic sartorial tastes. He turned his physical appearance into his fashion statement and brand identity, changing his head gear through a shaved pate, to wearing pretty wigs, through turbans to crown his distinctly individualistic style statement – long, flowing kurta worn over designer leggings with beautiful ethnic and flowing odhnis. He also wore jewellery and make-up sometimes but was particular about not wearing the sari.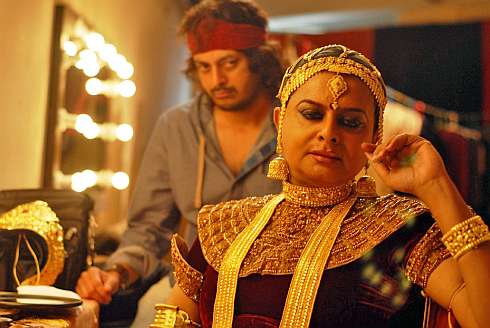 Rituparno Ghosh in a scene from his last completed film Chitrangada. Pic: Shree Venkatesh Films
Cinema was his first and major love. Slowly, as his health began to collapse under an attack of pancreatitis, rising blood sugar levels and problems resulting from long-term hormone replacement therapy, he decided to withdraw from his other intellectual pursuits to concentrate fully on cinema. Sadly, life cut short his plans and his last film, Satyanweshi, based on the detective adventures of the famous Byomkesh Bakshi, is left for others to complete. He completed the shooting a few days before his passing away. His millions of fans eagerly await The Home and the World, his documentary on Rabindranath Tagore.
Ghosh wrote the screenplay and dialogue of almost all his films. Among his dozen-and-odd National Awards, he received the Best Screenplay Award for Dahan. He even wrote some of the most memorable lyrics in recent Bengali cinema for Khela, which he wrote and directed.
Rituparno Ghosh is the only Indian director till date to have taken the risk of projecting his androgyny and his alternative sexual preferences unabashedly and unapologetically through three films in his last phase. In two of these, he portrayed the main protagonist while in the third, he both directed and acted in the film.


• Last woman on stage

Bariwali was based on a short story he had written for a woman's magazine. About Bariwalli, he said, "The film is about specific forms of exploitation of individuals that we, as filmmakers, practice with impunity". He takes his argument to its final denouement without any trace of self-pity. "The fact that the exploiter in my film is a man and the exploited consists of two women – Sudeshna and Bonolata, is incidental. The issue is of universal vulnerability to the predatory instincts of the creative person."
In a recent interview, Ghosh had said that the two greatest influences in shaping him, apart from his parents, were Tagore on the one hand and Mahabharata on the other. "While Tagore is very close to me, who I walk with and who sometimes holds my hands, Mahabharata is a frame of reference I fall back on whenever I feel like it." His excellence in multi-tasking possibly stemmed from his vast and deep erudition. He leaves behind a rich library of more than two lakh books.
After his first film, Hirer Angti (1992), a film made for children, he followed with a series of films that centered on some or the other issue linked to the woman question. Whether it was in the series beginning with Unishe April followed by Dahan, Asookh and Bariwali, or whether it was one for which he dipped into literature, such as Tagore's Chokher Bali (2003) or The Last Lear (rooted in William Shakespeare's King Lear), or his last film Chitrangada, not a single female character of his matches or resembles the celluloid stereotype of the simpering martyr, the willing victim or the femme fatale. A study of his films shows that this defiance of stereotype is not necessarily deliberate and conscious but is often traced back (i) to the literary source the films are based on, (ii) his personal ideology that had a strong feminist streak, and (iii) his personal perspective and perceptions about the story, its unfolding and the positioning of the women within them. One unique element in his scripts is that he treated every single character with respect.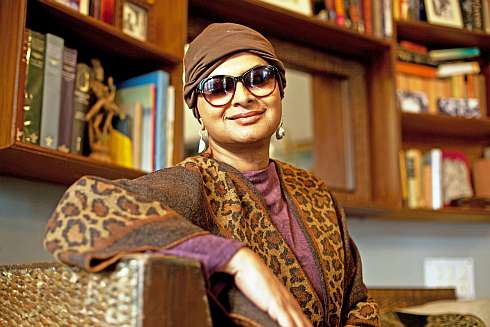 Pic: Shree Venkatesh Films
In Unishe April Ghosh liberated the censored and distorted image of the screen mother from the taboos and constraints of patriarchal culture to place it as a subject of psychological study and sociological inspiration for a feminist reading. Ghosh took great care to choose the decor of the duplex-apartment to establish a definite relationship between the decor and his two protagonists. The walls of the elaborately decorated and furnished drawing room downstairs are plush with huge photographs and posters of Sarojini bedecked in her dance costume and jewellery. The telephone on the writing desk, the pad by its side with the pen defines, once again, the method and the perfection in her life.
In Dahan (1997), he uses the female voice-over as a framing device in the circularly structured film. This strategy destabilizes the popular practice of using a male voice-over to register the authority of the male. The female voice functions in relationship to one of the major visible characters on screen. Dahan sheds light on the changing matrix of the family in Indian metros today. The family's relationship to the physical spaces it occupies is less important than its relationship to the emotional spaces created, sustained or destroyed between and among the members who constitute the basic structure of the family. The family mirrors society and the society reflects the family where both are gendered in particular ways, especially within the patriarchal paradigm.
In the earliest phase of his filmmaking, Ghosh seemed to be preoccupied with cinema as a smaller world within the larger parameters of the social matrix. He used the self-reflexive style to explore the psyche, the mindset of people involved in films. This self-exploration, self-questioning, self-critique was a strong under-current in Asookh, Utsab and Bariwali. He returned to this self-reflexive center later in Shuvo Muhurat, Khela, Abohomaan, and The Last Lear.  The main story ran on a different track while the film-within-the-film formed an important sub-text. Yet, unlike Kieslowski's Camera Buff, the film-within-a-film was not autobiographical.

Rituparno Ghosh. Pic: Reliance Pictures
The film that is truly autobiographical is Chitrangada – The Crowning Wish. It is not self-reflexive, but takes inspiration from Tagore's dance drama and the Mahabharata episode to present the protagonist's and Ghosh's personal struggle with his androgyny and its understanding, acceptance and recognition by the mainstream.
Ghosh explored poetry in Shob Choritro Kalponik and Khela, and dance in Chitrangada and Unishe April. He crossed the borders of language by making Raincoat in Hindi and The Last Lear in English. He extracted unparalleled performances from mainstream actors and actresses like Debasree Roy, Rituparna Sengupta, Indrani Haldar, Kiron Kher, Aishwarya Rai, Amitabh Bachchan, Arjun Rampal, Konkona Sen, Ajay Devgan, Bipasha Basu and Raima Sen among many others. He turned top mainstream Bengali actor Prosenjit's career completely around by stripping the star of his commercial image and thus gave his career a new lease of life.
Rituparno Ghosh is the only Indian director till date to have taken the risk of projecting his androgyny and his alternative sexual preferences unabashedly and unapologetically through three films in his last phase. In two of these, he portrayed the main protagonist while in the third, he both directed and acted in the film. These films, Just Another Love Story, Memories in March and Chitrangada – The Crowning Wish deal with varied manifestations of sexuality. He lamented that even pillars of Bengali cinema shied away from portraying and presenting sexuality in their films and aspired to fill that gap and pointed out that Antarmahal was a film that explored sexuality.
Just Another Love Story (Aar Ekti Premer Golpo), directed byKaushik Ganguly, explores alternative sexual orientations and identities across two generations. One is based on the tragic true story of Chapal Bhaduri who plays himself in the larger film as the subject of a documentary being made within the film by a Delhi-based filmmaker. The other is about Abhiroop Sen (Rituparno Ghosh), the filmmaker who is gay and has an ongoing relationship with his cinematographer of the film-within-the-film.
About Sanjoy Nag's Memories in March, Ghosh said, "the film is more about the blurring of the boundaries between the 'insider' and the 'outsider.' It is a kind of challenge posed to the water-tight compartments we place the 'insider' versus 'outsider' in. The minority may be seen as an 'outsider' by the mainstream. But the 'minority' itself considers the mainstream an 'outsider.' We have tried to show that it is possible for the subjectively defined 'insider' and 'outsider' to live in peaceful and harmonious co-existence. It is high time we created spaces for the gay person and his manner of behaviour in mainstream society not only and not always through an amorous relationship. The film shows how a gay person behaves when he does not necessarily have a lover."
No Indian feature film has ever touched upon sex reassignment surgery undergone by a man to become a woman. Chitrangada – The Crowning Wish, written and directed by Ghosh tackles this issue head-on through the eyes of its protagonist Rudra Chatterjee, enacted by Ghosh himself. Rudrajit is a dancer-choreographer who is in the process of choreographing Rabindranath Tagore's dance drama Chitrangada (1898) to celebrate the bard's 150th birth anniversary. He is gay and evolves a relationship with the replacement drummer, Partho, a drug addict. About Chitrangada, Ghosh said, "Directorially Chitrangada is very precious to me, not because I am acting in it. I had set out on a quest for a language in Shob Choritro Kalponik, to bring the unreal into cinema. Chitrangada takes that experiment into the realm of abstraction and unreal."
His last words about Chitrangada were, "This is a changeable world. Nothing is permanent — possessions, love, things we own, even our own bodies. Why then do we cling to things like gender and identity with such fierceness? Why do we turn them into such issues? Chitrangada is Tagore's exploration into the reality of identity. It asks the question — who are we, really?" He left that question hanging in the air for us to find answers to.