Disillusioned with their elected representatives and the current system, the Koyas of Mamidigundi Panchayat in West Godavati district in Andhra Pradesh decided to urge one of their own - a government school teacher and an enthusiastic village development worker, Boragam Srinivas to stand for elections to the Polavaram constituency in the assembly elections this time (in AP, the assembly elections are being held together with the general elections). The women in this Panchayat have been actively canvassing and campaigning for maa abbaayi - 'our boy'.
Srinivas is contesting as a Praja Rajyam Party candidate, having quit teaching to enter politics. Mamidigundi panchayat lost all its land to the Polavaram dam project early last year, and as of now the former residents have only the Resettlement and Rehabilitation (R&R) colony site at Gunjavaram, and are yet to be shown the cultivable fields they are entitled to in lieu of their lost lands. Boragam Rama Rao, sarpanch of this panchayat (whose standing crops were crushed last year under the canal works) says, "We are all vexed with the present situation. We thought, this young man belongs to our community and is from our own midst, he might help us get a better deal."
The most important aspect about their contesting is the fact that tribal people from these villages have asserted themselves and are voicing their dissent through the only process that gives them a voice to be heard. For the first time, Illa Rami Reddi and Kondla Gangaraju saw their faces in Telugu electronic media in these elections. Kondamodalu, otherwise, remained a name that occurred once in a long while in pages of The Hindu or on alternative publications.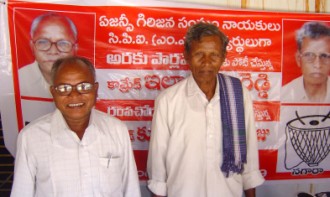 Picture: Illa Rami Reddi (left) and Gangaraju, with the symbols of their election campaign - the drum and the torchlight.
Illa Rami Reddi says, "Parties like the TDP, Congress and PRP are making promises about giving food and accessories, treating citizens as beggars. What does a common person really need but two square meals, a house to live in and land to till. It is to voice this basic concern that I am standing for elections. Our main aim is to highlight the problems of the poor people and girijans who stand to lose their land, homes and livelihoods to vested interests." His campaign is conducted for most part on foot - after all, they are used to traversing vast areas on foot - and autorickshaws and a single jeep.
Boragam Srinivas' extended family lost around 12 acres of land (while he lost around 3 acres of his own). He says "Polavaram project is essential. We are not opposed to it. If PRP comes to power we will ensure that every displaced person gets a house and land compensated duly. I will reach the voice of the tribal people to the government. We will decide the best package based on consensus among people who are losing their lands and homes. We will come up with a package that will be a model for other states."
There are 5 mandals in Polavaram constituency with a total of 166,290 voters, comprising of Polavaram (30,565 voters), Buttaigudem (33,829), Jeelugumilli (17,965), T. Narasapuram (37,374) and Koyyelagudem (46,557). Voters directly affected by submergence to the Polavaram dam come from 26 villages in Polavaram mandal. Indirect displacement (by means of acquiring land for R&R colonies, canal works, etc) will happen in some of these other mandals as well.
Dam politics
In the past, representatives from this constituency have included the sitting Congress MLA Tellam Balaraju, and a two-time TDP MLA Punem Singanna Dora, both Koyas. While the former has no ties with the villages to the submerged by the Polavaram dam and was brought up and educated in the important town Jangareddygudem, the latter definitely belongs to one of the Polavaram-submerged villages, Kundrakota. However, his sympathies appear to be with his party, rather than the people here. Moreover, TDP has little to offer different from the Congress so far as the Polavaram dam project is concerned.
Neither Balaraju, nor Singanna Dora were seen closely interacting with people or monitoring the situation in 2006 when the Godavari rose in spate. Punem Singanna Dora did make a whirlwind one-day tour along with Chandrababu Naidu to some of the affected villages - it was on the day I was visiting too and most official vehicles had been pressed into service to cater to the VIP visit. The most common grievance of people I had met then was the absence of the current and former MLAs from the scene altogether.
Most mainstream candidates do not express any concern with displacement issues.


• Not just a place to live
• Repeating a dammed history

Incidentally, Singanna Dora's brother-in-law runs an NGO in Polavaram which exists only in name, or, let me put it this way - its work exists in paper. With support from some well-funded and known NGOs in Hyderabad and Vishakhapatnam, this organisation, which claims to work for 'community development', when last seen (a few days before polling on 16 April), was helping the brother-in-law in his road shows. Interestingly enough, just two years ago, in the heat of the anti-Polavaram campaign, this particular NGO's convenor, Anil Kumar (the former MLA's brother-in- law) used to present himself as the most active anti-dam campaigner in the Polavaram region. He found himself arrested along with other activists in the area.
It is a different matter that in the entire length and breadth of the submerged villages, this man was never seen campaigning against the dam, even in times when CPM cadres - and the radical revolutionary Agency Girijan Sangham - would go about their work. The former MLA (Singanna Dora, who might just return to his position this time) got him released (while many other Koyas were slapped with charges of 'sedition' and continue to fight their cases). He promised to help the officials in dealing with the land acquisition programme for the project. However, it is the 'arrest' that is claimed at appropriate forums for political correctness. As it helps today in the campaign. Even if his stand is to build Polavaram dam and bring a 'better R&R package' for tribals.
It is also interesting that Singanna Dora initiated and headed the R&R negotiation Committee of his Panchayat to liaise with the government officials acquiring land for the project. Part of the deal was also to convince the villagers who had until then been opposed to the dam, to sign in favour of the dam and get their R&R compensation ('local legend' has it that this committee, wherever it has been set up, gets its own commission for every land acquired by the government).
Singanna Dora's close aide Kuncha Venkatratnam, a rich Kapu landlord of Pydipaka had sold off some 125 acres of land he owned here for the Polavaram project. Dalits of Pydipaka were a distressed lot when I met them last year, as they had no fields to work in (starting with Venkatratnam, all Kapus sold their lands) nor did they figure in the NREG records as their lands were all 'acquired' (for the dam). In 2006 I had met Kuncha Varalakshmi, an SC herself, married to Venkatratnam, who is Mandal Parishad Territorial Constituency member of Pydipaka. The dalits of this Panchayat had great hopes that she would represent their cause, but she followed her husband to Polavaram once he became the richest man of Pydipaka (with compensation for an acre being Rs.80,000 to 140,000) and has never been seen in Pydipaka since. Of course, Venkatratnam on his own says he 'lost' 26 acres to the project. His becoming a crorepati is legend in Polavaram and surrounding areas.
Picture: Scheduled caste agricultural workers of Pydipaka lost their livelihoods when Kuncha Venkatratnam sold his 125 acres.
Contractor money has been pumped into the election campaigns. The sitting Congress MP of Eluru (K Sambasiva Rao) incidentally owns Progressive Constructions, a company that has managed a large contract for building the right canal of Polavaram dam. It was a sight to see construction workers from this company(who hail from Madhya Pradesh) attending the Congress meeting at Koyyelagudem (West Godavari) on 13 April. They were given a day-off, and Congress caps to cheer the Congress CM as he spoke.
At the other end of the spectrum, Illa Rami Reddy has become the first Kondareddi to contest a Lok Sabha seat from the Araku Parliamentary constituency (Vizag district). He was former sarpanch of Kondamodalu gram panchayat, a virtual 'spoke-in-the-wheel' for the Polavaram dam project since the year 2005. Along with him was another contestant Kondla Gangaraju from the Rampachodavaram Assembly constituency (West Godavari). These areas went to the polls on 16 April. Both these contestants have had a long history of participation in tribal agrarian movement under the banner of the Girijan Sangham and the Rythu Coolie Sangham. In these elections they contested as independent candidates but with support from the CPI (ML) and Republican Party of India.
Let down by mainstream politics
Punem Singanna Dora, the TDP candidate has already served as MLA under the previous Naidu regime. In terms of local respect and credibility he does not fare too well. TDP laid the foundation for Polavaram dam, which the party has advertised several times. So there is no question of opposing the dam. In fact Singanna Dora goes one step further when he says "We (at TDP) want to give Polavaram dam recognition as a National project. In our R&R package we will give land to every tribal person, as well as employment protection, and we will also include minority communities in the R&R package. I was the one who set up R&R (package negotiation) committees in this area because we believed in the government's assurances and promises. All turned out to be false."
Singanna Dora says he and his extended family lost around 26 acres to the project. But the RDO Jangareddygudem informs that Kundrakota is yet to be given compensation, and that Singanna Dora and his family held only 12 acres of land. The true figure is debatable. This village will be compensated in the second phase of land acquisition. Around 1000 acres have been identified for acquisition in Kundrakota.
Sitting Congress MLA and contestant Tellam Balraju, also a Koya, did not have lands in these parts to lose. He did not visit a single village in connection with the Polavaram dam project during the planning or implementation stage, and this is yet another grouse.
At a public meeting in Koyyelagudem he claimed the Congress government had spent 70 crores in Agency Areas (though one wonders where, and on what). He says "We have acquired 4000 acres of land already for the project; the girijans are very happy with the project and are in fact asking us when we will shift them out of those villages; they are very happy with the package we have given." However, he did not know the number of submerged villages - first saying 26 and then 28 when prompted by an assistant.
Little wonder, then, that the people in affected villages have decided they must contest the elections themselves, to be heard.