Pink has been declared the mega-hit of the year. It is an incredibly bold political statement that makes us all sit up, pull up our socks and begin questioning ourselves about how to deal with the negative monosyllable "no" when the person saying it is a female, which differs dramatically when it is a male who is asserting his identity with "no."
"No does not leave any space for 'buts'," says the defence lawyer Deepak Sehgal in Pink within the public space of a courtroom. When it is Amitabh Bachchan disguised as Sehgal making that statement, there is little scope of questioning it.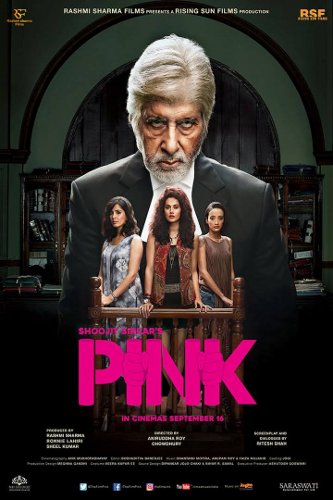 Poster of the movie, Pink. Pic: Avishek Mitra
Few are aware that Anne of Cleves who Henry VIII chose for his fourth wife pushed him away when she came to England to marry him and he visited her in disguise and kissed her. She showed her disgust. In his response, he insisted that she was ugly, she smelt, he could not consummate his marriage with her and finally had their marriage annulled.
There is more to this story. Archbishop Thomas Cranmer, who had arranged the marriage of Henry VIII with Anne of Cleves was officially beheaded soon after on charge of treason; but as rumour had it then, he was the scapegoat for having arranged this doomed marriage.
Anne of Cleves was Queen of England from January 6, 1540 to July 9, 1540 as the fourth wife of King Henry VIII. But she was never crowned queen consort because the King declared that the marriage was never consummated and it was annulled. All because she had reacted negatively to his advances, which strongly suggests "no, you are not allowed to do that."
Story of single women
Pink is the story of three young working women living together in Delhi and how they fall victim again and again all because one of the girls, Meenal Arora, repeatedly says "no' to the physical advances made to her by a young, London School of Economics Graduate Rajveer.
Meenal is charged with causing grievous injury not amounting to murder and all three are charged with soliciting, extortion and prostitution. "Raped" and "molested" all over again in the courtroom by both the prosecution lawyer and the defence attorney, they insist that their "no" means "no" and must be accepted as "no."
The three young women wear clothes they chose to wear, they smoke and they drink and exchange dirty jokes and at least two of them, Meenal and Falak are not virgins. Andrea wears shorts and bikes around with a boy. But she is from Meghalaya which casts a shadow on her character structurally, due to a fictitious ethnic bias. Falak had an affair with a man old enough to be her father who is on the brink of divorce. She happened to take a loan from him for the medical expenses of her handicapped brother in Lucknow.
These were the grounds on which they were considered to be of "questionable character" by their own defence attorney, Sehgal. Though he uses this strategy to showcase how easily women who are the real victims are turned into criminals.
In desperate attempt to make his point, Sehgal uses brutal verbal assault on the women who were already assaulted several times over – by the neighbourhood, by the police, by society and by the young men involved in the entire act including Ankit, a friend of Rajveer who was not even present at the scene. Why?
The close bonding the three women share comes across sharply throughout the film though they have different approaches to life, belong to different parts of the country and belong to three different communal groups. They try to laugh out their worries wishing that the problem will fade away but doesn't. They use the space of their bathroom to let off steam, to cry, to stand under the shower fully clothed to get the 'dirt' out. "Home is who you share it with" and small verbal vignettes written out in chalk on small boards are scattered across the apartment that bears testimony to their bonding.
"The emotional and physical strength that they drew from each other was palpable. Their friendship was like an elastic band. Female friendship as this film puts across is an impressive form of kinship and something that should be celebrated more often," says Emma George Anderson a student of Leeds University who is interning with a daily in Kolkata.
The mentality of men
By contrast, the young men do not share any bonding at all.
The opening scenes of the film after the act clearly shows that the three other young men are chamchas of Rajveer who orders them with a rude wave of his hand or a raised eyebrow of the eye that is unhurt. He gestures to them to take the calls that come on his cell phone and they are ready to act at his bidding. At every step, under the guise of solidarity, all the three young men are trying to curry favour to remain in the good books of Rajveer who is not only affluent but also has political backing because his uncle is a politician with a lot of clout. In fact, they are not even friends!
What about the other men? The prosecution attorney is convinced that all the three women are of questionable morals who went out with three young men they hardly knew, drank with them and even exchanged dirty jokes with them. But he is just a microcosm of all men in society.
Meenal's father sits quietly in court but later asks her friends to send her home because he probably believes that his daughter is in the wrong. The lady inspector is as brutal and biased as her male colleagues are.
The landlord who has rented out his apartment to the three women stands his ground, refusing to throw them out despite threats over the phone and despite being physically attacked on the road. One wonders why, then, was he not called upon as a defence witness for the girls by Sehgal.
Sehgal is the strangest mystery figure who appears like the genie from Aladdin's magic lamp to help the girls, who find out in a Google search that he was forced to give up his legal practice because of his bipolar disorder, which is quite understated in the film. He is more like magic who appears suddenly, does his act and then goes away, just like that.
The grim reality
On September 20, soon after Pink was released, newspapers reported that Karuna, a 22-year-old school teacher died after a man, whose marriage proposal she rejected, stabbed her more than 20 times on a busy road in Burari in north Delhi the day before, the latest in a string of stalker-related crimes in the city.
The Police said that the assailant, Surender Singh claimed to be in love with Karuna for more than a year and had given marriage proposals several times, but was turned down. The rejections enraged Singh, who began to stalk and even threatened to kill her.
What is rejection? "No" that can be expressed in many ways through a simple shake of the head, a negative and indifferent shrug of the shoulders, a look of dismissal, a raising of the brow, and many other ways. But a man refuses to hear or understand or acknowledge "no" from a woman because he considers it to be a mark on his manliness or a symptom of his lack of it.
Chayanika Hazra writes: "Pink shows that even after 69 years of independence, the mentality of men has not changed. Some men still consider an educated, liberated and independent woman "available' and "easy." Each girl has a Meenal, a Falak and an Andrea inside her. When a woman says NO it means NO. Period."
Facts however, prove otherwise. In September 2003, Mumbai-based Hansa Patel had acid thrown on her face by an electrician who wanted to marry her. No one knows where or how she is today. In May 2004, Sanjeev, a 37-year-old married man threw acid on the face of Jacqueline Asha, a 27-year-old married beautician in Cholanayakanahalli in Hebbal police limits in Bangalore. The victim had spurned the sexual advances of the man.
In 2003, in Hoysalalu village in Chikamagalur district, a young shopkeeper threw acid on Malini, who he was in 'love' with. Noorjahan, a mother of three, was soaked in acid for refusing the advances of a chemical factory owner's son. These women were 'punished' because they said "no" to the men who were harassing them and making their lives miserable. 16-year-old girl Laxmi was almost bathed in acid in May 2004 by 27-year-old Guddu because he was angered by her refusal to marry him.
Making a point
Pink shows that even when a woman is answering a question with a "no" as proof of her honesty on the one hand and courage on the other, she is scarred with a negative character certificate by everyone around. For example, Sehgal asks Meenal whether she is a virgin or not and she says "no" first in a whisper because she is aware of the response and is then asked to say it louder and a moral judgement on her character is established without question.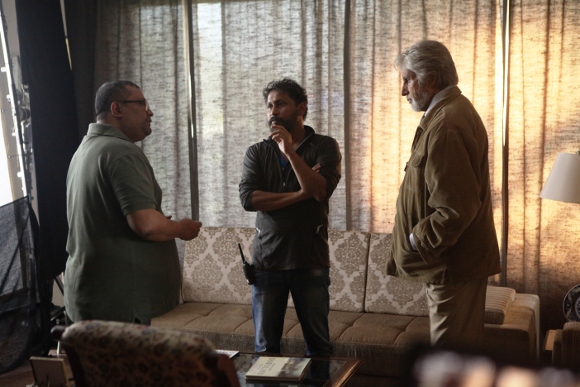 "Why is it always a girl or a woman asked whether she is a virgin or not? Why is a man never asked the same question?" asked Amitabh Bachchan at a press conference recently.
A man losing his virginity is proof of his manliness while a woman's loss of virginity places a social stigma on that woman. If she says "no" to a man who may be a stranger or a husband or a friend or a fiancé or even a brother, for any reason, she is punished, penalised, brutalised, raped, molested, stalked depending on who she said this "no" to. Silent surrender is the social conditioning drilled into a girl the minute she begins to speak.
Pink makes several points. It keeps the actual scene of molestation and the attack on Rajveer completely off track and shows it in sliding stills after the film is over and the credits begin to roll.
Pink keeps the television microphones silent as the news anchors talk about the case in front of the court premises, emphasising that media coverage can sensationalise and titillate much more than it can empathise with the women.
Pink points out the legal rules most of us are not aware of such as, the zero FIR that can be lodged at any police station across the country irrespective of where the offence has taken place. The other is the law that prevents any woman or child to be taken into custody on a Friday evening and that even in case of a non-bailable offence, girls and women cannot be taken captive on a Friday.
In her brilliant paper The Power of No, (Psychology Today, November 5, 2013) Judith Sills, Ph.D. writes: "The No that is an affirmation of self implicitly acknowledges personal responsibility. It says that while each of us interacts with others, and loves, respects, and values those relationships, we do not and cannot allow ourselves always to be influenced by them. The strength we draw from saying No is that it underscores this hard truth of maturity: The buck stops here. No is both the tool and the barrier by which we establish and maintain the distinct perimeter of the self."
Says Monalisa Chaudhuri, a journalist, "Say NO. No one has the right to tease you or sexually harass you. No one has the right to make you uncomfortable whether you are at home or on the streets , whether in school, college or a social gathering. No one has the right to beat you, torture you physically or mentally, or use force on you in any way. No matter what your relationship is with this person."
While quoting from a newspaper editorial, Mr. Bachchan has the last word. "A woman's body is not a democracy. It is a dictatorship and it is time she took control of her body herself and dictates the terms of its use."