Prakashbhai Mohadikar is a 91-year-old volunteer steering the movement to screen a film - P K Atre's Shyamchi Aai, made in 1953 based on Sane Guruji's book - across towns, villages and cities of Maharasthra. He and many other volunteers of all ages came forward to show the film widely in schools on Mother's Day and thereafter, talking to principals and convincing them about the need to show the film to their pupils. The volunteers use the film as education, information and entertainment, hoping to instil positive values in children.
Mohadikar becomes a teenager when he gets on stage to narrate the Shyamchi Aai story as an orator. Once a freedom fighter having worked closely with Sane Guruji 60 years ago, he is an heir to the great man's vision. "Spreading the message of love, brotherhood and equality that Sane Guruji embodied is my life's mission," says Mohadikar, who has single-handedly sold more than 200,000 copies of Sane Guruji's book on which the film is based.
This month, Mohadikar has been holding talks across schools and other public forums in many of the 34 districts of Maharashtra. Following each screening, there is a question-and-answer session and there is a brief intro to the film before screening begins. Students are asked to work on projects revolving around Shyamchi Aai and Sane Guruji, things they are quite enthusiastic about.
Datta Puranik from Pune, a retired schoolteacher, now 85, forgoes meals unless he has sold at least one subsidised copy of the book or the film each day. This has happened only thrice in all these years. "After retiring, I have devoted my life to spreading the message of Shyamchi Aai," he says. He has sold more than 40,000 copies of book and more than 10,000 copies of films in VCD and DVD formats over the last several years. He breathes, eats and sleeps Shyamchi Aai. This month, beginning with Mother's Day, Puranik too has been addressing story-telling sessions at public gatherings in and around Pune and Satara.
And it is not just Maharashtra where this story of a mother's unconditional love for her child has found an audience. Telugu newspaper Andhra Jyoti held screenings of the film with English subtitles in various cities of Andhra Pradesh. Poonam Singh, editor, Prit Lihari, a Punjabi magazine, screened the film on Mother's Day in a Punjab village near the India-Pakistan border.
Subhash Chheda, who bought the rights to the film in 2003 and triggered this on-going campaign says, "We feel honoured to bring this educational film to the people of the country in the form of economical and accessible VCDs at affordable cost." "We aim to take this truly educational film and its message to the huge student population of the over one lakh educational institutions in Maharashtra including schools, junior and degree colleges, professional colleges and universities, etc." Chheda adds. "We have kept a minimum gate money of Rs.5 and Rs.10 so that it does not hurt their pockets and at the same time, makes them take the film seriously," he says.
Thanks to such tireless promotion, Shyamchi Aai has had 50,000 screenings across 15,000 schools over the past seven years. Atre was a much respected scholar in theatre, film and literature. The film was the first Indian film to win the President's Gold Medal ? a precursor to the National Film Awards - in 1954. Its sweet story of the relationship of a mother and her second son, Shyam was popular immediately, and its message has endured to this day. Chheda reports how after a screening in November 2006 at St. Joseph's School, Kandivali, Mumbai, 1200 students made a solemn promise to love and respect their mothers.
A mother's love
Shyamchi Aai is a fictionalised account of the childhood years of Pandurang Sadashiv Sane, better known as Sane Guruji (1899 - 1950) narrated in a long flashback. A nationalist, influenced by Vinoba Bhave and Gandhiji, he was imprisoned repeatedly for his work among the peasantry and participation in the Quit India movement. Shyamchi Aai, written in jail, has 45 episodes in which Shyam, a young man living in poverty in Konkan, recalls the teachings of his mother, a devoutly religious person with an earthy and practical philosophy. It is a literary classic in Marathi, written in five days while he was detained in jail. Several generations of Maharashtrians have grown up with this book and the landmark film based on it.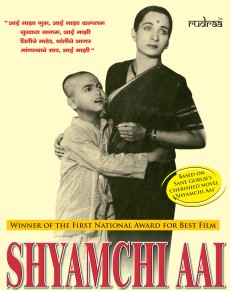 Once, when his friends taunt Shyam because of the straw-thatched hut they live in, he says, "we may be poor but we are rich in heart." His mother asks him who taught him such beautiful thoughts. "It was you, mother," he says.

Sane Guruji's childhood and his interactions with his mother Yashodabai are filled with myriad images of values imparted through discipline, reward and punishment. Shyam, who is afraid of water, is thrust into the pond along with his brothers to make him learn to swim much against his will. Later in the film, he tells his mother how swimming helped him come home on a stormy night across flooded waters. In another scene, Shyam steals one rupee from his uncle's shirt pocket. When his mother is humiliated by the uncle and his wife, Shyam confesses that he has indeed stolen the money. His mother beats him up, and then forces him to promise God that he will never do the same again.
Once, when his friends taunt him because of the straw-thatched hut they live in, he says, "we may be poor but we are rich in heart." His mother asks him who taught him such beautiful thoughts. "It was you, mother," says Shyam and hides his face in his mother's sari. Shyam is a normal, naughty boy full of mischief and playfulness. But his parents' teachings instill in him strong feelings for the country. He idolises Bal Gangadhar Tilak who is imprisoned for four years during the time of the film. There is a scene where, while as the family eats lunch, Shyam's mother asks how the food tastes. Her husband says, "Very good" and Shyam echoes his father's comment. Later, when Yashodabai tastes the dish herself, she finds she has forgotten to add salt. She feels guilty and surprised at the same time. This is a pointer to the feelings of solidarity within a family driven to the edges of poverty.
Atre brought the story to life on screen with Madhav Vaze as Shyam and Vanamala in the title role as Shyam's mother. Madhav charms everyone with his sparkling performance expressing the range of emotions with the openness a child is prone to. Vanamala as the mother is a picture of dignity, a woman of her time who values the husband much above anything else in life. The film transports us to a world where all problems in life are faced with a positive attitude and a deep faith in God. It is an embodiment of Sane Guruji's teachings of love and respect for one another as human beings, and a gentle reminder of a mother's love and family values.
Vasant Desai's music is a strong point of the film. The songs are like magic for children as seen from their reactions during screening. They begin to sing along with Shyam as he mimics his teacher, in the song Chhadi Laage Cham Cham sung by Hridaynath Mangeshkar, who was a boy at the time. There is naïve innocence about the characters. Asha Bhonsale's heartfelt rendering of Barjari Ga Pitambari with its lyrics expounding unconditional love still has the power to hold listeners spellbound. The film is filled with one song too many, perhaps, but on the whole they take the film forward by extolling the virtues of friendship and love.
The President's Gold Medal is not the reason for the film's contemporary relevance. It is memorable for the positive feedback it elicits from students who watch it today, many decades after it was made. Children of primary schools are made to watch the film along with their mothers. Nostalgic old men who have seen the film many years ago are buying DVD copies to show it to their grandchildren. Young men, who have seen the film when they were children, want their children to watch the film. People are responding to it with new vigour.
Perhaps some of its allure is the result of what India has become in the time since the film was produced. The masala on our screens now is violent, cynical and derives its 'value' from sensationalising content, and stressing the differences between people of different backgrounds. Against this constant barrage, Shyamchi Aai is a standout with a universal worldview - it takes today's children into a world where love sustains within poverty, humiliation, betrayal and oppression. It upholds motherhood through the character of Shyam's mother after who the film is titled. It stresses the importance of honesty, integrity and unity - values that seem from a bygone era.