Paromita Vohra is a filmmaker, writer and media activist whose work is touched with humour and satire. She chooses to focus constantly on gender, urban life and popular media. Her first film Annapoorna - Goddess of Food (1995) was about a women's organisation of food workers. In Cosmopolis - Two Tales of a City, the Goddess of Food and the Goddess of Wealth battle each other for primacy in the city of Mumbai. Other films she has made are Q2P (2006), Where's Sandra? (2005), Unlimited Girls (2001) and A Short Film About Time (1999) She also coordinates a project called A Woman's Place, a collective of women from different countries using media to bring about social change.
Her latest film, Morality TV Aur Loving Jehad - A Thrilling Tale, is a 26-minute documentary. It is about television news and its unwitting victims who are the subjects of sensationalist headlines.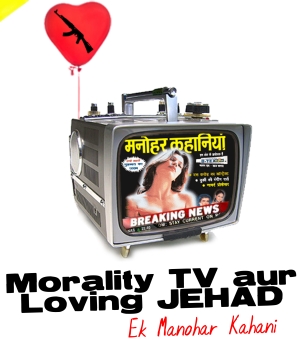 In the winter of 2005 Indians switched on their TV sets to watch a shocking 'breaking news' story. In the town of Meerut, police officers, mostly women, pounced upon unsuspecting lovers in Gandhi Bagh, a public park and began to beat them up. They took along with them photographers and news cameramen. The operation was tellingly named Operation Majnu. The television photographers and news operators had been promised an exclusive sting operation by the local police.
The police taking upon itself the task of moral policing is not uncommon. But for television news channels to break into the same park at the same time to capture the events live, is questionable. It is this manufacture of 'news' that draws the anger of Vohra. As the film begins, the voice-over says that people who once began the day with bowing to the Sun God now worship the new global God - the television screen. How much of what the news channels offer through this God is factual news, and how much of it has been concocted by the media itself? This is the question that motivates the film.
As the episode unfolds, the camera closes in on the scramble in Gandhi Bagh as journalists, camera persons and other staff from different news channels fight with each other for bytes to get the 'breaking news' first. It shows women, their dupattas pulled over their faces, cry out to the news cameramen not to take their pictures. "Please, photo mat khichiyega," they cry out.
Anshu and Bittu, two lovers caught on camera, eloped after they were shown across television channels on Operation Majnu. But when the noise died down, the young boy and girl came back and the respective families felt getting them married would silence the gossip mills.
More than moral policing
A year after the incident, Vohra went back to Meerut to get direct quotes from the local people on the reality of this news story. Nitin Sabrangi, a writer in Satyakatha, a true-crime-story magazine that sells very well in Meerut, says, "The new generation police have a strange psyche. That is why they took the media along (meaning television channels) to 'publicise' their good work. The whole thing was planned so that news channels could get exciting footage." But things took a different turn. The media got its scoop but it backfired on the police.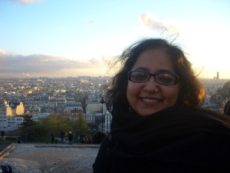 "I think people's support for these films is imperative. People must watch these films, ask TV channels to show them, buy copies from distributors: all so we can have more funding from within India and make films in a language that is specific to our context and hence meaningful to our audiences," Vohra sums up.

No one knows who gave the name Operation Majnu to this attack on innocent young men and women at Gandhi Bag in Meerut by the police, led by a woman named Mamta Gautam who beat up the girls and young women for 'indecent' behaviour in public. One of the victims, Priyanka, who was beaten up for resting with her brother at Gandhi Bagh that day, suggests there was an ulterior motive. Priyanka had earlier gone to lodge an FIR against dowry demands by her in-laws, but the policewoman at the station (Mamata Gautam) demanded Rs.10,000 and threatened her that if she did not pay up, she would "teach you the lesson of your life."
"For me, Morality TV aur Loving Jehad: Ek Manohar Kahani became a film that responded not just to the practice of television around me, but to my ongoing concerns about the language of the political film," Vohra elaborates. "From Tehelka to India TV's Shakti Kapoor story, the sting operation has become the accepted language of television news. When I saw the Operation Majnu story I felt as if this language had come to a culminating moment - one that justifies violence in the name of righteous indignation. I also wondered how, in this atmosphere of heavy moralising, whether political or personal, a young person is to find a true, meaningful, relevant articulation of personal relationships and its intimate journey in the world.
The film does more than raise questions about the police censorship and attack on the freedom of choice of young individuals in love, whose actions do not breach public deceny in any way. Morality TV is also a powerful indictment on the media's approach to news bytes that are more titillating and sensational than factual and objective, with one eye on their TRPs and advertising revenue.
One television journalist says, "For two days, I kept trying to explain to my channel that this story was a set-up, that the media was hand-in-glove with the cops. I told them that the police wanted some cheap publicity and the media wanted some spicy news." But no one listened to him.
Production and narrative
The film has been produced by the Public Service Broadcasting Trust Delhi. "They were supportive in their response. Working with them was a very good experience. Though budgets are small, the creative freedom is greater than with most funding organisations. I am happy with the film principally because it is being screened widely by media schools and among different kinds of audience. I feel I was able to use an idiomatic and complex style with the help of an excellent crew, be it my cinematographer Mukul Kishore, editor Sankalp Meshram or music composer Chirantan Bhatt. This helped me make the film contemporary, Indian, individual and hence meaningful to audiences,"  says Vohra.
The film's narrative is anchored to the fictitious love story of the young and beautiful Meenu, who sets out for work every morning. Before setting out, she goes to meet her boyfriend on the sly. Her story, which recurs through the film, was quite unnecessary - it does not really connect to the main subject, namely, the police drawing publicity through a hand-in-glove operation with television news channels.