When sound entered the world of cinema, mime made a gracious exit. Until then, it stood proudly as a performing art in itself, independent and unique in style, approach, treatment and performance not matched however, by popular acceptance. During the silent era, actors in silent films had to rely totally on mime as the only way of expressing their emotions, expressions, incidents, events and interactions between and among characters. German Expressionist cinema, the acting of classic performers like Charlie Chaplin, Harold Lloyd and Buster Keaton used mime they had learnt as part of their theatrical experience in their films with great effect.
French mime artist the late Marcel Marceaux once said, "Mime is the poetry of silence." But once talking films entered the scenario, mime was hardly ever used in films, even through a character introduced as a mime artist. The late Shyamanand Jalan, a noted theatre personality based in Kolkata, is perhaps the only man to have used mime within a feature film he directed. A short film called Khilonewalla starring Indian mime artist Irshad Parjatan was made many years ago.
Eashwar Mime Co. is about a man called Eashwar (Ashish Vidyarthi) who runs and owns a mime performance company he has named after himself. A chance encounter with an aspiring writer Chitrarth Roy (Pawan Malhotra) outside a roadside bookshop makes Eashwar hire Roy to write the scripts and voice-over of his mime shows that are used not as performance but to advertise and sell vitamin pills to an invited audience in villages and small towns. Chitrarth becomes the narrator of the story from his point of view, an observer of the strange relationship that sustains between Eashwar and his employees and a character within the larger film.
Eashwar takes his own name - a reference to God - too seriously while treating the ten mime performers of his group. He lives in expensive hotels and hogs chicken and fruit between endless bottles of liquor. He keeps his artists in conditions bordering on slavery. His explanation is that he is saving their lives and is helping to promote their 'art' by 'allowing them to practice and perform' under his banner.
Chitrath tries to be a spokesperson for the mime artists but they do not trust him. He hates the devilish behaviour and attitude of Eashwar who uses coarse language in his normal speech underscored with a thick South Indian accent, abuses and beats up his mime artists left, right and centre, starves them of food, and sexually oppresses the women. His body language is terrible and the way he hogs his food would embarrass a famine victim. Yet, he bends backwards to please a village panch when his show is threatened by the village elders.
The mime artists communicate only with their silence, their eyes doing the rest of their talking whether they are rehearsing, performing, communicating among themselves or responding to Eashwar or Chitrarth. The show put together is sub-standard and does not follow the rules of traditional mime. A percussionist opens the show while Chitrarth gives the voice-over to the artists. Their make-up and costume are not in keeping with mime because their faces are painted in every kind of primary colour with dots, scratches, and words painted on their cheeks, foreheads and so on. Their costumes are an apology for mime and a statement of their status quo. If this is be explained as experimentation, the target gives the show away - selling vitamin pills to a gullible audience.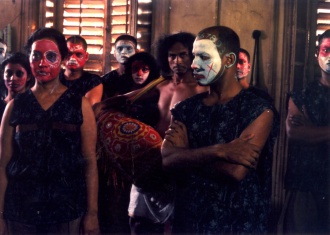 Once talking films entered the scenario, mime was hardly ever used, even through a character introduced as a mime artist.


• A ray of dancing light

Chitrath stands as the passive observer between these two distinct worlds, the world of the dictatorial voice of Eashwar and the world of collective silence created and sustained by the mime performers. But sucked into the hypnosis that Eashwar exudes, he is trapped as an onlooker who becomes an accessory to the inhuman brutality that Eashwar defines. The mime performers use their silence as an expression of hate, rebellion and revolt when one of them, Krishna, who had run away during a show, is caught, brought back, beaten and battered to death by Eashwar in front of the other mime artists and Chitrarth.
The coarsely coloured and designed bus, an example of kitsch the film appears to revel in, the vehicle Eashwar uses to journey from town to town, parked in the darkly lit compound of a village where they have come to perform, becomes the only route of escape for Eashwar when he is attacked by the explosive silence of his 'slaves.' Does he escape? The performers do not allow him to. The closing scene shows Chitrarth outside the same street side bookshop, his dream of becoming a writer having been fulfilled with his writing of the story of Eashwar whose body was never found. The film remains silent about what happened to the ten mime performers.
Though Anant Nag was the original choice to play Eashwar, the choice finally fell on Ashish Vidyarthi. It has been an apt choice; Ashish makes us hate him through the film. Pawan as Chitrarth tempers his character with the right dose of softness, cowardice and escapism it demands. But the credit goes to the brilliant performance of the entire mime team drawn from different theatre groups of Kolkata who underwent workshop training before shooting began in and around real locations in Kolkata. Their silence is more shocking, electrifying and frightening than the loud and coarse vocabulary of Eashwar and the passive complicity of Chitrarth.
Mayook Bhowmik's background score is filled with the rhythms that silence demands while Sudeep Chatterjee's dark cinematography generously sprinkled with yellows, ambers, browns and black enrich the dark and depressing mood of the film. Rabiranjan Maitra's sound design and editing are very good too.
Eashwar Mime Co. obtained a censor certificate in 2004. A co-production of NFDC and Xanthus Productions Pvt. Ltd., a company floated by Shyamand Jalan's daughter Mallika, was screened at three international film festivals . The Festival of 3 Continents in Nantes, France, the Durban International Film Festival and the Kolkata International Film Festival in 2004 and 2005 respectively. NFDC shelled out only Rs.15.68 lakh of the Rs.24 lakh it had originally sanctioned in the 1990s. It did not enhance the funding when filming was delayed by several years. It did not help either in promoting and marketing the film or in distributing and exhibiting it in India and abroad.
Mallika Jalan hunted around for external funding and the film was finally completed and screened at film festivals but has never been released till date for a ticketed public audience in the theatres. A film that got a standing ovation in Nantes, France, following the screening, remains unseen by the Indian audience six years after it got its censor certificate. Why this silence on the part of NFDC? Has the collective silence of the mime performers rubbed off onto the NFDC powers-that-be too? Xanthus Productions Pvt. Ltd, the co-producer, has also failed to sell, market or distribute the film.
Eashwar Mime Co. is the only film Jalan, who passed away in May this year, ever made. He also wrote the screenplay and the dialogue. Based on a Bengali short story called Mukabhinay, it is authored by Sahitya Akademi award-winning author Dibyendu Palit. The film's script was penned by the late Vijay Tendulkar while noted painter Rameshwar Broota designed the film and painted the faces of the ten mime artists who played the most important role in the film.
The film is a powerful presentation of the opposition that sustains between an individual's voice and collective silence and how this opposition, when allowed to snowball into a conflict between the powerful and the weak, between a dictator and his subjects, can topple the balance of this power and reverse the status quo completely till the once-powerful is wiped out by the oppressed group who assumes power, simply with silence as the principal weapon of rebellion.
Mime in this film, goes much beyond 'poetry' of silence. It is a weapon of attack, a language of revolt and a means to avenge through killing. It is at the same time a performing art, a means to earn one.s daily bread and an expression of human interaction in real life. For the director, it is his way of extending the parameters of cinema by using a completely different art form within the language of film to strengthen and enrich it and to narrate a bizarre story by investing it with the power of silence.