Should the strategies of at-work commandos trying to save hundreds of people trapped in a building during a terrorist attack be discussed or aired publicly? Common sense would say no, but this did not stop television channels from desperately trying to beat each other at providing a ball-to-ball account of events during the recent terror attacks on targets in Mumbai. The terrorists who mercilessly killed their hostages must have laughed at the dramatisation of their heinous acts, which received unvarnished coverage in the media. The Navy chief remarked that the Indian media had in the process become a disabler and not an enabler.
Even the Chief Justice of India, K G Balakrishnan asked the media to be more responsible and not end up being a hurdle to operations by security forces. Terrorists may have used the coverage to their advantage, he felt. Balakrishnan's colleague in the court, R V Raveendran remarked that in no other country would the media be permitted live coverage of such a terror strike.
As investigations into the terror strike are underway, it has emerged that the handlers in Pakistan knew what was happening outside the Taj Mahal hotel by watching television, and were then barking orders to the terrorists. In one instance, the Pakistani handler told the terrorist over satellite phone that he should throw some grenades at the Navy and police teams stationed outside. Security experts also feel that the Nariman House operation was compromised as television channels showed live shots of commandoes being airdropped on to its roof.
In a survey of 9906 viewers, Newswatch received interesting responses, as 74 per cent felt of those surveyed felt that the reportage was theatrical. As many as 73 per cent thought the TV channels were goading the Indian government to go to war with Pakistan. The viewers also found DD News to be the least sensational of the lot, rare plus for the much-maligned government-controlled media establishment.
The blogosphere too was full of angry comments. There are over three crore options that you can look at on the internet if you search Google for media coverage of the Mumbai attack. Viewers wondered if journalists were reporting the news, or simply working hard at promoting themselves and/or their channels. Film director and producer Mahesh Bhatt said that the only time he did not watch television during the terror strike in Mumbai was when he was catching a few hours of sleep. All through he was disappointed with the coverage, as it did not give him a meaningful perspective. He called for some restraint to be used in such situations, lest the two nuclear nations be cheer-led into war.
Self-regulation and the public interest
As demands for censorship or control on the media rose, journalists spoke of the need to impose some self-regulation. The News Broadcasters Association, an apex body of news and current affairs channels has issued a set of guidelines. It has now prohibited television channels from providing information or live coverage on security operations during terror strikes that would give publicity to terrorists or hamper security operations in any way. They would avoid live reportage that would glamorise terrorists or give details of rescue operations and hostage situations. But these are just advisories.
The information and broadcasting ministry has got the law ministry?s okay for a draft notification amending the Cable Television Network Rules 1994. After feedback from other ministries, it will be notified. It proposes to forbid telecast of live coverage of war, violent law and order situations or operations where security forces have to overcome terrorists or hostile groups. There will be an authorized officer who may okay delayed transmission if appropriate. Transmission will not be allowed of identity, number and status of hostages, number of security personnel or the methods they employ to tackle terror. Operational details will also not be aired unless it is disclosed by an officer authorized to do so. Live interviews of victims, criminals or even security personnel who are involved in the operation will not be allowed.
If these rules become operational, it will take the wind out of the sails of the News Broadcasters Association who were talking of self-regulation. In another clause, the government has ensured that close ups and extended images of blood, gore, dismembered limbs, bodies or seriously wounded victims will not be shown. Though there is wide public condemnation of the way media has not been able to self-regulate and has sensationalized crime, it is also a matter of great concern if the government uses these new regulations to stop all kinds of live coverage and sculpt coverage the way it wants it.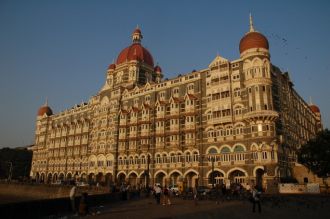 The guidelines prepared by former Chief Justice, J S Verma, advised against live contact with victims, terrorists or security personnel during the attack. Verma said that the guiding factor on news related to armed conflicts and communal violence should be public interest. Unnecessary repeated broadcast of archival footage that may tend to agitate the viewers should be avoided. Archival footage, if shown should have a slug that says, "file" so that viewers know that it is not current happening footage. Mercifully, the guidelines also say that the dead should be treated with dignity and their visuals should not be shown. Special care should be taken in the broadcast of any distressing visuals and graphics showing grief and emotional scenes of victims and relatives, which could cause distress to children and families.
However, the guidelines also leave much to interpretation. One guideline says that news should be "tested on the touchstone of Public interest," while another says that the media has the responsibility to disseminate information that is factually accurate and objective. Media houses eager to cash in on news in the most sensational manner will love to see it so vague. Verma says that if they wanted to, they could interpret the guidelines strictly. Whether this happens remains to be seen.
News becoming entertainment
Speaking at a New Delhi seminar organised by the Foundation for Media Professionals, a new conclave of print and television journalists, Bhatt said that he saw that the lines between news and entertainment got blurred as they even played background music and scores from Hindi films. There was too much of drama and jingoism, he said, the electronic media had become a part of the problem.
Vinod Mehta, editor of Outlook said the media often took the lame excuse that they were giving the public what they wanted. Viewers, he said, could never dictate the content, and all they wanted was the news, not hysteria. "Self-generated hysteria was being passed on to the viewer," he said. Senior journalist Saeed Naqvi added that it was perverse to blame viewers, as they would take whatever the media gave them.
Sociologist Dipankar Gupta of the Jawaharlal Nehru University said that one of the unintended consequences of the coverage was that most viewers saw the vulnerable people out there, and their resentment and revulsion against politicians grew. "The positive consequence was that people who never made a political statement did it for the first time in their life. They also saw that one-fourth of the victims were Muslims, making the saffron politicians lose out. It also helped us see that the commandoes were being ferried in a normal BEST passenger bus and cops were trying on helmets to see if it fit as they did not have one on hand," he said.
Writer Anil Dharkar said the coverage had become the eyes and ears of the terrorists and it was time a limit was defined for such transmission. "Terror by TV is what many felt as there were very provocative coverage asking people to get ready for war," he said. Activist Medha Patkar wondered how the media had made Taj Mahal Hotel into an icon of India. "News is more important than views," she said.
Need for an official version
Rajdeep Sardesai, Editor-in-chief, CNN-IBN, was one of the few television journalists who had the courage to show up at the seminar, said that the media must apologise if it has made a mistake, and must self-regulate rather than listen to advisories like the one that the government put out. He underlined the fact that it is a pity that there was no official version of what was happening and the government was leaving journalists to do their own thing. There must be a system where briefings from official quarters are available every few hours when such an emergency happens, he said.
Shishir Joshi, the editorial director of Mid-Day said that though journalists were in the line of fire, they ethically messed it up. Public rallies demanding action happened not because of the media, but because people took the initiative, he said.
The media has done some soul searching, as this seminar by the Foundation of Media Professionals showed. But at the end of the day, the race for Television Rating Points, on which advertising survives, continues to call the shots. This was a point that Ajit Sahi, editor-at-large, Tehelka made. He said that there was tremendous pressure to survive, make profits and stay on top of the TRP charts. Of late, news channels, especially the Hindi ones, have resorted to running all kinds of ridiculous stories on ghosts, spirits and miracles that have no basis in scientific thought or practice. That is also why we have laughter shows on news channels.
While revealing, such views also evoke some despair. For if the rot is indeed so deep, then it is going to take a lot of collective courage from television channel heads and owners to put their house in order, and cater to something other than the lowest denominator of public taste.