Supermen of Malegaon is a 79-minute documentary in Hindi and Urdu. It was the star attraction at the recently concluded 11th Osians-Cinefan Film Festival 2009, New Delhi and also bagged the Audience Prize at the Prague Film Festival. It will also be screened at the International Film Festival of India in Goa.
Directed by first-timer director Faiza Khan, the film negotiates a relationship between the documentary itself and the making of a feature film within itself. This film-within-a-film, also called Malegaon Ka Superman, is a spoof being made by a group of cinema lovers from Malegaon, in Maharashtra's Nashik district. The young Shaikh Nasir, whose family runs a ready-made garments business, has surrendered to his obsession - films and filmmaking. The film opens on this passion the entire community of Malegaon lives with. A small boy plays a street game to attract crowds. The pebbles or boxes he plays with are named after three top female stars of Bollywood. Haircutting saloons proudly display posters of male Bollywood stars promising to copy starry hairstyles according to their clients' choices.
"I had always heard of Malegaon in the context of bomb blasts or communal violence," says Faiza when asked how she chanced upon the idea of making a documentary on this experience. "One day I came across a report that spoke of films made in Malegaon. These were one-hour long feature films made with no resources, financial or technical. I made a trip to Malegaon in the beginning of 2007 and met the people behind these films. Their passion was so contagious that I was motivated to come back and make a film on them."
"Till then they had only made spoofs on Bollywood films, now they were about to make one on a Hollywood film, that too with sophisticated technology. I just had to be there! I went again in September the same year," she added.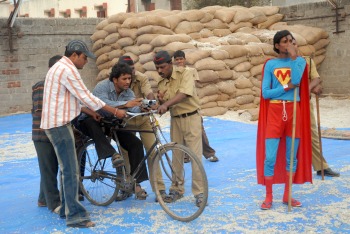 Picture: A working still from the shooting of the film-within-the-film.
Supermen of Malegaon unravels a fascinating story of a ragtag crew of people from Malegaon who have set out to make a 'Superman meets Bollywood' take on established box office hits like Sholay or Don or Superman on a shoestring budget with local actors who usually work in the power looms. Malegaon's population is 70 per cent Muslim and 30 per cent Hindu, each living on one side of the local river. Though there is little love lost between them, the one great factor that bonds the two is their love for films.
In its form and content, Supermen of Malegaon touches upon a wide landscape of issues ranging from the documentary form and its changing aesthetics, mission and content, particularly within the Asian sub-continent, to the question of how this regional, low budget cinema in the country can strike so endearing a chord among the local audience. "We give a comic twist to the original source to make it credible and appealing" says Shaikh, simply.
How is that done? "Well, we show that a given character, say Superman, is affected by environmental pollution and is suffering from asthma and therefore cannot fight his enemies all the time," he explains, raising laughter among the listeners. It also deals with issues of adaptation, parody and the relationship between mainstream Bombay cinema and regional cinemas, among other things.
The group tries to keep itself technically updated with online editing techniques and "we are now trying out Chroma," adds Shaikh with modest pride. Yet, he does not allow his brother to step into this business. "Who will look after the family business?" he asks while the younger brother mopes into the camera.
They draw from personal resources to fund their film and also try to garner advertising revenue by using local shops within the place setting of their film. So, one sees a local milk vendor's shop coming up again and again in the film because the vendor shells out money for this in-film commercial! One sees the hero of Malegaon Ka Superman, on leave from his regular job at a local power loom for the shooting of this film, lying precariously on a long wooden plank to simulate the mid-air jumps of Superman. This looks funny when we see the shooting but is credible when we get to see the rushes on a computer screen. The wooden plank is invisible and it appears as if the skeletal Superman is actually flying in mid-air!
No local woman is allowed to appear in these films; the community is too conservative to allow this. How do they tell love stories, then? "We hire girls from neighbouring small towns," says Shaikh while the girl who plays Superman's love interest smiles and says, "I am being paid Rs.1000 per day." Soon after, we see Superman and his girlfriend singing and dancing in the midst of green fields under a blue sky.
But what about Faiza herself? Was it difficult for her to shoot with an otherwise all-male crew and cast? "I think it actually made things easier for me because I was able to make a connection with the women in the families of the characters. This helped gain important insights into the characters themselves, see aspects that perhaps if I had been a man, I would have missed. We also lived there for two-and-half months so we had formed a bonding with the people and the place."
The trick shots and the stunts that films like Malegaon Ka Superman demand are funny when one watches the shoot - the director pulling the bicycle on which the hero is made to lay prostrate before he steps through a hole in a large green sheet placed upright with his hands spread-eagled to simulate that he is flying! Another shows him jump inside the back of an auto rickshaw and grab the passenger by the neck. But when Shaikh and his two friends show these on screen, they appear like stunts done within a feature film, albeit a bit crude, amateurish and rough at the edges.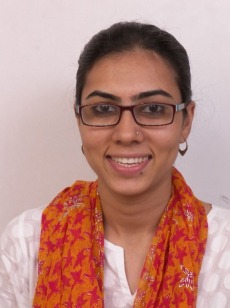 "I made a trip to Malegaon in the beginning of 2007 and met the people behind these films. Their passion was so contagious that I was motivated to come back and make a film on them," says Faiza Khan.

"I wanted to make a complete documentary on this entire business of indigenous filmmaking for two reasons. One is that these guys in a small underdeveloped town like Malegaon have nothing going for them. Education levels are low, most of the population are power loom workers who earn very little, suffer from health problems because of the nature of their work, live within ten-hour-long power cuts in what is primarily an industrial town. Instead of using these as excuses to do nothing, these people overcome these hurdles to make nothing less than films."
"The other reason is that in Malegaon that is clearly divided along communal lines, people often harbour misconceptions about the other community simply because they know nothing or have chosen to know nothing about the other community. My idea was to offer a glimpse into the lives of this Muslim community in the hope that perhaps, this will help build some understanding," says the young but wise Faiza.
The film has been produced by Mediacorp Singapore, KBS Korea and NHK Japan that organise the Asian Pitch every year where they select 15 Asian film makers to pitch documentary projects. Of these, three are selected for full funding. Faiza and her team got the funding the first time the Asian Pitch was organised. The film has two edited versions. One has a running time of 52 minutes and the other has a footage that runs for 79 minutes.
If there are differences between a documentary and a feature film, Faiza Khan's Supermen of Malegaon dispels them all. It fluidly steps into the real lives of these people who have sought to raise hope through an alternative profession with minimum infrastructure and even lesser funding. It effectively explores the inner spaces of their struggles, triumphs and setbacks. In a manner or speaking, it takes apart the glamour attached to Indian films and film-making.
In doing so, it throws up reflective journeys that question, disturb and inspire. "I think it is a symbol of hope, not just for anyone who wants to make films but for just about anybody. Their audacity if I may call it that, to take up something so difficult in completely hostile circumstances and succeed at it, is something to be inspired by," Faiza sums up.
The film provokes laughter, offers entertainment, and also educates and informs without either reducing itself to becoming pedantic or turning into a somber critique of contemporary reality. It does not take pot-shots at the Establishment. Nor does it become a diatribe against any given communal or linguistic group. It sets out to entertain and entertain it most certainly does. John Grierson said, "Documentary is the creative treatment of actuality." Supermen of Malegaon smoothly and effortlessly slips into this definition.