"The State is endowed with limited water resources that are stressed and depleting." - these are opening lines of Karnataka's state water policy 2002. The drought in the last three years has created an acute water shortage in both urban and rural areas of Karnataka. 190 towns out of 208 face water shortage, and agriculture in 80 talukas has been severely affected. Falling groundwater level and pollution have affected the quality of water in more than 20 thousand villages across the state. Dangerous levels of chloride, fluoride and iron in the water have been detected in these villages.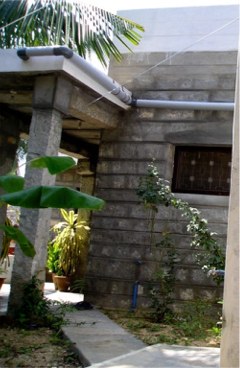 Residences adopting rainwater harvesting. Pic courtesy: Rainwater Club, www.rainwaterlub.org
Given the situation where more than 70% of the state is drought prone, it was only imperative that the state looks into water resource management in a new light. On the lines of National water Policy adopted in April 2002, Karnataka drafted its water policy, the same year. The state's policy talks about re-prioritising the water distribution to help better water management. The policy says that legal and institutional changes will be made to make way for management of water resources through participatory approach; the ultimate aim being decentralization of water management. The policy also talks about the need to conserve water. It states that "The efficiency of utilization of water will be improved and awareness about water as a scarce resource fostered. Rainwater harvesting (RWH) and water conservation will be encouraged."
Although the policy talked about water conservation, no action was taken till 2004. On June 6th 2004, Bangalore became the first city in the state to include RWH into its byelaws. The Bangalore Mahanagara Palike Building byelaws say that rainwater harvesting is mandatory in any new building. The law says that "every building with a plinth area of exceeding 100 sq mtrs and built on a site measuring not less than 200 sq mtrs shall have one or more Rain Water Harvesting structures having a minimum total capacity as detailed in Schedule." This specification ensures that cost of implementing rainwater harvesting does not exceed one percent of the total cost of the construction, thus ensuring economic viability.
Bangalore's main source of water is the river Cauvery, which is nearly 100 kilometres away and 1500 feet below the city's altitude. Which means that energy levels required for pumping are very high; the industrial tariff of 60 rupees a kilolitre is said to be the highest in the country. Studies show that water levels available will be enough to meet demands only till 2011. The ground water on the other hand is not considered a reliable source owing to the falling ground water levels and increased pollution. That leaves only other alternative - rainwater. Bangalore has an average of 970 mm rainfall in a year, which makes it easier for harvesting.

S Vishwanath of Rainwater Club, Bangalore says that ground water recharge is not very effective and is not suitable for all locations. Instead he says that rooftop rainwater harvesting is a better solution. He says that rooftop RWH can yield 20 litres of water per day for a family of five. According to him, not just residences but industries can also benefit from rainwater harvesting. He gives the example of Wipro ePeripherals, Mysore and Escorts-Mahle-Goetze, Bangalore who have implemented RWH. He says that Escorts will be able to save up to 37 lakh rupees per year after harvesting 62 million litres out of 185 million litres of rainwater.
Women in the slums of Jagajeevanramnagar, Bangalore stand testimony to the benefits of rooftop RWH. There are about five thousand people living in this area. After an initial investment of five hundred to thousand rupees per household, they have been able to store water and use for both drinking and other purposes in the last two years. Amalarani, Director of Rayapuram Slum Development Society (RSDS) under whose purview the slum falls, says that initially it was difficult to convince the residents about the benefits of RWH. She says that only continuous education and help in implementation can resolve the matter. Agreeing with her Vishwanath says that when people have been facing severe water problems for years they are a little skeptical of NGOs approaching them with solutions.
Rural areas
Vishwanath says that while the byelaws to an extent take care of water conservation in the urban areas, the larger section of villages is yet to come under the purview. Although there is no law that explicitly talks about RWH in rural areas, state government along with panchayat bodies and NGOs has been taking steps to encourage water conservation. The department of Rural Development and Panchayat Raj (RDPR) has been testing rooftop Rainwater harvesting in one village in each of the 170 talukas. The department has been encouraging panchayats to take on the financial responsibility by giving them incentives.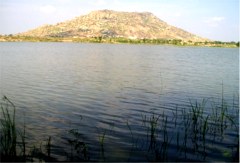 Devarayanasamudra tank, full after many years. Pic courtesy: Rainwater Club, www.rainwaterlub.org
There are 38,608 minor irrigation tanks in the State. Storage capacities of most of these tanks are reduced due to siltation and deferred maintenance. Joint Measures have to be taken to revive these tanks. The people of Devarayanasamudra with the NGO, Grama Vikaasa, near Hoskote, have successfully demonstrated the power of RWH by desilting and improving the catchment capacity of one such tank. The tank is full to its capacity for the first time in many years.
But the success may be short lived as indiscriminate digging of borewells may drain out the water; there is still no law for sinking borewells. Vishwanath says that a village water policy has to be drawn up and budget for rainwater harvesting and its maintenance be decided. He says only then can RWH be considered a long-term solution.
Rainwater harvesting is the buzzword for the moment. Karnataka has taken the incremental implementation path unlike its neighbour Tamilnadu. There are steps being taken to implement this law in all towns and cities. The reports on water table shows that future of water availability looks bleak and rainwater harvesting seems to be the only viable solution at the moment. The process is not easy but with political will and public participation this might hold the key to the water-secure future. (Quest Features&Footage)