This year, International AIDS Candlelight Memorial Day fell on 20 May; it is observed every year on the third Sunday of May. It is dedicated to the memory of those who have died of HIV, and those presently fighting it. Bagalkot district in Karnataka is today emerging as a model for how AIDS awareness can make all the difference in stemming the disease. It is also showing how it is not impossible to create an atmosphere where HIV-positive people can continue to live with freedom, dignity and hope.
Ramappa, Hasina and Drakshayini are people living with HIV in Bagalkot. Through Jeevan Jyoti, a network of people living with HIV in Bagalkot set up in June 2003, they reach out to those infected. Through counseling, they help the HIV positive people come to terms with the reality of the illness and encourage them to access clinical services. In the process, they give hope to families of the infected.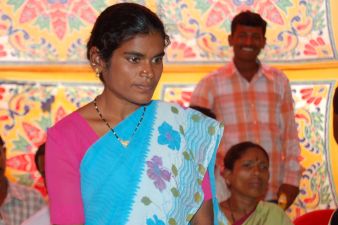 Hasina at a public meeting. Pic: Ramesh Menon.
They readily agree to speak in public as they have realised that it is helping many gain courage to accept their illness with courage and hope. They often interact with the general community, students and young people. They talk of their experience of living with HIV, stressing that HIV cannot be spread through physical proximity.
With their energy and active life, they are helping break the myth that those living with HIV are 'weak patients' who wallow in self pity. In varied roles as farmers, housewives, professionals and young people, they also break the myth that HIV only affects certain groups and communities.
But this transformation did not come easy, nor soon. It is a remarkable story of HIV positive men and women who are showing how the magic can actually work.
Vulnerable Bagalkot and the emergence of 'Jeevan Jyoti'
Bagalkot is on the Karnataka-Maharashtra border, one of the three areas in India with a concentrated epidemic; the others being coastal Andhra Pradesh and the north-eastern states of Manipur and Nagaland. Complex socio-economic and cultural factors such as cross-border migration, urban-rural migration, traditional devadasi system and thriving sex industry only add to Bagalkot's vulnerability. Associated with HIV were stigma and isolation.
In 2003, the India-Canada Collaborative HIV/AIDS Project (ICHAP) set up a comprehensive response to HIV in Bagalkot. The programme had different components: prevention by raising awareness, public education, treatment for sexually transmitted infections and fighting stigma and denial around the disease. Antiretroviral treatment (ART) that helps prolong life of the victims is provided free of cost under the National AIDS Control Organisation to positive people who need it. Alongside, treatment, services were set up like clinics for opportunistic infections, Voluntary Counseling and Testing Centres (VCTC) and Centres for Prevention of Parent to Child Transmission Programme.
The Jeevan Jyothi experience only underlines the globally accepted principle that involvement of HIV positive people is critical in dealing with AIDS.
*
The India-Canada Collaborative HIV/AIDS Project provided antiretroviral treatment (ART) free of cost to Bagalkot patients.


• Devadasis uniting to end practice
• Yours or mine, either is fine

But the response to the epidemic at Bagalkot went beyond treatment and treatment related services. People from the Karnataka Network of Positive People (KNP+), Bangalore, came in to encourage the HIV positive people to form a network. The number of people coming for these meetings gradually began to grow. HIV positive citizens became (peer) counselors as no one could do it with such commitment as them. In January 2004, Jeevan Jyothi was formally established as a network in Mudhol taluka. With ICHAP support, a Drop-in Centre for counseling was set up.
Today, Jeevan Jyothi has more than 2,800 registered members. Monthly support group meetings are held for positive people in all the six talukas of the district. At Mudhol, about 60 people attend while at other talukas it ranges from 30-40. Monthly clinics are organised on pre-scheduled days. At Mudhol, two clinics are organised every month where positive people can access treatment and counseling services. (The ICHAP itself has since phased out, and the programme in Bagalkot is now managed by the Karnataka Health Promotion Trust KHPT since April 2006.)
People who spearheaded the movement say they faced acute stigma when they tested positive about a decade ago. It was an impossible situation. There was hardly any information on HIV. So, fear created stigma. There were no services that could be tapped and people were spending a fortune on quacks as they were the only ones available.
Inspiring stories
Hasina discovered her HIV status in 1996 when her husband fell sick and did not respond to treatment. The doctor asked the couple to undergo an HIV test. Both tested positive. She remembers: "When my son was a year old, he tested HIV positive. The doctor told me to keep him isolated saying he would die soon. My brothers and their wives refused any support saying he was anyway going to die, so why spend money."
The child died, but not before Hasina had fought very hard to help get him medical help. Today, as a trained counselor under Jeevan Jyothi's Care and Support programme, she travels to different talukas on clinic days. She does an average of two home visits a day. Said Hasina: "We ask those who come here if we can visit their house. Sometimes families need counseling. I was inspired to work for HIV positive people when I saw others doing it. I want to help others going through the same pain I did."
Hasina has been living with HIV for the last ten years. Her other son, Mohammed, is now ten. "For 10 years I have been living with HIV. I did not think I would live so long. But as long as I do, I want to help HIV positive people as much as possible. Now I feel I will live to see my son's wedding," she says.
Hasina has been part of the positive people's group ever since it began as an informal network in 2003. Together with Kalavathy, also HIV positive, she helped mobilize the first HIV positive women in Bagalkot to come together.
Turning tragedy into an opportunity
Many of those affected by the AIDS tragedy have not only turned around their life, but are now doing the same for others. For instance, listen to Drakxayani, of Chikkapadasalghi village of Bagalkot district: "I was just two and a half years old when I was married off to a boy who was eight. At 13, I was sent to my husband's home. Soon, I was pregnant. Four years later, I was pregnant again. My husband was happy and healthy but started falling sick often. No medicines worked. When tested, he was HIV positive. I got tested too. I was positive. The only good thing was that our children were negative. At a meeting of HIV positive people and others, I stood up and said that I did not want any economic help as I could manage on my own. All I needed was love and affection, as it would help me to live better and longer. After the meeting, I was surrounded by a dozen students who told me that they all had family members who had HIV and wished they had such a positive attitude. That day I decided to work with HIV patients. I wanted to reach out to all those who were living in the dark."
Kalavathy, 25, came to know her status in 2001 when her husband was admitted in hospital and tested positive. "When I tested HIV positive, the doctor said I would die soon. He also advised my mother to keep me, my plates and clothes separate." She says at that time there was no information available on the disease and there was lots of fear.
Kalavathy recalls, "At my first support group meeting of HIV positive people, Elango, an activist of KNP+ said he is HIV positive for the last 15 years and still healthy. He said that the doctor who told him he had little time left, had died but he was still alive."
Both Kalavathy and Hasina helped mobilise other positive women playing a critical role in shaping the network. Both say their mothers have been a source of immense support. Bagalkot is full of stories of women helping women.
Beating the stigma
Mahadevi, 22, a construction worker from Mannikeri village of Badami taluk in Bagalkot district lost her husband to HIV within a year and a half of marriage.
Living with HIV, Mahadevi should know about the stigma attached to the disease. Medicines like ART have helped Mahadevi regain health. She is back as a construction worker. As part of Jeevan Jyothi, she counsels people living with HIV and their families.
She recalls an instance when an HIV positive construction worker was critical after he was abandoned by his family and kept in seclusion. She met the family and was able to convince them against it. Now on ART, his health has improved and he is back to work. Many lives that had collapsed emotionally are now being rebuilt.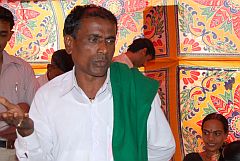 Mallapa at a public meeting. Pic: Ramesh Menon.
ART has helped give a new life to many. Mallapa, 48, President, Jeevan Jyothi, who tested positive in 1999 recalls: "At that time stigma was at its peak. Many people had died of AIDS in the villages and people were very scared. I did the rounds of quacks. In 2001, my sister took me to a hospital in Bijapur where TB and HIV patients were put together. The doctors came in with masks, nobody touched us. For 20 days I was in hospital. I met a senior doctor and pleaded that I want to live. He asked me how many acres of land I have, how many children. He advised me to sell of everything and 'enjoy the short life you have'. I was depressed. I tried everything but nothing seemed to work."
Currently on ART, Mallapa is now keeping good health. He helped mobilise positive people together and has ever since been a leader. He says building the network was important so that positive people could together raise a common voice to demand care and support as well as reduce the stigma. Mallapa says that people stopped going to quacks only in 2003 when ICHAP started giving out information on HIV and the services available to combat it.
Ensuring a quality of life
As President of the Network, Mallapa says his vision for Jeevan Jyothi is, "Quality life for all HIV positive people". Through reaching out to general community he hopes the network will be able to create an empathetic environment. In addition, the network is also striving to ensure that HIV positive people are responsible in their sexual behaviour so that they do not spread the virus. "At every meeting we emphasise and reinforce condom use," says Mallapa.
The Jeevan Jyothi experience only underlines the globally accepted principle that involvement of HIV positive people is critical in dealing with AIDS. It is these brave people who are now giving a human face to the otherwise hidden and invisible epidemic. As people who have lived through the experience of being helpless stigmatised victims, they are better equipped to empathise, inspire and give courage to those grappling with it.